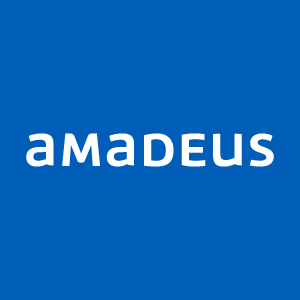 Amadeus
Amadeus PMS solutions let you share information across your hotels, deliver integrated channel management and help streamline the sales process. Amadeus supports seamless integration between Amadeus PMS and LightSpeed POS.
No manual transfer of tickets.

Items are posted onto the guest invoice using the POS article description.

Real-time revenue recording in PMS. No separate EOD procedure. The interface transfers both room and non-room postings (cash paid revenue)to PMS. Unlimited revenue mappings.
"Your PMS, when integrated with a supported back office system, can transfer hotel and POS revenue into the back office system. No separate back office interface needed from the POS to the back office system."
Extended description
Integrates with all 3 Amadeus PMS's.

No need for onsite installation. The entire installation and testing can be done by remote session.

No manual EOD procedure.

POS always in balance with PMS.
Amadeus XMLPOS is an interface standard developed by Amadeus and is supported by all Amadeus PMS systems. It supports both room and non-room postings enabling the transfer of the entire POS sales/revenues, including payments, into the PMS. No EOD procedure. Each POS ticket is transferred to the PMS when settled. This keeps the POS and PMS in balance at all times and in real time (depending on how often the POS sends the cash tickets to PMS).
About us
Amadeus is a leading provider of advanced technology solutions for the global travel industry. We all share the need to explore our world; to see new places, meet new people or be near what's important to us. Travel builds economies, broadens culture and creates connections between societies. Travel powers progress. Amadeus powers travel. 
To learn more about Amadeus and our technology solutions, visit www.amadeus.com.
Please reach out to your account manager for plans and pricing.
Category:
Product:

Restaurant