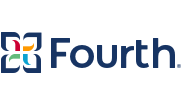 Workforce management software for the hospitality industry that helps you reduce labour costs, automate labour and payroll compliance, and improve employee retention.
We support Fourth Scheduling and T&A through Lightspeed K-Series.
Save your managers 5+ hours a week.
Schedule smarter and faster
AI forecasting
Fourth's Workforce Management solution is designed to help hospitality companies optimise labour costs, streamline scheduling and time tracking, and improve employee engagement and retention. The software integrates seamlessly with other Fourth products such as Inventory and Purchase-to-Pay to ensure optimal operations. The platform includes modules for time and attendance, labour scheduling, employee self-service, task management and more. These modules provide businesses with the tools they need to simplify labour management, gain actionable insights from data, and improve overall efficiency by optimising labour allocation and reducing labour costs. In addition, Fourth Workforce Management offers a mobile app that makes it easy for employees to view their schedules, swap shifts and request time off.
Category:
Product:

Restaurant