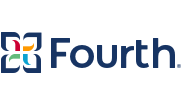 Inventory management software to help improve restaurant profitability & optimise operations by streamlining the inventory lifecycle. We support Fourth Inventory and F&B via Lightspeed K Series.
Seamless supplier engagement
Predictive ordering
Streamlined purchasing
Real-time recipe costing
Fourth's inventory management software is an all-in-one solution that helps streamline the inventory lifecycle by centralising supply chain management and optimising procurement. The software provides seamless supplier engagement, streamlined purchasing, real-time recipe costing and reliable inventory tracking from order and delivery through production and accounts payable. Fourth's recipe and menu development and management solution enables organisations to create and maintain profitable menus with dishes that are profit-driven, accurately portioned and consistently plated. With customisable operational workflows and a dynamic production and preparation solution that uses highly accurate demand forecasting to provide teams with step-by-step digital instructions, Fourth's inventory management software reduces waste and helps teams manage costs and ensure consistency.
Category:
Product:

Restaurant