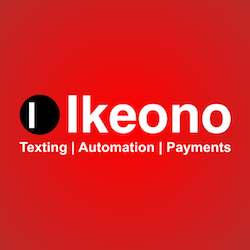 Connect with your customers seamlessly throughout Lightspeed Retail and eCom by using Ikeono Business Texting.
Text-enable your business phone number to send and receive text messages and high resolution picture messages with your customers. Receive real-time notifications inside and outside of Lightspeed so you can respond quickly.
Streamline your business with automated text messages based on Lightspeed work order statuses. Think Domino's pizza tracker for your service department.
Collect authentic customer feedback after a sale or completed work order to gauge customer satisfaction; manage customers who had a poor experience, and increase your positive reviews.
Text custom branded invoices to your customers, offering a convenient and contactless way to pay. Customer deposits can automatically be added to Lightspeed after an invoice is paid.
 Ikeono is taking text marketing to the next level with Inventory Texting, creating custom audiences based on prior shopping habits and sending targeted messages at the click of a button.
"Ikeono is absolutely boss. It is without a doubt the best, time saving, efficient, professional, smart, piece of software! God we love it. It has made our workshop less cluttered, the boys are on the tools more, phones don't ring as much, ohh it is bliss."
— Unsolicited awesome feedback from Justin @ Giant Davenport.
Free 30-Day trial to see if Ikeono works for you, no commitment and no credit card required to sign up.
We also don't do contracts. If Ikeono isn't good enough to keep you, then we need to improve Ikeono. So you're welcome to change tiers or cancel if you need to.
Category:
Product:

Golf,

Retail