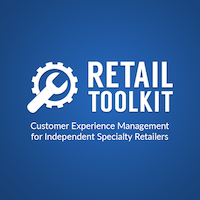 Retail Toolkit's powerful software platform makes delivering great customer experiences easy by empowering independent specialty retailers with data-driven insights that increase profits, turns, margins, and traffic.
Retail Toolkit (RTK) is an intuitive, web-based software suite that works seamlessly with Lightspeed POS to empower independent specialty retailers of all sizes to sell more products at higher margins to more customers by combining sales and inventory data insights with staffing and marketing tools for experience management normally reserved for big box chains and online retailers.
Retail Toolkit features:

• Powerful Inventory and Purchasing tools, including our game-changing Open-to-Buy tool to identify product trends and reduce costly markdowns

• Personalized and automated Email Marketing to increase engagement rates and bring customers back into your store again and again

PLUS

• Mobile-first, digital Loyalty Program tool with fully customizable rewards and achievements, designed to match your store's brand

• Traffic-based Staff Scheduling to reduce labor costs and provide excellent customer service, with Employee Payroll built-in

• Complete Sales and Visitor Traffic tools to measure and improve in-store conversion rates

Subscribe to any or all of Retail Toolkit's software tools at no risk today, with no contract or commitment required.
Category:
Product:

Retail