Retail
How to Create Holiday Gift Guides That Inspire Shoppers & Increase Sales [with Gift Guide Examples]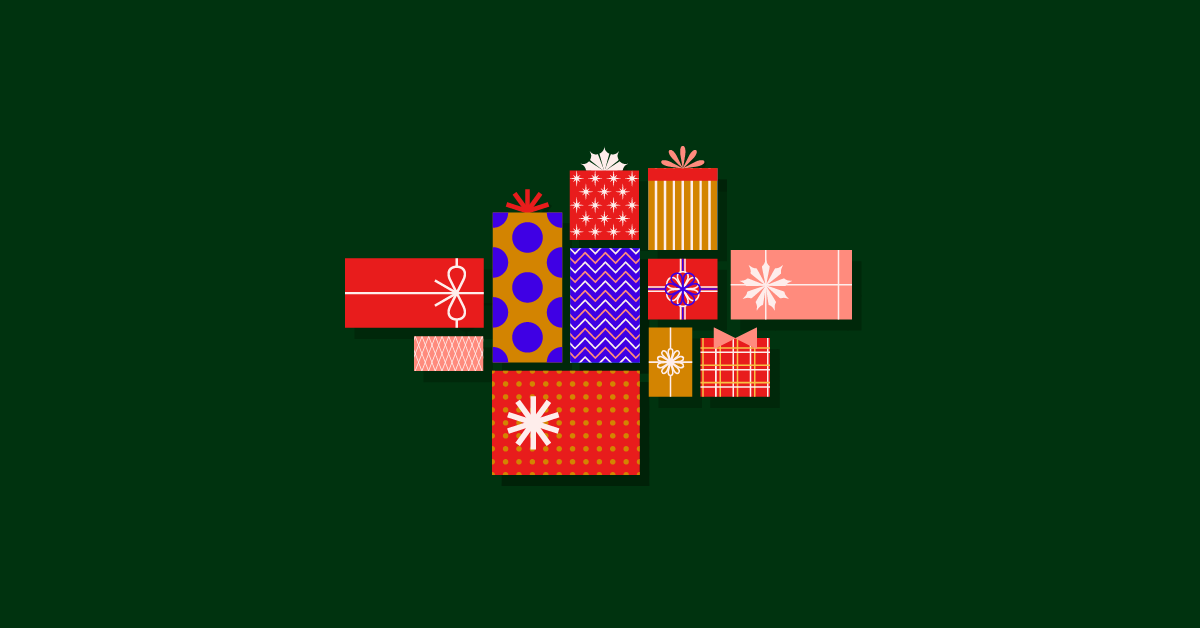 A gift guide is one of the most powerful tools you can have during the holidays. It allows you to showcase your products, inspire shoppers and stay top of mind throughout the season.
But it's important to note that creating a holiday gift guide takes more than just rounding up your products and putting them in a catalog. With the market being more competitive than ever, yours would have to be thoughtfully curated and marketed.
So, how do you write a holiday gift guide that converts?
For starters, you need to tap into your retail data, industry trends and customer insights. Then, it's a matter of curating products to support your customers' shopping journeys. Marketing is also an important component, as you need to ensure your gift guide is seen by the right people.
When implemented properly, holiday gift guides can increase sales by helping customers find and purchase the products they need.
Today we'll talk about how you can accomplish that.
Here are some tips to ensure shoppers actually pay attention to your guides:
1. What should be included in a gift guide? Start by looking at your data
How do you decide which products should make it into your gift guide? One reliable way is through the use of data. Here are some ideas:
Popular products
Use your POS or retail management system to generate reports on your top sellers. From there, identify the items that would make for great presents and include those in your guide. You could, for example, have a "Featured" section on your guide to showcase gifts that everyone would love.
The "Gift" section on Alex and Ani's website, for example, has a subcategory called "Our Best Gifts" which compiles the brand's bestsellers.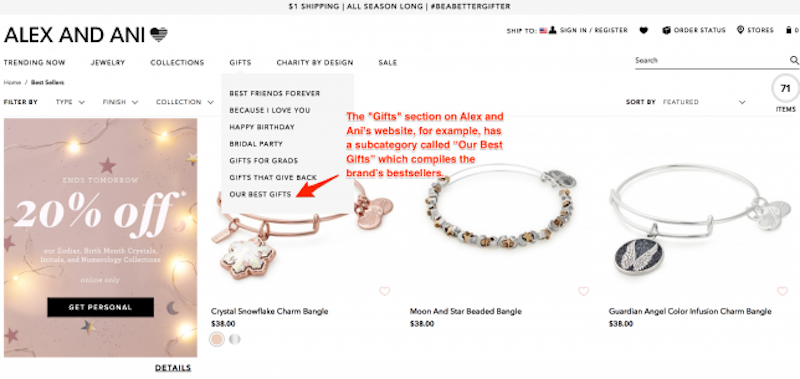 Shopper segments
Ideally, your gift guide should contain products that would appeal to various shopper segments. If you can, generate sales reports according to customer category. You can easily do this with Lightspeed's Advanced Reporting capabilities. Our reports can surface valuable data, including your customers' purchase history, demographic information, contact details and more.
For example, if you're able to segment your customers according to their gender, then you can use that information to curate "Gifts for Him" and "Gifts for Her" collections (more on this in a bit.)
Market trends
It's also a good idea to look at market and consumer trends. What styles or activities are popular among your target consumers? Are there any trends or products that everyone seems to be getting into? Get a feel of what's happening in your market and incorporate those trending products into your guide.
Use a tool such as Google Trends to identify opportunities in your location or industry.
Let's say many of your customers are getting into health and wellness. If this is the case, then consider stocking products for improving one's health, and then include those items in your gift catalog.
2. Make it a team effort
Numbers and sales trends, while helpful, aren't the only things you should rely on. Be sure to gather qualitative information from your associates and get their say on which products would do well during the holidays (or the specific occasion that you're creating the gift guide for).
PGA TOUR Superstore, a national retail chain of golf stores, does this when they're creating their gift guides. According to Chief Marketing Officer Matt Corey, the practice has worked well for them.
"Our internal team reviews every product category to hand-pick the best products that we want to present as gift ideas, then we present those items both in-store and through various online marketing efforts as well," he says.
3. Ask your customers
You shouldn't be creating your gift guide in a vacuum. Go out there and talk to your customers about their ideas or any items that they think should be included.
When chatting up shoppers in-store, casually ask them about what they're planning to buy for the holidays and what they'd like to receive. You'll get a lot of anecdotal information, but if you do it enough times you and your staff should be able to spot patterns.
You could also use social media and online polls to gather insights.
PGA TOUR Superstore, for example, leverages social media to let customers share the items they love, as well as vote on their top gift ideas.
Consider doing something similar in your business. Post a quick social media update asking your fans and followers which of your products would they like to receive this season. Or if you're considering adding a particular item to your gift guide, try posting an image of it on Facebook and Instagram and see how your customers react.
Got a huge following on Twitter? Interact with your followers using polls. For instance, here's an poll from Stowaway Cosmetics asking their followers about their mascara presents:
What's your mascara go-to: length or fibers?

— Stowaway Cosmetics (@Stowaway) November 2, 2015


Or, check out this example from Denny's diner which asked followers about their taste in food (while injecting some humor in the process).

at this point in your life which do you want more:

— Denny's (@DennysDiner) March 28, 2017
Do something similar, but for your gift guides. Create a poll listing some of your products and ask people to vote on which items would make for great gifts.
4. Work with your suppliers
Another potential source for gift guide input would be your suppliers. Have a talk with some of your vendors and ask them which items are hot and trending. Their insights could prove to be valuable when you're creating your guide.
And who knows? If your conversation goes well, you might even get the opportunity to score a great deal on your next order.
5. Think about your gift guide categories
How products are arranged and categorized can make or break your guide, so take some time to come up with the right categories. There's no one right answer when it comes to how to categorize your products, as this depends on your business and customers.
But if you need inspiration, consider the following:
If you sell a wide range of products, then you could use categories like "For Him," "For Her," or "For the Home," similar to what Macy's is doing.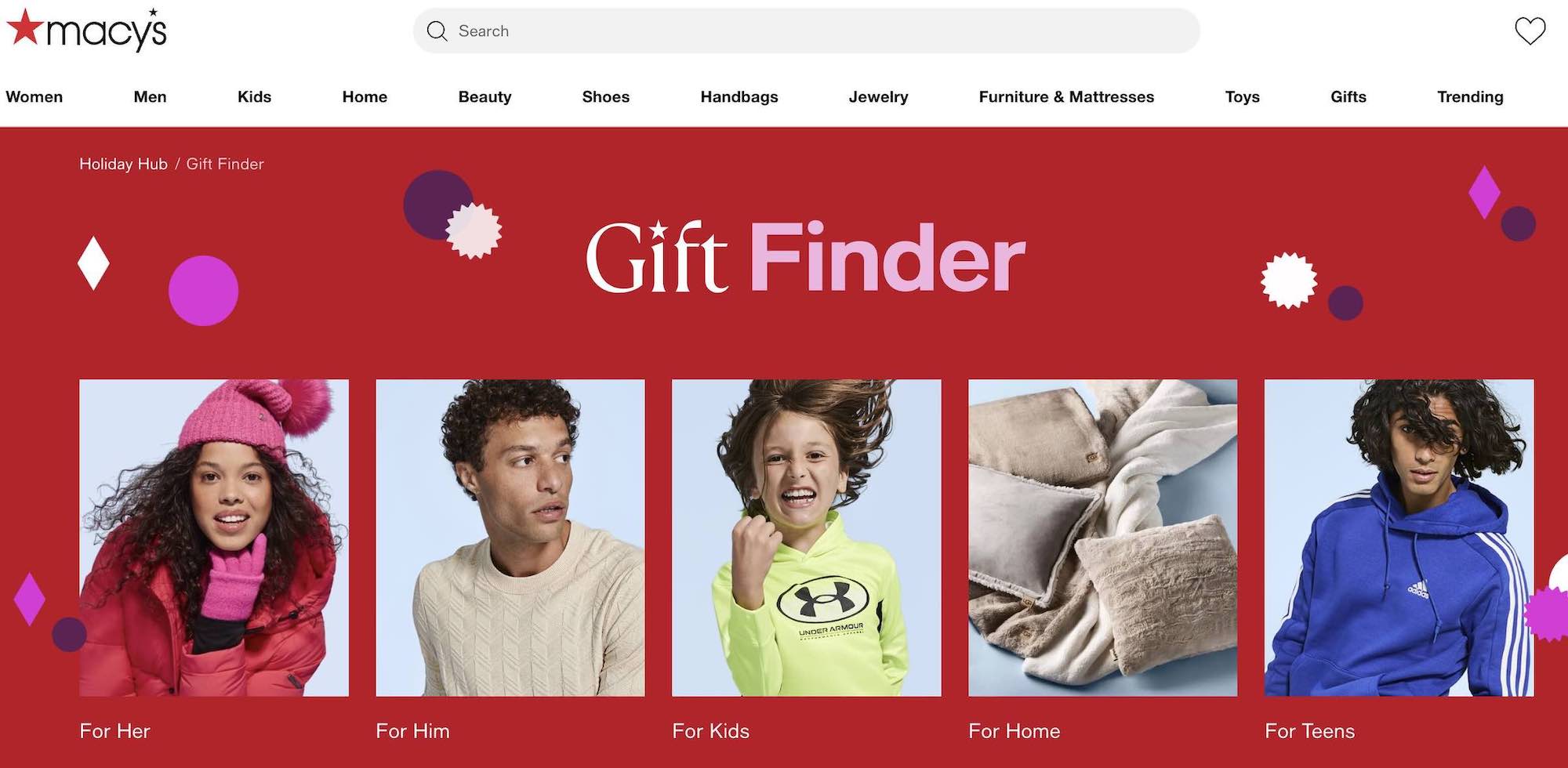 Others such as Bed Bath and & Beyond are using product categories such as "For Bedroom" or "For Living Room."
If you have a lot of price-conscious customers, consider adding a category like "Gifts under $100 / $50 / $25," to help them quickly find products that are within their budget.
Another option is to categorize gifts according to people's personalities or roles. For example, City Bird has a nice long list of gift guide categories dedicated to the giftee's interest. These include:
Fun for the Family

For the Plant Lover

For the Foodie

For the Design Lover

For the Sports Fan

For the Music Lover

For the Pet Parent

For the Bar Enthusiast

For the Modern Bohemian

For the Astrologer

For the History Buff

For the Traveler
Better yet, if any of these categories are extra-popular, put them front and center in your retail store and website. That's exactly what City Bird is doing on its homepage.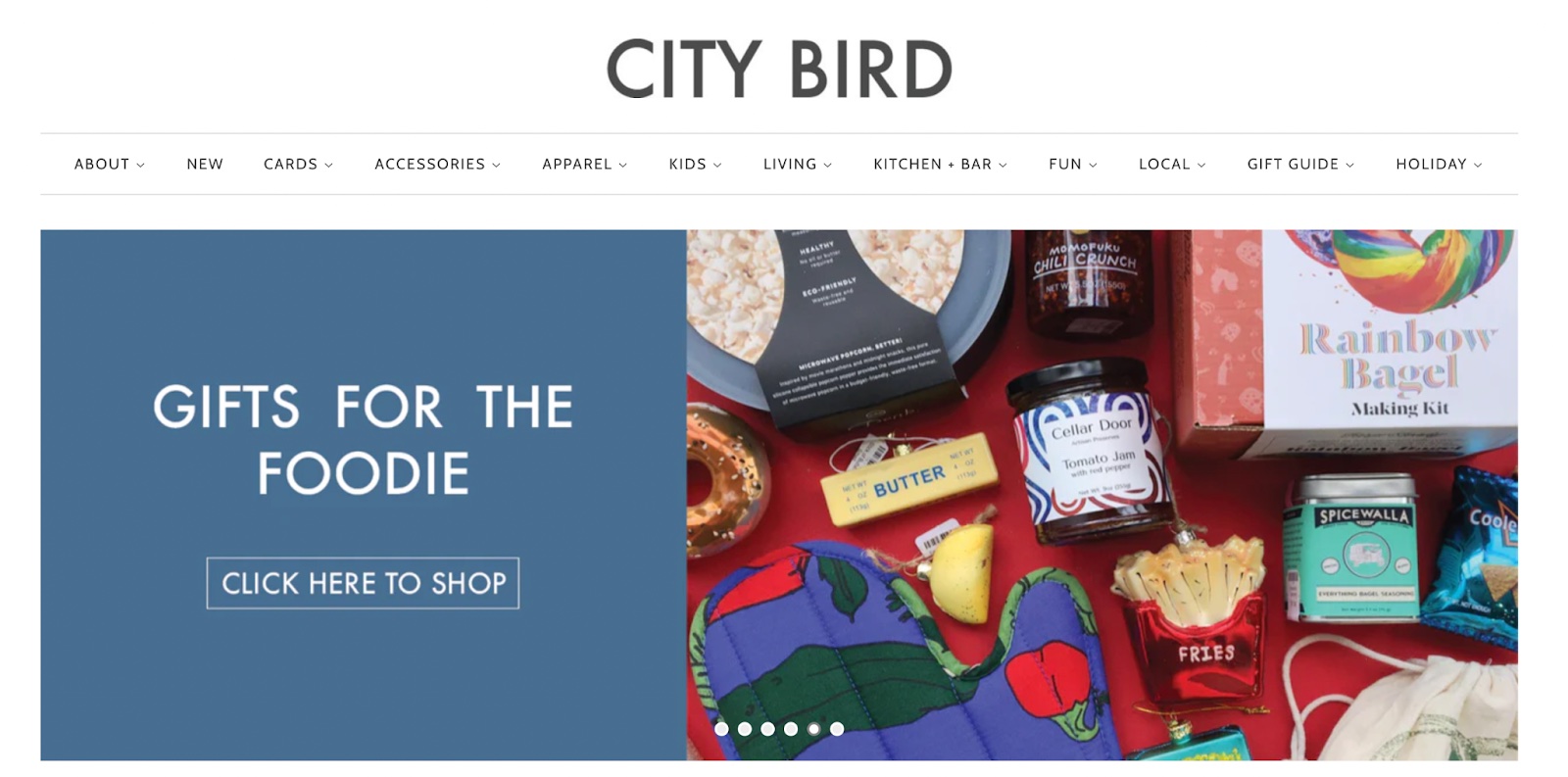 6. Have a guide for last-minute shoppers
Often, the customers who need gift guides the most are those who are shopping for last-minute presents.
Do them a favor and create a gift guide (or a section within your existing guide) that spotlights easy-to-buy and crowd-pleasing gifts. You could include your bestsellers or items that are practical and can be used by a lot of people.
Total Wine & More did just that a while back. The beverage retailer sent a last-minute gift guide that had gift recommendations based on top-selling wines, award-winning spirits, and beverage accessories.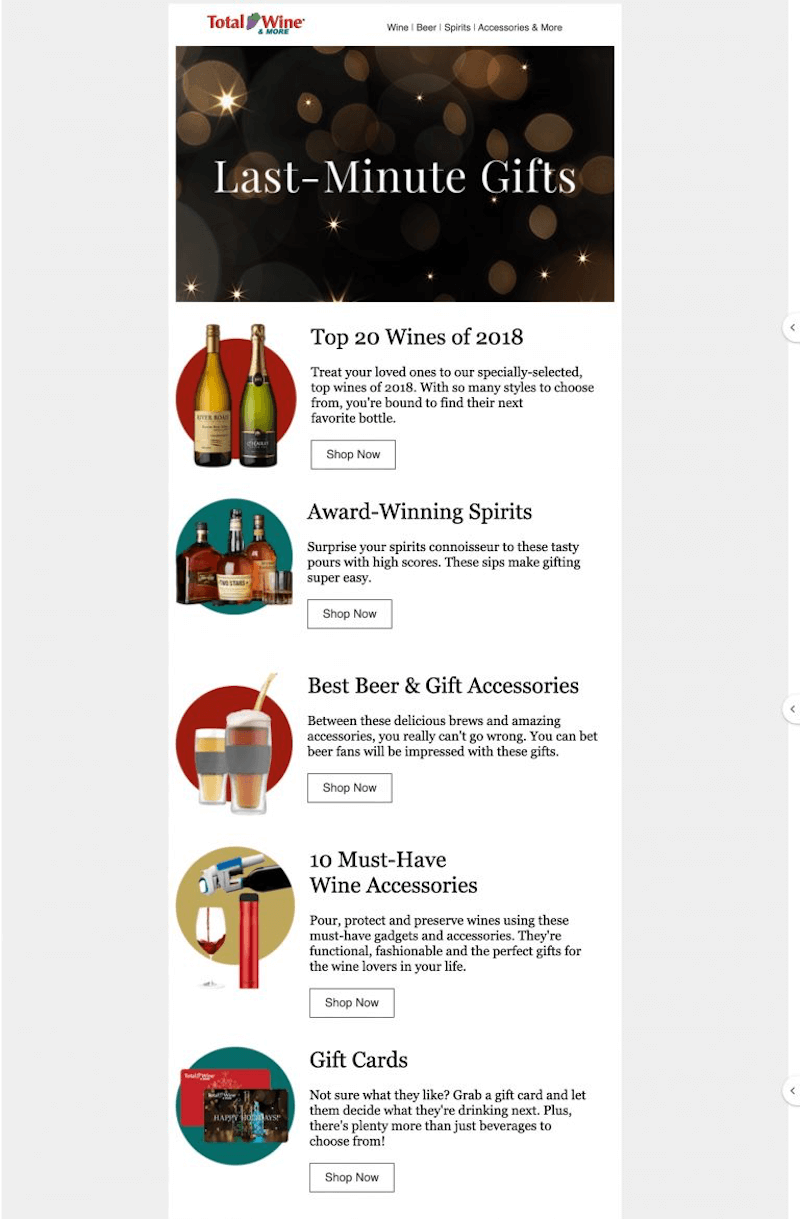 And if all else fails, market your gift cards. They're the perfect option for customers who are in a rush and are unsure of what to buy.
7. Include bundles
Showcasing individual items is great, but you should also consider throwing in a few bundles or gift sets here and there. It'll give you the opportunity to showcase items that go together, while subtly upselling products at the same time.
Take a look at the "Gift" section on Sephora's website. Not only does Sephora put gift sets and bundles front and center, but the company takes a step further by categorizing those gift sets. You'll find collections like "Value Sets" and gift bundles marked $25 and under.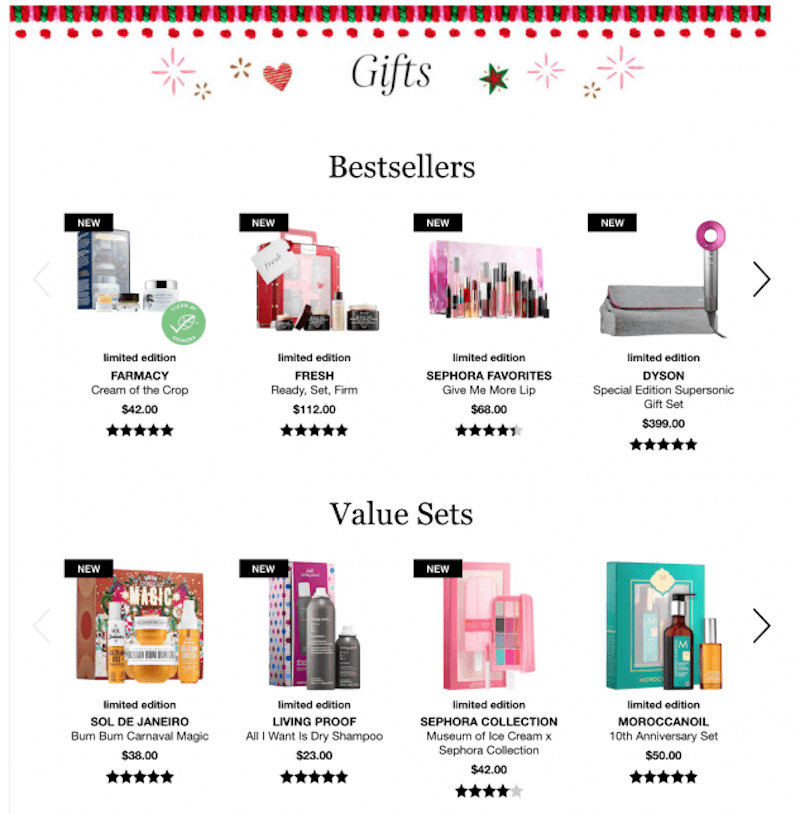 8. Make sure your gift guide looks great on different channels or platforms
Your customers are likely going to view your gift guide on different channels or platforms, so you'll want to make sure that your guide looks great no matter what. If you're creating a digital gift guide, see to it that it's responsive, so people can view it with ease whether they're on their desktop or phone.
Giving out physical gift guides? Invest in high-quality paper and printing. You want people to actually peruse your guide, rather than treat it like a cheap flier and just throw it out.
And whether you're creating physical or digital guides (or both), be sure to only use original, high-quality images. Gift guides are meant to be highly visual, so using low-quality images is a no-no.
9. Consider video
If you have resources to spare, consider creating a video gift guide. Video has proven to be effective in gaining traffic, views, and engagement, so a video gift guide could be just the thing to get people interested in your products.
Check out this example from Bed, Bath, and Beyond. The retailer created a very quick video that gives an overview of some of their products and the people who would appreciate them.
See if you can go down a similar route this holiday season.
10. Target not just your customers, but also those who would be giving them gifts
See to it that your gift guide appeals to people outside your ideal clientele. Remember, your guides should also engage those who would be buying gifts for your target customer.
For example, if you're a pet supplies store, then your typical customer (year round) would be people who have pets. But when the holiday season rolls along, then you may start attracting people who don't necessarily own pets, but have friends who do.
As such, you need to start thinking about how to engage this segment of shoppers (i.e,. The gift-givers.)
Avoid using jargon or industry-specific terms in your gift guides, as you might end up confusing those outside your market. This tip is particularly helpful if you own a specialty retail store that's frequented by hobbyists or aficionados.
PGA TOUR Superstore is a great example of a retailer that creates relatable gift guides. They recognize that the people buying from them during gift-giving seasons aren't necessarily golfers, so they've made it simple for these individuals to use their guides. According to Corey, doing this has resulted in a lot of positive feedback from shoppers.
"Non-golfers really love that we make it easy for them to buy a variety of key items, and golfers can find unique specials and items that they may not have found before just because we make those items come alive in our stores and online. It's about making it fun and easy for people to find the perfect golf gifts."
11. Promote, promote, promote
Already crafted the perfect gift guide? The next step is to get it in front of your customers. Leverage the following channels to promote your gift guide.
Gift guide emails
Craft a gift guide email giving people a preview of the guide. Select some of your top categories and products to include in your message, then link to the gift guide so shoppers can see the other items you have in store for the holidays.
Here's a great holiday gift guide email example from the denim retailer Mott & Bow: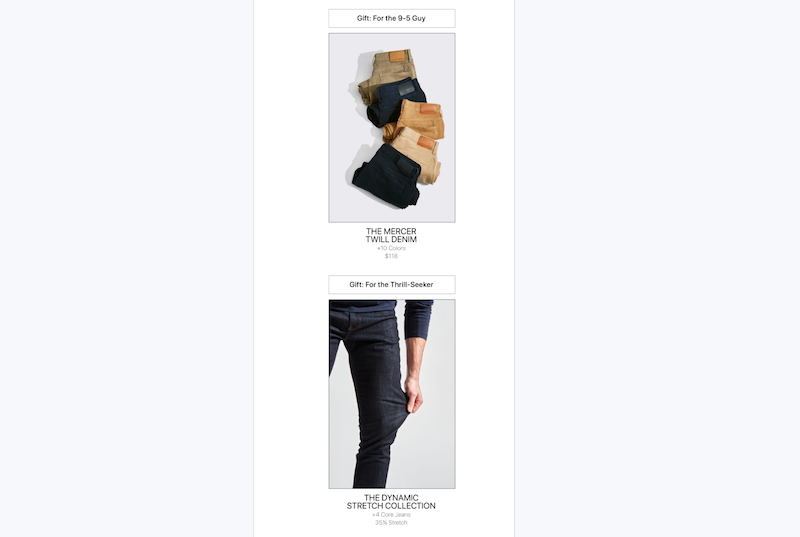 SMS
If you've built up an SMS list, be sure to alert your customers about your gift guide. Keep your message short and sweet, and add a link to the guide so shoppers can check it out.
Sugarwish, a site that curates gift boxes, did just that. The company sent a quick text message encouraging people to visit Sugarwish's gift guide. And to make the message more compelling, Sugarwish emphasized that people can get their gifts delivered for as low as $22.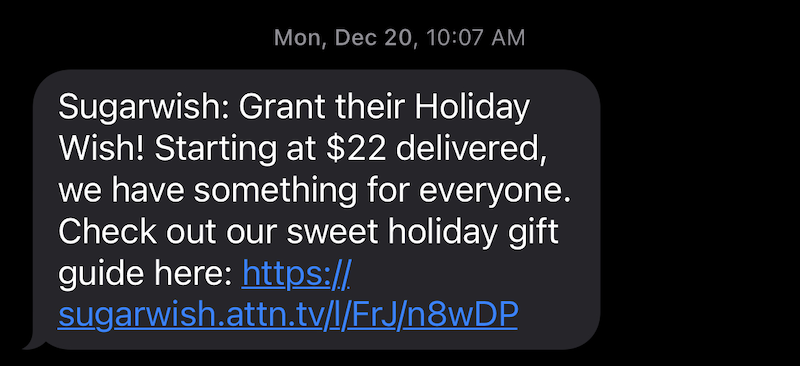 Social media
Don't forget to talk up your guide on social media. Repurpose your gift guide by taking snippets of content for platforms like Instagram, Facebook, and Pinterest. Given that social networks are highly visual, they offer the perfect environment for showcasing your products.
If you're sharing your gift guide on Instagram, tag the products on your post to make it easier for people to make a purchase.
That's what the jewelry retailer Melissa Joy Manning does exactly that in the post below, and it includes an appealing caption that's incredibly relevant during the holidays. The reference to "everlasting joy this season" ties the message to the holiday spirit, emphasizing that these gifts can bring happiness and joy, which aligns well with the general mood and intent of holiday shopping.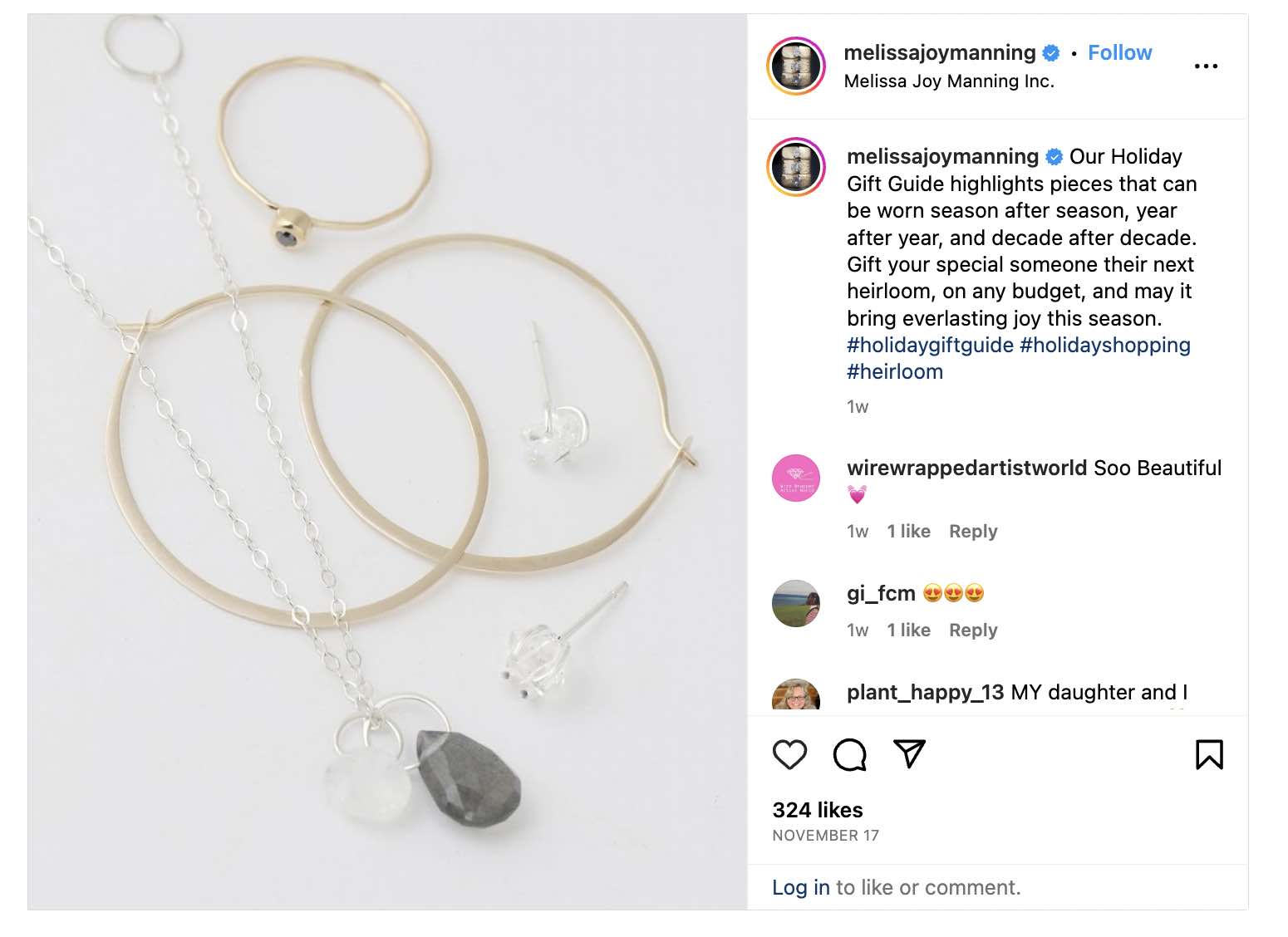 12. Make your gift guides easy to find
Ensure that your gift guides are prominently displayed and easily accessible on your website or in your store. This could mean featuring them on the homepage or in a dedicated section, so customers can effortlessly find the perfect gift ideas.
Need inspiration? Take a look at MySelf Lingerie, whose gift guide links are displayed right on their website's top navigation. Not only that, but they have several banners on their homepage promoting their gift-able items.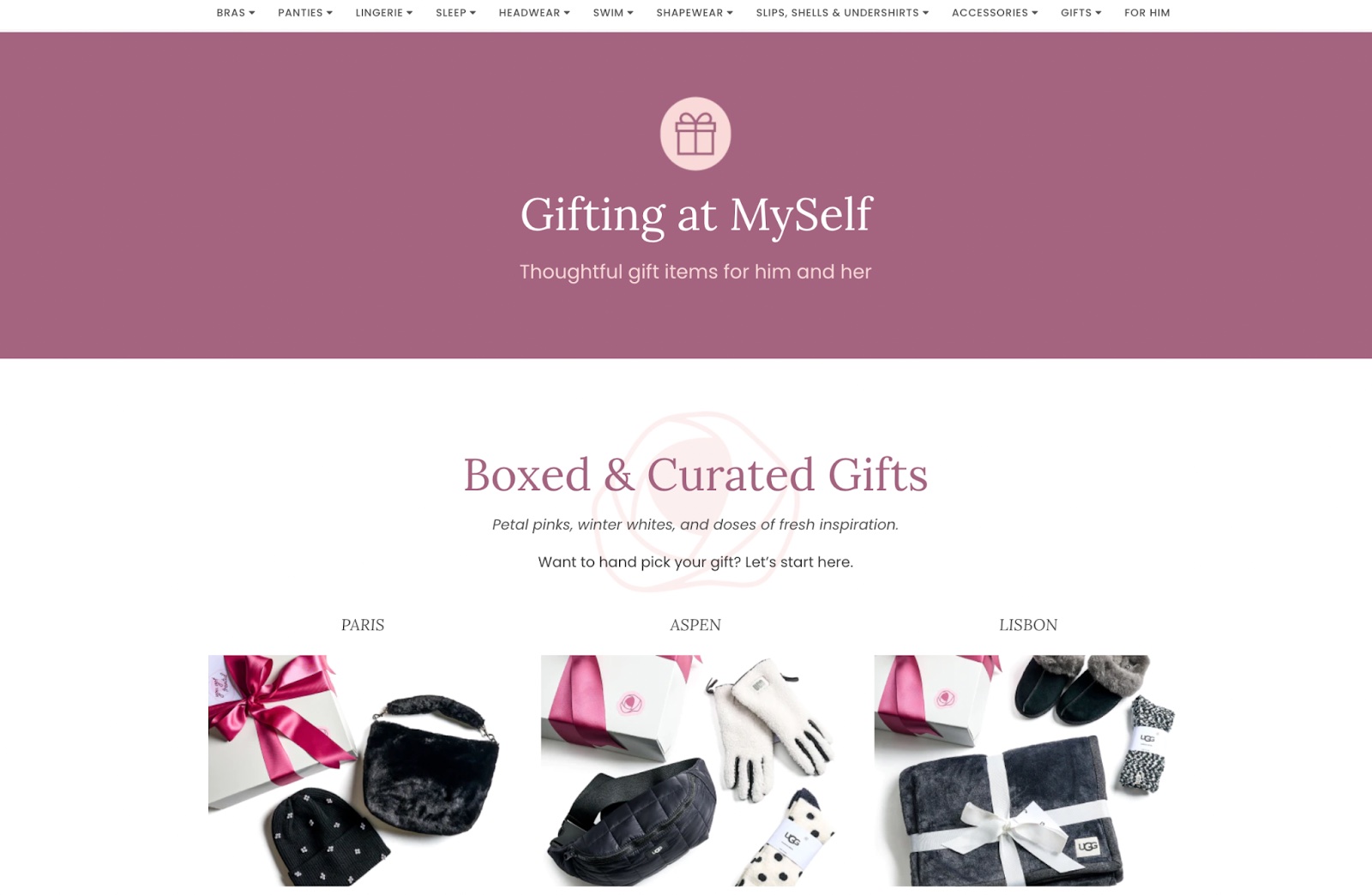 Final words
This holiday season promises to be another big one, so make sure you're equipped to give your customers the best experience possible. Gift guides go a long way in doing just that, and we hope this post inspires you to create a dazzling gift guide for your customers.
Need help doing just that? Lightspeed's Advanced Reporting features can shed light on which products to include so you can curate the best guide for your customers. Schedule a call with an expert to learn more!
FAQs
What is a gift guide?
A gift guide is a curated collection of gift ideas, typically organized by categories such as interests, occasions, recipient types (like gifts for him, her, kids), or price ranges. It's designed to simplify the gift-shopping process for customers by presenting a variety of options that cater to different needs and preferences.
How do I make an online gift guide?
To create an online gift guide, start by identifying your target audience and their interests. Organize products into clear, themed categories. Use high-quality images and detailed descriptions for each item. Host it on an easily navigable section of your website and consider creating a digital catalog or a dedicated landing page for it.
What is the purpose of a gift guide?
The purpose of a gift guide is to help customers find suitable gifts for different occasions and recipients more easily. It aims to simplify decision-making, showcase a range of products, and ultimately drive sales by catering to the specific needs of various customer segments.
How do you promote a gift guide?
Promote a gift guide through various channels like email marketing, social media, paid ads, and on your website's homepage. Collaborating with influencers, bloggers, or utilizing SEO strategies to increase visibility can also be effective. Highlighting it in newsletters and store signage if you have a physical location can help too.
What is the content of a gift guide?
The content of a gift guide includes a selection of products or services, accompanied by images, descriptions, prices, and links to purchase. It often includes categorizations based on themes, price points, or recipient types, and may feature recommendations or tips related to the products.
How do you make an Instagram gift guide?
To make an Instagram gift guide, create visually appealing posts or stories featuring selected products. Use engaging captions, hashtags, and tag the products if possible. You can create a highlights section on your profile for the gift guide or use Instagram's shopping features to provide direct links to the products.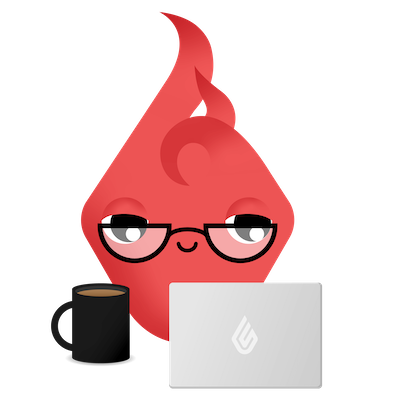 News you care about. Tips you can use.
Everything your business needs to grow, delivered straight to your inbox.