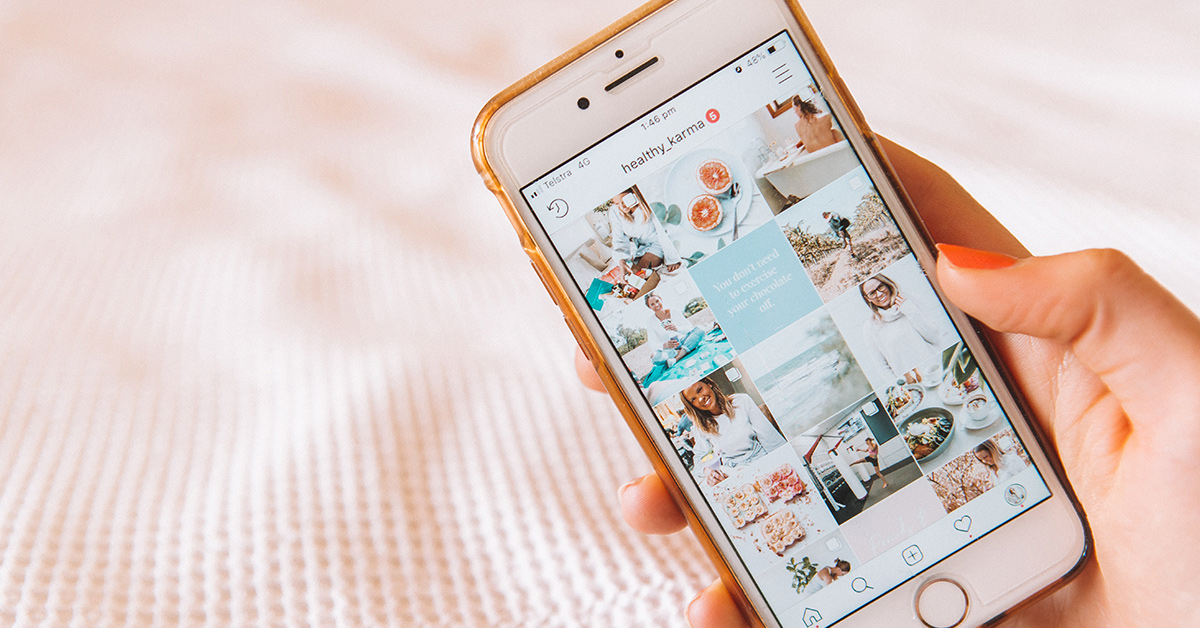 Businesses make an average of $6.50 for every 1$ they spend on influencer marketing. Whether you're a small business operating on a shoestring budget, or a store brand with multiple locations, returns like that present a huge opportunity.
70% of teens are reported to trust influencers more than traditional celebrity endorsements, and 49% of consumers depend on influencer opinions to help make a purchasing decision. Twitter even recently stated that their users trust influencers nearly as much as their close friends.
Today, retailers and marketers are jumping on the influencer bandwagon and discovering the success that comes with partnering with both micro and macro-influencers. But finding and partnering with influencers can be tricky, especially if Instagram starts hiding likes for everyone.
Knowing how to find influencers that fit your brand requires a firm grasp of what type of campaign you want to run, understanding the value influencers bring on each social media platform, and researching whether or not an influencer aligns with your brand, your products, and your values.
We've put together a comprehensive guide to help you build your next influencer campaign. Keep reading if you want to learn how to:
Plan your influencer campaign

Choose between micro and macro-influencers

Determine which social platforms to use

Choose the right influencers

How to plan your influencer campaign
Before reaching out to influencers, ask yourself these questions about your campaign.
What's your campaign's goal?

Do you want macro-influencers, micro-influencers, or a mix of both?

Which social media platforms does your target audience use?

How will you measure success?
Pinpoint your campaign's goal
Firstly, you need to know the goal of your campaign, since that will determine which type of influencers you should reach out to. If you're a new company trying to get more visibility, you should run an awareness campaign—making your target market aware that your brand exists and what your unique selling proposition is. Rather than push your products and services right away, having influencers casually mention your brand as the new, hot brand on the market could get you plenty of attention and visibility.
If you're an established brand, you can jump straight into conversion campaigns—where an influencer to promotes your products and either gets a paid a fixed amount, a percentage of each sale, or a fixed amount per sale.

Choose between micro and macro-influencers
The cost of doing business with an influencer varies depending on their reach, engagement metrics, and popularity. There are two types of influencers: micro and macro-influencers.
What are micro-influencers?
Micro-influencers have between 1,000 and 10,000 followers. Generally speaking, micro-influencers are less expensive to work with because they have a much smaller reach. Here's why micro-influencers are valuable:
They're perceived as authentic
Micro-influencers are believable. They're not so popular that they're perceived to have "sold out". If they endorse a product or service, their audience believes that it's a genuine recommendation from someone who is just like them (even if the photos can look pretty staged).
They're cost-effective to work with
Since micro-influencers have a smaller reach than macro-influencers, they're also less expensive to work with. The added bonus is that their followers are typically highly engaged. While you're not necessarily getting as much visibility as you would if you worked with a macro influencer, you can almost assure that a micro influencer's following is highly engaged because they actually trust the influencer and believe them to be authentic.
They have great engagement rates
While micro-influencers have less reach than macro-influencers, their engagement rates dramatically out-perform those of macro-influencers. The more followers an influencer has, the less engagement they generate.
HubSpot reports that micro-influencers have, on average, a 0.10% higher engagement rate than macro-influencers. This can largely be attributed to their followers being organic, and the influencer's content is perceived as more authentic. A micro influencer's audience is more targeted, which results in higher engagement and conversions. A survey conducted by Expercity found that 82% of customers would be very likely to follow recommendations from micro-influencers.
Talk about the power of influence!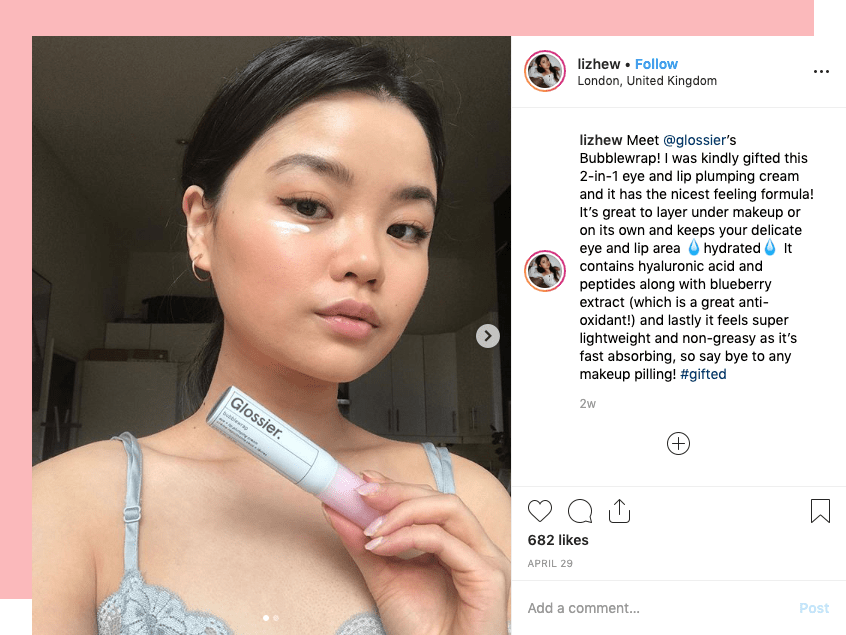 Skincare and beauty product company, Glossier, knows the power of micro-influencers like @Lizhew
Pro tip
: If your target audience is concentrated in a specific geographic area, consider working with local micro-influencers. Their following may not be big, but odds are it's concentrated in the area where they live, which is exactly the audience you're trying to reach. If, on the other hand, you're launching a product or service on a regional or national level, the extra expense of working with a macro influencer might be more worth it.
What are macro-influencers?
Macro influencers are essentially celebrities with hundreds of thousands—if not millions—of followers. Think Kylie Jenner. We're talking major social clout.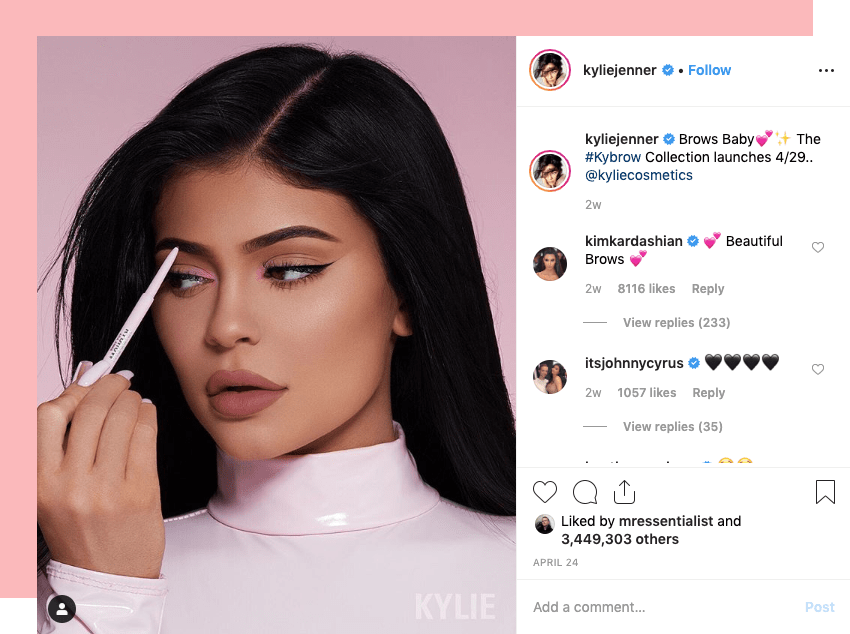 Kylie Jenner used her massive Instagram following to propel her cosmetics company to a $1 billion dollar value
They'll get your brand bigtime visibility
While macro-influencers don't necessarily have engagement rates as high as micro-influencers, they still give your brand bigtime visibility. Kim Kardashian West's 135 million Instagram followers is a reach that rivals Super Bowl viewers. But for that kind of visibility, it'll cost you. Kim Kardashian West charges up to $1 million per sponsored post.
Cons of macro-influencers
Part of what makes macro-influencers so successful is also the reason why they're not always a great solution.
For one, their celebrity status compromises their perceived authenticity. In the case of many macro-influencers, the gig is up. People know they're paid to plug products, and those products might not necessarily be good quality or even align with their image. As a result, macro-influencers typically have lower engagement rates than micro-influencers.
Additionally, macro-influencers can be really expensive to work with and, while their reach is proportionally higher as a result, it might not consist of the people you're trying to make aware of your product. In fact, Sarah Ware, CEO of Markerly, found that influencer campaigns that worked exclusively with micro-influencers actually generated more conversions.
The lesson here is that bigger isn't necessarily better.
Pro tip:
Want to track whether an influencer's impact on your website traffic? Consider
setting an annotation in Google Analytics
for the date their post went live. If you see a spike in site traffic following that event, you can confidently attribute that uptick in traffic to the influencer's mention.
This type of influencer costs more to work with because they reach a much larger audience than any micro-influencer could. If your brand's values and mission align with the macro influencer's values, it's possible to negotiate a lower rate.
Determine which social media platforms to use
Lastly, you have to choose which social media platforms you want to use.
Influencers typically have a presence on all major social media channels, including YouTube, Instagram, Facebook, and Twitter.
As a small business, your goal is simple. You want to know which social media platforms your target audiences spend the most time. We've rounded up the 5 major social media platform's strengths, demographics, and when they're the most effective choice.
Facebook
Active users: 2.2 billion
Facebook is the most widely used social network by all demographics, which is both good and bad. The good news is that you'll probably be able to pinpoint your target audience if you run Facebook Ads. The bad news is that it's a challenge for influencers to get visibility at the same scale as on other platforms, partly due to big brands paying to get their content in people's newsfeed.
While it certainly has its downsides, Facebook is still used by over 2 billion people and 68% of adults. If an influencer manages to get visibility, there's a large addressable audience. And, similar to Instagram, Facebook Live enables influencers to not only share photo and video posts but also live stream content to their followers and create an authentic, in-the-moment experience.
When looking for a solid Facebook influencer, pay close attention to the number of likes, shares, and views the content they share produces. Those metrics are a direct reflection of that influencer's potential reach and the quality of engagement with their followers.
Instagram
Active users: 1+ billion
Instagram is a hugely popular social media platform for both micro and macro-influencers because of its emphasis on visual content—either posts, stories or IGTV videos. It's unquestionably the most popular platform for influencers and brands looking to connect with target audiences through influencer partnerships.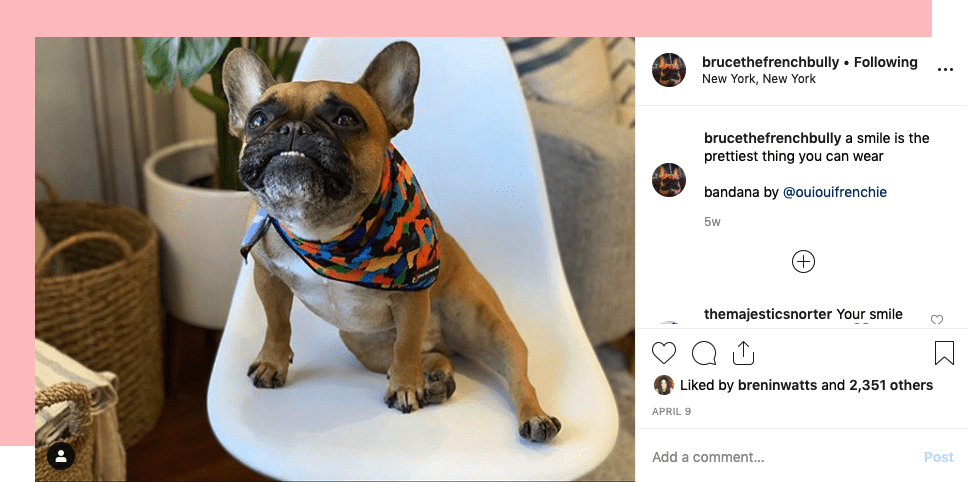 Yup, dogs can be micro-influencers, too (literally). Just ask Bruce the French Bully!
The opportunity for influencer marketing on Instagram is pretty clear. 60% of its users (that's 600 million people) actively use the platform to discover new products. Instagram users are browsing their feed with intent to purchase, which bodes well for marketers.
The landscape for Instagram influencer marketing might change, though. In Canada, Instagram is piloting hiding post "Like" counts to encourage people to like content for what it is, rather than for how popular they think it is. While this is ultimately beneficial for Instagram's users, it poses a unique challenge for marketers and influencers moving forward. How will you pinpoint influencers when their engagement metrics are hidden?
Pro tip:
Comments on a post are a great way to reliably see if an influencer is connecting with their audience. If you see conversations and people tagging their friends, that's a universally great sign.
Twitter
Active users: 321 million
Twitter is still a popular social media platform. A tweet's average lifespan is only 18 minutes, which means that to drive meaningful engagement on the platform, you need to tweet—a lot.
Oftentimes, users refer to their Twitter newsfeed to get the latest information and breaking news, which means that for an influencer's content to get noticed on the platform, they need to have a solid grasp of how to leverage trending hashtags and sponsored tweets.
While Twitter shouldn't be the core platform you use for your influencer marketing campaign, it's a great option for a brand that has limited advertising resources and wants to get their name out there.
YouTube
Active users: 1.5 billion
Because creating videos is much more production-intensive than a tweet or a photo, YouTube influencers typically charge more for their services.
A high-quality video from either a micro or macro influencer can generate a lot of visibility for your brand and its products. Moreover, many YouTube influencers create content that organically promotes products and services they like.
For example, Seth Fowler, a sneaker reviewer based in New York City, routinely rounds up his favorite upcoming sneaker releases and gives his opinion on a shoe's quality, aesthetic, and whether or not he thinks it will sell out. With over 400,000 subscribers and upwards of 200,000 views per video, it's safe to say he's a trusted reference point for sneakerheads.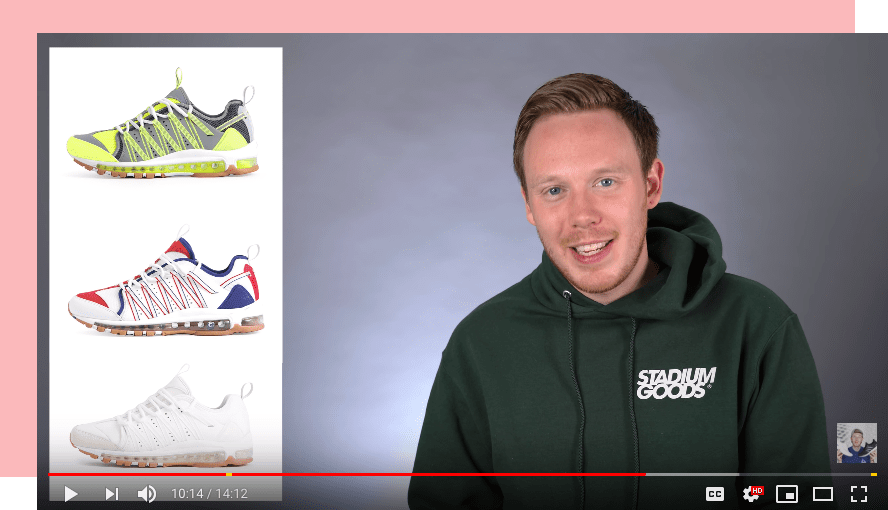 Seth Fowler's authentic approach to sneaker reviews has gained the trust of over 400,000 subscribers
A successful YouTube influencer routinely posts quality content that applies to a specific niche. Whether that's sneaker reviews, makeup tutorials, or fitness gurus, there are many micro and macro influencers to partner with to give your product visibility with your target audience. And with customized promo codes, it's relatively simple to measure how many sales an influencer's content generated for your brand.
Pro tip:
94% of 18 to 24-year-olds use YouTube. If your target audience falls into that demographic, YouTube is
one of the best platforms
to reach them.
Snapchat
Active users: 190 million
While Snapchat videos and pictures used to disintegrate as soon as they were shared, today Snapchat Stories allow influencers to share pictures and short videos for 24 hours. This feature is a great option for brands who want to generate major engagement in a set time period.
For example, a small fashion and apparel retailer launching a new collection might consider partnering with a Snapchat influencer to share videos or pictures of their launch party.
Finding influencers on Snapchat can be a challenge, which is why Snapchat recently launched Snapchat Storytellers to connect brands with relevant influencers on the platform.
Pro tip:
Snapchat claims to reach 75% of
13 to 34-year-olds
in the US. While that's certainly a broad demographic range, it denotes that Snapchat is best used for targeting younger audiences.
How to choose the right influencers
Before partnering with an influencer on any platform, you need to do your research. Think of this as a background check to see if the influencer aligns with your brand, has a solid track record, drives meaningful engagement with their audience, and connects with your target audience.
Do the influencer's values and image align with your brand?
The most important consideration when pinpointing an influencer to partner with is whether or not their values and image align with your brand. If they do, the content you produce together will be more authentic. If not, the content will scream "paid ad", which is a turnoff for many consumers.
For micro-influencers, you need to look through their social media profiles to get an idea as to whether or not their personality, lifestyle, and values match the ones you want your brand to be associated with.
For macro-influencers and celebrities, you can find information online about the causes they're involved with and passionate about. If you can't find any, try reaching out to their publicist or PR agency.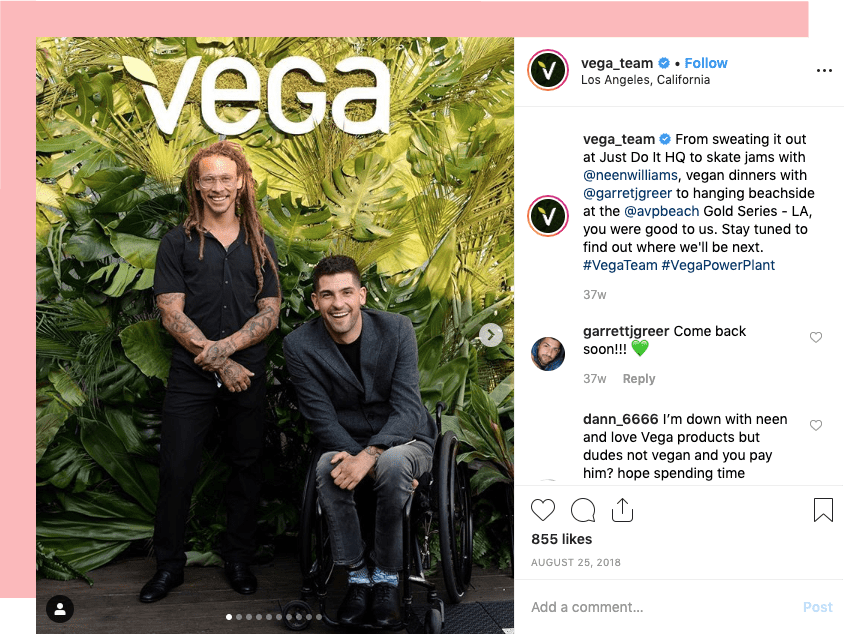 Plant-based nutrition company Vega knows a thing or two about influencer alignment. They partnered with health-conscious pro skateboarder, Neen Williams.
Do the influencer's previous endorsements align with your brand values?
For both micro and macro influencers, it's critical that you research which brands they've worked with in the past—it can give you insight into their values, their target audience, and how they mention products or brands in their content.
For example, let's say a YouTube micro-influencer published a series of videos related to clothing made from organic fibers, and your brand works specifically with organic producers in developing countries. Based on the influencer's previous partnerships, you can safely assume that they align with your brand's values and that their audience does as well. This results in more authentic content that generates higher engagement.
Doing your due diligence and checking out an influencer's previous endorsements also sheds light on how they engage with their followers. If you notice that an influencer responds to comments and provokes discussions with their captions and in the comments section, this is an encouraging sign.
Do their engagement metrics show a strong connection with their audience?
Just because someone has 10,000 followers on Instagram doesn't necessarily make them an ideal choice for your campaign. When you're in the process of selecting influencers to partner with, check their post's comments section to see if their posts are sparking conversation.
Are their posts generating comments?

Does the influencer actively reply to their followers' comments?

Are people tagging their friends?
Not all influencers are created equal. Partnering with an influencer that goes the extra mile to interact with their followers will result in more engagement on the posts that advertise your product or brand.
Pro tip:
As a general rule, a good influencer will generate between 10% and 15% of their total followers as engagement. If an influencer has 1 million followers, you want them to generate around 100,000 likes, follows, comments, and shares from that post. Anything more than that is a sign that a certain influencer has a great relationship with their followers. Anything less is a sign of poor engagement.
Does partnering with them fit into your budget?
The influencers you work with will largely depend on your budget.
Working with a world-class celebrity macro influencer with over 1 million followers will obviously cost much more than working with a local micro-influencer with 5,000 followers, but their rates and reach doesn't necessarily mean they'll generate more conversions.
In fact, campaigns that leverage many micro-influencers can generate more conversions than macro-influencers. This is largely because micro-influencers cater to a specific target market. If that target market aligns with your brand and products, they're far more likely to convert into sales.
Things to bring up when you're establishing influencer rates
While negotiating rates with influencers, it's essential that you discuss the following points:
How many posts will they produce?

What is the timeframe for those posts?

When will each post be published?

Will you pay them based on the content's performance (either conversions or engagement metrics)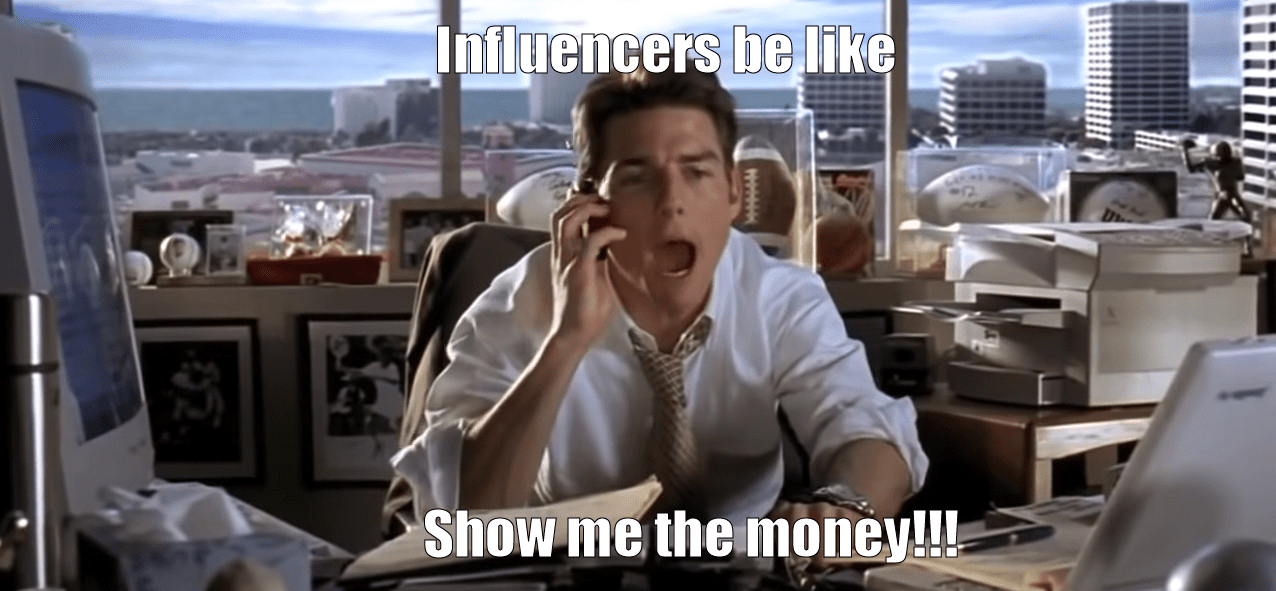 It's also important that you be crystal clear on both your and the influencer's responsibilities:
Who will take the pictures?

Who will write the captions?
Each of these variables will impact the influencer's rate. The more posts and effort the influencer needs to put in, the higher the cost.
Get experts to help you find the right influencers
If you want to get serious about influencer marketing but don't have the time to take on all that research yourself, you should consider using an influencer marketing platform or a celebrity contact database. Those tools will simplify how you find relevant influencers that are popular with your target market.
While some of these platforms charge for their services, they make it easy for your business to search through thousands of influencers, and you can filter their database by category, social platforms, number of followers, reach, category, and other items.
Wrapping up how to find influencers that fit your store's brand
Finding the right influencers that fit your retail store's brand is essential for an influencer marketing campaign to be successful. This is the most critical step to your success.
Once the campaign is over and you've measured its impact—whether its engagement, reach, conversions, or site traffic—it's also important to maintain your relationships with the influencers that drove great results. Offer them fair compensation, send them freebies and thank you notes, and maintain connection so that they will be willing to work with you again in the future.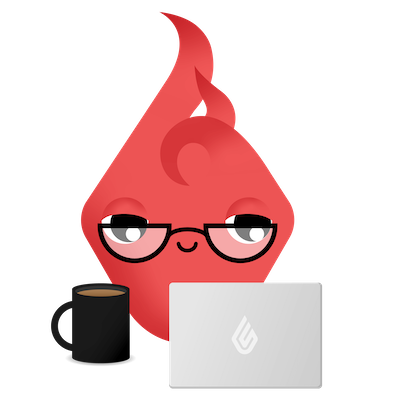 News you care about. Tips you can use.
Everything your business needs to grow, delivered straight to your inbox.