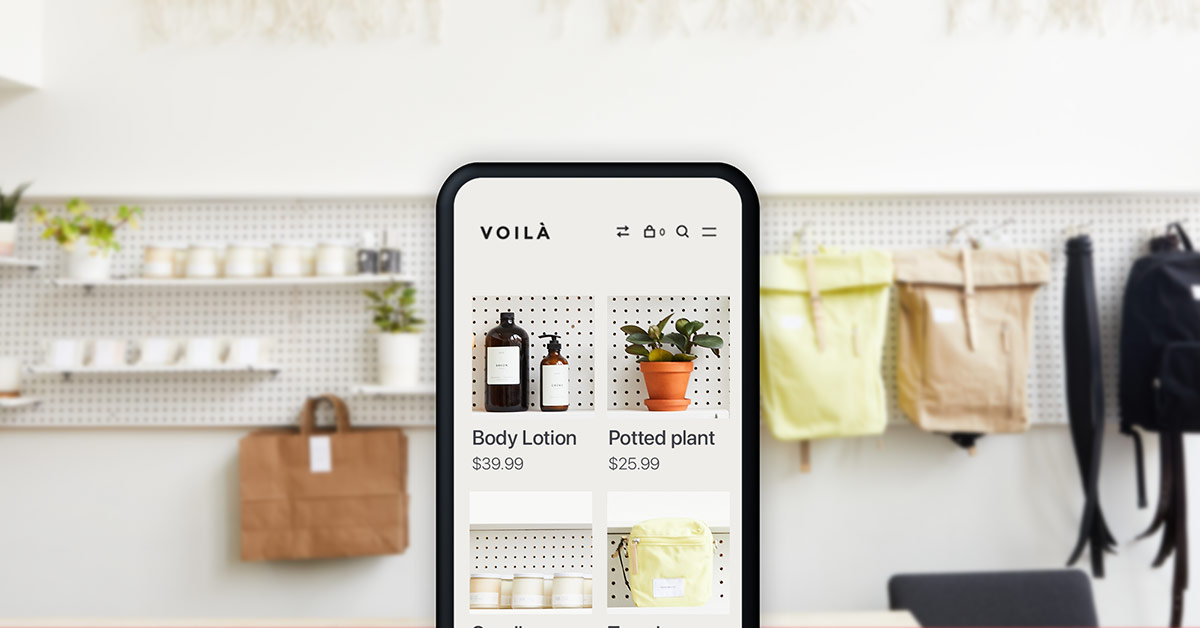 While physical stores are an important part of the customer journey, one that gives merchants the opportunity to create immersive experiences and foster brand loyalty, customers are undoubtedly shopping online more.
They probably researched products, read reviews, watched unboxing videos on YouTube and compared prices online before ever setting foot in a store.
Let's be clear, brick and mortar retail is not dead. Customers will always crave rich human interaction and are willing to pay a premium for exceptional experiences—but the utility and benefits of eCommerce are undeniable.
Getting transactional online is a must for modern retailers. By selling online and in-store, retailers can serve more customers and expand their business footprint.
Let's explore the essential list of things you need to set up an online store and start making sales with Lightspeed.
Learn how to bring your business online
Becoming an omnichannel business means you're ready for whatever life throws at you—from extended store closures to evolving customer expectations. Learn how to bring your products online and start selling fast in our quickstart guide.
Launching an online store 'to do' list
While there are a ton of things you can do to customize your online store, improve the shopping experience and reach more customers, we're covering the essentials for building a functional, transactional store. You can always revisit and make adjustments after you've started making sales.
Pick your store name
Register for Lightspeed eCom
Pick your theme
Update your standard pages
Add a payment gateway
Set up shipping
Import your inventory
1. Pick your store name
This shouldn't be too difficult. You already have a name for your physical retail store, the next step is officializing your name for the internet and purchasing a domain name.
Use services like GoDaddy or Google Domains to check your domain name's availability and make it yours.
2. Register for Lightspeed eCom
Back in the day, setting up an online store was a cumbersome process. You needed a domain, a server and an eCommerce system, plus you needed to manually check for updates and maintain them (let alone get your website set up and add all your products).
But with Lightspeed, you can create an online store in a fraction of the time. Choose from over 140 professionally designed and customizable themes and import the inventory from your retail POS system to your online store.
Talk to a Lightspeed eCom expert today to get started.
3. Pick your theme
Once you're onboarded by our team, you can visit Lightspeed's Theme Store and choose a theme. Browse options, read reviews from merchants using that theme and see which features they include and check out live previews. No matter what products you sell, there's a theme for you.
Access and Austin are two of the most popular store themes. Once you've found one that you like, click on 'Install now' to get started with that theme.
4. Update your standard pages
Asides from your homepage and product pages, it's important to have an About Us, Terms & Conditions, Privacy & Returns Policy, Shipping & Returns, and Contact Us page.
About Us: This page is where people can learn about your online store and the story behind it.
Shipping & Returns: This is where people go to learn how much you charge for shipping, which regions you ship to and how to return products that were purchased online.
Contact Us: Your Contact Us page is where customers can find your business contact information: your customer support email address, phone number, store location and social media accounts. Make sure your 'Contact Us' page is clearly visible from your Homepage.
To create and modify pages for your website, go to your eCom Back Office and click Content and visit our support page on adding content to your online store.
5. Add a payment gateway
Connect a payment gateway, like Lightspeed Payments, to your online store so that you can start collecting payments.
6. Set up shipping
Where and how much you charge for shipping should be relative to your shipping costs, order frequency and average order size. You have the option of offering free shipping, flat rate shipping or variable shipping rates. Some merchants opt for a free shipping threshold ("get free shipping when you spend "X" or more").
First thing first, you need to research shipping providers and their rates. For North American merchants, some popular shipping providers include:
Merchants using Lightspeed eCom can use handy shipping integrations like ShipStation and EasyPost to connect their business to one or multiple shipping service providers.
In case you need help setting up shipping, here's an introduction to shipping from our Help Center.
7. Import your inventory
The importing tool in Lightspeed eCom is a powerful way to import product information from your point of sale system directly to your website. Use it to bulk import the following product information:
Brand

Supplier

Inventory quantity

Price

SKU

Inventory warning level

Inventory minimum

Cost price

Article code

Barcode (EAN)
For more information on how to use Lightspeed eCom's import tool, check out the import tool overview in our Help Center.
How to enhance your online store
Online stores are always a work in progress. There are always things you can do to improve the customer experience, conversions and visibility. Here are a few things you can explore once you have a transactional online store up and running.
Create an FAQ page
The most effective way to answer customer questions without needing to hire a full-scale support team is to help them find answers themselves. Create a frequently asked questions (FAQ) page and answer standard questions like How much does shipping cost or How long do I have to return an item?
Win back abandoned carts
According to Baymard Institute, about 70% of people who add items to their cart won't make a purchase. Use Lightspeed eCommerce to automatically send cart recovery emails and win back those sales.
Improve your product photography
Remember, online shopping doesn't have the same sensory experience as in-store shopping. Online shoppers can't touch, try or feel the products they're interested in, which makes your product photography that much more important.
Improving your online store's product photography is a surefire way to have a more professional looking website and generate more sales. If you aren't a photographer, that's okay. Image editing apps like Cutoutcow make it easy to edit images and get them ready for your online store.
Set up Facebook Pixel
If you want to advertise on Facebook but don't have a big advertising budget, Facebook Pixel is for you.
With it, you can create personalized ads that feature the products someone looks at when they're on your website. You're not wasting money advertising to people who have never heard of you; you're retargeting people that were on your website and showed interest in your products.
Here's an example of Pixel in action: I looked at a pair of Mejuri earrings–these Cabochon Studs.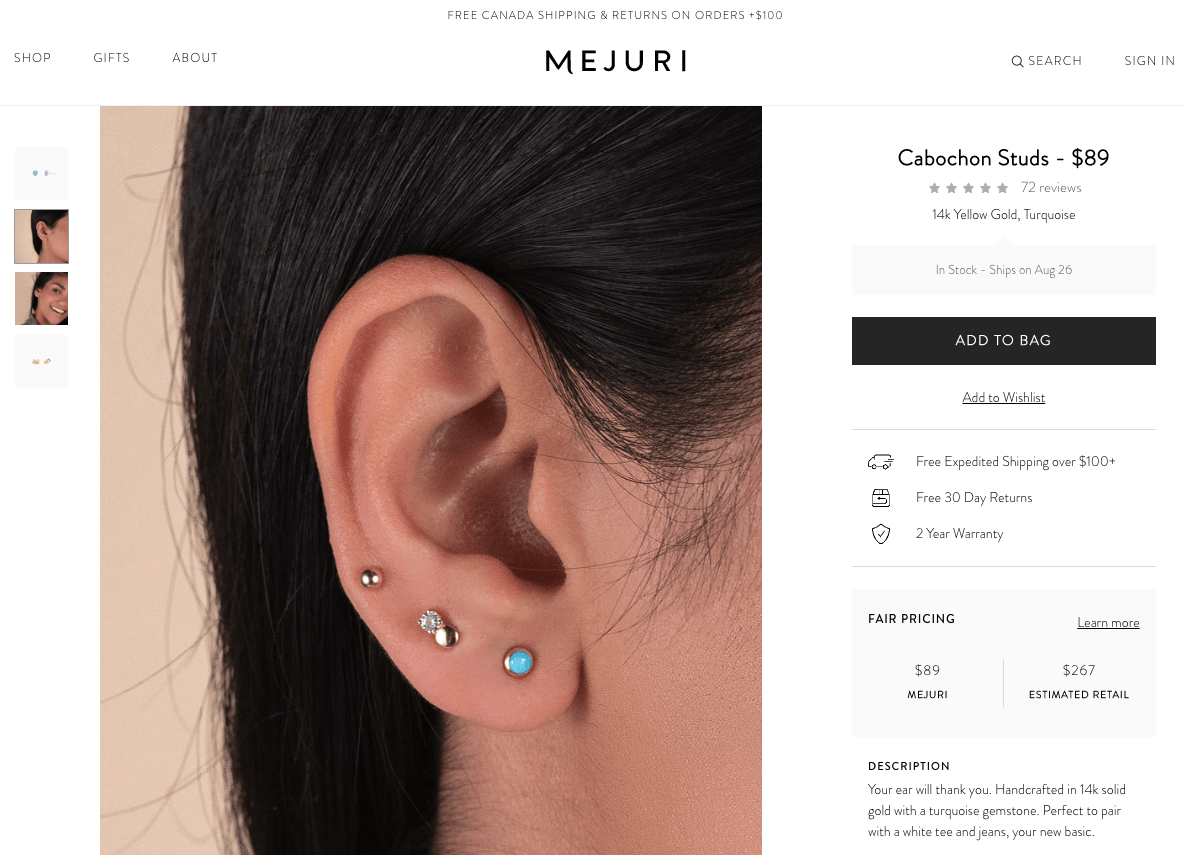 The next time I went on Facebook, I was served this ad.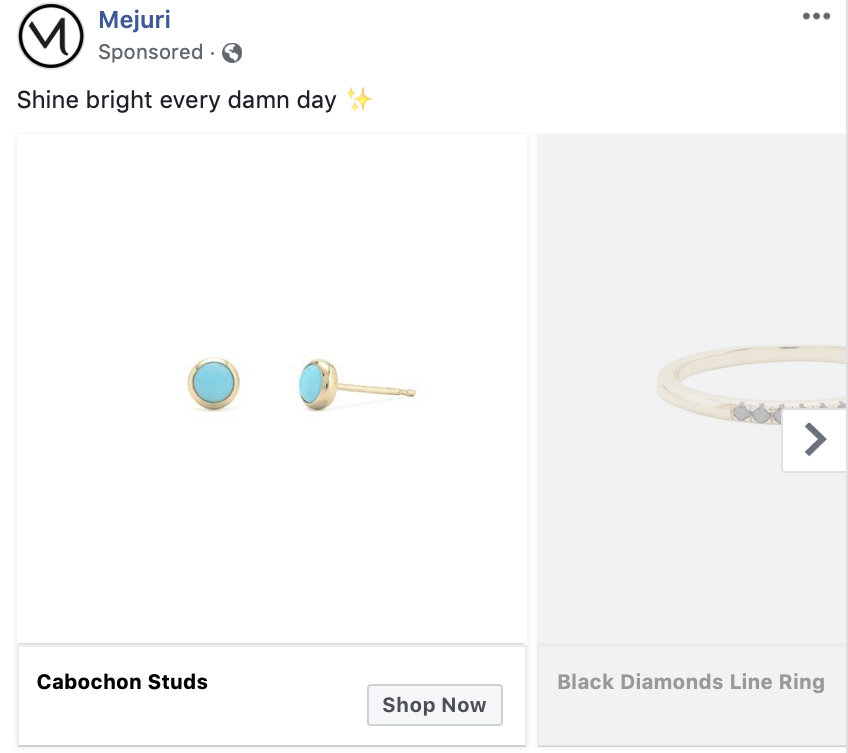 That's not a coincidence. Mejuri served me that ad because they're using Facebook Pixel.
It's easy to install and it works. To install Facebook on your Lightspeed eCom store, just go to Back Office > Settings > Web Statistics > Facebook Pixel and paste your Pixel ID.
Start selling through Instagram
Instagram Shopping allows online merchants to tag which products are featured in a post. Customers can see which products are tagged and make a purchase directly from the platform.
Bring your retail store online today
In this article, we outline how to get your retail store online. Now, it's up to you to take action.
By selling online and in-store, you can increase sales and improve your customer experience. They can shop how they want, whenever they want, and you grow your sales and store footprint as a result.
With the right technology, it's never been easier to go digital and manage your online and physical store using the same platform. Ready to get started? Our eCom experts are here to answer any questions you have and get you transactional as fast as possible. Talk to one today!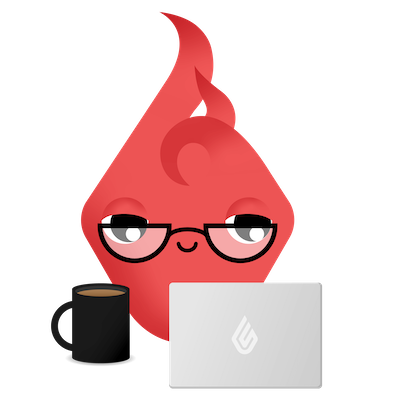 News you care about. Tips you can use.
Everything your business needs to grow, delivered straight to your inbox.