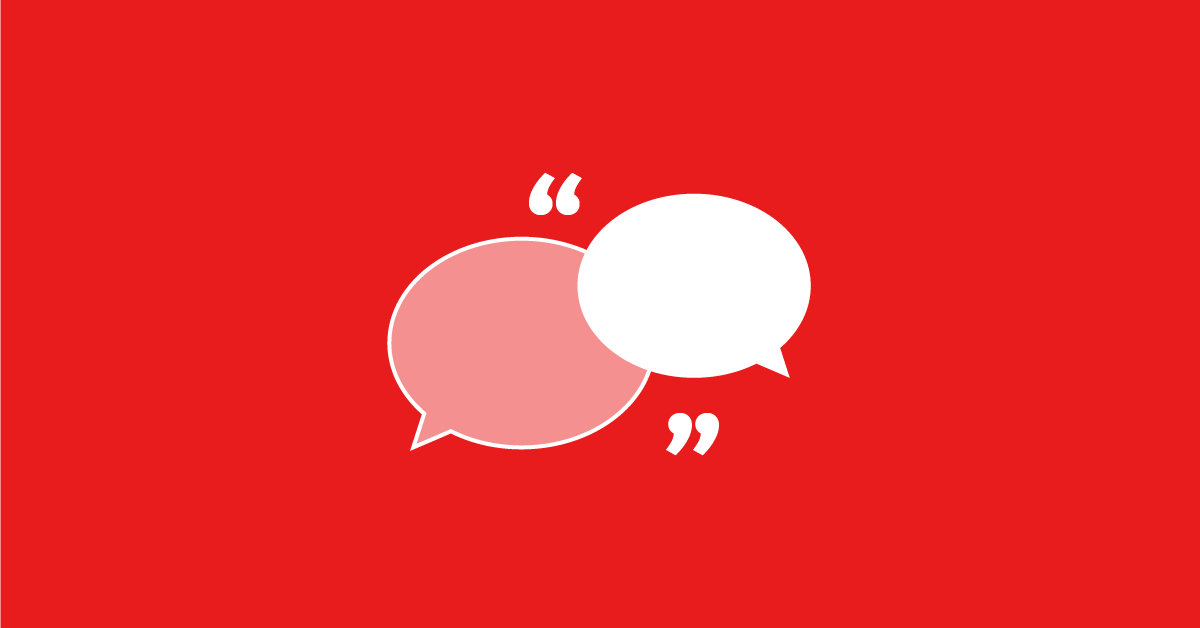 Being a retailer can be incredibly rewarding, but it's not easy.
There are some days where you need a little extra motivation and inspiration to remind you why you got into this business in the first place.
Whether you've hit a rough patch or you're just looking to shake things up, there's nothing like an inspirational quote to get you motivated. At Lightspeed, we're all about helping retailers be the best they can be, which is why we've put together a list of our favorite inspirational retail quotes from some of the world's most successful retailers, coaches and business moguls.
Read their words of wisdom and share the ones that speak to you with your teams whenever you need a boost.
Prepare your business for the future of commerce
Download our free playbook and learn how to sell on different channels, boost loyalty and increase foot traffic with technology.
Retail quotes about starting a business
On getting started
The only thing worse than starting something and failing is not starting something.
— Seth Godin, Author
Key takeaway: It's hard (and even scary) to start a business, but fear of failure often holds us back from accomplishing great things. Unless you get started, you'll never find out if you'll fail or succeed. The answer is worth knowing.
On risk-taking
Be brave. Take risks. Nothing can substitute experience.
– Paulo Coelho, author
Key takeaway: Experience is one of the greatest teachers, and taking risks teaches us some of the best life lessons.
On consistency
People like consistency. Whether it's a store or a restaurant, they want to come in and see what you are famous for.
— Mickey Drexler, Former CEO and current Chairman, J. Crew Group
Key takeaway: Customers value consistency. Ensure that your retail experience meets and exceeds their expectations.
On doing it all yourself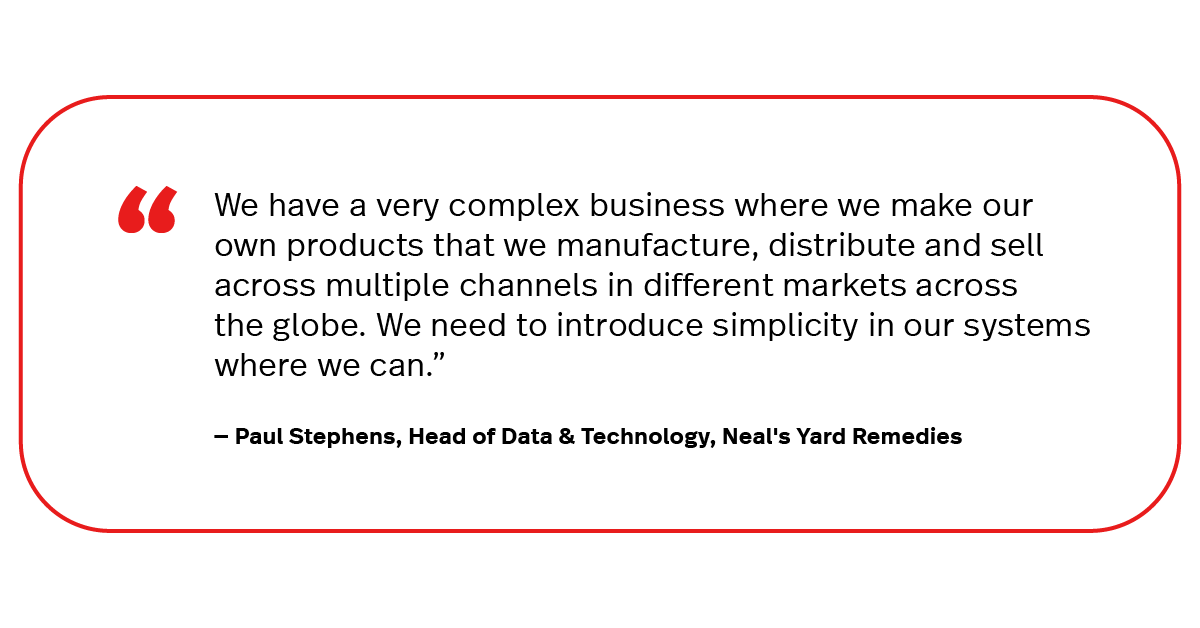 — Paul Stephens, Head of Data & Technology, Neal's Yard Remedies
Key takeaway: The more you do in-house, the more you have to juggle. Don't just settle for complex systems and workflows. Simplify, streamline and automate everything you possibly can.
On curiosity
Like most retailers, we don't know exactly where we will land at the end of it but our curiosity and willingness to create will be a guide for us.
— Jesper Brodin, CEO, Ikea
Key takeaway: Sometimes, you have nothing but a gut instinct for what you think will work—especially if your idea never existed before. Oftentimes, the best ideas come from the willingness and curiosity to create something different.
On innovation
I learned to push the envelope when it comes to asking questions or making requests. And if you hear 'that's not possible,' then ask 'what is possible,' instead of just saying thank you and leaving. But also to think creatively about problem-solving.
— Emily Weiss, Founder, Glossier
Key takeaway: Innovative ideas often come with pushback from others. Rather than get defeated by people telling you what isn't possible, focus on what is possible and don't let them off the hook until you make progress towards your goals.
What differentiates sellers today is their ability to bring fresh ideas.
— Jill Konrath, Author
Key takeaway: You can't expect to be super successful by doing the same exact thing as somebody else. Adding your own twist or creating something totally original is what will set you apart and help differentiate your business from others like it.
On goal-setting
Setting goals is the first step in turning the invisible into the visible.
— Tony Robbins, Author
Key takeaway: Turning your dreams into a reality starts with verbalizing them and making them real.
On work ethic
You can't build a reputation on what you are going to do.
— Henry Ford, Founder, Ford Motors
Key takeaway: Don't be just a thinker, be a doer, too.
On mindset
Whether you think you can or you think you can't, you're right.
— Henry Ford, Founder, Ford Motors
Key takeaway: Mindset changes everything. Believe you can achieve your goals and your probability of success is much higher.
On fundraising
I approached fundraising as an opportunity to align myself with partners who have more varied experience and diverse backgrounds than I do to help bring Glossier to life.
— Emily Weiss, Founder, Glossier
Key takeaway: When you're looking for investors, try finding ones that have skills that you don't have. Lean on them for what they know and become a better entrepreneur and leader as a result.
On partnerships
The biggest sources of opportunity are collaboration and partnership. And today, with digital communication, there is more of that everywhere. We need to expose ourselves to that as a matter or doing business.
— Mark Parker, CEO, Nike
Key takeaway: The internet is a wonderful tool. Use it to connect and partner with other businesses and collaborate with one another to forge mutually-beneficial relationships.
On iterating
Every action is an opportunity to improve.
― Mark Graban, Author
Key takeaway: There's always room for improvement. In an ever-changing retail environment, every choice you make and every interaction you have with your customers and employees can be made better.
On time-management
It has been my observation that most people get ahead during the time that others waste.
— Henry Ford, Founder, Ford Motors
Key takeaway: Of course, work/life balance is important. Just know that while other people waste time with excessive coffee breaks or browsing Instagram and TikTok, you can be threading the needle and growing your business.
On store design
My company is an extension of me, so when I designed my stores I wanted people to feel that they were in my home.
— Tory Burch, Founder & Creative Director, Tory Burch
Key takeaway: Brick-and-mortar stores are an opportunity to showcase your brand's personality. Take that opportunity to get creative and show customers what you're all about.
On vendor relations
They say we're the most organized store they work with because we're able to pinpoint exactly what's selling, exactly what's not selling.
— Anne Enriquez, Owner, Limbo Jewelry
Key takeaway: Data, data, data. Data is king. Having the numbers on hand, and being able to easily communicate them, means you and your vendors can work together to optimize sales. It's a partnership, after all.
Retail quotes about managing employees
On winning employee loyalty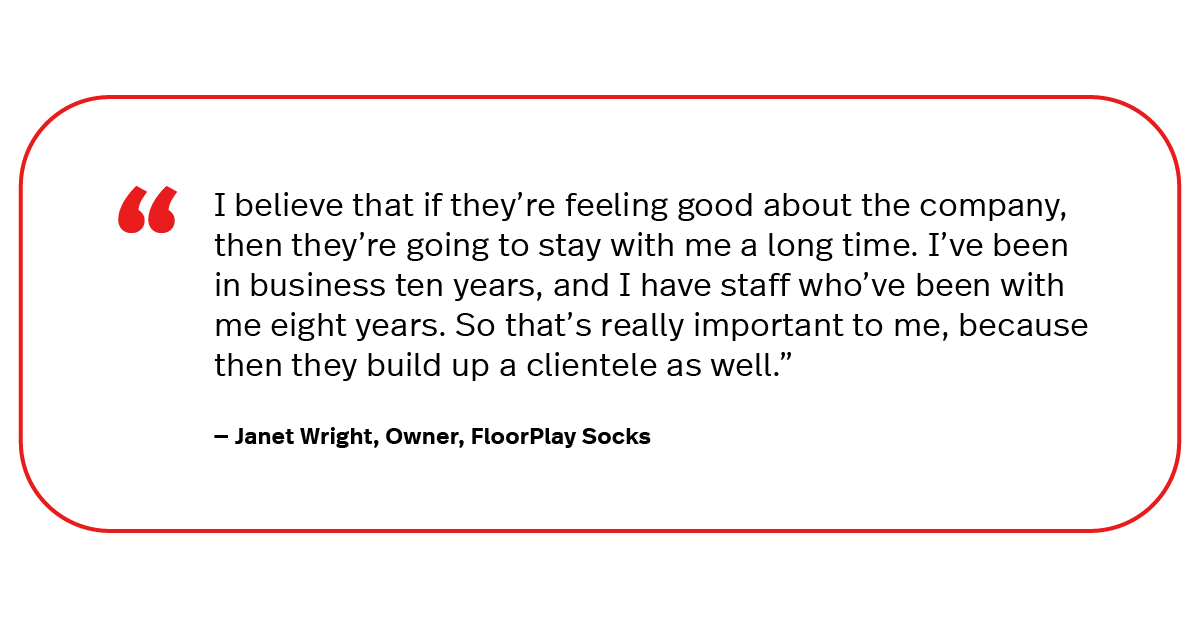 Key takeaway: Your employees are the heart of your business. You can't be everywhere doing everything, especially on the front lines, so you want to trust the people you've hired are doing as good a job—and ideally even better—as they would if they were the owner. That starts by giving them a reason to believe in the company, to know that you have their backs.
On company culture
Businesses often forget about the culture, and ultimately, they suffer for it because you can't deliver good service from unhappy employees.
— Tony Hsieh, CEO, Zappos
Key takeaway: A retail store's sales associates are their number one brand ambassadors. When they're happy, they're more likely to take great care of your customers.
On leadership
When you look at the reasons people leave companies, it's usually because their boss is a jerk or because they aren't learning and growing. So we spend a lot of time developing leaders internally and creating learning opportunities.
— Neil Blumenthal, Co-CEO, Warby Parker
Key takeaway: Would you stay at a job where you weren't happy? We didn't think so. Focus on giving employees opportunities to grow and treating everyone with compassion.
On employee happiness
Too many businesses today are based on driving prices lower by screwing over somebody: pounding suppliers or squeezing employees. We're the opposite. We put our employees first. If you take care of them, they will take care of your customers better than anybody else.
— Kip Tindell, Co-Founder, Container Store
Key takeaway: Take care of your employees, and they'll take better care of your customers.
Retail quotes about delighting customers
On the customer experience
People are always going to go shopping. A lot of our effort is just 'how do we make the retail experience a great one?
— Phillip Green, Chairman, Arcadia Group
Key takeaway: One of the most important differentiators between you and your competitors is the experience you provide. The easiest way to ensure customers enjoy themselves is by providing high levels of customer service.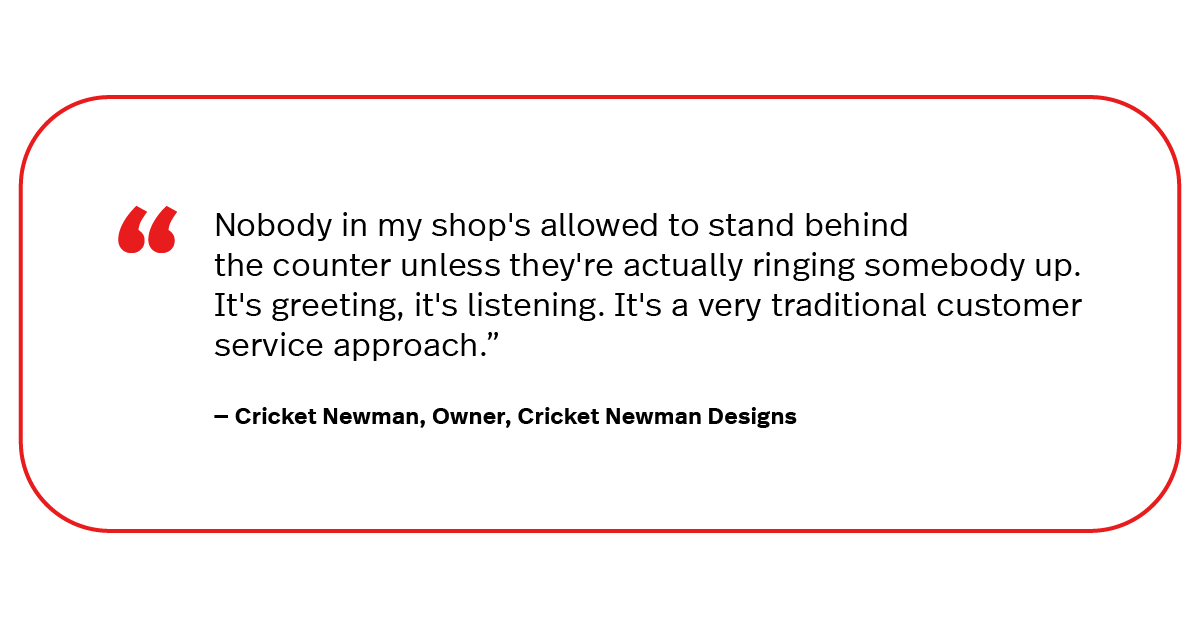 Key takeaway: Break down the barriers. Have your sales associate meet customers where they are—on the shop floor—instead of being sequestered away. That kind of connection goes a long way to making customers feel heard.
On being memorable
You walk into a retail store, whatever it is, and if there's a sense of entertainment and excitement and electricity, you wanna be there.
— Howard Schultz, Former CEO, Starbucks
Key takeaway: When creating the retail experience, you need to be sure that it's a memorable one. With so much clutter in the market, retailers need to provide customers with a reason to spend their time and money.
On caring
Your customer doesn't care how much you know until they know how much you care.
— Damon Richards
Key takeaway: You could have all the information in the world, but if the customer doesn't trust you, it's worthless. Before selling the customer on the product, show them that you have their best intentions at heart and actually care.
On being customer-focused
Retail is a customer business. You're trying to take care of the customer—solve something for the customer. And there's no way to learn that in the classroom or in the corner office, or away from the customer. You've got to be in front of the customer.
— Erik Nordstrom, CEO, Nordstrom Direct
Key takeaway: While it's easy to fall into a sales mindset, don't let that blind you from the fact that customers want you to take care of them and propose solutions that help them.
On consumer trust
Our brands—Nike, Converse, Jordan Brand and Hurley—are loved by customers all over the world. But we never take that for granted; we know that every day we have to earn their trust—by serving them completely and adding real value to their lives through products and experiences.
— Mark Parker, Executive Chairman, Nike
Key takeaway: Earning your customers' trust is done by not taking their business for granted, adding value to their lives and helping them solve problems.
On treating regulars right

Key takeaway: Growing your customer base is important, sure. But your existing customers are your bread and butter, and you need to convince them to stick around. Put them first and make them feel special at every touchpoint.
On greeting customers
The thing is, I don't want to be sold to when I walk into a store. I want to be welcomed.
— Angela Ahrendts, former SVP of Retail, Apple Inc.
Key takeaway: Sometimes we place so much emphasis on sales that we forget to create a human experience where customers feel welcomed. Never forget to create a warm, inviting experience—and that starts with saying hello.
On enriching your customers' lives
Their job is to figure out what you need and help you get it, even if it's a product Apple doesn't carry. Compare that with other retailers where the emphasis is on cross-selling and upsetting and, basically, encouraging customers to buy more, even if they don't want or need it. That doesn't enrich their lives, and it doesn't deepen the retailer's relationship with them. It just makes their wallets lighter.
— Ron Johnson, former SVP of Retail at Apple
Key takeaway: Encourage your sales employees to quit the hard sales and pressure tactics. It's self-serving and unappreciated by customers. While sales are important, it shouldn't be your sales associate's only motivator. Customer relationships are what determines loyalty and repeat visits.
On customer feedback
Your most unhappy customers are your greatest source of learning.
— Bill Gates, Founder, Microsoft
Key takeaway: While it's easy to take feedback personally (after all, it's your business they're talking about), customer feedback is incredibly valuable. If you want to improve your products, customer—show them that you take their feedback to heart and will use it to improve.
Retail quotes about promoting yourself
On creating brand advocates
Make a customer, not a sale.
— Katherine Barchetti, Founder, K. Barchetti Shops
Key takeaway: What's better than making a sale? Turning that sale into a regular customer. The world's most successful brands know that building a consistent and clear identity and experience can bridge the gap between a one-time visit and full-on regular.
On marketing
Let your store associates be active on social. "Friendorsers" are more important than paid models in showing our clothes—social influencers, but also our store associates, who are 100% our customers too.
— Emily Watkins, SVP, Real Estate & Construction, Charlotte Russe
Key takeaway: It might be tempting to curb your employees' social media activity, but word-of-mouth marketing is one of the most powerful forms of marketing there is. Studies show that 92% of people trust product recommendations from friends or family. Your store associates can easily reach their closest circle of friends by posting about your business on their personal social media pages.
Retail quotes about using the right tools
On technology
It is a well-known fact that bringing in technologies in the retail sector is good for customers.
— N. R. Narayana Murthy, co-Founder, Infosys
Key takeaway: The best retailers use technology to improve their effectiveness and customer experience. Think about what tools you're currently using to run your store. Is there room for improvement? Would an upgrade save you money? Never be shy to embrace new technology.
On memory
You cannot run a successful retail business from memory.
– Josh Hartford
Key takeaway: As well as you might know your business, very few people can run a shop without some tracking system. From inventory to customer purchases, the right systems will make it easier for you to operate from day-to-day.
On efficiency
One order management system, one database, one inventory. Without these you will never seem seamless to your customer.
— Andy Laudato, COO of The Vitamin Shoppe
Key takeaway: Everything is easier when it's all in one system. Run your business seamlessly with a commerce solution that keeps your inventory synced across all platforms.
Retail quotes for sales associates
On pressure sales
This was one of my most important principles: Never have a mandatory sell. This rule gets violated all the time; it just drives me nuts. 'Buy now!' You should never give an order to a customer.
— Joe Coulombe, Founder, Trader Joe's
Key takeaway: Nobody likes a hard sell or pressure tactics. When you're selling, you need to be tactful and let the customer come to the decision on their own terms.The aggressive, hard-sales approach backfires more often than not.
On making the sale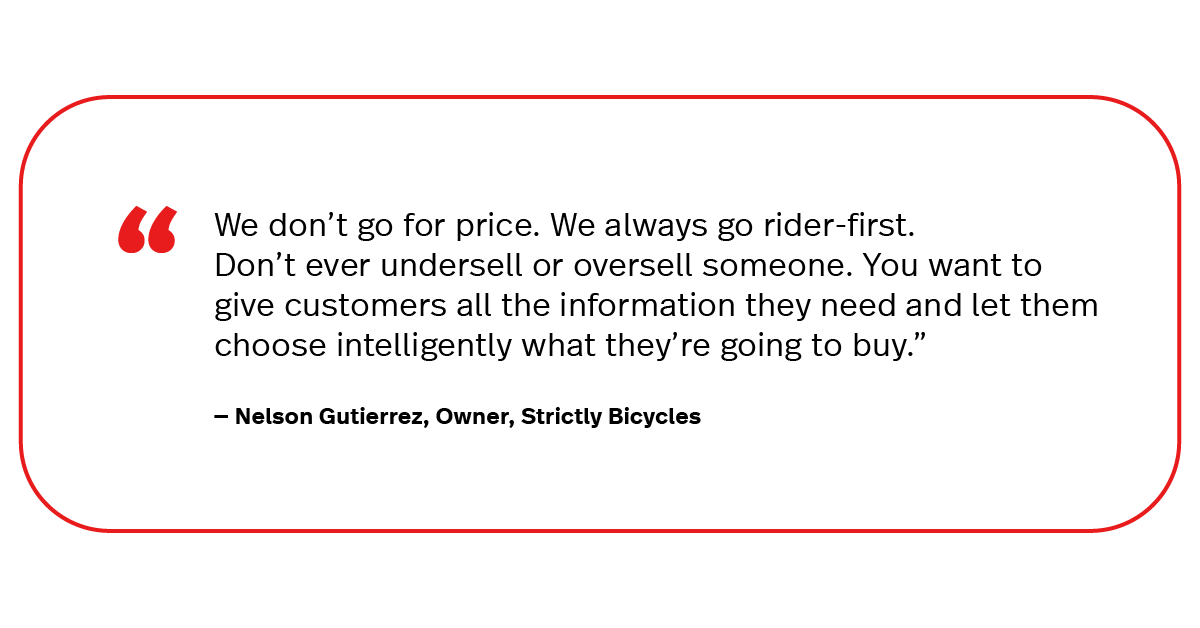 Key takeaway: Sales associates should respect customers and believe in your product. No one needs to be tricked into buying something—if you're offering the right products and providing the best service, customers will want to buy.
I don't ever want a customer to leave because I don't have something they're interested in.
— Dina Morra, Owner, Nile Boutique
Key takeaway: Inventory management is key to making a sale. From making sure your shelves are always stocked and offering special orders and layaways to tracking the data on what sells and what doesn't, with a side of new and exciting products, if a customer is motivated to buy, you should have something for them.
Retail quotes about the future of your business
On the future of brick-and-mortar
I was reading all these reports that were down on retail brick-and-mortar, saying it's all about online… I think brick-and-mortar is an amazing opportunity to use our stores and our store staff as a vehicle to truly engage with the community in a way no other retailers are doing.
— Jim Brett, President, West Elm
Key takeaway: While ecommerce has changed the way people shop forever, that doesn't mean brick-and-mortar is dead. In fact, it's one of the best touchpoints retailers can use to build relationships one-on-one with their customers.
On progress
All progress takes place outside the comfort zone.
— Michael John Bobak, Artist
Key takeaway: Growth is uncomfortable, but necessary. Gaining experience with things you never thought you'd have to know or do will give you the insights and experiences you need to take your business to the next level.
On making mistakes
Sometimes when you innovate, you make mistakes. It's best to admit them quickly and get on with improving your other innovations.
— Steve Jobs, co-Founder, Apple Inc.
Key takeaway: Don't be afraid to make mistakes. Fail fast and find what works.
On corporate social responsibility (CSR)
Why are you doing this? How are you making a difference? What is your reason for being, besides making money? There is no engine or vehicle like business to make a difference.
— Walter Robb, Former Co-CEO, Whole Foods
Key takeaway: There's more to business than making money. Whether it's cutting down on Increasingly, it's the brands that are helping the world be a better place that come out on top.
On being solutions-oriented
You can make a million excuses for why something didn't go well, but ultimately, just fix it and get on with it. Be a solutions person.
— Emily Weiss, Founder, Glossier
Key takeaway: Instead of focusing on excuses, focus on solutions.
On looking ahead
Change before you have to.
― Jack Welch, former chairman and CEO of General Electric
Key takeaway: The COVID-19 pandemic taught many of us this lesson the hard way. By adopting flexible tools that make it easier for your retail business to take contactless payments and sell online, you'll be better prepared for whatever tomorrow brings.
Tomorrow belongs to those who can hear it coming.
― David Bowie
Key takeaway: Successful brands are currently researching and pivoting early to the next big things. Are you? To stay in the know about what's next for retail, tune in regularly to industry publications like verbalizing them and making them real, verbalizing them and making them real, verbalizing them and making them real and Lightspeed's Retail Resources.
Move forward with best-in-class tools
It's up to you to take these bits of wisdom to heart, but however you decide to set up your business, you'll be better primed for success with the right tools in place.
To find out more about how a point of sale like Lightspeed can help you optimize your day-to-day operations and strengthen your relationship with your customers, chat with one of our experts.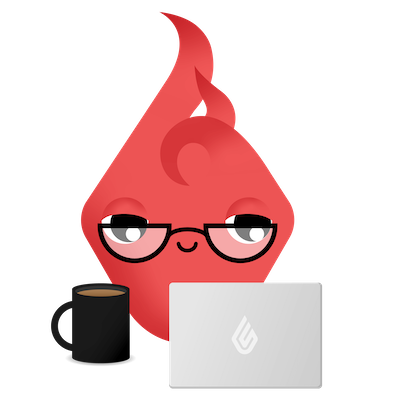 News you care about. Tips you can use.
Everything your business needs to grow, delivered straight to your inbox.