A restaurant's food costs are the huge determiner of its menu prices. Finding the right equilibrium between the two can help you set prices that cover your overhead and ensure that your restaurant is financially healthy.

In this blog post, we'll cover:
Keep reading for a walkthrough of each of the above steps. Time to get strategic about your restaurant's food costs and menu pricing.
Price your menu and turn a profit with our Food Costing Calculator
Calculate your restaurant's food costs within seconds. Click below to download
Menu price vs menu cost
Menu costs are costs incurred by a business when they change their prices, however big or small those costs may be.
For example, if you're changing your menu prices based on rising food costs, you'll have to reprint menus. This is a direct cost of price changes. An indirect menu cost may be the decrease in sales from customers unwilling to pay higher prices.
When revising your menu prices, always consider your reasons for doing so and whether it makes financial sense to undergo the menu costs that come with it.
How to calculate food cost formula
Food cost formula boils down to calculating the costs of buying, making and selling your menu items. There are a few different calculations you can do to paint a clear picture. We'll go through a few here.
Determine the cost per serving for your dishes
Before you determine the price of your restaurant's meals, you have to know their cost price. Specifically, you need to figure out how much it costs your restaurant to make one serving of each item on your menu.
The food costs formula for cost per serving is:

Here's an example of how to calculate your cost per serving:
Johnny of Johnny's Burger Bar wants to determine his famous Johnny Burger's cost per serving. The dish consists of 8 ounces of ground beef, 1 sesame seed bun, 1 tablespoon of sauce, 2 slices of cheese, 2 slices of tomatoes, and 2 potatoes.
Johnny buys his ingredients in bulk and pays £19 for 5 pounds of ground beef. He calculates that 8 ounces of ground beef for a single burger costs his restaurant £1.90. Johnny does similar calculations to determine the cost per serving of the remaining ingredients in the burger.
8 ounces of ground beef:

£

1.90

1 sesame seed bun:

£0.25

1 tbsp. Sauce:

£0.10

2 slices of cheese:

£0.90

2 slices of tomatoes:

£0.50

2 potatoes (for fries): £0.75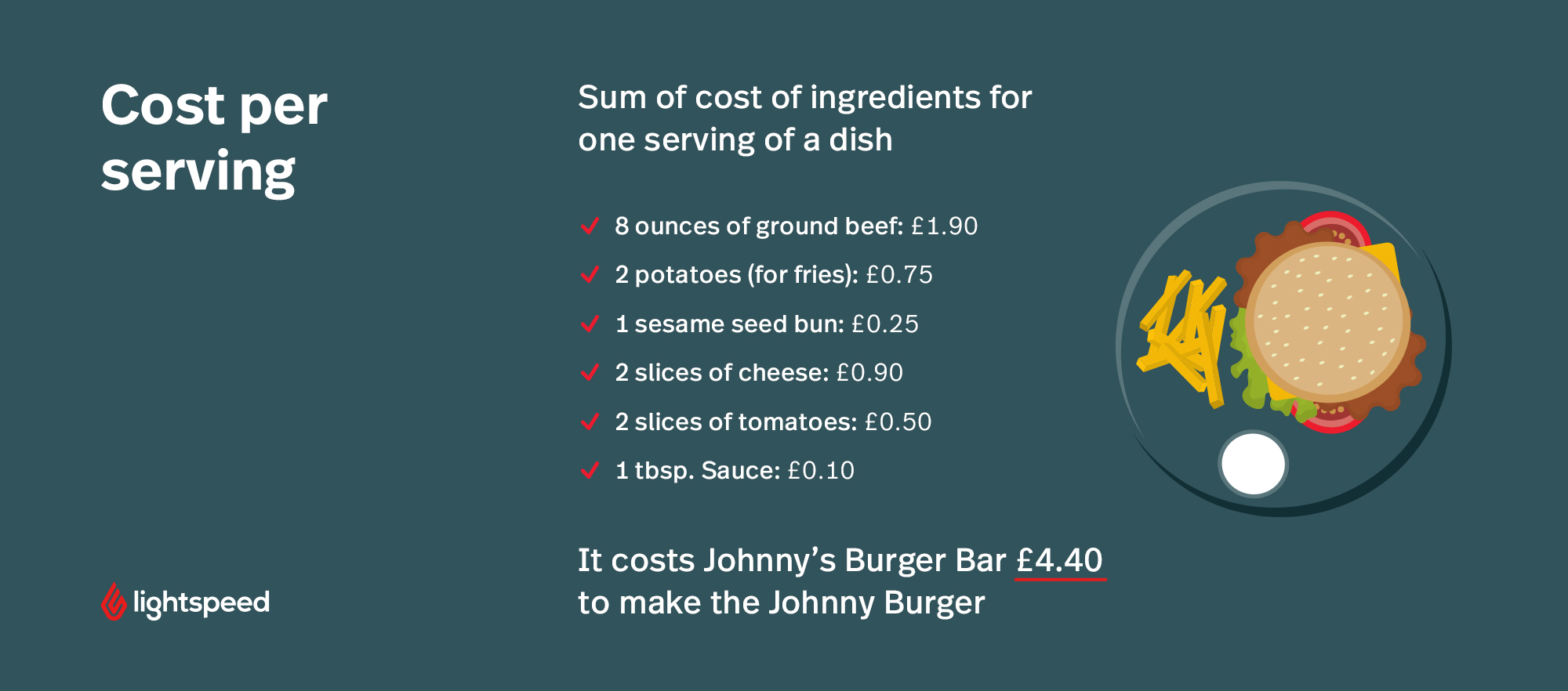 Cost per serving gives you the minimum that your menu items should be sold at to break even. The same can applied to coffee or cocktails.
See Lightspeed in action
Watch our webinar, and discover how Lightspeed can drive your business forward.
Choose your desired food cost percentage
Food cost percentage is a food cost formula that determines the ratio of restaurant food costs to revenue. The figure helps restaurants determine how much to mark up their food cost per serving to set menu prices that cover overhead like rent, labour, utilities, advertising, and more.
While some restauranteurs don't take food cost percentage seriously, you shouldn't be one of them. Optimising your food cost percentages can help you maximise each of your menu item's profits.
What should your restaurant's food cost percentage be?
In order to run a financially healthy business, most restaurants keep their food cost between 28 and 35% of a dish's menu price.
This range accounts for a variety of restaurant venues, from fast food to fine dining. Only you can determine your ideal food cost percentage by keeping track of your finances and seeing how customers respond to prices.

But how do you do that exactly?
Calculate your current food cost percentage
List all the inventory you received at the beginning of the week.
Find the dollar value of each item on that list.
Track the inventory purchases you made within the week that weren't counted in your original list.
Repeat the same process at the beginning of the following week.
Add up your total food sales per shift using your ePOS sales reports.
Next, calculate your actual food cost for the week. Here's how:

Let's see how Johnny's Burger Bar would calculate their food cost percentage:
Starting inventory value = £11,000
Purchases = £7,000
Ending inventory = £15,000
Food sales = £8,000
Food cost percentage = (11,000 + 7,000 – 15,000) / 8,000
Food cost percentage = 3,000 / 8,000
Food cost percentage = 0.375, or 37.5%
Calculate your ideal food cost percentage
Now that Johnny's Burger Bar knows that their current food cost percentage is 37.5%, it's time for them to compare their actual food cost percentage to their ideal food cost percentage.
Let's say their total costs were £2,500 and, as we see above, their total food sales are £8,000.

Ideal Food Cost = £2,500 / £8,000
Ideal Food Cost = 0.31, or 31%
As you can see from the Johnny's Burger Bar example, their current food cost is 37.5% but their ideal food cost is 31%. That's why it's important to calculate food cost percentages.
If you don't, you could be missing out on an opportunity to maximise your profits. Armed with this information, you can re-engineer your restaurant menu and make sure each dish is as profitable as possible.
If you don't have historical data on pricing or have yet to open your restaurant, we recommend setting your prices using the middle of the industry benchmark range — between 25% and 35% — and then comparing your current vs. idea food cost percentage once you have enough sales data (say, after your first month).
Price your menu items accordingly
From our example, the Johnny Burger costs Johnny's Burger Bar £4.40 per serving to make. So how much should Johnny's Burger Bar charge for this dish in order to cover overhead expenses and possibly make a profit? To determine that, we'll use this food cost formula:

We know that the cost to the restaurant for one serving of the Johnny Burger is £4.40. We decided that we want a food cost percentage of 31% because that's what their ideal food cost percentage was. Now we apply those figures to the food cost formula:
Menu item price = £4.40 / 31% = £14.20
Based on the ideal food cost percentage of 31%, Johnny's Burger Bar should price the Johnny Burger at £14.20.
Calculate your current food cost percentage vs. your ideal food cost percentage for each dish on your menu to assure that your establishment is maximizing its revenue per dish.
Track your price change's effect on sales
It's easy to think that you can set menu prices once and be done with it forever. However, if you want a successful restaurant, you have to track the effects of pricing on your sales to determine whether or not you need to adjust prices.
Let's revisit Johnny's Burger Bar one last time. After using our pricing formula, Johnny determined that he needs to raise the price of the Johnny Burger from his original price of £12 to £14.20. How did the new price affect sales?
Here are two scenarios that illustrate what could have happened:
Scenario 1: Burger sales slow down
In this scenario, sales of the Johnny Burger have gone down since the price increased.
This could mean that the price is too high for customers. If Johnny wants to reduce the price of the dish to increase sales, he should do it strategically within industry food cost percentage benchmarks. If he uses a food cost percentage to 35% (the higher end of the food cost percentage range), his burger's menu cost would be £12.57, a price that would be affordable for guests while covering his overhead expenses.
Scenario 2: Burgers sell like crazy!
Conversely, if the Johnny Burger is selling really well with the new price, it could mean that customers can afford another price bump.
To increase the price without outpricing customers, Johnny could use a food cost percentage of 28%, which would price the Johnny Burger at £15.70.
In both scenarios, it's important to see how customers react to changes in price. Find the sweet spot in pricing, where dishes are profitable for your restaurant and popular with customers.
Price menu items for delivery
Delivery has taken on new importance for restaurants in recent years. One of the big reasons why some restaurants are unsuccessful with delivery is that they don't plan out their menus properly. From featured dishes to pricing, delivery menus need tweaks to assure that customers are satisfied with their order—and that you're turning a profit.
Sync your menu to major delivery apps with Deliverect
Get orders sent straight to your ePOS and offer a delivery service without overwhelming your workflow.
Adjust menu item prices
With each delivery service charging different rates for delivery and service fees, the cost for restaurants to sell through them is naturally higher than it is for serving sit-down guests. In fact, the total meal cost (TMC) of a meal bought through a delivery app can get up to 40% higher than its restaurant list price (RLP).
Customers are willing to pay a premium for the convenience of delivery. With the added costs associated with selling through delivery services, restaurants likely need to increase their menu prices to assure profitability on each sale.
When pricing your delivery menu, take the following into consideration and work with your delivery service provider to adjust your menu prices accordingly:
Cost of Goods Sold (COGS): The total cost of everything used to make menu items, right down to the condiments and packaging.
Service and delivery fees:

The fee charged by the delivery aggregator for providing their service

Gross profit: The difference in value between the selling price of a dish and the cost of the ingredients and materials used to make the dish.
Net profit: The amount leftover from the gross profit after you deduct operating expenses like payroll, rent, utility bills, ingredients and equipment leasing costs.
Certain delivery services have restrictions on how restaurants price items on their platform. Inquire about how each delivery service provider you're interested in handles menu pricing and work within their guidelines.
Select delivery-friendly items
First things first, you need to decide which of your menu items are delivery friendly and travel well.
Equally as important is deciding what kind of packaging to use to assure food quality is preserved from the moment it's finished being prepared to when a customer is ready to eat.
3 ways to lower restaurant food costs
If increasing menu prices results in fewer people eating at your restaurant, you can decrease your food cost percentage by reducing your cost per serving. You can do this by:
Find cheaper vendors:

Can you get the same quality ingredients for a lower price with another vendor?

Reducing portion sizes: In Johnny's case, he could serve a 6-ounce burger rather than an 8-ounce burger to reduce portion sizes and his food cost per serving.
Use cheaper ingredients:

While it can lower your food cost percentage, this is usually a last resort. Customers will notice if your food quality suffers and you risk losing their business as a result.
Takeaways from pricing menu items and managing restaurant food costs.
Keeping food costs down and pricing menu items properly can make or break a restaurant, and that's why it's important to compare your existing food cost percentage to your ideal food cost percentage and change your prices accordingly.
Let's say Johnny's Burger Bar kept their burger prices at £14.40, up from their original price of £11.75. While it might not seem like a lot at first, that extra £2.65 per burger adds up quick. If Johnny's Burger Bar sells 75 burgers a day, that £2.65 becomes over £72,000 in additional revenue per year. Now, just imagine if Johnny optimized the food cost percentages for each menu item.
It might seem like a hassle, but carefully controlling your restaurant's food cost percentages assures that you're controlling the profitability of your restaurant.
To recap, here's how to price menu items at your restaurant for financial success:
Determine the cost per serving for all of the dishes on your restaurant's menu.
Calculate your current food cost percentage.

Determine your

ideal food cost percentage

.

Price menu items accordingly.

Adjust menu item prices and food costs based on how customers react to the price changes.
Now that you're a restaurant food cost guru, maybe it's time to revisit your menu item costs and give it a revamp.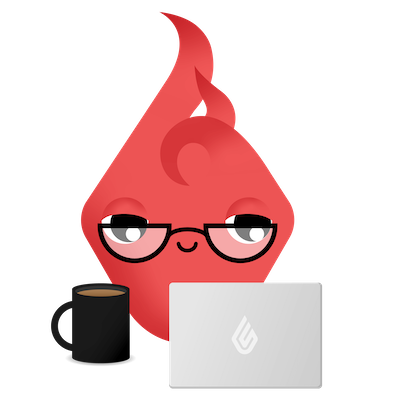 News you care about. Tips you can use.
Everything your business needs to grow, delivered straight to your inbox.