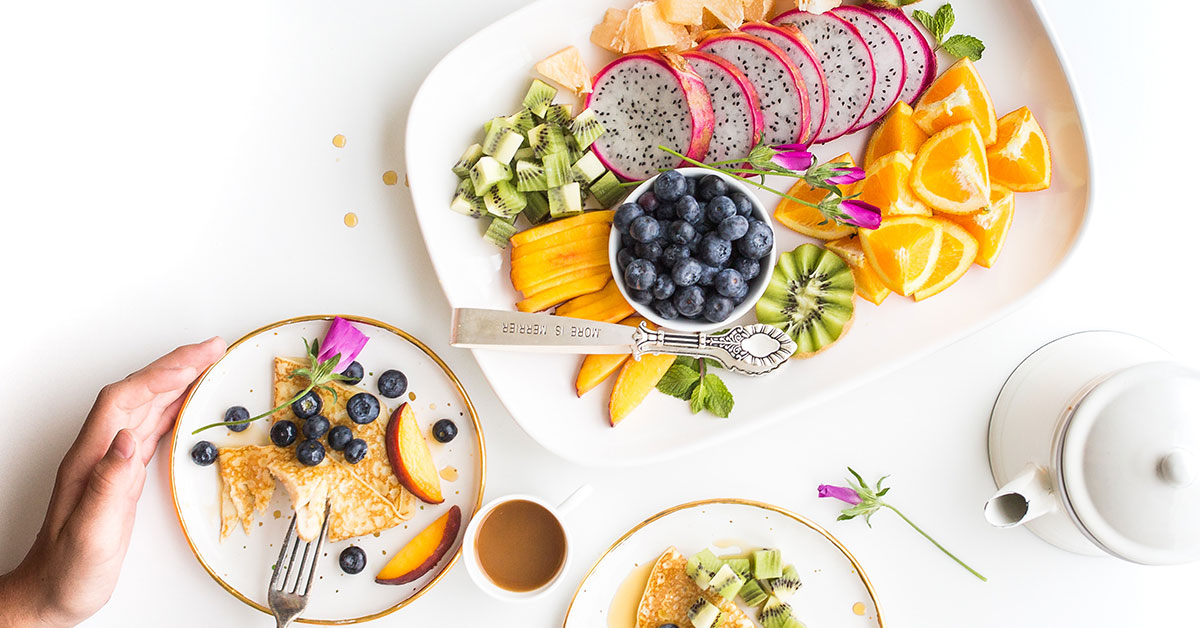 According to GrubHub, seasonal restaurant menus can boost sales by up to 26%.
An increase in tourism, festivals, and, of course, patios, leads to many restaurants thriving during the summer months. And good news, yours can be one of them.
One of the best ways to solidify your restaurant as a local hotspot and attract more customers over the summer is to have a seasonal restaurant menu that suits the weather.
How to create a profitable seasonal restaurant menu that your customers love
Incorporate locally sourced seasonal ingredients

Capitalize on ingredient and menu trends

Optimize your menu's food costs

Leverage limited time offers
Incorporate locally-sourced and seasonal ingredients
Customers love being served fresh, locally sourced ingredients.
Customers are increasingly health-conscious and mindful of which foods they put in their body, and your restaurant has an opportunity to capitalize on that growing trend. Incorporate ingredients that showcase your region while they're at the peak of freshness and seasonality.
Buying locally sourced ingredients yields several benefits. Not only does buying local reduce your restaurant's carbon footprint and support local farmers and producers, but the food also tends to be more flavorful. Best of all, customers are 88% more loyal to businesses with sustainable practices.
Montreal's Bistro Tendresse is a great example of incorporating local ingredients and sustainable practices. They serve up a bold take on vegan cuisine that'll convert even the most die-hard meat-lovers, while also reducing their impact on the environment by skipping the emission-heavy livestock industry.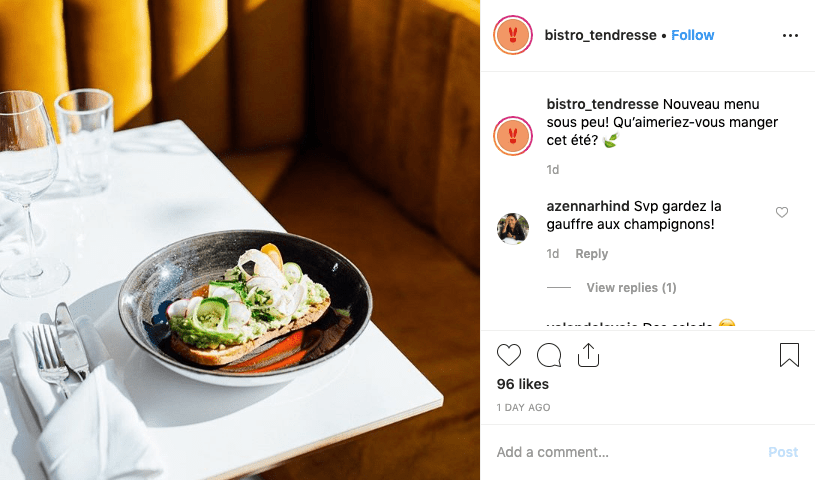 Image source: Bistro Tendresse
While GrubHub reports that plant-based foods saw a tremendous surge in popularity in 2018, your restaurant doesn't need to take an extreme stance to successfully serve healthy, environmentally-friendly food.
Buying livestock from local farmers that treat livestock ethically will assure that the meat you serve your guests is healthier, and it also reduces the greenhouse gasses associated with production and travel. It might be pricier, but you can always adjust your food costs to compensate for that elevated expense.
Don't forget the drinks
During the summer months, crowds of consumers flock to restaurants and bars to beat the heat with refreshing drinks. If your establishment has a liquor license, Rosé wine is a particularly popular drink that has seen a 53% surge in volume sales in the past year.
But if you want to take it a step further, consider offering seasonal beverages that are unique to your establishment. Seasonal drinks and cocktails are a great way to attract new customers and give returning guests something new to try.
A study from the NPD Group found that seasonal beverages increase your average check size since there's a high attachment rate of food to a drink sale.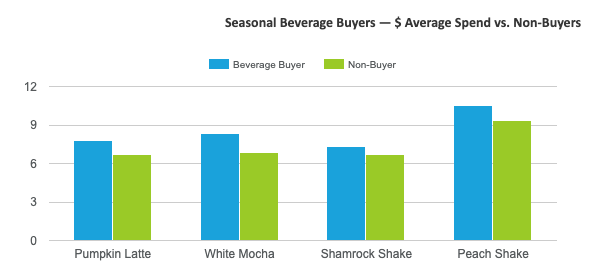 Image source: The NPD Group
Customers that buy a seasonal beverage spend more on average than those that don't.

Three words: limited time offer
Seasonal beverages are essentially limited time offers (LTOs), and they're great at generating sales because with them comes an inherent sense of urgency. Customers want to get them before they're gone.
In a study conducted by The NPD Group where they monitored a customer's repeat visits over a promotional period, they deduced that LTOs have a positive impact on a customer's visit frequency. Customers that purchase a LTO revisit a restaurant more frequently.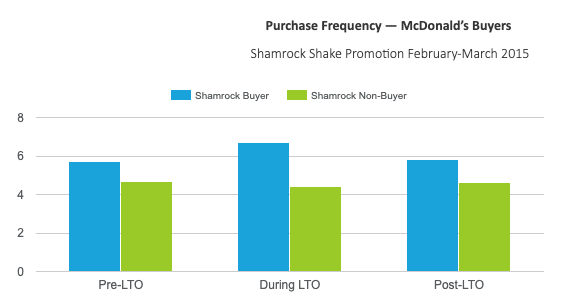 Image source: The NPD Group
Seasonal drinks lure customers in more frequently and correlate with them spending more each time they visit. That's more than enough reason to feature seasonal drinks on your menu this summer.
But one piece of advice: don't overdo it.
It only takes a few seasonal drinks to give your menu a summer refresh. Don't offer up gimmicky drinks just to say you have a seasonal drink—find a way to put a personalized twist on a classic that aligns with your restaurant's theme.
Promoting your seasonal restaurant menu
Before debuting your seasonal menu, you'll want to have a promotional strategy in place. The most effective ways to promote your new menu are featuring promotional flyers and posters in your establishment, using your social media channels, and educating your staff on the new menu items.
The goal here is simple: you want to entice your restaurant's guests and social media followers to try your new seasonal menu items. This is the audience that's most likely to be receptive to your menu, visit specifically to try it, and tell their friends about it.
Make a splash with printed flyers and posters
Along with printing or posting your seasonal menu, a great way to boost awareness is creating promotional flyers and posters for specific items. When guests are waiting to order, they see a promotional flyer or poster detailing the limited-time offer and are inclined to order it before it's gone.
Flyers and posters don't have to be anything extravagant. Just look at how Chick-Fil-A uses a simple design to draw attention to their limited-edition peach milkshakes.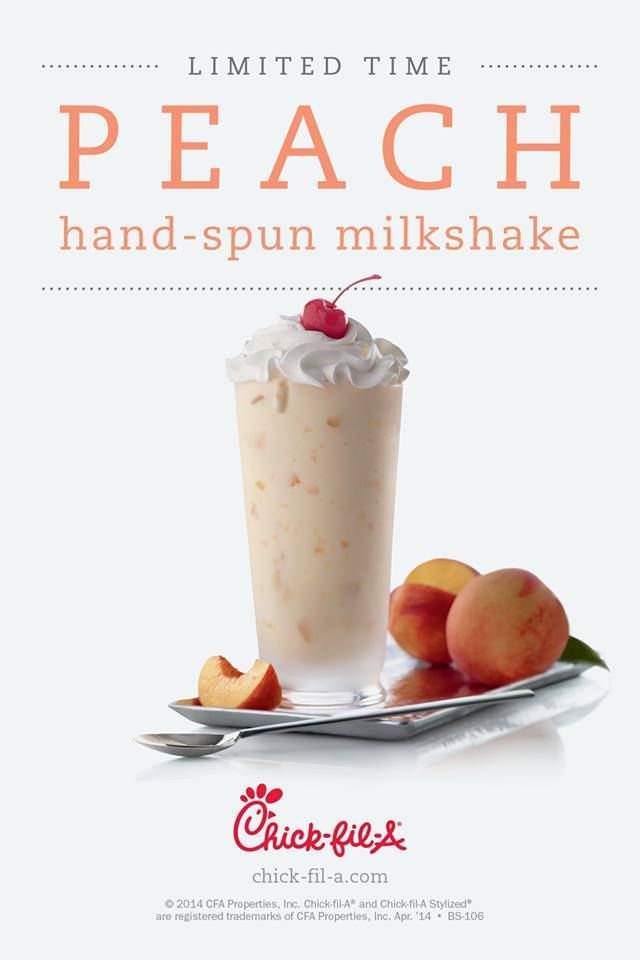 Image source: Pinterest
Flyers and posters are easy enough to execute and are a great way of getting the word out about new menu items to your guests. The FOMO (fear of missing out) results in more people buying the limited-time menu item, which, as we talked about earlier, statistically increases how much that customer spends.

Involve your wait staff
Marketing your seasonal menu with flyers and social media posts will get customers in the door, but your wait staff's ability to upsell is your best asset for increasing sales.
Prior to launching your seasonal menu, host a soft launch after-hours for your entire team. Give your chefs the opportunity to talk about the inspiration behind every dish, what it is and how it's prepared. Additionally, prepare samples for your wait staff to try so that they can better understand the dish's flavor profile, smell, and texture. Trying each menu item first-hand will help them determine which menu items it pairs well with, and make them feel comfortable accurately describing the dish to the guests they serve.
You could also opt for team communication tools to get the word out about your new seasonal menu to your staff. Send detailed emails, text messages or even create separate group chats for your front of house and back of house staff, since they're bound to need different types of information.
Get the word out to your restaurant's social media followers
You already know how important social media is for your restaurant (and which social media platforms you should use), but it's especially true when you're trying to promote limited-time seasonal menu items.
There are literally billions of people using each social media platform and, with geo-localization, you can make sure that only people in a certain neighborhood or area see your content. In your caption, just be sure to indicate when the seasonal menu item is available until, and maybe include a URL where your followers can reserve a table online.
Enlist the help of local influencers
If you want to expand your audience and generate a buzz around your seasonal menu items with people who don't follow your restaurant on social media, consider partnering with local influencers for an influencer campaign.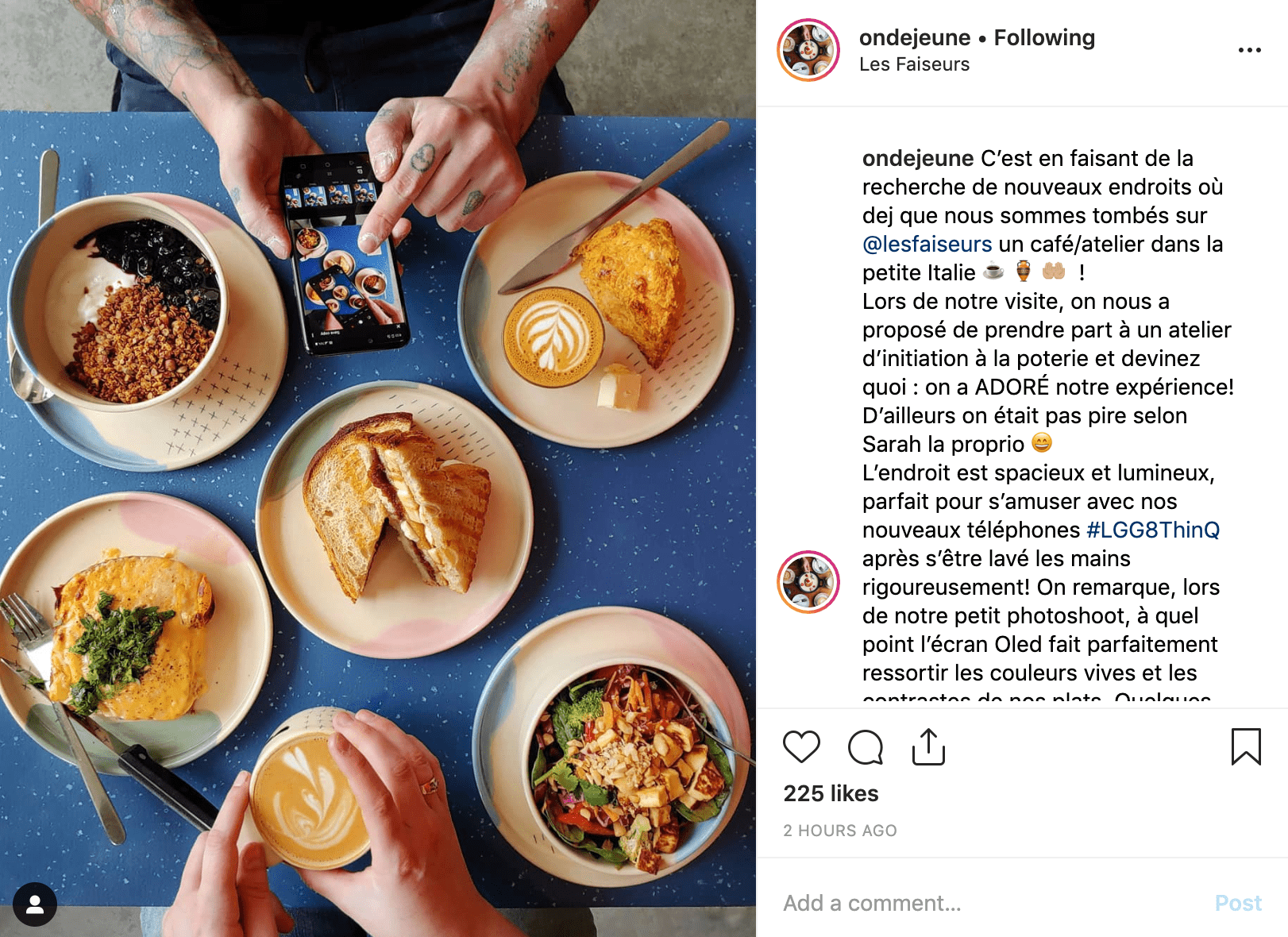 Image source: On Déjeune
Influencers work wonders for generating a buzz around a product, place, or service locally. In fact, businesses that run influencer campaigns typically make $6.50 for every $1 they spend. That a huge return on investment and one that should definitely make you consider influencers as a viable way to get the word out about your seasonal menu.
Final thoughts on how to increase average order value with a seasonal restaurant menu
With all the restaurants out there competing for customer attention, it's more important than ever to serve up something unique to attract new customers and keep existing customers coming back.
Proven to drive repeat business and increase customers' average order value, seasonal menus are a great way to stand out. Take advantage of the benefits of LTOs to drive more sales every season of the year, and develop an actionable plan for how you're going to promote it. When done correctly, seasonal restaurant menus can be the featured ingredient in your restaurant's recipe for success.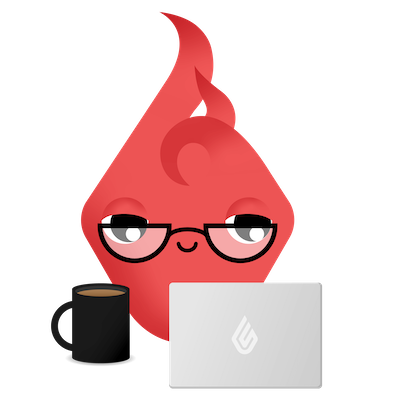 News you care about. Tips you can use.
Everything your business needs to grow, delivered straight to your inbox.