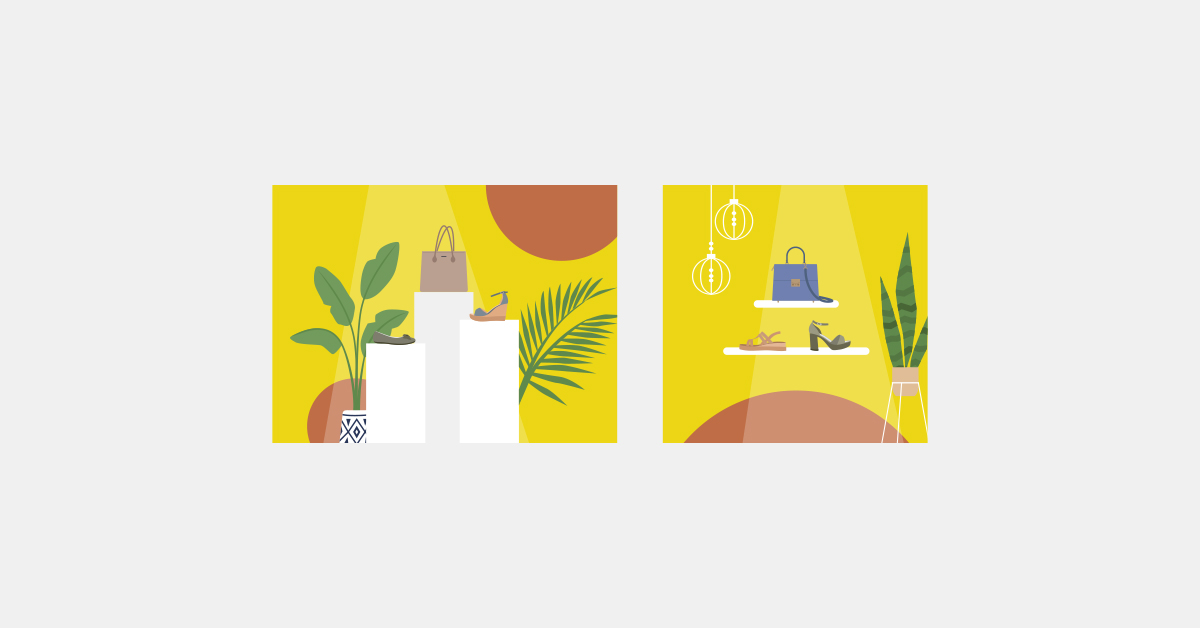 The power of an attractive display cannot be underestimated.
In French, window shopping is called "lèche-vitrine," which translates to "licking windows." Showcased goods are so alluring that they become more than a feast for the eyes—they make people hungry for more.
Creative, engaging window displays have the power to increase foot traffic and bring people in.
In this post, we're going to look at exactly how you can create irresistible window displays.
How to make your retail window displays pop
If your brick-and-mortar store has front-facing windows, it's crucial you use that prime real estate to display merchandise. But how do you create an effective window display that grabs people's attention and makes them want to come into your store?
Here are 16 tips to help you as you conceptualize and create your retail store's next window display.
Prepare your business for the future of commerce
Download our free playbook and learn how to sell on different channels, boost loyalty and increase foot traffic with technology.
1. Know your target audience
Every business has its own target audience (and should have defined buyer personas). Knowing how to appeal to your business's target consumer is key to creating effective window displays.
By understanding what they want and what's important to them, you can craft window displays that support those motivations.
For example, each summer H&M knows that its primary target audience is likely to attend popular music festivals like Coachella and will dress for the occasion.
What did H&M do with this info? They created a window display to match their target market's interests and featured outfits that were ready to rock.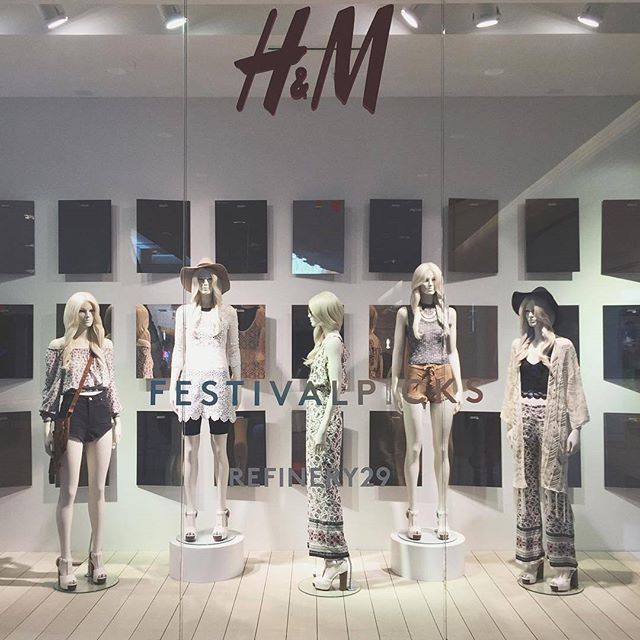 2. Have a clear theme
A theme will almost always work to your advantage. It ties your window displays together and draws user attention quickly.
If you plan to refresh your window displays regularly (more on that later), start by mapping out themes based on upcoming days of significance.
For instance, Holt Renfrew's Valentine's Day window display features hearts, Cupid's arrow, roses and clothing that aligns with that theme.
No matter what theme you choose, it's important to have a clear vision for your window display before you start building anything.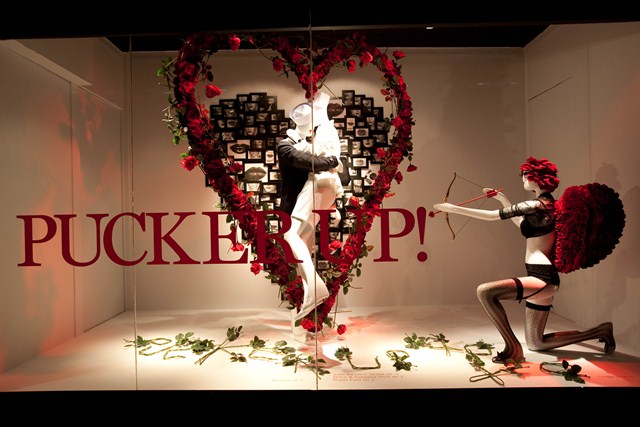 3. Create a focal point
When your retail store is located on a busy street, a focal point becomes a game changer. Learn how to create and leverage something that commands people's attention as they walk by.
For example, Paul Smith is known for adding playful colors to classically inspired clothing. Their window displays use focal points that draw the eye and then transfer that attention to their clothes.
For instance, the colorful zebra is the window display's focal point, while the classic blue suit is complementary.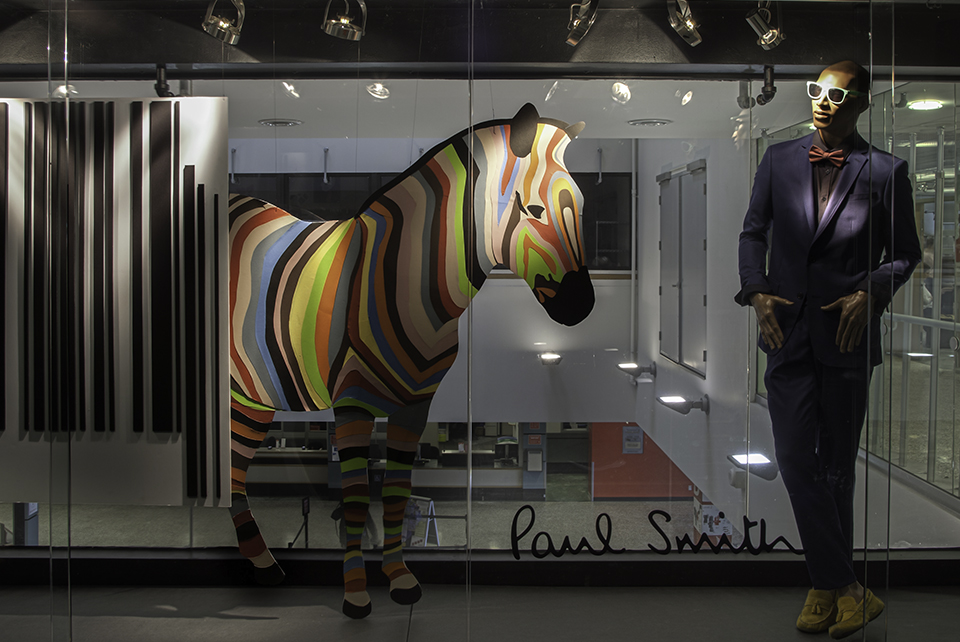 Place focal points at eye level
For best results, place your display's focal points at eye level. Whether your focal point is an accessory, an outfit (like the example from retailer Anthropologie below), signage or a unique structure, placing them at eye level increases the likelihood that the display captures attention and draws customers in.
Ask yourself, "what do I want people to see first?"
The answer becomes your window display's centerpiece.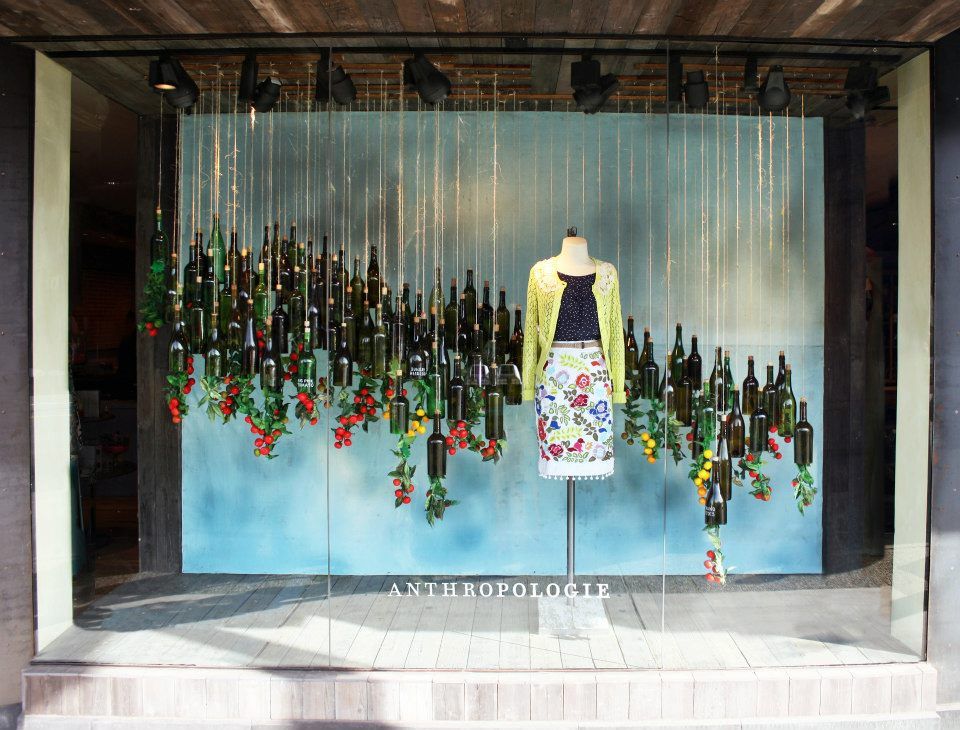 4. Consider your store location
If you're a small retail store located on a street with a ton of foot traffic and near loads of other shops, the way you approach your window displays will be different than if you're located in an area that's less pedestrian friendly.
When you've got customers walking in front of your store regularly, you can use smaller products and signage with details that can be appreciated up close.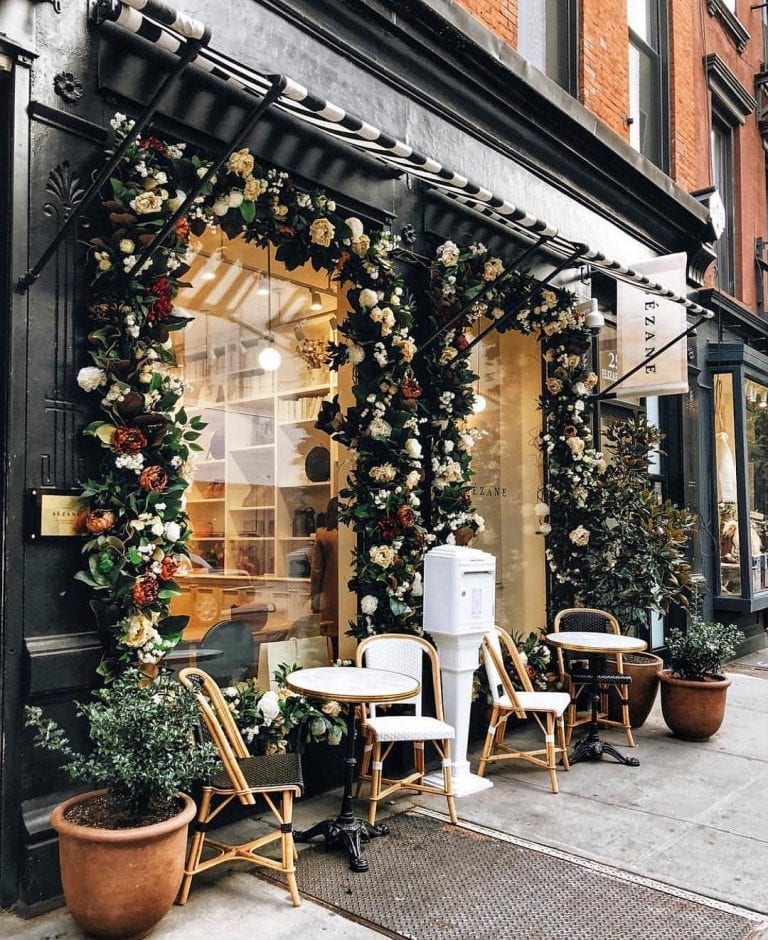 If your store sits next to a busy highway, a simpler window display with contrasting colors and larger products will make it easier for people to notice your shop as they drive by.
5. Keep it simple
Do less, but do it better.
A window display is a sneak peek. It's a teaser, not a full product catalog.
This isn't about showing everything you sell. An effective window display features attention-grabbing products that compel people to come into your shop and discover your unique offering.
Great window displays use simple but interesting visual elements to draw users in.
6. Tell a story
What do you want your window display to convey? What story is it telling its audience? How does that story relate to the things your store sells?
For example, Sézane, a French brand, aims to "offer women the finest quality pieces with a Parisian touch." Their displays tell this story–they feature Parisian elements, like outdoor seating that recalls French cafes, plenty of plants and sidewalk signage.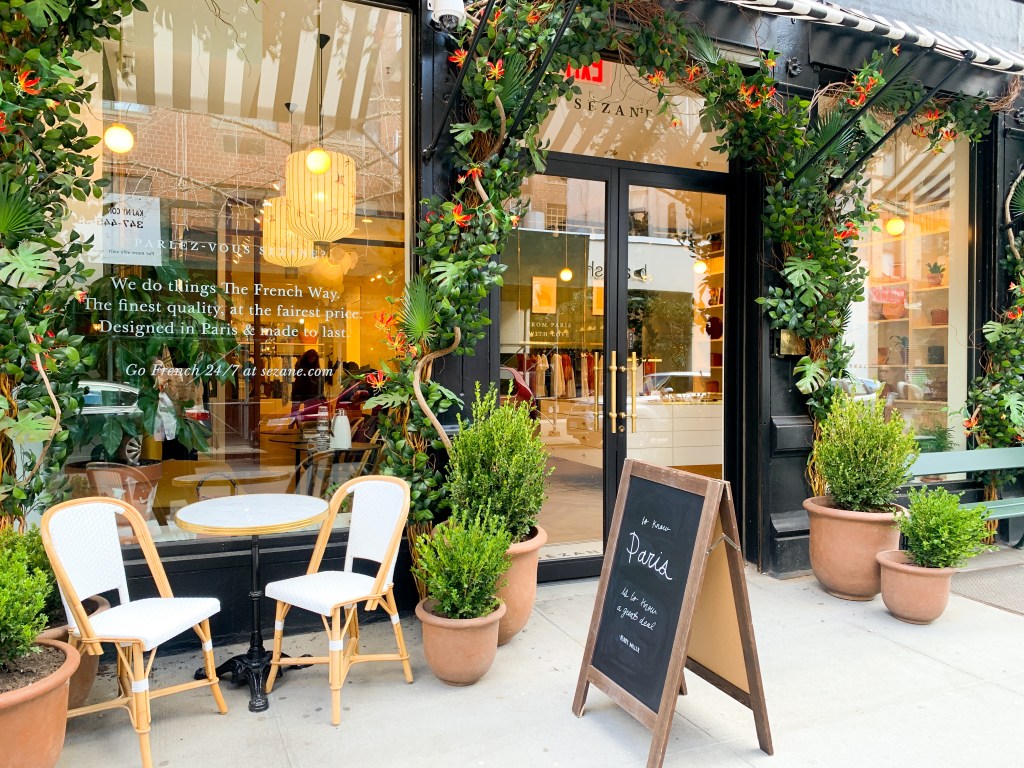 Sézane uses their window displays and visual merchandising to tell their brand story.
Unique, engaging storefront displays are memorable. And while some customers might be unable to pop in right away, they can return if they remember your store.
7. Find your lighting
Good lighting is everything. If people can't see your products or your store's interior, they'll stay in the dark (literally and figuratively).
If your retail space isn't blessed by excellent natural light, consider opting for softer lighting that helps people see inside without feeling blinded.
Cuyana, for instance, draws people in with its warm glow.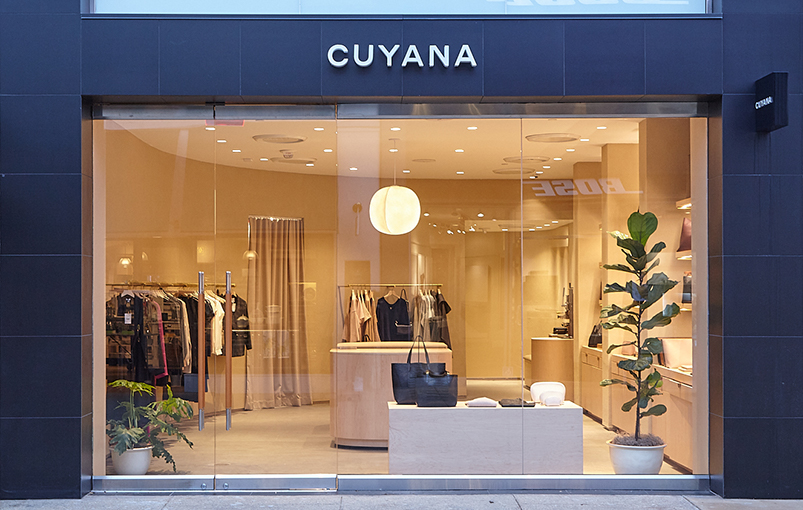 8. Stay balanced
Consider your window's physical design to ensure that it looks balanced and aesthetically interesting. A balanced look keeps the customer's focus where you want it.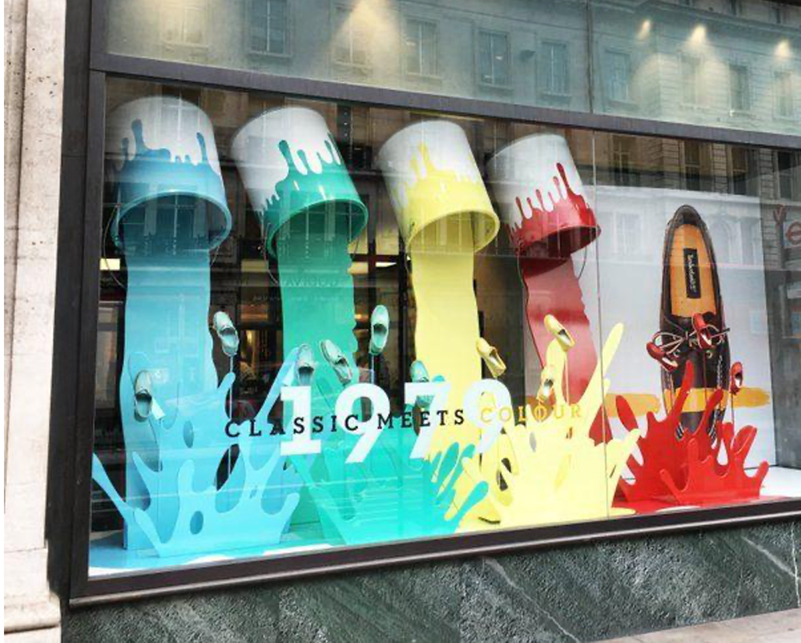 This retail window display is bright, colorful and balanced. The paint buckets are evenly spaced. The bright colors are balanced and surrounding elements are pared back. This display both shows and tells the message that "classic meets colour."
This kind of elevated window display can help your store attract more customers.
9. Show off your product range
Use your window displays to showcase your range.
For example: Kolkid, a retailer who specializes in kids' fashion, decor and toys, features all sorts of different products in their windows. They're united under a cohesive theme–in this case, summer's arrival.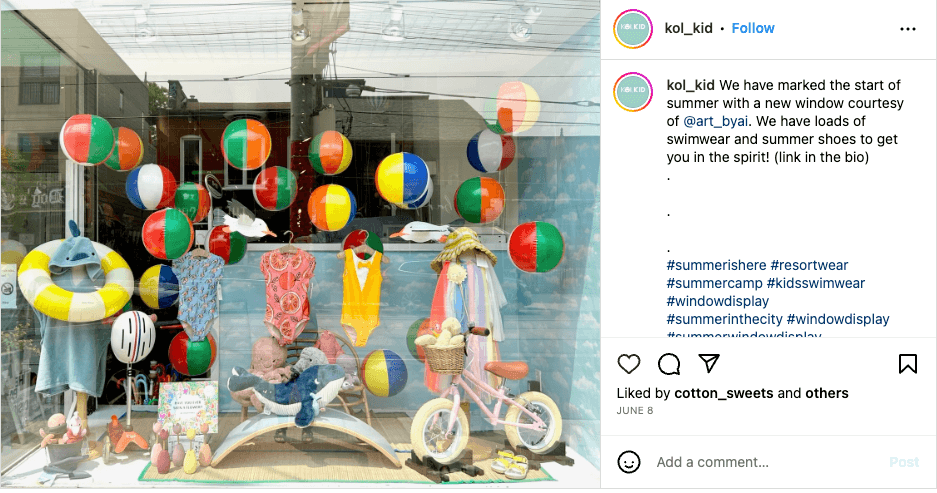 10. Add text
The right words can help enhance your window displays. If you're having a sale, signage in your storefront can help draw attention, foot traffic and impulse purchases.
You can also add text to incorporate wit and humor to your displays.
Have a look at this window display from Tender Loving Empire, a store and record label in Portland, OR. A bright decal reads "There's so much to celebrate" and the display features handmade items that showcase a wide range of different gifts for the holiday (and party!) season.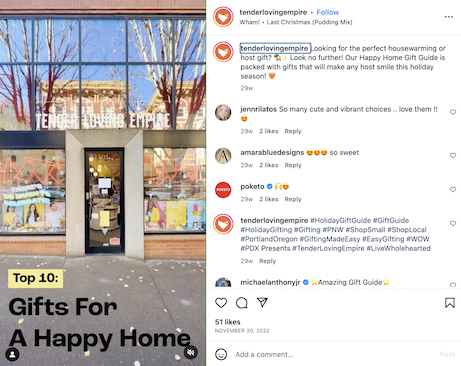 11. Keep it fresh
When you love your display window, it's hard to let it go.
And yet it's important to refresh your window displays regularly. It lets you keep people engaged. It's also a way to feature seasonal products.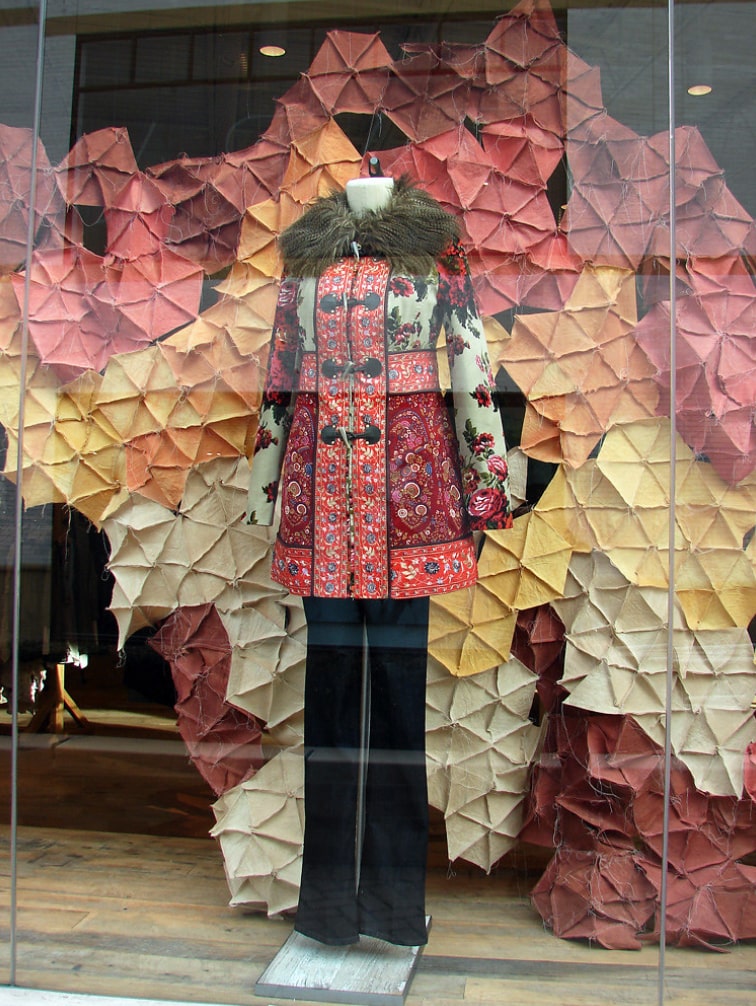 Anthropologie regularly updates the window displays in their retail stores that focus on the latest seasonal trends. This can bring in customers who see what's on trend. It helps to bring in more foot traffic, which can lead to extra sales.
Relevant marketing can increase your chances of success. Keep your display fresh to stay relevant.
12. Be open to inspiration
Struggling to come up with a new design?
Instagram and Pinterest can be a good source for retail window display ideas. They're full of vibrant examples that are often taken by people who noticed them and felt compelled to share.
Alternatively, you can take a stroll around local shopping areas to get ideas. Pay attention to your surroundings and to your community.
Local businesses tell you what's happening nearby, while online platforms show what's trendy in your industry.
The combination of online and in-person research will give you the best of both worlds.
13. Use analytics to inform your decisions
When you're trying to determine which products to promote in your window display, analytics can give you extra insights.
You can use your retail POS sales reports to see which products sell the most, or which ones are often bought together. This can help you decide how to feature them.
14. Make sure your displays look good on camera
Planning to share your display on social media? Even if you don't, someone else might. Make sure your displays are camera-ready.
Take a quick pic of your window displays to see how they look on a screen and adjust whatever needs tweaking.
15. Add some QR code magic
A QR code (the QR stands for "quick response") isn't just for tagging merchandise. On compatible devices–most smartphones–it can send viewers to a website, display images or videos, link to an online store or much more.
You could add a QR code decal to your storefront so that curious folks passing by can scan it and be directed to your website or to your social media pages. Some retailers use their QR codes to link to a promotion that welcomes new customers when they sign up for a mailing list or follow them on social media. This is a great way to start building customer loyalty early on.
Check online to see if a free QR code generator could work for you.
16. Engage the senses
Remember the French expression for window shopping, "lèche-vitrine"? It evokes a full physical response to an alluring object. Some window displays can move beyond the visual by engaging with other senses.
I used to work for an educational toy store. Each summer, we would install a robotic bear that blew bubbles outside the windows–it was charming. It was whimsical. And it attracted kids and grown-ups alike, spreading joy before people even made it across the front door.
If such a display lends itself to your product range, think about how you can involve more sensory elements to your storefront.
Saje Natural Wellness sells essential oils and other aromatherapy accessories. Their displays often include a diffuser, which gently releases scents that can entice customers as they walk by.
Create captivating window displays: final thoughts
Captivating window displays can be a wildly effective tool. They can increase foot traffic and lead to more sales. They allow you to create a branded, exciting customer experience before anyone even walks into the store.
Remember that it takes a village. As you're working on your next display, ask for your team's input. Creatives, those with marketing experience and sales staff all have something to contribute. They can have great insights about what your audience may want to see.
Check out the Homebase and Lightspeed integration to message team members for feedback no matter where they're located.
Ready to leverage analytics and reporting to make your best window displays yet? Find out how Lightspeed Retail can help.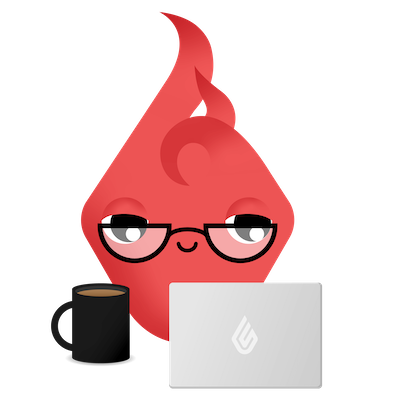 News you care about. Tips you can use.
Everything your business needs to grow, delivered straight to your inbox.