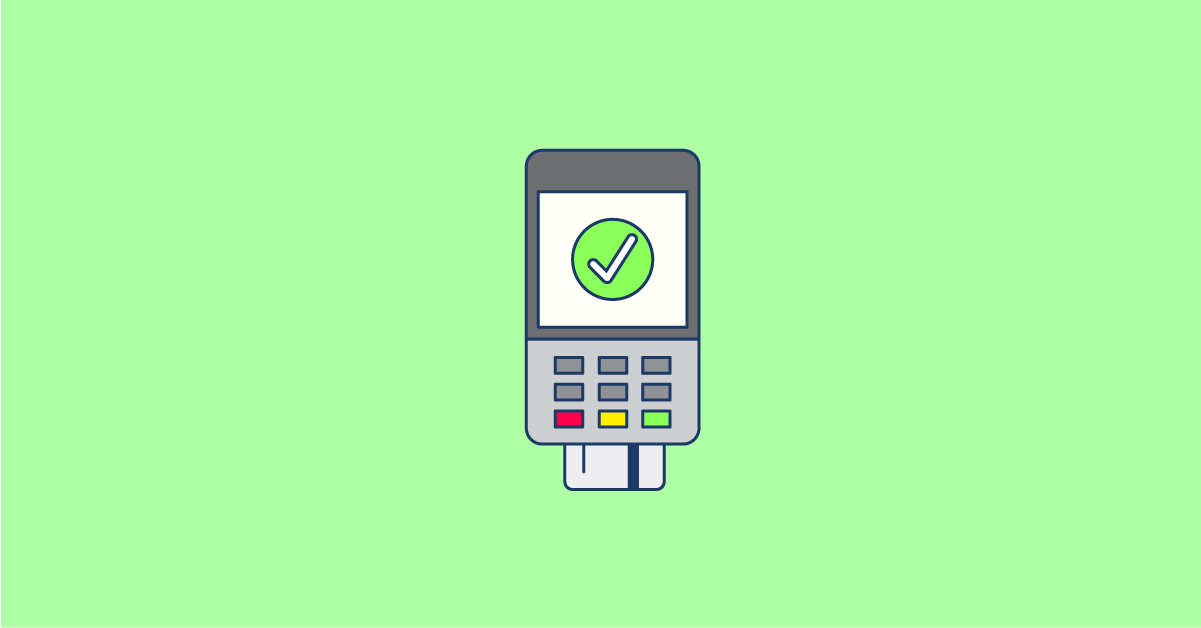 Payment processing is a key component of any retail business. If you're here, you're probably getting ready to open your own business, or you're looking to start accepting credit card transactions.
As a payment processor ourselves, we know how to set up payment processing and what to look out for when you're on the hunt for a provider. That's why we've put together this handy guide to help you get transactional with your customers that want to pay with a credit card or with their phone.
In this blog, you'll learn:
Looking for a complete payment processing solution?
With Lightspeed, your payment processing is embedded with your POS system. Talk to one of our retail experts today and wave goodbye to complicated third-party agreements once and for all.
What you need to start processing credit card transactions
In order to start processing payments, you'll need to have specific tools and systems in place. A point of sale, payment processor, merchant account and payment terminal are the systems and terms you need to be familiar with before embarking on your journey.
Point of sale system
A point of sale (POS) system is the software you use to run your retail business—ring up sales, accept payments, manage inventory, run reports and more. If you don't already have a POS system, it's important that you get familiar with the key features to look for in one.
Payment processor
Your POS helps you manage your store and enables you to accept payments. A payment processor is what allows you to process those payments (beyond cash). Your POS and your payments processor may or may not be integrated—more on that later.
Merchant account
In short, a merchant account is a bank account that will allow you to accept credit (and debit) card payments.
Note:
depending on your choice of payment processor, you may not need to worry about managing your own merchant account.
Payment terminal
A payment terminal is the hardware that enables you to process payments by debit or credit card, and now by virtual wallets.
Make sure that whatever terminal you install is compatible with your payment processor. For security purposes, you should order hardware directly from your processor if you can.
Another thing to consider is contactless payments. In the wake of COVID-19, minimizing points of contact in your store have become critical. With options like Lightspeed's Mobile Tap hardware and accept payments from Apple Pay, Google Pay, Samsung pay and credit or debit cards with the contactless, tap to pay option.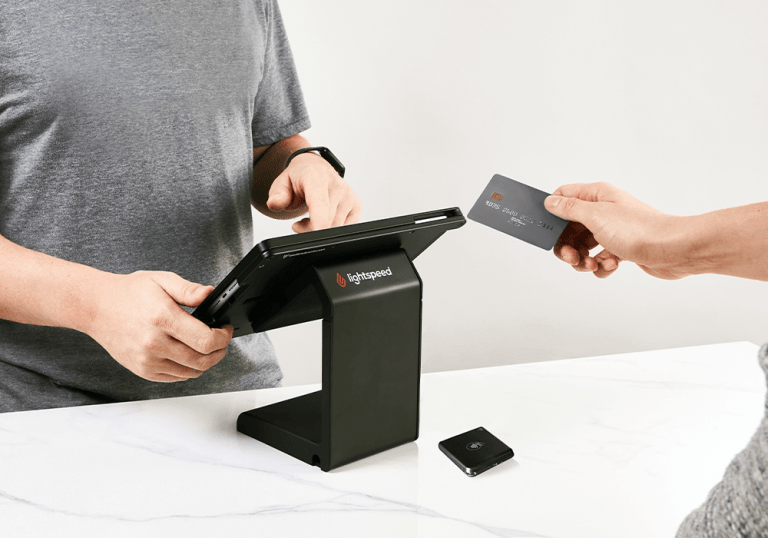 Lightspeed Mobile Tap hardware, available now
How to process credit card payments
Now that you have a better understanding of the systems you need to have in place, it's time to pick your POS system and your payment processor.
1. Pick your point of sale (POS) system
Your point of sale system powers your entire business, so picking the right system should be your top priority.
Depending on the POS provider, there may be an in-house embedded payment processing solution available to you. An embedded solution is ideal and will save you lots of time every day. In the United States, Lightspeed Retail POS users can process their payments with Lightspeed Payments.
If you're not planning to use a unified POS and payment processing solution, you'll need to also sign up for a merchant account at this point. This can be done at any bank.
Once you have your POS selected, you need a payment processor to start selling.
2. Pick your payment processor
If your chosen payment processor is integrated directly into your POS system, you can skip to point 3.
If you're not going with an integrated payment processor, you'll need to shop around for the best offering for your business. To help you find a payment processor, take a look at our article on the seven questions you should ask during your search.
Be careful not to get caught in a plan with a lot of hidden fees—for tips on how to get the best rate from your payment processor, see our guide on point of sale system
3. Purchase equipment compatible with your payment processor
This should be your last step. Your payment processor should have recommended hardware that you can purchase directly from them or a partner. If you're a Lightspeed user, you can pick and choose which hardware you want from these options.
Never try to use unsupported card readers with your payment processor. At best, you'll run into security concerns—at worst, it simply won't work.
Important payment processing concepts to understand
Picking your payment processor is a crucial step toward retail success. Don't rush it—always be sure you fully understand what you're signing on for and that you're getting the fee structure and features that will work best for your business.
Integrated vs non-integrated payments
Integrated payments means your terminal communicates directly with your POS, while non-integrated payments is the opposite.
Some retailers may prefer unintegrated payments, but as a rule, integrated payments are more convenient and significantly reduces the risk of fraud and manual entry errors. Plus, an embedded payment processing solution like Lightspeed Payments saves you time at checkout, during your end-of-day close and is much simpler to manage.
Unintegrated payments may mean that you can keep taking payments if your POS goes down, but the amount of work and time needed to keep an unintegrated system running smoothly is rarely worth it.
Monthly vs. yearly contracts
When you're shopping around for a payment processor, take a look at their fee structure. Yearly plans lock you into working with one payment processor for an entire year—and that might be a costly mistake if the processor ends up being wrong for your business.
Monthly contracts mean you can try a payment processor out without making long-term commitments. You remain in control of the relationship.
Pricing models
Choosing your payment processor also means choosing from a myriad of different pricing models. Understanding what each of them entails and the types of fees you'll be charged will give you a clearer idea of what your bill will look like month-to-month.
Flat rate
Lightspeed Payments uses a predictable, one-rate pricing model—you know that every time someone uses their credit card to make a payment, you'll pay a fee of 2.6% + $0.10 for card-present (CP) transactions, or 2.9% + $0.30 for card-not-present (CNP) transactions.
Interchange Plus
Payment processors that use an Interchange Plus pricing model do things a little differently. Credit card companies like Visa and Mastercard charge merchant account and financial service providers and those fees are then passed on to retailers who sign up with the payment processor. Your month-to-month bill is unpredictable, as your Interchange fees can change depending on the cards used to make purchases in your store.
Typically, payment processors who offer Interchange Plus pricing have a fixed markup added to your fee. Be careful when selecting your payment processor—you will be paying the unpredictable Interchange Plus fees as well as their advertised fixed markup.
Tiered pricing
Tiered pricing is another model you might see. With tiered payment processing, all transactions you take are sorted into one of three tiers: either qualified, mid-qualified or non-qualified. Typically, merchants sign up for tiered pricing expecting most of their transactions to be processed with the favorable qualified rate. In reality, most of their transactions are pushed to the much more expensive mid- and non-qualified tiers, and rarely are merchants told why a card is processed on the tier it is.
PCI compliance
With processing power, comes security responsibilities. If you want to start taking credit cards, you also have to ensure you stay compliant with security measures. The PCI SSC—Payment Card Industry Security Standard Council—outlines minimum requirements for PCI compliance.
Getting up to speed on PCI requirements is important because you could be in for some costly fines if you don't. Our article on PCI compliance will give you all the information you need.
Luckily, some payment processors handle the fiddly details for you—Lightspeed, for example, is a level 1 provider that includes PCI compliance for all our merchants right out of the box.
Choose the right payments solution for you
Now that you know how to start accepting credit card transactions, what to look for in a provider and the pros and cons of both integrated and non-integrated payments, it's time to weigh your needs and research providers.
Admittedly, we're a little biased here, but with reason. Lightspeed Payments is a completely embedded payment processing solution that our merchants love because it's simple to get started, the fees are predictable and our customer support is always there when they need us.
Plus, with our nifty Mobile Tap hardware, customers can pay faster without touching a terminal (one less thing to clean after each transaction!)
Ultimately, the choice is yours, but if you want to learn more about Lightspeed Payments and how it fits into your business, call our team of retail experts today and let's talk.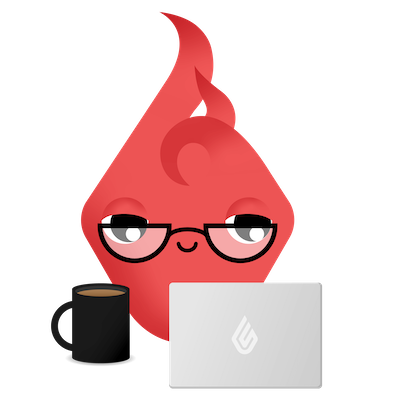 News you care about. Tips you can use.
Everything your business needs to grow, delivered straight to your inbox.