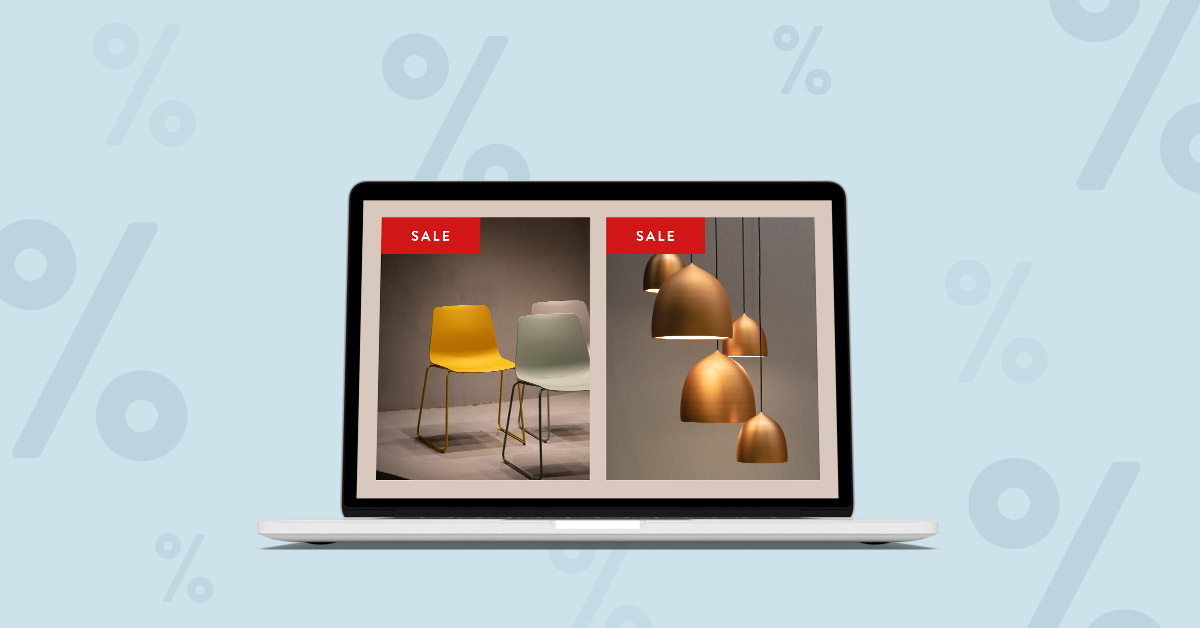 Discounts are great for attracting new customers and increasing the cart value of existing customers. A great discount might convince an inactive customer to start buying again, encourage existing customers to add a few more items to their cart, or effectively liquidate your outdated stock. When done right, discounting maintains an item's profit margins above your minimum threshold and increases its sales volume.
So let's talk about how you can set up Discount Rules for your Lightspeed eCom online store. Lightspeed eCom offers four types of discount rules, each of which is useful in different scenarios.
Segmented discount rules
Upsell discount rules
Bulk discount rules
Combination discount rules
You have the flexibility to set up just one rule or have multiple discount rules running at once. Keep reading to learn what discount rules are, when to use them, and how you can set them up in your Lightspeed eCommerce shop.
1. Segmented discount rules
Segmented discount rules are perfect for making a discount applicable for a specific segment of customers or products. They're especially useful for turning first-time shoppers into recurring ones, rewarding your loyal customers (the ones who spend the most over a set timeframe or shop the most frequently), or boosting a struggling product's sales.
Lightspeed eCom has three different segmented discount rules:
Discounts for Product Categories

Discounts for Customer Groups

Discounts for Returning Customers
2. Upsell discount rules
The objective of upsell discount rules is to increase the amount a customer spends by offering a discount when they spend over a certain amount.
When you set up an upsell discount rule, you specify the amount a customer needs to spend before the discount is made available to them. The end result is that your customers add more products to their cart to secure their discount.
These are the two most popular upsell discount rules in Lightspeed eCom
Discount for orders over "X" value

Free shipping for orders over "X" value
3. Bulk discount rules
The goal of bulk discount rules is to increase the volume of products you sell per customer by offering an additional product or free shipping for every "X" products they purchase.
Try setting up any of these three bulk discount rules to increase your average cart size
Buy "X" products > get free additional products

Buy "X" products > get free shipping

Buy "X" products > get a discount on the lowest priced product
4. Combination discount rules
Combination discount rules are when you offer a discount once a customer meets a series of customizable conditions. The final discount rule is an example of a bulk/segmented discount rule.
Set up combination discount rules to increase your eCom store's cross-selling potential
Buy "X" products from "X" different product categories and get the lowest priced product for free
For example
Let's say someone buys a pair of shoes, shoe cleaner, and a pair of socks.
Shoes:

129.99

Shoe cleaner:

$29.99

Socks:

$8.99
That's three products from three different product categories. You could set up a discount so that they get the socks for free.
Now that you know each of the discount rules available in Lightspeed eCom, let's dive into how you can set up discounts in your online store.
New to this whole eCommerce thing?
Bring your store online with Lightspeed eCom
How to set up discount rules in Lightspeed eCom
Discount rules are very easy to set up within Lightspeed eCom.
In your Lightspeed eCom Back Office, go to Marketing > Discount rule > Add discount rule.
Give your discount rule a specific title so that you can easily edit or discontinue offering it. For example: "March 2019 – Free shipping after $50.00" clearly states both the rule and when it was initially launched, making it easy to track down and edit when the time comes.
After giving our rule an appropriate title, select the type of discount rule. After saving your discount rule, you'll be able to configure it. Read more about configuring your discount rule here.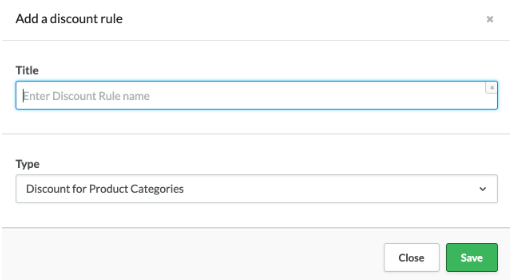 ? Feature alert: "Stop after discount rule"
When you have several discount rules running simultaneously, it might be in your best interest to limit the number of discounts each customer can use at the same time. It will prevent customers from taking advantage of concurrent deals and potentially hurting your store's profits.

You can limit the number of discount rules each customer can apply simultaneously by enabling the stop after discount rule function, which can be found on the discount rule configuration page. When stop after discount rule is enabled for a particular discount, no other discounts can be applied once that one has been used.
The do's of discounting
Mention an expiration date on your discount
Adding a sense of urgency to a deal will increase the likelihood that your customers act quickly to capitalize on the savings it offers. If a deal doesn't have an expiration date, your customers might put off making a purchase because, in their minds, there's no rush. You might lose that sale altogether.
How to set time limits in your discount rules
Within the Back Office, go to Marketing > Discount rules and then click on the discount rule you want to modify. At the bottom of the configuration page, you will find the Period setting.
Time-sensitive sale examples
Flash sale: Notify your customers by email about a sale that lasts a short, fixed amount of time. Talk about creating a sense of urgency!
Weekly recurring deals:

This type of deal can attract regular traffic to your online store on typically "slow" days.
Choose the right discount type
You shouldn't apply the same discounting strategy for low-priced and high-priced products. When discounting low-priced items, consider using percentage discounts rather than fixed dollar amounts. Conversely, when discounting high-priced items, use fixed dollar amounts. Why? Because the perceived value of a 10% discount on an item valued at $10 is higher than a $1 discount. Sure, it's ultimately the same thing, but one sounds like a bigger discount. Similarly, a $50 discount on a $900 item sounds more appealing than a 5.5% discount. Again, they both share the same value, but one looks more enticing for customers.
For more information on the psychology of discounts, check out this article from Entrepreneur magazine.
The don'ts of discounting
Sacrifice too much profit
Yes, discounts can boost your sales, but remember that having them run for too long will result in you losing profits from customers who were otherwise willing to buy at full price. There are also some pretty terrifying long-term ramifications to perpetually discounting products.
Consistently having discounts can make customers think you lack confidence in your products, which sets a bad precedent and ultimately lowers your shop's perceived value. The result is that they never buy your products full price or, worse, find somewhere else to shop with a higher perceived value.
For more information on the risks associated with prolonged discounting, read this solid article from HubSpot.
You're all set!
There you have it — everything you need to set up your own discounts on your Lightspeed eCom store. Just remember to discount responsibly and never sacrifice your shop's perceived value for a short-term sales boost.
Check out our resources page if you're looking for more help setting up your discount rules in Lightspeed eCom.
Happy discounting!
Get everything you need to start selling online
Lightspeed eCom has all you need to get your IRL store a URL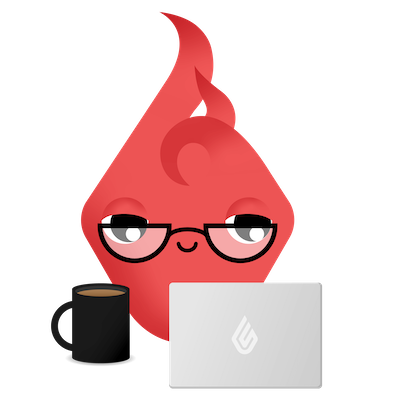 News you care about. Tips you can use.
Everything your business needs to grow, delivered straight to your inbox.