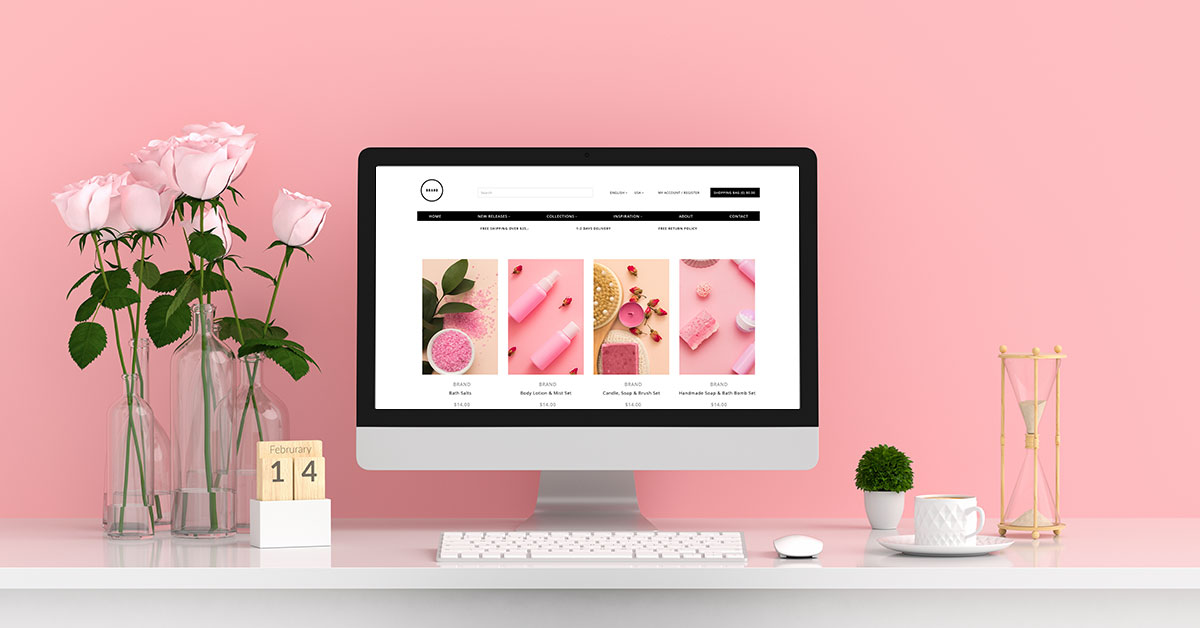 Happy (almost) Valentine's Day, retailers! Since the day of hearts is upon us, we thought it's high time to remind merchants about the things they can do to spread the love. You don't have to be in the flowers or gifts industry to show your V-Day spirit.
As you'll see below, there are many things you can do around February 14 (or any day, for that matter) to show your customers and staff how much you love them. From Valentine's Day promotion ideas to easy-to-implement campaigns, here are some tactics to try on and before the 14th.
1. Look at data from last year
If you've been using a POS system or retail management solution, you should have sales data from this time last year to help you with your Valentine's Day inventory forecasting.
Of course, many things have changed due to the ongoing pandemic, but your data will still serve as a valuable baseline. Take this information you see and apply it to the inventory you'll be ordering. You want to make sure you have enough inventory that you don't sell out, but not too much that you'll be bogged down with items you can't sell.
2. Stock up on Valentine's Day-themed merchandise
On the topic of inventory, remember that you don't have to be in the flowers or gift industry to capitalize on Valentine's Day. You can still drive sales by thinking creatively about your merchandising in the coming weeks.
One thing you could do is stock up on Valentine's Day-themed merchandise. Whether you're selling clothes, accessories or homeware, have a think about how you can make your products relevant for the season.
Target, for example, recently stocked up on things like heart-shaped candles and pink baskets, ensuring that its product assortment aligns perfectly with Valentine's Day.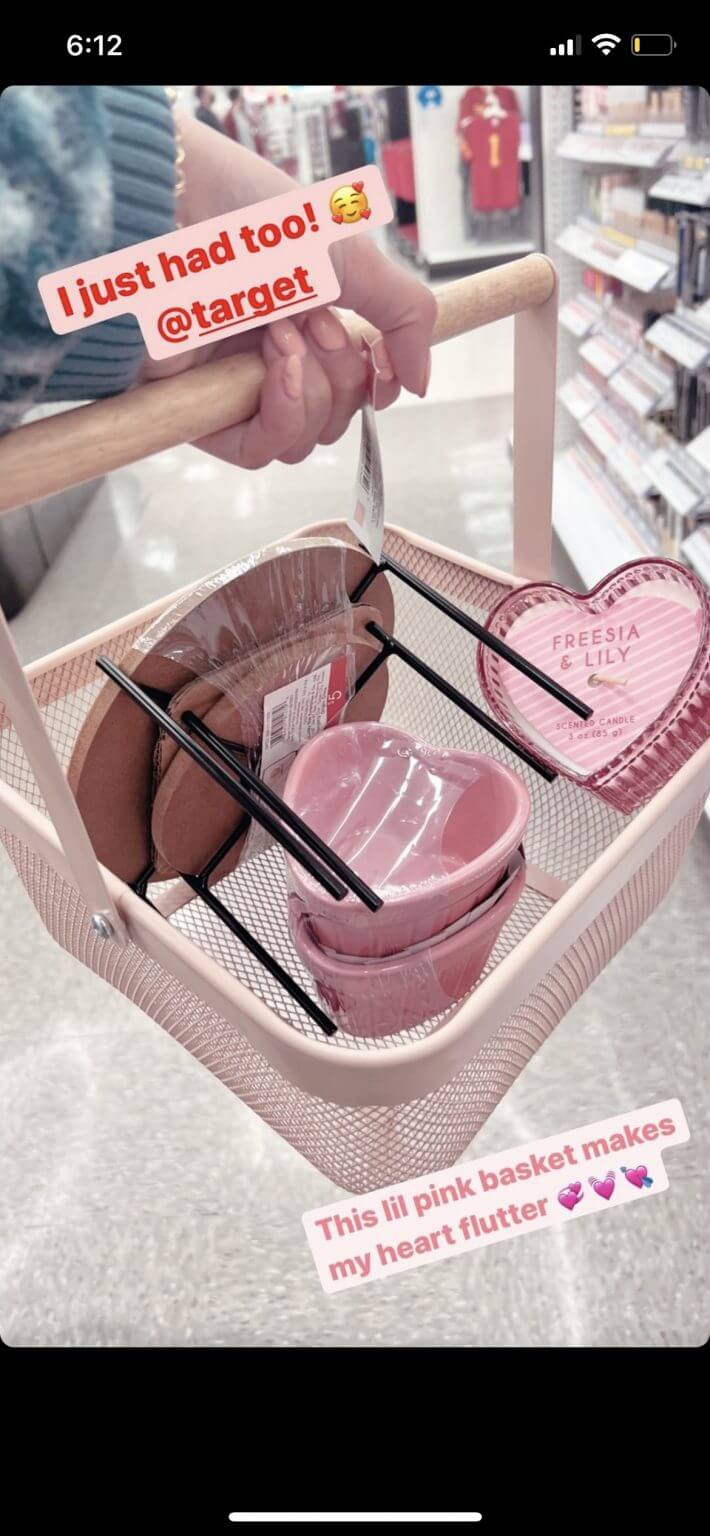 3. Get a head start on your Valentine's Day emails
If you've been collecting customer email addresses, definitely make sure to send out promotional emails as part of your email marketing strategy. Unlike the traditional holiday season, most people don't tend to buy Valentine's gifts very far in advance.
Start emailing your customers a week or two before V-Day to capture early shoppers, and send a final push on the day of to encourage last-minute purchases.
4. Post about your offers on social media
In addition to sending out emails, post about any special offers or events on your store's social media pages. Build hype by leaning into "limited time only" messaging and by using built-in tools like the countdown timer on Instagram Stories to your advantage.
Be sure to use Instagram's shoppable tags or swipe up feature to drive traffic to your eCommerce website. You can also reward your most engaged followers with exclusive offers.
5. Add a dedicated section on your website and store
On your eCommerce site, add obvious nods to Valentine's Day to encourage more spending. For example, add any gifts or other relevant items as a featured category on your homepage. Swap out any header images or site banners for Valentine-themed ones, especially if you're running a limited-time discount. You can quickly and easily design Valentine graphics using free, pre-existing templates in Canva.
Here's an example of what Forever 21 did for Valentine's Day a while back. The company made it easy for V-Day shoppers to find what they need by displaying a large banner on its website.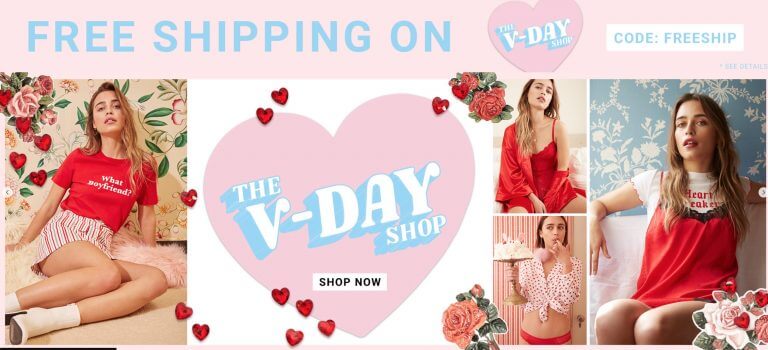 On the brick and mortar side, Target had a corner of its store dedicated to Valentine's Day merchandise and deals. Check out their creative display below: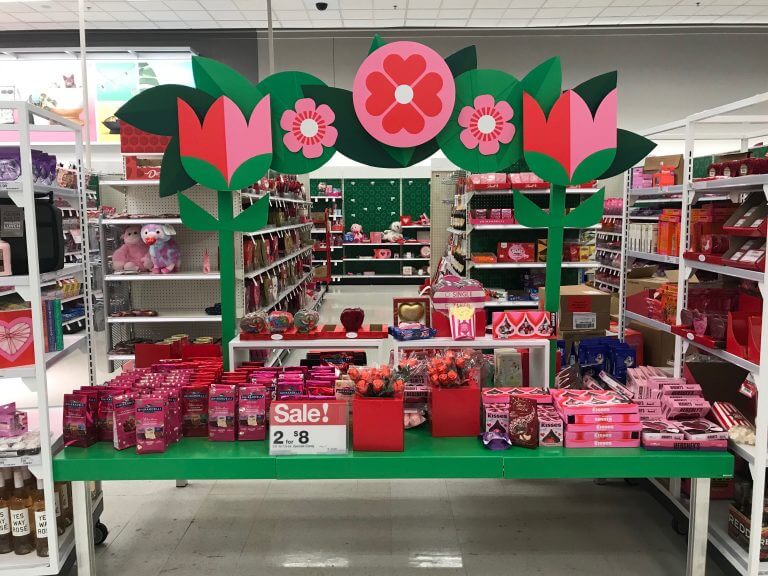 6. Create Valentine's Day gift guides
Group your Valentine's Day products onto one section of your eCommerce site so that it's easy for customers to click "add to cart" on relevant items. Similarly, merchandise your store so that your V-Day items are found in one area, and your customers can easily add multiple items to their basket.
Need inspiration for your V-Day gift guide? Check out this example from Macy's. The retailer's guide makes it easy for shoppers to zero in on the perfect present. It's well-organized and uses a great design.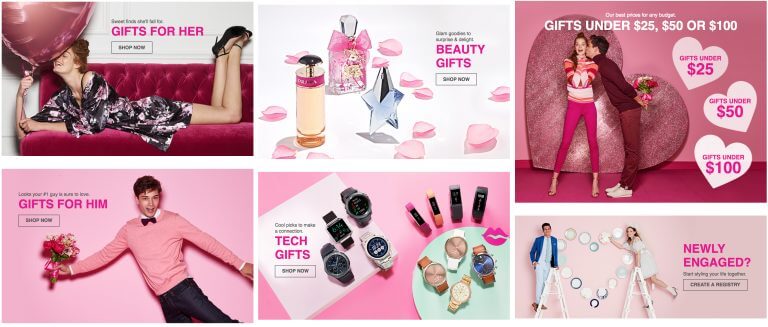 7. Guarantee shipping and delivery by Valentine's Day
It can be disappointing when gifts don't arrive on time. If you're able to guarantee that your items will arrive by February 14, that's a great incentive to get more orders. Mention this guarantee in any Valentine's Day email marketing campaigns as well as on your website.
8. Offer free gift wrapping
Gift wrapping is an essential component of the Valentine's Day unboxing experience.
Offering free gift wrapping is not only a nice gesture, it's one that may make shoppers more inclined to buy their gifts from you. People will appreciate that you're saving them time and money.
If you decide to offer complimentary gift wrapping, be sure to let your in-store and online customers know through signage, word-of-mouth, social media or email.
9. Partner with a local influencer
Teaming up with an influencer with a high engagement rate can help drive traffic to your website or storefront. When scouting for talent, make sure that you partner with an influencer who fits with your business's brand and genuinely cares about your products for maximum success.
10. Prepare for peak days and hours
It's great to be able to forecast what you expect for your Valentine's Day sales, but it's also important to know when these sales will happen. In order to live up to customer expectations, you need to be prepared for when those customers come a-knocking. This means having a good sense of what your busiest days and times are in your store.
With Lightspeed Analytics, you can run the Sales by Hour of Day report to see what your busiest days and times are. Make sure that you have plenty of additional staff scheduled to work those shifts.
The ongoing pandemic also means a lot of your regular retail business will shift to online. So while you want to be staffed up in your physical store, you also need to anticipate an increase in online sales. Ensure that you have enough shipping supplies and employees on hand to help fulfill an influx of orders for Valentine's Day.
11. Schedule your best employees
Your employees are your number one resource in running a smarter and more profitable business. To maximize sales, you should make sure your best employees are on your sales floor or behind the counter during your peak hours.
With Lightspeed Analytics you can measure employee performance by checking running a sales by hour of day report to see who generates the most sales, and then schedule them accordingly.
12. Cater to your top customers
You know who your best employees are, but how well do you know your top customers?
You can use your POS or other record-keeping system to take a look to see who your most loyal shoppers are and make a note of it in each of their accounts. Next time they're in store and checking out, ask them if they had anything special in mind for Valentine's Day. You can also use your loyalty program to send exclusive personalized offers to your VIP customers. This will not only give you a good idea as to what you should be ordering, but it's great customer service.
Your customers will be touched by the gesture and more likely to return to your store to make that special purchase.
13. Add a last-minute sale
Appeal to procrastinators by springing a last-minute flash sale on your Valentine's Day gifts. You can send a last-minute email to generate more online orders, change your website banner or hang signage in your storefront window to let passersby know about any last-minute deals.
14. Find Valentine's Day sales and partnership opportunities
Valentine's Day is the first major consumer holiday of the year, so if you felt business slow down after the holiday season, this could be just the thing to give you a sales boost.
It's also important to remember that Valentine's Day isn't just about "stuff." A lot of consumers tend to treat their loved ones to experiences such as dinner at a romantic restaurant or a movie night.
With that in mind, consider partnering with a local spa, restaurant or theater this February. Perhaps you can offer show tickets or gift certificates as part of a Valentine's Day promotion.
15. Position your products as a unique, non-typical Valentine's Day gift
Not selling romantic or gift-centric products? See if you can market them for Valentine's Day anyway. Consider this example from the personal care subscription company Birchbox. Rather than trying to sell "typical" V-Day gifts, the company positioned its product as a unique and non-cliche gift for Valentine's Day, using the slogan "better than melted chocolate."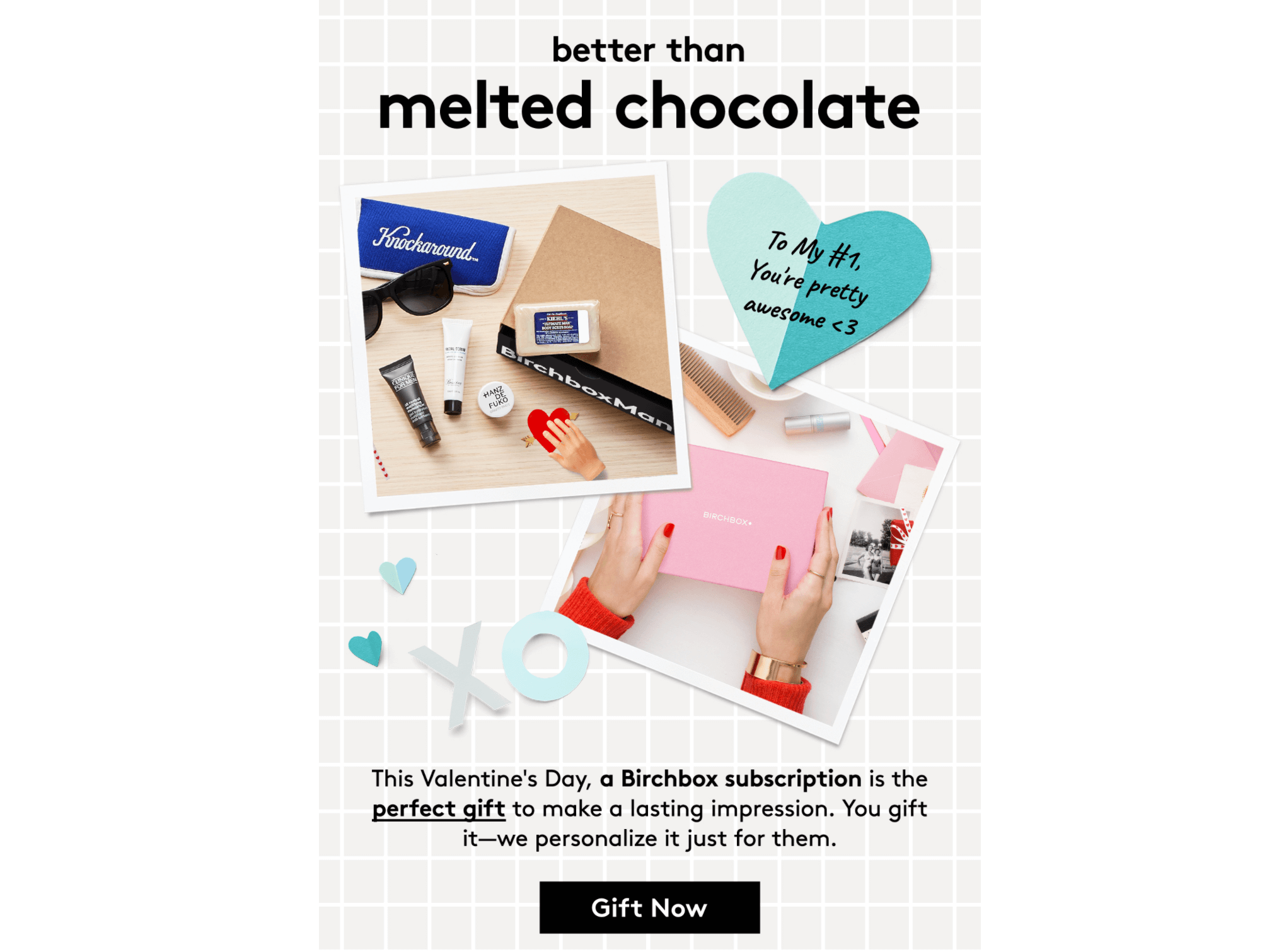 16. Encourage customers to treat themselves
Self-love is another excellent angle for Valentine's Day. If you don't have a lot of romantic or gift-centric items in stock, then encourage shoppers to buy your products for themselves instead.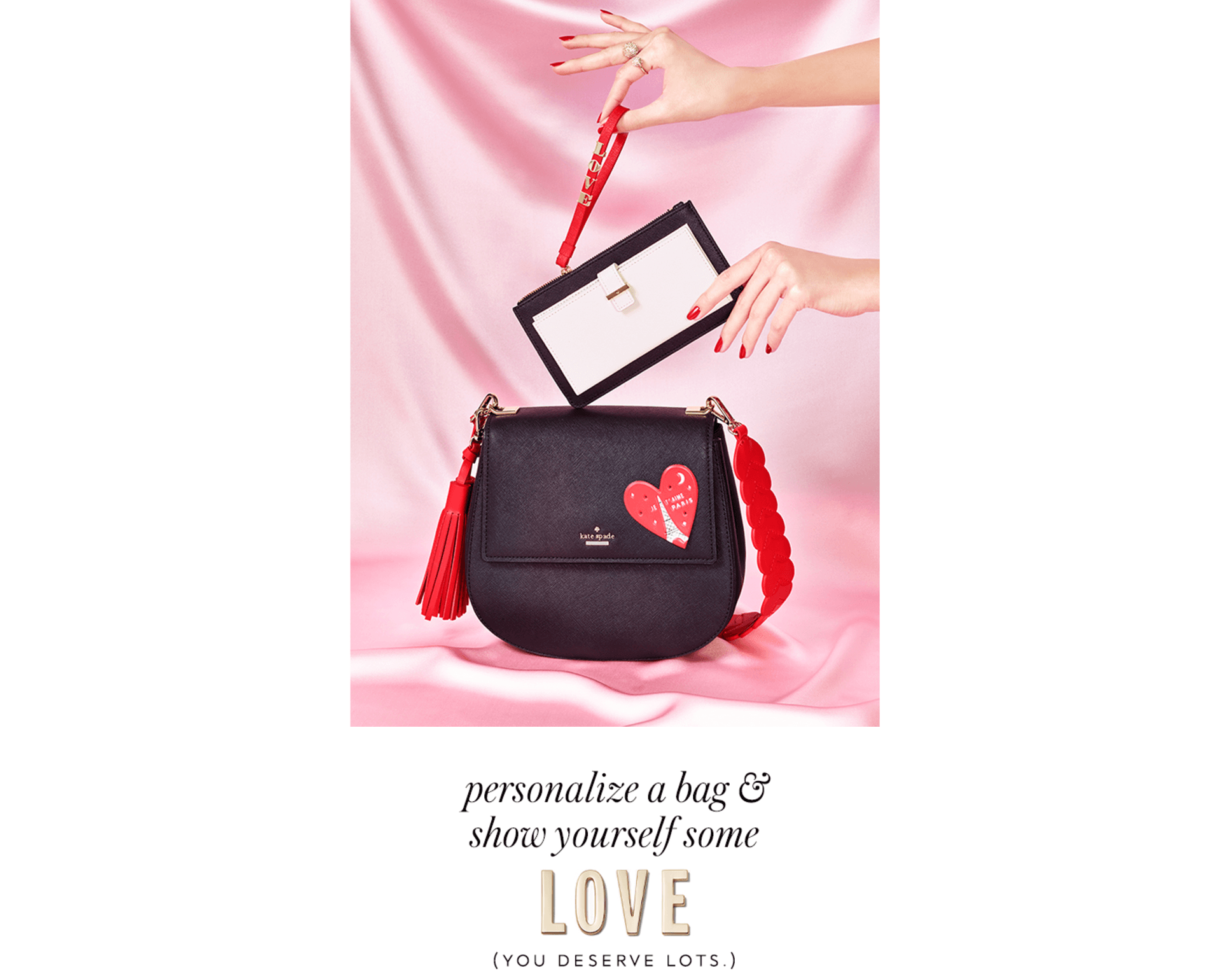 Have a look at what Kate Spade did. In anticipation of Valentine's Day, the retailer sent out an email promoting their personalized merchandise and encouraging customers to give themselves a well-deserved treat.
17. Don't forget about people's pets
The past few years have seen a rise in pet spending. In 2020, 27% of consumers who celebrated Valentine's Day purchased gifts for their pets — up from 17% in 2010.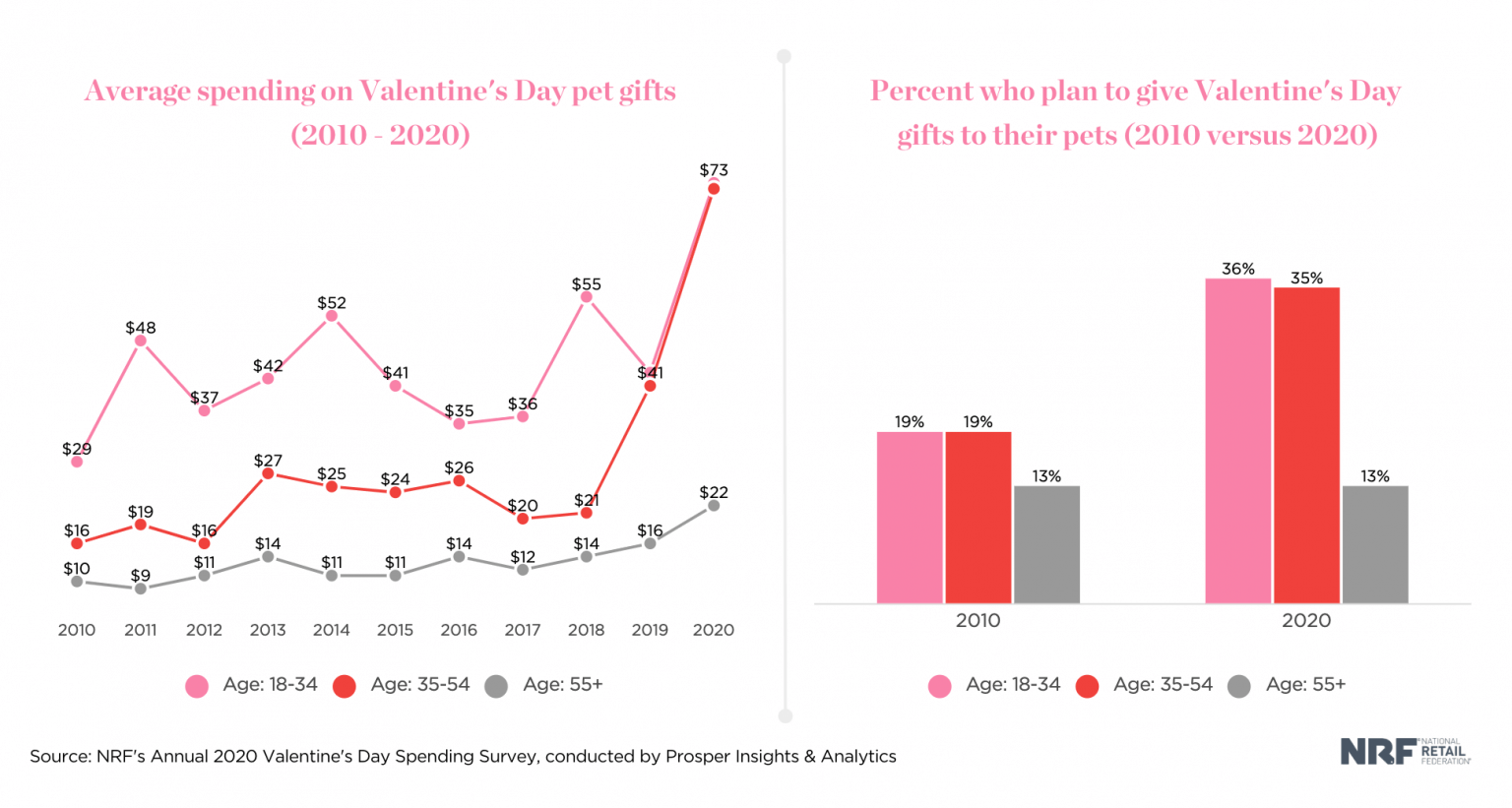 This trend will likely continue in the coming years, so consider including pets in your V-Day messaging. If you're in the pet industry, be sure to implement some Valentine's Day initiatives. (Hint: many of the tips in this post can be used in your store!)
18. Hold an event
Valentine's season gives you a great excuse to throw a party. Why not hold a customer appreciation event and treat your best patrons to free food and a good time? You can even run a special sale while you're at it.
That's what NRG Salon Spa in Ontario did, when the salon threw a "Be Mine" customer appreciation event that included drinks, desserts, flowers, and 15% off all their services.
Another option is to throw a virtual event instead.
In the spirit of Valentine's Day, Paper Source decided to hold a Galentine Virtual Hangout, an online event where attendees could learn all about Valentine's Day cocktails, crafts, and more. Guests were encouraged to purchase supplies prior to the event, and Paper Source even threw in a 20% coupon for those purchases.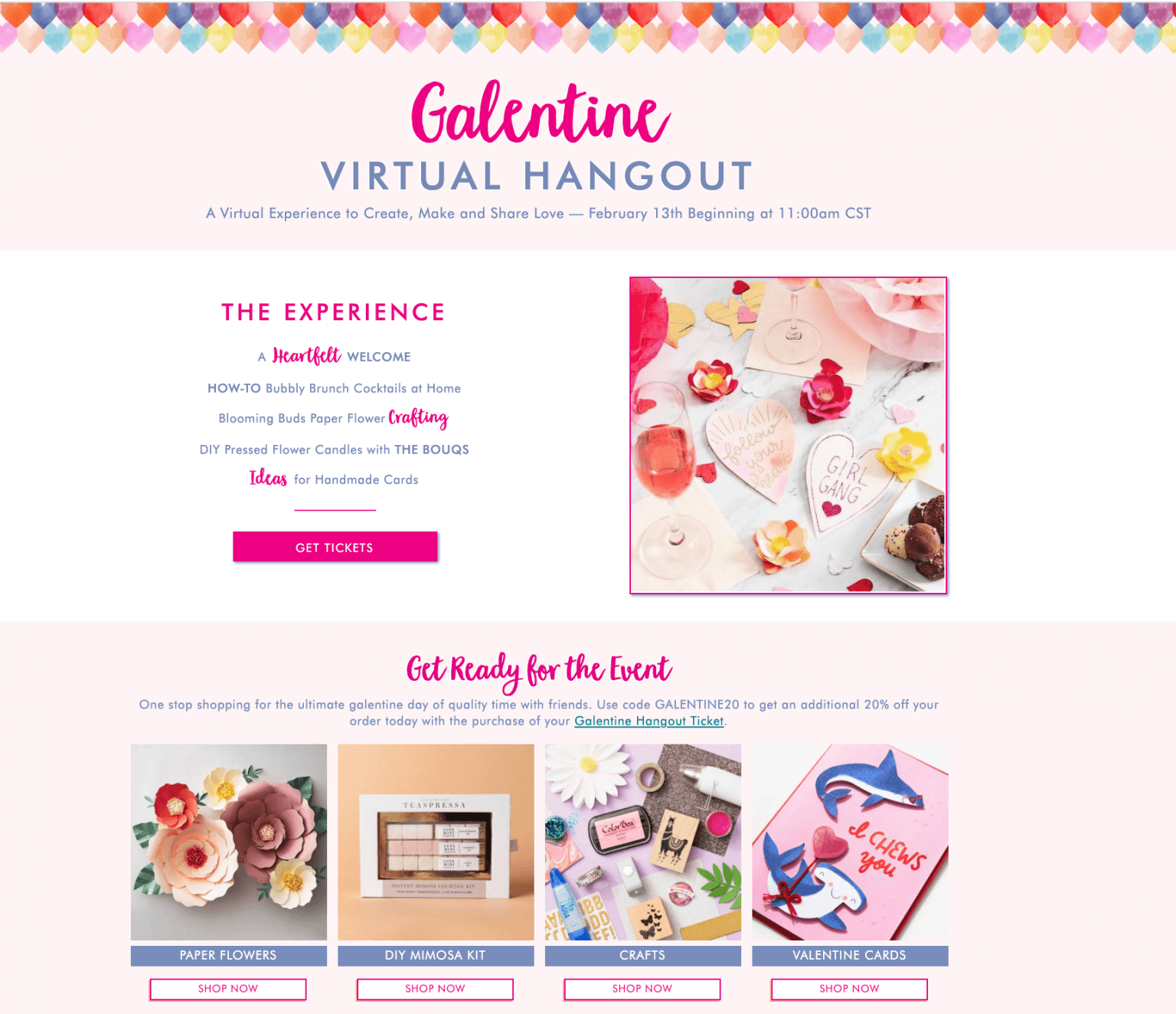 See if you can do something similar in your shop. If you're an apparel retailer, for instance, maybe you can hold a fashion show coupled with a special Valentine's Day sale.
19. Read your customers before approaching them
Instruct your associates to get a feel for each customer's mood before talking to them.
Research has shown that being friendly and happy may not always be the best way to approach consumers.
So this Valentine's Day, pay extra attention to the non-verbal cues of your customers. If a shopper looks happy and excited, then it's okay to be friendly and chatty. However, if someone is in a bad mood, it's best to be sympathetic or even a little reserved. Instead of rushing in to chat and assist them, give them some space. Acknowledge their presence, and then gently remind them that you'll be around to help in case they need anything.
20. Curate gift baskets and boxes
Make shopping simple for customers by curating gifts for them. Now is the perfect time to sell gift boxes, bundles, and baskets so shoppers can easily find the perfect gift for their loved ones.
Check out this example from online gift shop Harry & David. To gear up for Valentine's Day, the retailer recently unveiled Valentine-centric gift sets, including a "Tower of Treats" and a "Valentine's Day Gift Crate."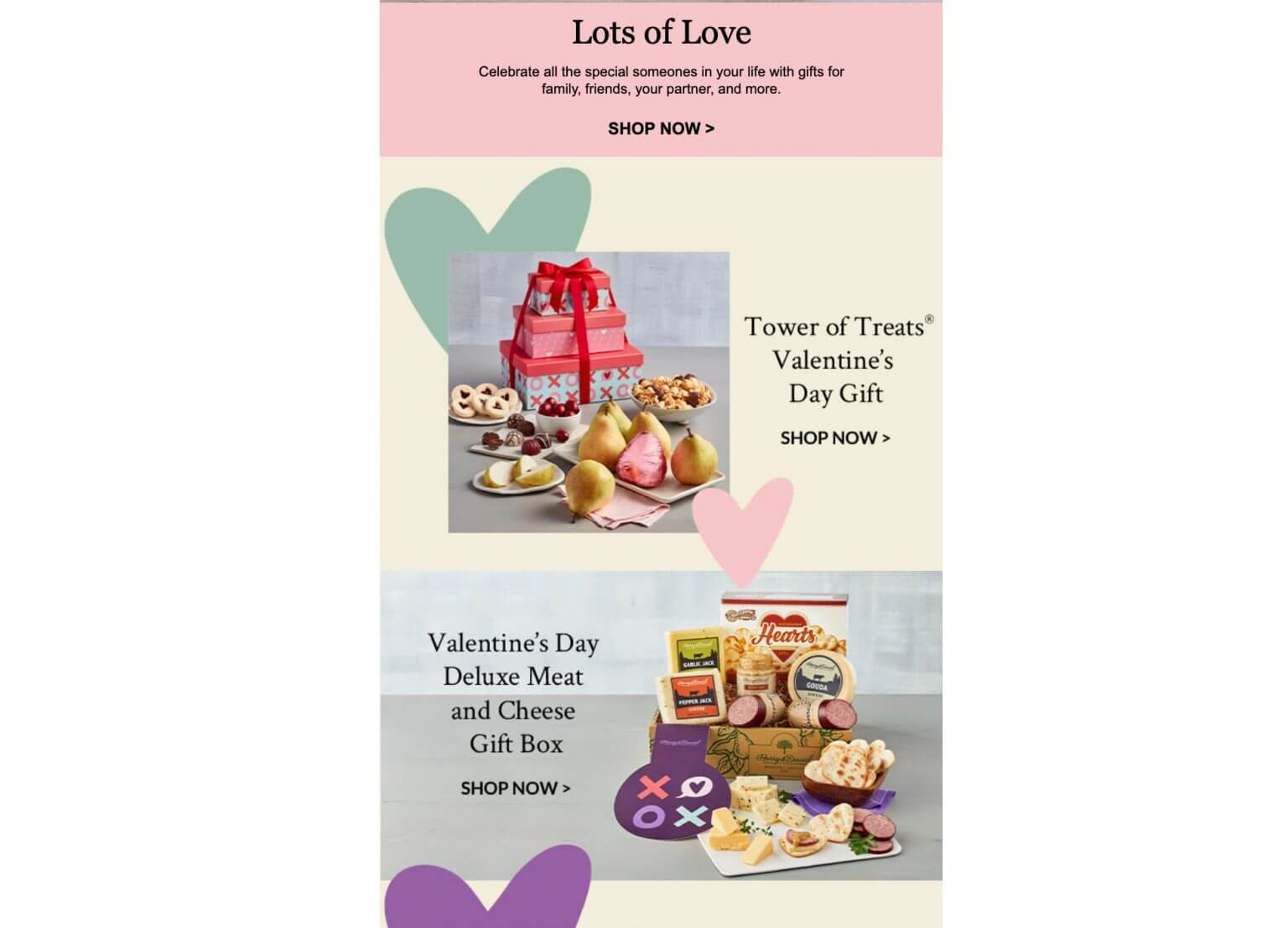 Getting ready for Valentine's Day
Remember, much of preparing for a holiday like Valentine's Day is trial and error. The longer you're in business, the easier it will seem. And though there might not be a scientific equation for maximizing your Valentine's Day sales, these tips will help you better prepare for a spike in consumer spending online and off.
To find out how to set up your retail store and ecom shop for success this Valentine's Day, talk to one of our experts!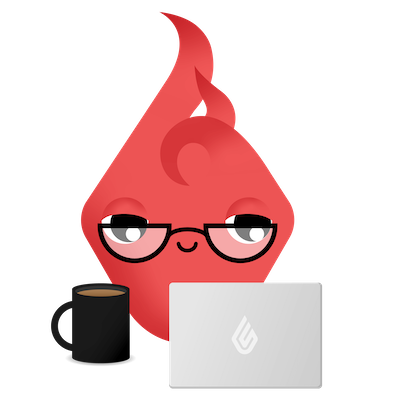 News you care about. Tips you can use.
Everything your business needs to grow, delivered straight to your inbox.