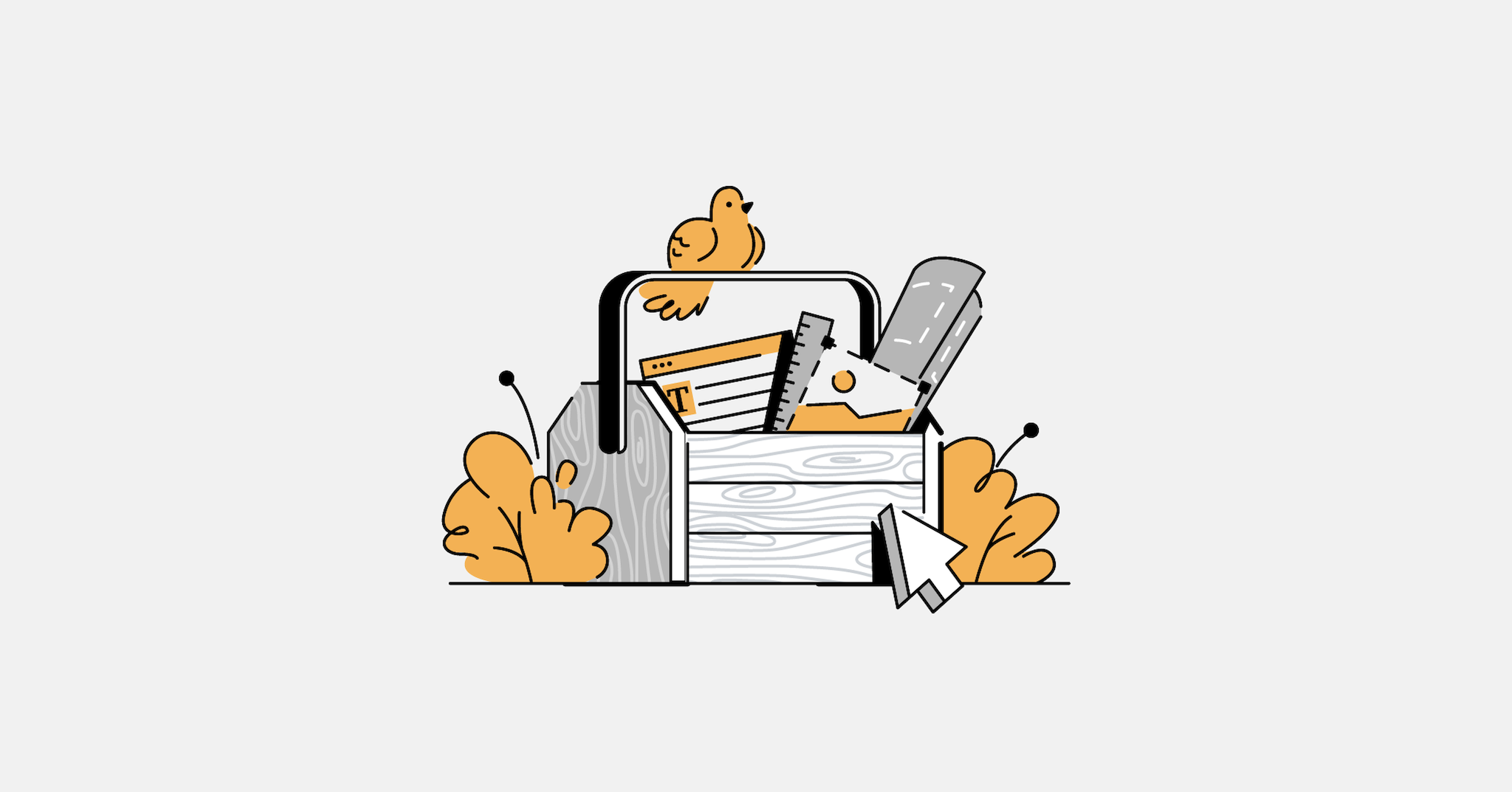 Today, having an online presence is essential. People communicate, study, work, and of course shop online – and they do it constantly.
It's much easier to discover consumers and establish trust in your company if you have your own website.
If you're feeling daunted by the idea of creating an ecommerce website, have no fear! You don't need to be a tech expert to do it. With a little time and effort, anyone can create an online store.
In this article, you'll find answers to the following questions:
Build the ecommerce site of your dreams
Instant Site by Lightspeed eCom lets you create a free ecommerce store with zero design and technical experience.
What is an ecommerce website?
An ecommerce website is a platform that lets you sell products or services online. It's often connected to an online payment provider so you can accept payments electronically, but you can also choose to get paid offline—for example, in cash when the product is delivered to the customer.
As your business grows, so will the demands on your website. Opt for platforms and hosting solutions that allow you to scale seamlessly. Whether it's accommodating more products or handling increased web traffic, make sure your website can grow with your business.
In addition to a scalable website, protecting your customers' data is another key priority. Always have a clear and accessible privacy policy detailing how you handle and store client data. Additionally, remain updated on ecommerce regulations to ensure your business adheres to local and international standards.
How do I set up an ecommerce website?
Here's how you can create your own website:
Use a CMS or website builder to make your site from scratch. A content management system (CMS) is software that helps you create and modify digital content, while a website builder employs pre-built components.

You may utilize specialized ecommerce platforms. They may be open source—software where the source code is available to developers, allowing them to change and adapt it for various uses. Open-source platforms necessitate a certain level of technical expertise. SaaS (Software as a Service) systems are also available, in which ecommerce providers develop, host and maintain the program so consumers don't have to.
For those who aren't technologically savvy, finding an ecommerce site with a SaaS platform like Lightspeed eCom is the simplest solution. This way, you don't have to hire web developers or designers to run your own website and sell online.
When you sign up with Lightspeed eCom, you get an easy-to-use website with a built-in online store right away. No coding needed—just add products, your business information and you're ready to go.
If you have a website already and just need to add a shopping cart, you can use Lightspeed eCom to embed an online store to your website. You can add an Lightspeed eCom store to any website, including:
WordPress

Wix

Weebly

Or a site built with any other site builder, CMS or website platform of your choice.
3 key areas to consider when setting up your ecommerce site
Platform
The foundation of your ecommerce journey begins with the right platform. Your choice should depend on your business size, desired features, and budget. Analysze aspects like ease-of-use, available integrations, and customer support before making a decision.
Security
Customers prioritise security when transacting online. Integrate reliable and secure payment gateways, and consider options like encrypted checkout processes. Displaying security badges can also enhance trust among prospective buyers.
Content
Content is key in guiding your potential customer's journey. From product descriptions to blog posts relevant to your niche, a robust content strategy can drive organic traffic and improve conversion rates. Utilise high-quality images, write compelling product narratives, and consistently update your content to stay ahead of competitors.
How much do ecommerce sites generally cost?
Hiring a developer to create an ecommerce website from the ground up might cost anything from $70 to $250 per hour, depending on the complexity of the project and whether or not you need them to design the website. This is ideal for businesses with bigger needs. For example, a large marketplace.
If you run a small business and don't have tech skills or a big budget, we recommend ecommerce platforms. Their entry plans are about $12-29 per month.
When you sign up with Lightspeed eCom, you can create an ecommerce website at no charge. That's right—you get a free site no matter what pricing plan you choose, a free or a paid one.
After you sign up, you get your own site that is fully hosted, secured and maintained by Lightspeed eCom—an Instant Site.
What is a Lightspeed eCom Instant Site?
Instant Site is a free customizable one-page website with a built-in online store that allows you to start selling right away. It looks great on any device, including mobile, and has everything you need to build a successful online presence:
Customizable content blocks and design themes let you create a unique website.

Edit and update your site content as often as you like, no coding required.

Professional and responsive design makes your site look great on any device.
Instant Site is your place online to create a professional look and demonstrate all the strong points of your business. Our goal is to help you make a great first impression with your customers from the moment they land on your site.
Who is Instant Site for?
Instant Site is perfect for you if:
You've just opened your business and you want to start selling online as fast as possible

You need a website for your business but you don't have tech skills.
Please note, a domain name is more than just a web address; it's the brand's online identity. Keep it short, memorable, and aligned with your brand. Avoid complex words or strings of numbers. Remember, a domain should reflect your brand essence and be easily discoverable.
How to build an ecommerce website with Lightspeed eCom Instant Site
First, you need to sign up with Lightspeed eCom.
You can start customizing your Instant Site right after the signup. To do that, go to your Lightspeed eCom Control Panel → Website and click "Edit Site":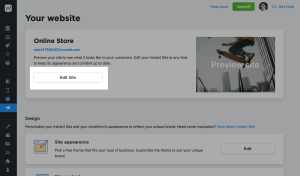 In a new window, you'll see Instant Site content that you can edit: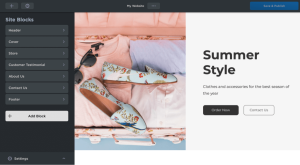 In "Site Blocks", you can edit the content of your website and change the order of their appearance. These blocks are:
Header

Cover

Store

Customer Testimonial

About Us

Contact Us

Footer.
You can use all of the sections provided, or choose the ones that work for you and hide the rest. You can also add additional blocks like Special Offers, Delivery & Payment, Company Info, etc.
The first one is the "Header" block. Use it to show your brand's logo, let customers contact you or add an action link.
The "Cover" block has twelve layouts you can choose from. All of them have a space for your store's name and a short description of what your business is about.
To set a background for your cover, you can upload a photo of your team, your product, an eye-catching picture that represents what you do. This cover can be changed anytime to keep your site fresh, promote sales and events or showcase new products.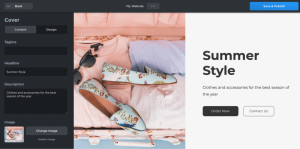 The "Store" section contains the products you sell. Here, you can customize your storefront's appearance.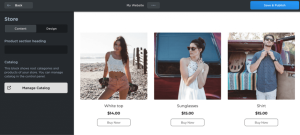 You can change the look and feel of both a product list and a product page. Change thumbnail sizes, product page layout, category name position, and more. If your products don't have images, you can turn off their display.
Instant Site allows you to lay out the information in a way that convinces customers to make a purchase. Even a one-page checkout focused on getting more sales. It's transparent, easy to fill out, and collects customer emails right away. This way you can send a follow-up email to those who abandoned their orders.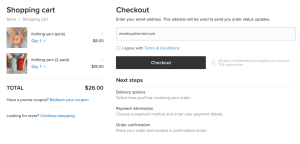 The "Customer Testimonial" block allows you to add a testimonial to show some social proof and increase customers' trust.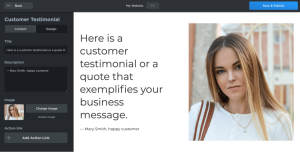 The "About Us" block is there to help you share your business story and create a connection with your site visitors.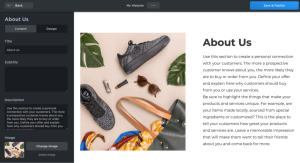 The "Contact Us" block is there to help customers get in touch. You can provide your phone number, email, and social links for quick communication. You can also share your brick-and-mortar details if you have a physical location.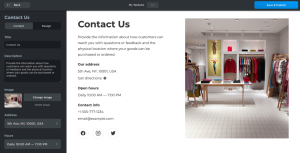 The "Footer" is the last block of your website. It displays the copyright information.
You can change the order of all the blocks except for Header and Footer – these are always the first and the last blocks of your ecommerce site. But you can hide them if you'd like, just like any other block.
If you need help with setting up your website, check out our Help Center for detailed instructions on configuring design and content of your Instant Site.
Create an ecommerce website today
In today's age, where both a significant portion of online shopping and product discovery is done via smartphones, it is essential to ensure that your ecommerce website is mobile-optimised. This will not only improve the user experience but can also significantly boost sales.
Lightspeed eCom Instant Site is a feature-rich, quick and fully hosted solution for getting your business online – all managed by Lightspeed eCom. You can have your website up and running in less than five minutes, with no technical skills necessary. Did we also mention that it's completely free?
Sign up for Lightspeed eCom to start your ecommerce journey today. With its tools and your dedication, your store is destined for success.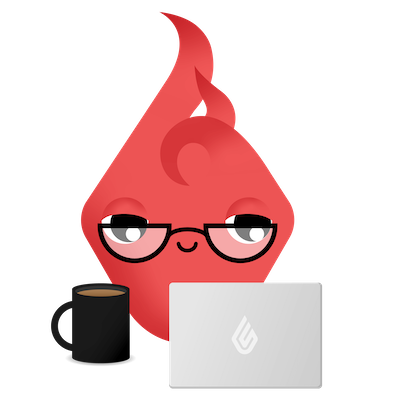 News you care about. Tips you can use.
Everything your business needs to grow, delivered straight to your inbox.