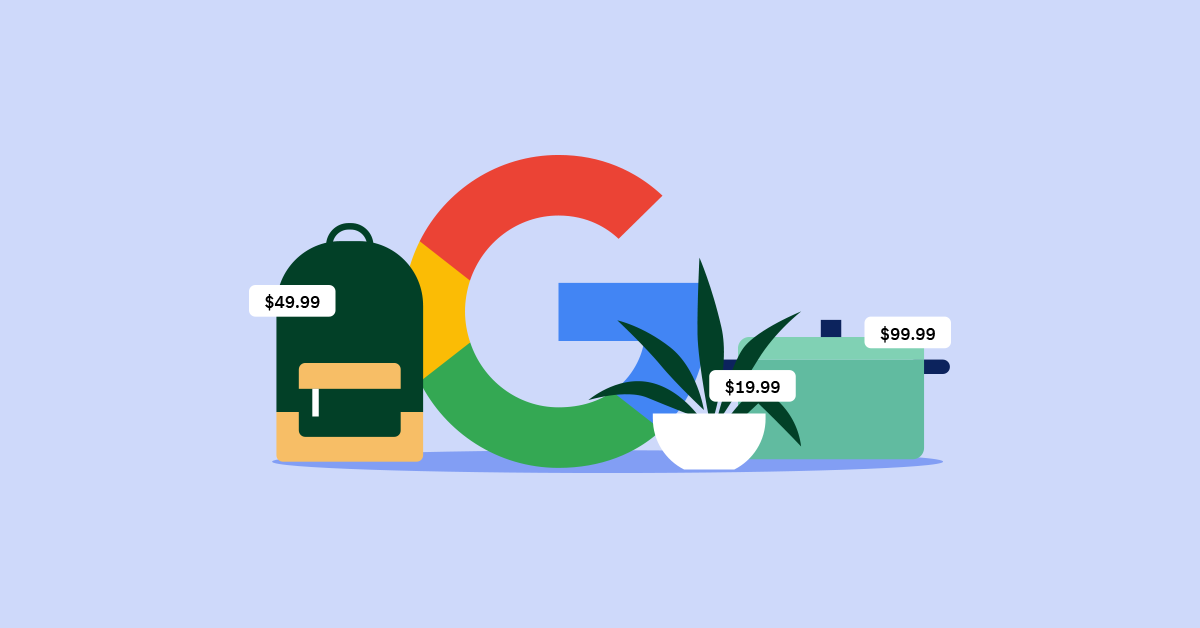 On April 21, 2020, Google announced its plans to make it free for merchants to sell on Google. Starting early May, search results on the Google Shopping tab will primarily feature free listings, which helps merchants connect with customers and leverage a new, potentially untapped sales channel.
Merchants in the U.S. can already take advantage of free listings, and Google plans on expanding this initiative globally before the end of the year. The announcement presents a real opportunity for struggling businesses to get discovered by and transactional with millions of customers using Google without having to pay for visibility.
If you're a Lightspeed merchant looking to start selling in Google's Shopping tab, you can follow these steps to get started. In the rest of this article, we'll cover everything you need to know about Google shopping before getting started: the benefits, cost and steps to get started.
Let's get started!
Learn how to bring your retail business online
Becoming an omnichannel business means you're ready for whatever life throws at you—from extended store closures to evolving customer expectations. Learn how to bring your products online and start selling fast with our free quickstart guide.
What is Google Shopping?
Google Shopping is a service that Google offers that helps consumers search for, compare and shop for products offered by various retailers. Organic (unpaid) listings will appear in the Google Shopping tab, while sponsored (i.e.: paid) listings can also appear in the search results tab.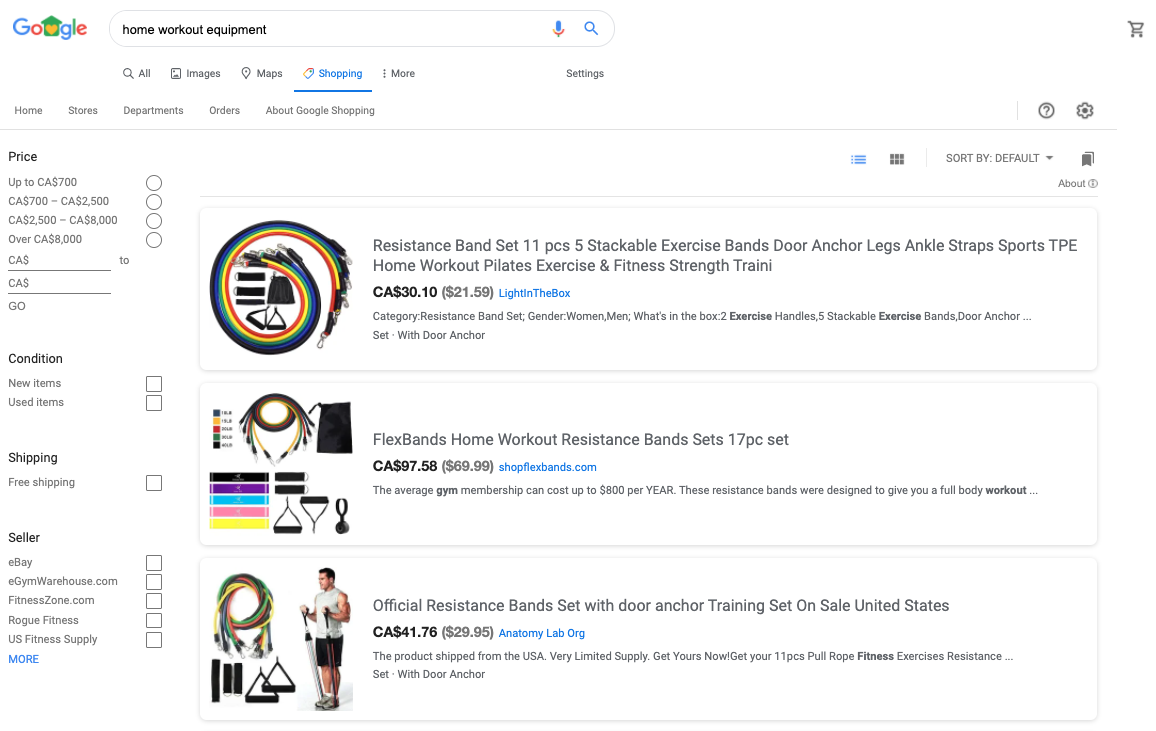 Organic Google Shopping listings for home workout equipment
When it was first launched in 2002, Google Shopping indexed product data based on relevant search terms. In 2012, Google Shopping moved to a paid advertising model where merchants had to pay to have their products featured in Google Shopping's search results, effectively making it a branch of Google AdWords.
Google Shopping is a way for retailers and online merchants to advertise their products on Google but, unlike text-based Google ads that show up and are related to the keywords you search for, Google Shopping displays the product information that merchants upload (image, price, description, link to their website).
Why use Google Shopping?
To get straight to the point: because it works.
Since Google Shopping listings give consumers all the information they need at a glance, and results can appear at the top of the search engine results page (SERP), they're very likely to be seen by customers who have a high chance of completing a purchase.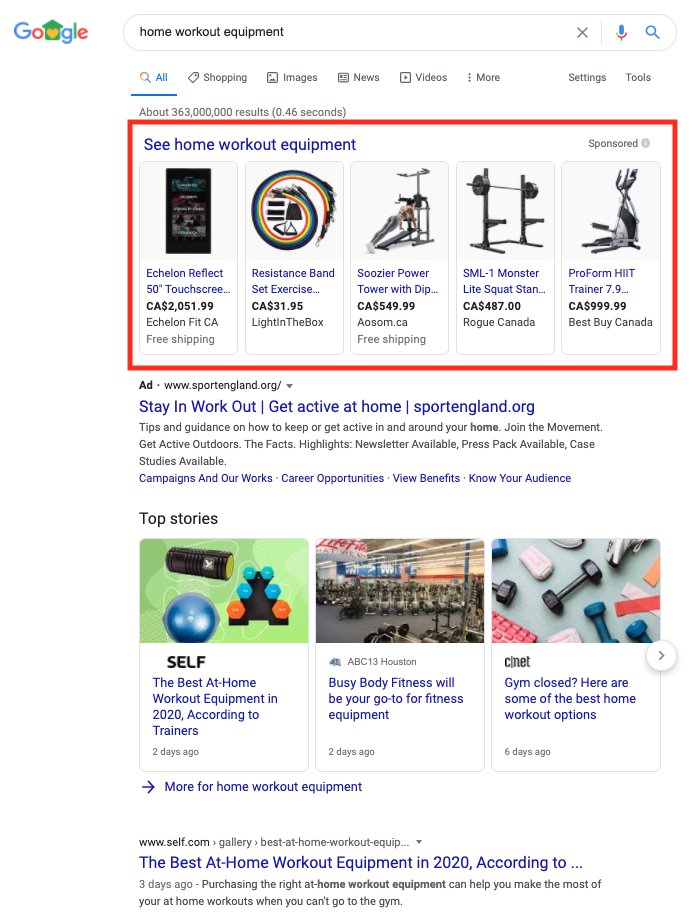 Paid ads for home workout equipment
Is it worth paying for Google Shopping ads?
Since it's now free to post listings on Google Shopping, you may ask yourself whether or not it's still worth your money to pay for Google Shopping ads.
In short, yes, there are still benefits to paying for placements. If you want your products to be featured on at the top of Google's search results page and increase it's visibility, then it's likely you'll need to pay to be seen.
For context, backlinko ran a study that measured the organic CTR of search results on Google and found that the #1 ranked result has the highest CTR and that only 0.78% of Google searchers click on something on the second page.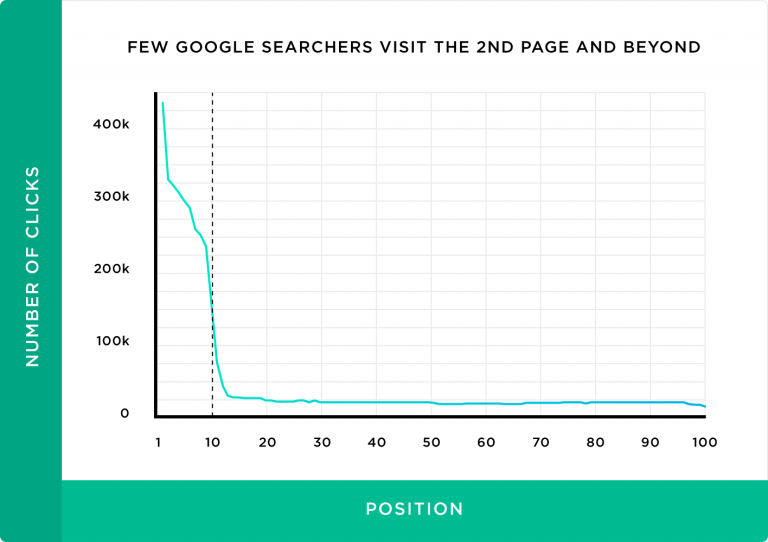 The number of people that see and click a result on Google is directly correlated with its position. The closer to #1 you are, the more traffic (and sales) you're likely to get. The shortcut to getting that coveted #1 position is by paying to boost the product you're listing.
If you were previously holding back from uploading your whole product catalog onto Google Shopping because you needed to pay, now is a great time to list all of your products for free while boosting the listings for products with higher margins.
Steps to start selling through Google Shopping
Let's walk you through how to get your online store's products listed on Google Shopping.
Set up a Google Merchant Center account

Have great product images

Gather and set up your product data feed

Link your Google AdWords account

Create a Google Shopping campaign

Place bids on your Google Shopping campaign

Determine targeting and schedule your Shopping campaign

Create your ad groups
1. Set up a Google Merchant Center account
First thing's first, to get products listed on Google Shopping, you need to sign up for a Google Merchant Center account. This is the command center where you'll manage products, product information and Google Shopping campaigns through Google Ads.
2. Have great product images
Google Shopping pulls featured images from your online store and, because of that, it's more important than ever to make sure the product images on your website are ready for showtime.
Google Shopping is, like most online shopping, a highly visual experience. Images are a big part of what makes someone click and buy a product. Google knows this and, to assure shoppers have the best experience on their platform, will actually reject Google Shopping campaigns if the images are too low-quality.
To assure that your images make the cut, we suggest following Google's image guidelines:
Use clear, even lighting

Use a solid white, gray or light-colored background

Clearly show the product being sold

Show products at the correct scale (not too big or small)

Avoid pixelation, fading or blurriness
These best-practices ring true for online commerce in general, but taking great product shots for your online store doesn't have to stop there. In our post on eCommerce product photography, we explore inexpensive and accessible ways to improve your online store's product images.
3. Gather and set up your product data feed
Next to great product images, you also need to input your product data feed. Your product feed is what tells Google about your products, from their title and description to its price and availability.
This information is essential. With it, Google can display your product to people who search for anything related to it. Their goal is to match the products displayed to a user's search intent, and the product feed is part of how they do it.
To set up your product feed, you need to go to your Google Merchant Center account, click on Products > Feeds and then click the blue "+" icon.
The first thing you're prompted to do is enter your country and language. This will determine who sees your products, so it's very important.
Afterward, give your product feed a name and choose how you will input your product information: using Google Sheets, a scheduled fetch, upload or content API.
If you select Google Sheets, you can choose from uploading your own spreadsheet or using Google Merchant Center's template. This option also lets you set an upload schedule for updating inventory.
The spreadsheet you upload helps Google index and display your products, so it's important that it includes the information needed to create Google Shopping ads:
ID: Your product's unique identifier. If you can, use its SKU number.
Title: Your product's title should match its title on your website. To enhance your title, consider adding other elements someone may search for, such as its color, size and style.
Description:

Describe your product. Only include information about the product and assure that it matches the product's description on your website.

Link:

The URL for this product on your website.

Image_link: The URL of your product's main image.
Availability: Your product's availability (in stock, out of stock). This should match the product availability on your website.
Price: The price of your product, listed in the currency of the country where your product is sold.
Google_product_category: This is the Google-defined product category. Use only the most relevant category.
Brand: Your product's brand name.
That's not all the data you'll need, though. You can read a full list of Google's product data specifications here.
4. Link to your Google AdWords account
When you search for a product using Google Search, the Google Shopping results at the top of the page are actually paid ads (you can tell from the Sponsored tag to the right of the Shopping results).
To boost your product listings and have them featured in that coveted spot at the top of Google's search results page, you'll need to link your Google Merchant Center account to your AdWords account.
If you don't want to pay to advertise your product listings, you don't have to, but doing so will increase their visibility with customers looking to purchase that product.
5. Create a Google Shopping campaign
After you've linked your AdWords account, you're ready to create Google Shopping campaigns and advertise your products.
Through your Google Merchant Center account, you can simply click Create Shopping Campaign, insert your campaign name, country of sale and your budget. Once you click Create, you'll get prompted to manage the campaign through AdWords.
Whenever creating an AdWords campaign, you need to choose the right campaign goal. For Shopping campaigns, you can choose either Sales, Leads or Website traffic as a goal. Google uses the campaign's goal to tailor your campaign with its objective, so it's important that you select the right goal from the get-go.
Sales campaigns: meant to drive online or in-store sales
Leads campaigns:

meant to collect leads by guiding shoppers to completing a defined action.

Website traffic campaigns:

meant to bring people who are interested in what you sell to your website.
Once you choose your campaign's goal, you need to set the campaign type as Shopping. Assure that your Google Merchant Center account is displayed and that your country of sale is accurate.
6. Place bids on your Google Shopping campaign
Once you proceed, the next screen shows your campaign settings. From here, you need to enter your campaign's name, select your bidding strategy and set your campaign budget.
Bidding is essentially you telling Google the amount you're willing to pay for a conversion or cost per action (CPA).
From this screen, you'll also need to set your campaign budget, which is the amount of money you want to spend on average per day. But be aware: the amount you spend isn't capped per day. Rather, Google manages your budget on a monthly cadence. Per month, you will never spend more than your daily budget multiplied by the number of days in each month.
From here you can also select a delivery method for your budget: Standard will spend your budget evenly over the selected timeframe, while Accelerated will spend your budget quicker.
For more information on choosing bids and setting a budget, read this page from Google's support center.
7. Determine targeting and schedule your shopping campaign
The last step to setting up your Google Shopping campaign is selecting targeting and scheduling your campaign. This step will determine who sees ads for your products and when they see them.
Under Locations, select locations where you can ship orders to. Assure that you're able to fulfill orders for the areas you select.
Next, set the start and end dates for your campaign. This is the timeframe where your SHopping ads will get seen by people searching for that item or something similar.
8. Create your ad groups
Once you've finished setting your Shopping campaign settings, it's time to build ad groups.
There are two types of ad groups to choose from: Product Shopping ads and Showcase Shopping ads. While Product Shopping ads are great for promoting a single product, Showcase Shopping ads allow you to advertise multiple products.
Once you select your ad group and click Save, your Google Shopping campaign is submitted and your products will be displayed in search results relevant to the products you're advertising.
The benefits of Google Shopping
The biggest advantages to selling through Google Shopping can be broken down into five components:
Easy to use

Generate more sales

Quickly measure campaign effectiveness
1. Easy to use
The benefit of using Google Shopping is that it's relatively easy to set up and, if ever you need help, Google's support pages are insanely informative. If you have the necessary product data and have an idea of where you'd like to sell and how much you're willing to spend, you can set up a Google Shopping campaign within a few hours.
2. Generate more sales
Google Shopping listings are another way for you to reach customers and sell to them. We recommend exploring alternative sales channels, like Google Shopping, to support your online and in-store sales.
3. Quickly measure campaign effectiveness
Whenever you launch a campaign with Google, the insights you get into campaign effectiveness are impressive. Merchants can get a clear understanding of how well their ads are at achieving campaign objectives, whether it's sales, leads or website traffic.
Over to you

Now, American merchants have the ability to list their products on Google Shopping for free. It's a great opportunity to explore a new sales channel. If you want to move even more products through Google Shopping, consider launching campaigns to get them seen by people looking to buy those products.
Now, more than ever, it's important for merchants to explore alternative sales channels and to diversify how they generate revenue. This way, should anything happen that compromises one sales channel, you still have viable ways of generating revenue to lean on.
Happy selling!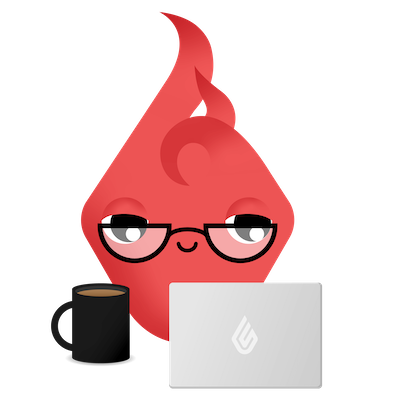 News you care about. Tips you can use.
Everything your business needs to grow, delivered straight to your inbox.