A customer loyalty programme is a marketing strategy that helps brands retain customers, and encourage them to spend, or engage more with your business. If you want to make sure you're keeping customers interested in your brand, you'll need to show them some love. Here's a look at our top tips for creating your own loyalty programme.
Supercharge your customer's loyalty
Are you looking for a customer loyalty programme for your retail business? Learn more about how you can transform every shopper into a new customer with Lightspeed Retail.
How to create a customer loyalty programme
We'll get straight to it. You want to create your own customer loyalty programme. But, where do you start? We'd recommend Lightspeed Marketing and Loyalty. Once you're set up, you'll have instant access to:
Customer purchase history

Activating loyalty programmes instantly

Customer feedback

Customer segmentation

Pre-built templates for emails, forms and landing pages

And, much more.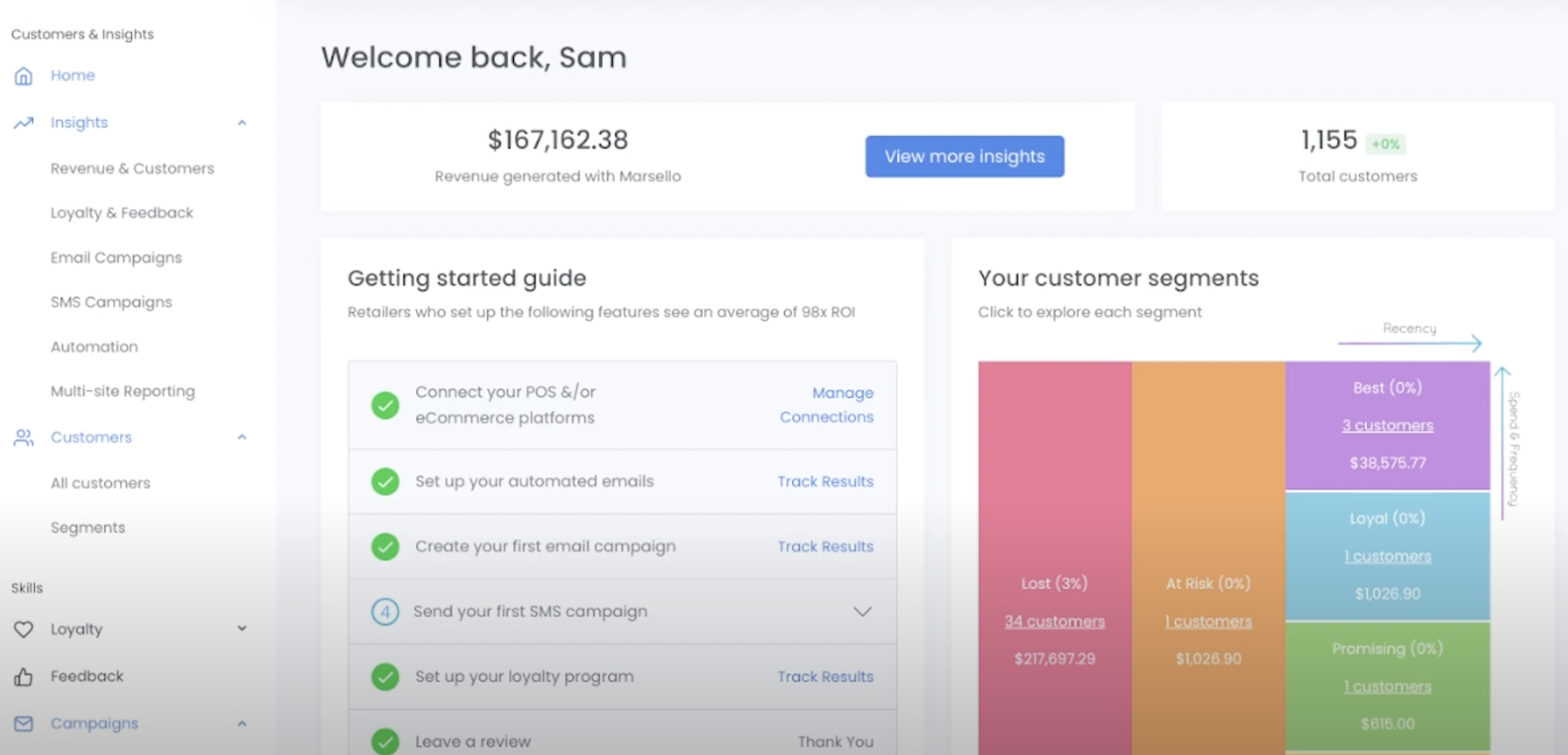 So, you can start creating and designing your own customer loyalty programmes straight away. You can watch a demo here, or speak to one of our team – in case you have any questions.
But, before you get into any of that, we'll walk you through why customer loyalty programmes are vital for your business, which types of loyalty programmes you can choose, and finally, our tips for making sure your programmes are successful. Let's get started.
Why are customer loyalty programmes important?
You'll likely already know why customer loyalty is important. But, if you need any more convincing, we've got some statistics that should do the trick.
71% of UK consumers are more loyal to retailers that offer them discounts, incentives and rewards, provide great customer service, and offer a personalised touch.
57% of UK consumers have stated that "treating existing customers poorly", "not offering discounts for customer loyalty", "making the shopping experience difficult", and "halting free returns" as reasons why a brand could lose their loyalty.
If you're still not sure why this is so important, you should know that:
Your customers are not always guaranteed to come back to your business. You need to give them a reason to want to purchase from your business again. Simply put, you need to give them a reason to care. Earning your customer's loyalty to your business, product, or service through customer loyalty programmes are a great way to achieve this.
In summary, here are a few benefits of creating a customer loyalty programme:
Improves customer retention

Increases customer lifetime value (e.g. repeat business)

Improves revenue

Builds stronger customer relationships

Reach new customers through word of mouth

Gain valuable customer data
What are the different types of customer loyalty programmes?
Once you've decided to create a customer loyalty programme, you'll need to decide what it's going to look like. Customer loyalty programmes can come in all shapes and sizes; while some may be a perfect fit for your business, others might not be. So, it's pretty important that you decide which type of programme you would like to offer your customers.
Here's a few different options for you to choose from:
Point-based programmes

Tier-based programmes

Subscription programmes

Free perks programmes

Refer-a-friend programmes
Point-based programmes
How they work: Points programmes are one of the most popular types of customer loyalty programmes. They involve customers performing an activity (i.e. buying a t-shirt), and gaining points. After a customer has gained enough points, they can redeem their points for credit towards their next purchase. Customers can track how many points they have with a loyalty card or, more popular now, through a loyalty programme mobile app.
Example: Tesco (Tesco Clubcard)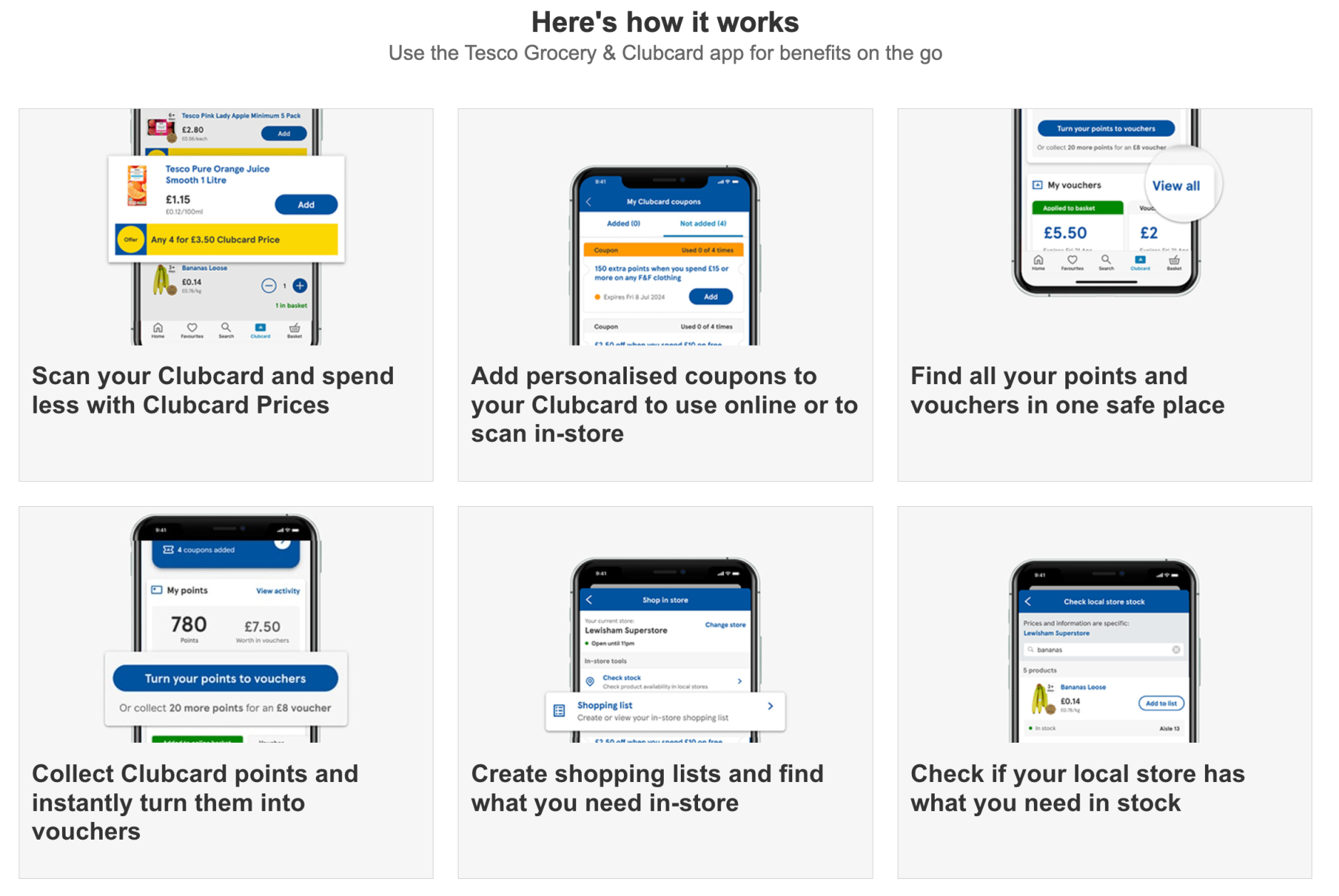 You've likely heard of Tesco's Clubcard already, but if you haven't, here's how it works. Tesco shoppers use their Clubcard when they purchase their shopping. You'll receive points for whatever you buy and eventually, when you have enough points, you can use those points to pay for your shopping in the future.
Tesco even runs promotions and deals exclusive to Clubcard users on certain items, so they can purchase products at a discounted price.
What are the benefits of this? Not only do Tesco guarantee that they'll see return customers, as shoppers want to redeem their Clubcard points, but they'll even be able to gather customer insights and see what's selling well, and what isn't. By being able to see what individual shoppers like to purchase, this allows Tesco to offer exclusive, personalised deals, exclusive to that individual.
Tier-based programmes
How it works: Tiered programmes start with a points programme that allows customers to earn rewards with every purchase. However, with a tiered programme, whenever a customer gains enough points, they move up a tier, or level. Each tier comes with its own sets of rewards, perks, and benefits. Put simply, the more you spend, the more you earn.
Tier-based programmes, often, come with three tiers: a free, or basic tier, a middle-tier, and a high, or premium tier for top-spenders.
Example: Uber (Uber Pro)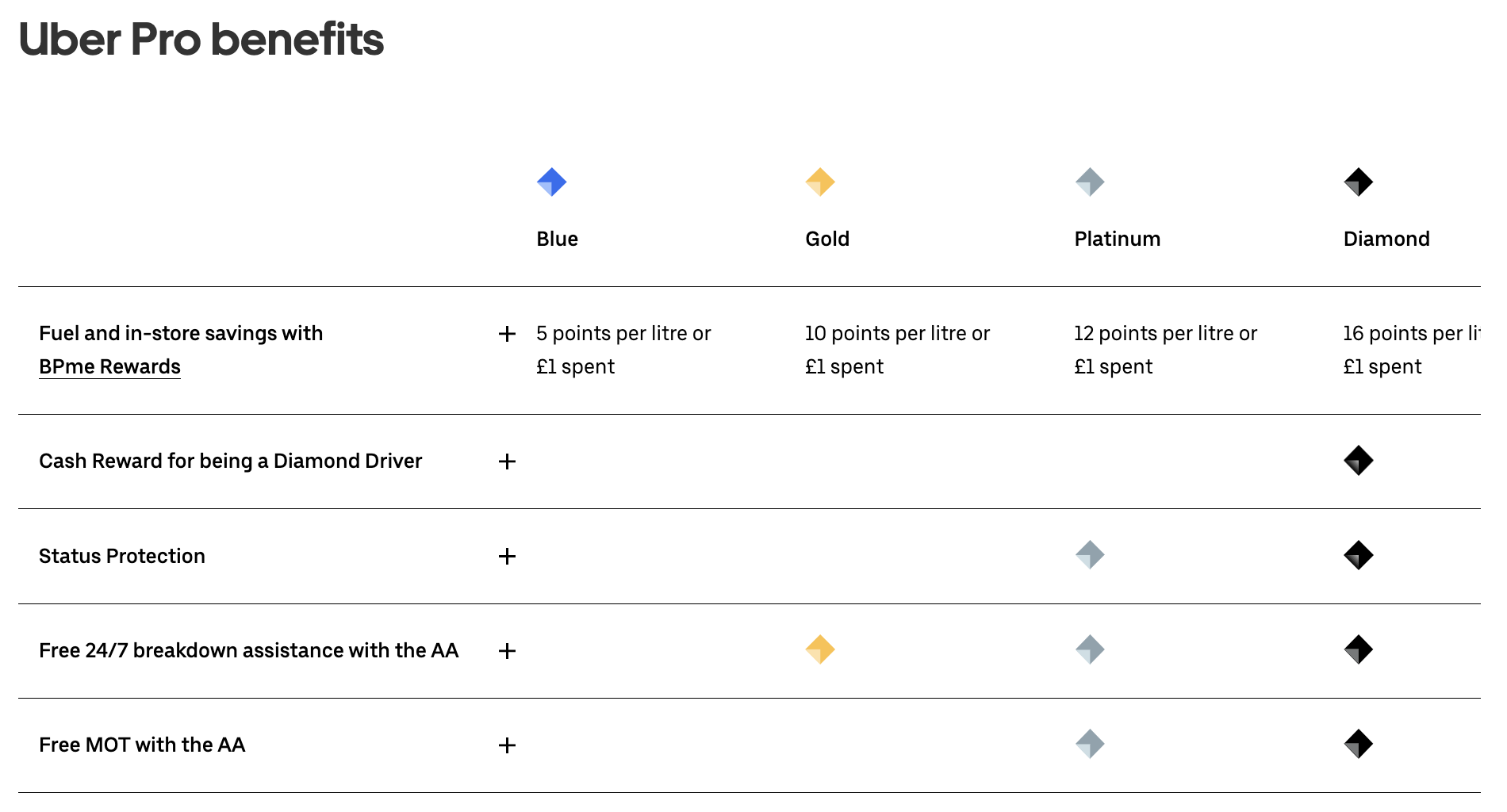 Uber Pro is a tier-based rewards programme that Uber offers to its drivers. Drivers earn 1 point for every trip they take, or 3 points whenever they drive during peak hours. The more points you earn, the higher tier you'll unlock.
Drivers collect points during "Pro periods", set by Uber, that last 3 months: January to March, April to June, etc. Driver's points reset to zero when the next Pro period begins, but if they've earned enough points so far driving for Uber, they could earn themselves a place in the next tier. In a nutshell, the more you drive, the more points you earn. The more points you earn, the more rewards you can get.
Subscription programmes
How it works: Subscription-based loyalty programmes are paid loyalty programmes where customers subscribe and pay an upfront fee, often monthly or annually, and receive rewards for their subscription. These rewards can be discounts on their regular purchases, free postage and packaging, or even free gifts.
Example: Pret A Manger (Club Pret)

Pret A Manger's Club Pret subscription offers customers up to 5 barista-made drinks every day, and up to 10% off their entire menu, for £30 a month.

So, for instance, if you were to buy two flat white coffees every day for a month, that would come to around £126 every month. If you were to subscribe to Club Pret, and buy the same amount, it would cost you £30 a month. So, if you're in need of a coffee fix, and buy fairly regularly, customers can make substantial savings.
Free perks programmes
How it works: Free perks programmes are pretty self-explanatory. They reward customers with free perks, gifts, discounts, and more. Customer loyalty programmes aren't always about only rewarding customers who have recently bought something with points, cashback, or anything else. Sometimes, they can just be to reward a customer for their continued loyalty. These can be based on the amount purchased from a business by a customer, or how frequently the customer uses your business. Or, you can even offer free perks to new customers as an incentive for them to shop with your business.
Example: Krispy Kreme (Krispy Kreme Rewards App)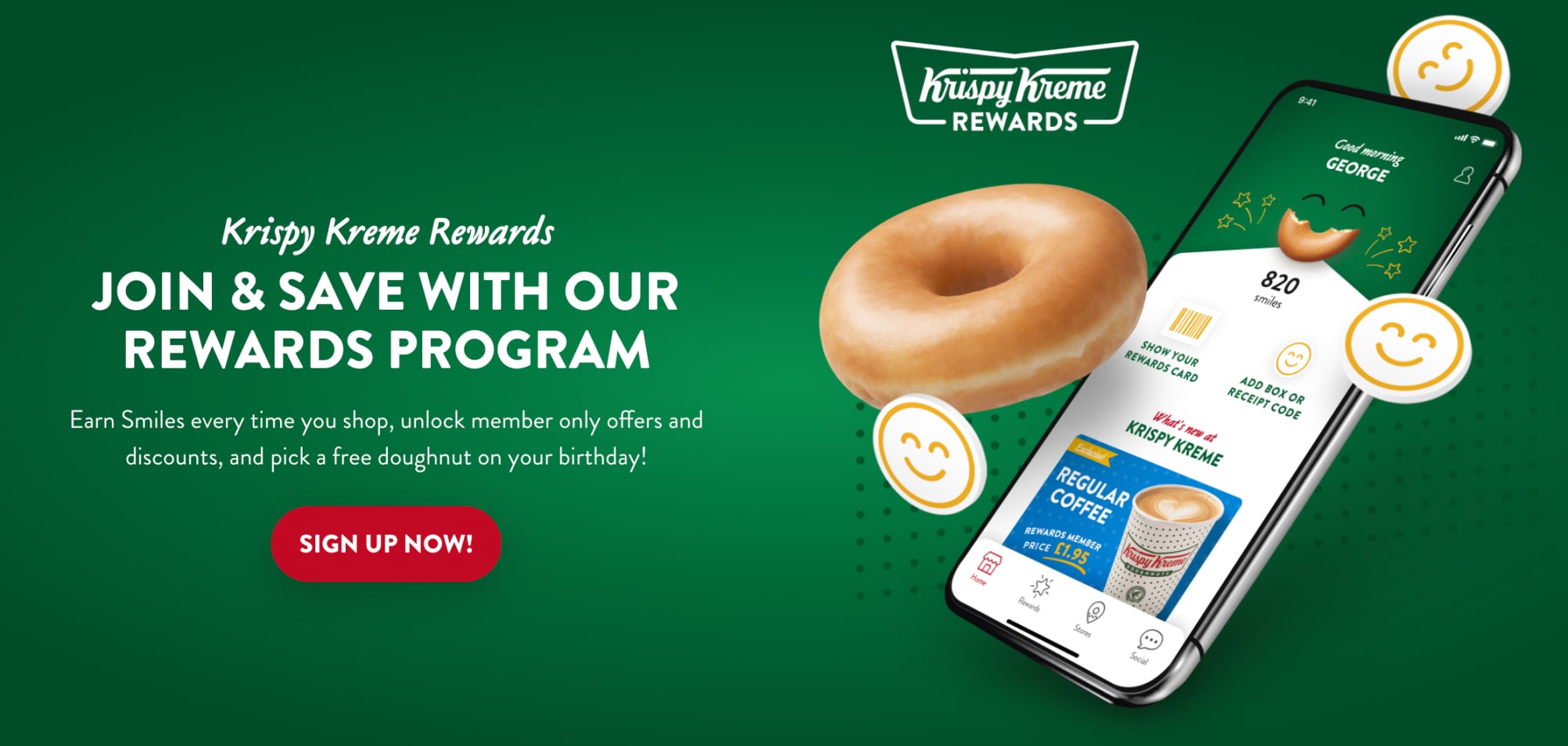 Krispy Kreme has an app called 'Krispy Kreme Rewards' where users can download the app, register for the free loyalty scheme, and receive a voucher they can use in any Krispy Kreme store for a free doughnut of their choice during their birth month. You'll even be able to get a free doughnut, just for signing up.
This is a great example of offering free rewards, even to potential customers who have never visited Krispy Kreme before. Such incentives offer the possibility of reaching new customers, and rewarding current ones, with small perks every now and again. So, you'll always have a reason to keep people coming back.
Refer-a-friend programmes
How it works: A refer-a-friend – or referral – programme, is a type of loyalty programme that encourages customers to share and promote a brand they use, to people they know. Customers who do this will then receive rewards in the form of gift cards, points, or discounts. These types of programmes can also reward new customers, who were referred, with similar perks as an incentive to become a new customer.
Example: Gousto (Gousto Refer-a-Friend)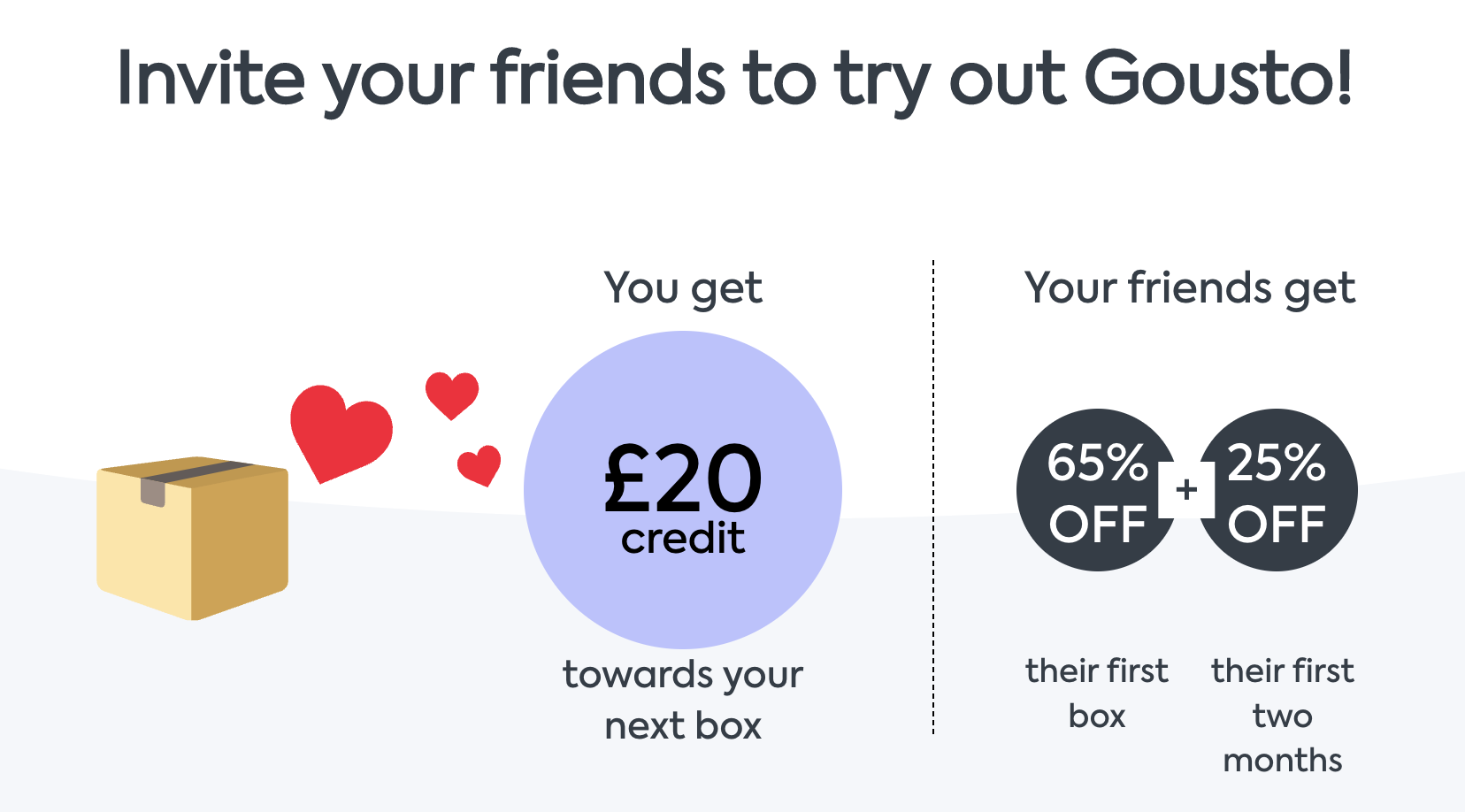 Gousto offers a Refer-a-Friend programme for current customers to share referral links with their friends and family. If someone you know successfully signs up to Gousto, they will receive 65% off their first Gousto box, and 25% off recurring boxes for the next two months. Plus, you'll receive £20 free credit in your account for referring them. Gousto allows you to refer up to 20 friends every month, so if you know enough people who are interested, you could earn up to £400 free credit every month.
You get something for referring your friend, your friend gets something for being referred, and the business in question receives new customers. Everybody wins. This is a really rewarding way of getting the word out about your business, as well as keeping your current customers happy.
How to make your customer loyalty programme successful
Once you've chosen which loyalty programmes you want to implement for your customers, you'll need to know how to make it successful. We've put together a few tips to help you get started.
Establish a reason 'why' customers should use it
The first step to creating a customer loyalty programme is understanding what your customers want. If it sounds obvious, it's likely because it is. Your customers won't use your loyalty programmes if it doesn't offer them anything they want or need. You need to give them a reason.
IKEA has a loyalty programme called 'IKEA Family' where they offer customers exclusive benefits and rewards, including discounts on selected home furnishing products, food products, and services. Plus, customers can enjoy free tea or coffee from Monday to Friday in their restaurants. And, enjoy free 'Oops' assurance (damage cover) in the event that something is damaged during transit, or during assembly, where they'll exchange the product in question for free.
Why are we mentioning this? IKEA Family has over 110 million members worldwide. We're not quite saying that's a number you need to aim for, but it proves how successful your loyalty programmes can become if you offer the right benefits.
Offer multiple different benefits
Have you ever heard the phrase "Different strokes for different folks"? Well, if you have, you'll know it means that different people like different things. Your loyalty programme must take this into account.
Maybe your customers prefer:
free gifts with every purchase

discount codes

exclusive access to any promotions you're running

to have you plant a tree in their name

donate 10% of the profit you make on every purchase to a designated charity
Whatever you plan on offering as part of your loyalty programme, just make sure you offer a wide range of benefits, get to know your customers and understand what they're interested in, and tailor your benefits to their individual needs.
Unsure how to find out what they might be interested in? Create a survey and email your customers asking them what kind of benefits they'd like to see. Plus, you can even offer them an incentive to complete the survey, like £5 off your next order, to make sure you have a bigger pool of data.
Personalise your rewards
We've covered this point a bit already, but, needless to say, make sure your rewards are personalised. You can create customer segments through Lightspeed Retail based on your customer's history and brand interactions. You want to know the best part? These smart customer segments are put together automatically using behavioural data. You can even find customer feedback too, so you don't really need to do too much digging to find out more about what your customers may be interested in.
All you have to do from that point forward is ensure that you're offering rewards and perks based on the customer insights you have put together. We'd recommend putting together email marketing campaigns based on the customer segments you create. It'll make it a lot easier in the future to send out loyalty emails when you have pre-assembled templates.
Reward different customer actions
If you really want loyal customers, don't just reward people for spending money with your business. Of course, you're always going to have to make sure if someone is buying regularly from your business that you recognise that in some way. But, you'll also need to pay attention to those who aren't necessarily buying from you, but instead are engaging with your brand in some way.
Whether it's customers watching, commenting, sharing, or engaging with your social media content, downloading your app and creating an account, or subscribing to your blog, these are all actions that show that your customers want to engage with what you're doing. So, don't forget about them.
Offer rewards from partners
If your business grows big enough, you might start exploring partnerships with other businesses, or brands. Consider partnering with businesses that share a customer demographic with you and what you could potentially offer their customers, and vice versa, what they could offer your customers. So, you're not only rewarding your current customers with even more perks, but you're also gaining a few new customers in the process.
So, if you're trying to find an easy way to generate more loyalty from your customers and increase revenue, Lightspeed ePOS for Retail is just right for you. Featuring easy-to-use integrations like Lightspeed Marketing and Loyalty, you can create customer loyalty programmes, discover customer segments, and create rewards in minutes. Why not give it a try? You can find everything you need right here.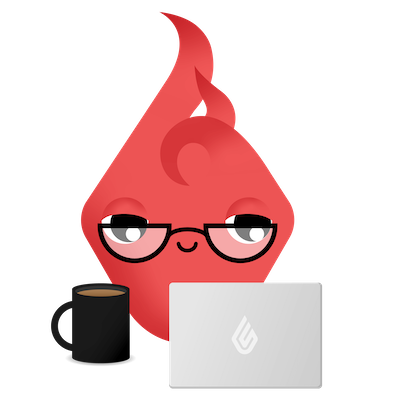 News you care about. Tips you can use.
Everything your business needs to grow, delivered straight to your inbox.