If you're running a business, you'll need to have a social media presence to reach your customers. And, Instagram is one of the greatest ways to do this. Instagram is the world's most popular social media platform with more than 2 billion active monthly users and can allow you to connect with customers, promote your brand, and expand your reach.
It's never too late to hop on the bandwagon of one of the most popular social media networks, especially one that can boost your sales. So, we've put together this article to teach you how to create your own Instagram account for your business, how to create content for your audience, report on your posts, acquire new customers, and drive traffic to your website.
Here's an overview of the topics we'll be covering:
Your ePOS system is the heartbeat of your store
Manage inventory, customers, and employees, ring up sales, and run everything behind the scenes with Lightspeed ePOS for Retail: the complete eCommerce platform designed for the modern retailer.
How to get started with Instagram
Okay, firstly, we're going to show you how to set up your own Instagram account. It's really simple and you can be up and running in under ten minutes. Ready? Let's go.
Download the Instagram app
You need to download the Instagram app to your Android, iPhone, or tablet. While Instagram does have a web interface, it's easier to upload from your phone. All you have to do is:
Go to the Google Play Store (Android) or App Store (iPhone).

Type in 'Instagram' into the search bar.

Click 'Instagram'. This should be the first search result.

Click 'Install' (Android) / 'Get' (iPhone)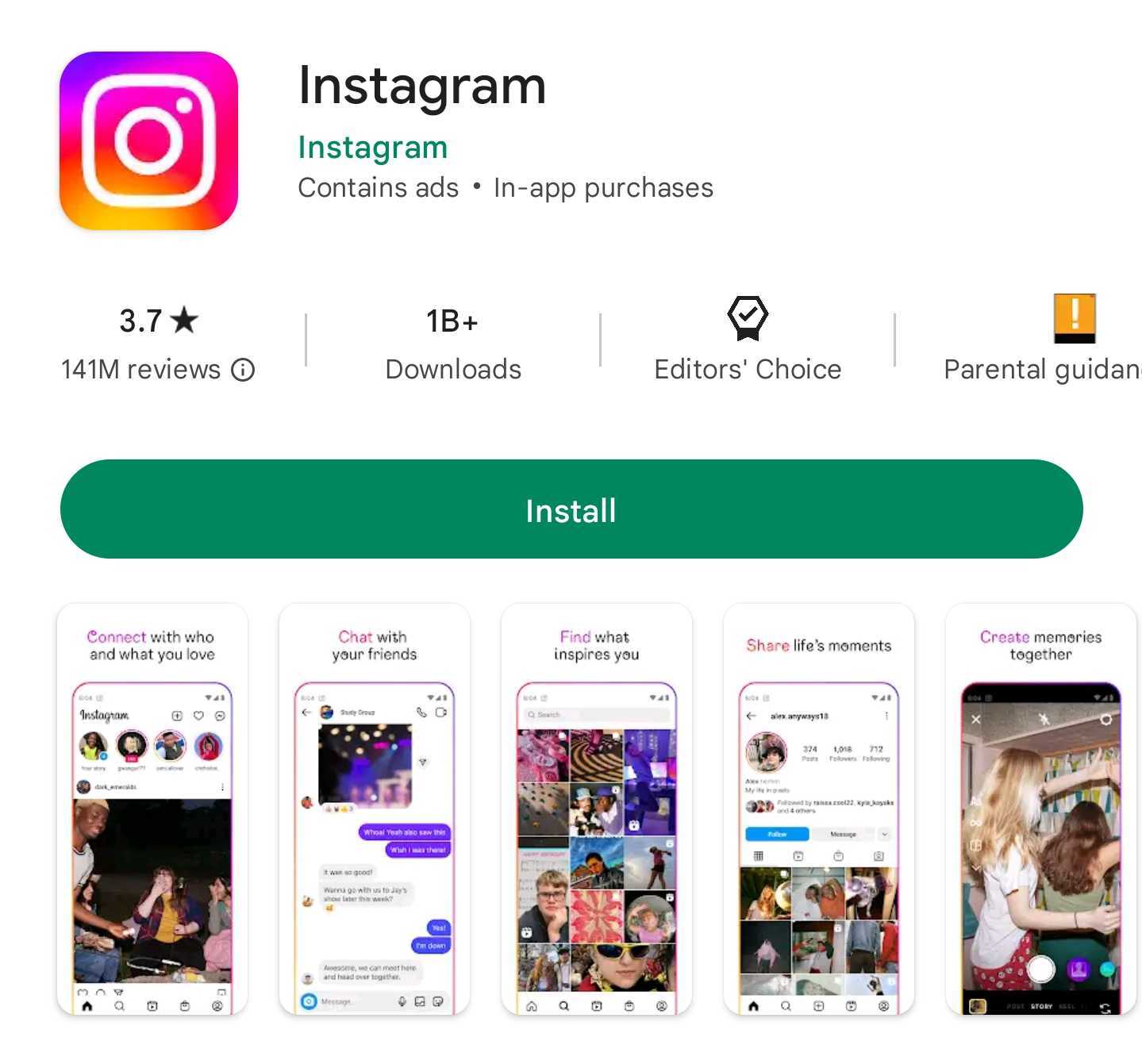 Create your account
You'll now need to create your Instagram account. You should choose a username that matches the name of your business. You may find that your name has already been taken, or that your name is too short, or too long, to fit. If this happens, you'll need to get creative. You should consider adding words like 'official' or 'uk' to your usernames if you find your name has already been taken.
Switch to Instagram Business account
Once you've created your Instagram account, you'll need to switch to a business account. Switching to a business account is completely free – and it will give you access to advanced Instagram features. An Instagram business account can allow you to:
Display your contact information – you can add your email address, phone number, store location(s), and opening times to your Instagram bio.

Connect your eCommerce store – you can sell your products directly from Instagram through 'Instagram Shopping'. However, you'll have to meet a few requirements before you can start selling. You can find everything you need to know about

Instagram Shopping

here.

Monitor analytics and insights – you'll be able to see how your posts and ads (if you create some paid advertisements) are performing, understand who your audience is, and learn how they are interacting with your profile.
Here's how you can switch to a business account:
Open 'Instagram'. You can do this on your smartphone, tablet, or your computer.

Click the 'Avatar' icon in the bottom right hand corner of your screen.

Click the 'Menu' icon in the top right hand core of your screen. This will be three horizontal straight lines.

Click 'Settings and privacy'.

Click 'Account type and tools'.

Click 'Switch to a professional account'.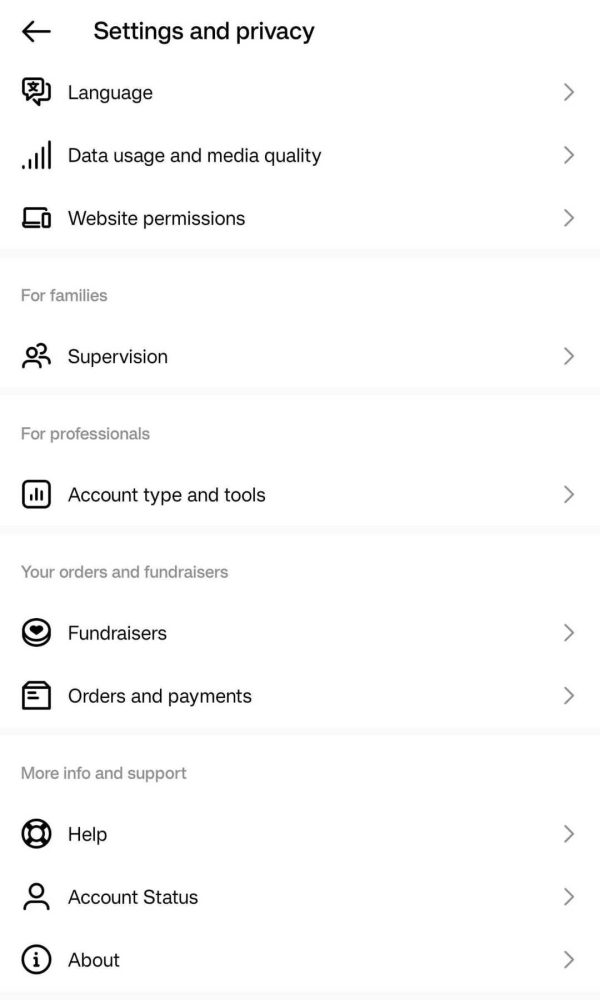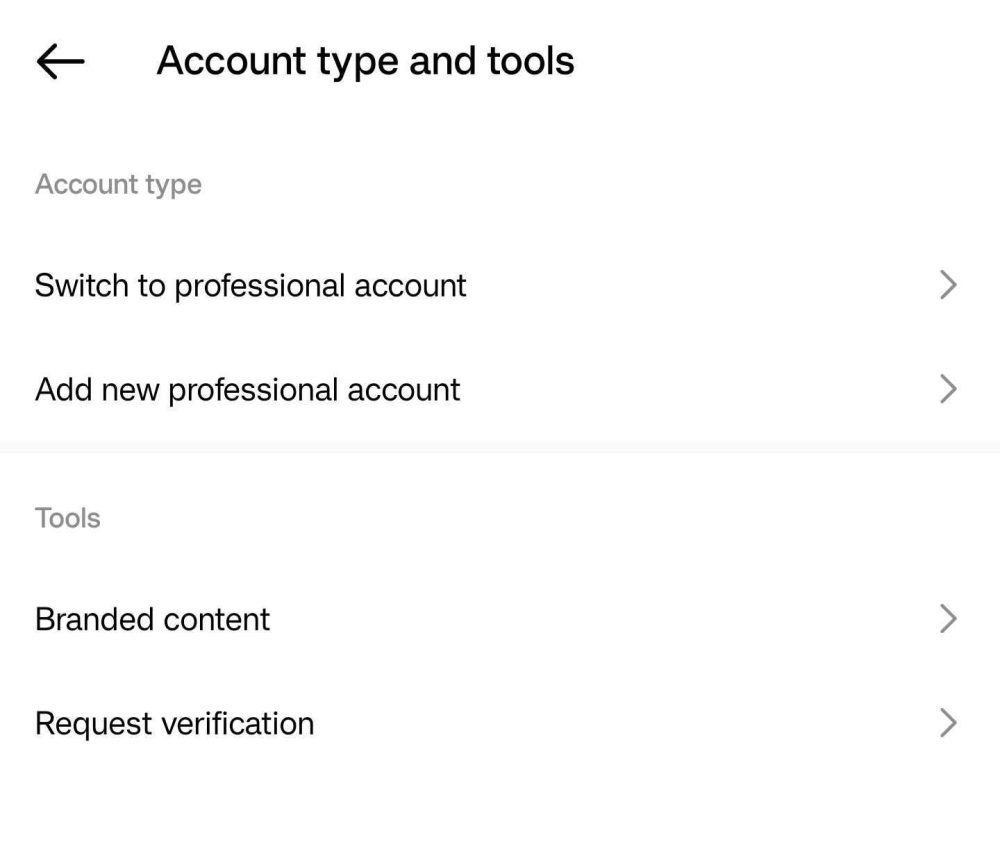 Simply select which category best describes your business and click 'Done'. And, that's all there is to it.
Note: If you already have a personal Instagram account, that you don't want to switch to a business account, you can click 'Add new professional account' instead.
Congratulations! You are now the proud owner of an Instagram business account. You'll quickly want to make sure that your account is public too. You can't grow your followers, and your business, on private mode.
Add your logo and write your Instagram bio
Now, you need to add your business' logo. Your brand needs to be instantly recognisable. And, an eye-catching logo can do that for your business. Of course, we're not saying to change your logo because you've just downloaded Instagram. That would be a tad extreme. But, if you can, consider making it a bit funky. Maybe these could be alternative versions of your current logo. After all, if you're using Instagram for your business, you're doing it to capture people's attention. A great logo can achieve that easily.
Your Instagram bio should be short and simple. It needs to capture who you are, what you do, and why you exist. It's your chance to shout out about what makes your business special, and why people should care.
Plus, you need to make sure that you're driving people from your bio to your website. Whether it's your shop pages, a particular seasonal product page that you change every few months, or a landing page. Simply put, you need a call-to-action. And, a good one at that. Tell your audience what to do and where to go.
Your bio is also the only permanent place where you can share your eCommerce store's URL on Instagram. You can share links on Instagram Stories, but these will expire after 24 hours. So, make sure that it's in there.
Promote your Instagram account. Everywhere.
If it sounds obvious, it's because it is. If you have created an Instagram account for your business, you need to promote it anywhere, and anyway, you can. Shout it from the rooftops if you have to. Just make sure you get the word out.
Create social media icons to go at the footer of your website. Add them to your email footers too. If you have a Link Tree account, add it there. Link your Instagram to your Facebook Business page. Share your Instagram posts there. And, so on. If there's somewhere you can promote your Instagram page, do so.
How to create content for your Instagram account
Next, we're going to show you how to start creating content for your Instagram account. We've got plenty of helpful tips to help you take your social media marketing to the next level.
Creating content
Okay, now it's time to start creating content! But, you should know, Instagram, for a business, isn't as simple as just posting pictures. You'll need to find ways of engaging your customers, as well as people who have never heard of your business. It's about connecting with people, and giving them a reason to be invested in your brand, your products, and what you're up to.
Easier said than done, no? Well, we have some ideas of the types of content you can create on Instagram to get started. You can:
Show your latest products

Tell your customers when popular products are back in stock

Promote events you're business is hosting

Share behind-the-scenes footage

Run interactive polls

Answer your followers questions

Create and feature product tutorials

Announce sales and discounts

Start an Instagram-only series

Highlight your best customer testimonials
Take Lightspeed customer, Diddly Squat Farm Shop, as an example. Here you can see them showcasing their latest creation.
View this post on Instagram
Or, you can see Lightspeed customer, Isle of Skye Candle Company demonstrating how their customers are repurposing their candle pots once they're finished with them.
View this post on Instagram
Stick to any of these ideas, mix it up every now and then, and keep the customer at the heart of everything you do, and you won't go far wrong.
We recommend starting to populate your gallery with a few photos at first. And, then dedicate some time to posting at least three to four pieces of content a week. That said, the aim is to post content daily; the more you post, the greater chance that your customers will engage with you.
Once you have your content ready, it's just a matter of adding some descriptions, tagging the content with the right hashtags, and always adding a location. However, if you really want to take your account to the next level, here are some tricks to help your Instagram account really shine.
Write creative captions
Instagram is not the place to be boring. Similar to your logo and bio, you should be bold, daring, and try to grab a user's attention. Having said that, you shouldn't stray too far from who you are as a company, your branding, and your voice. Try to keep these tips front of mind whenever you're writing Instagram captions:
Write a few drafts first (we know you're busy, but it will be worth it. Promise).

Put the important stuff at the beginning.

Include a call-to-action.

Keep it brief.

Use emojis.
And, short of that, you can always try ChatGPT. Simply enter a few prompts asking ChatGPT what you would like your captions to look like and it will generate some options. If you were writing captions for a new product releasing, you could try asking:
'Write me a few Instagram captions for a post sharing how we have just released a brand new jumper as part of our winter collection. Keep it brief, include a call-to-action, and add some emojis. Also, add these hashtags [insert hashtags of your choice]'.
Using this prompt providing the following responses:
Stay cosy and chic this winter ❄️ Our new jumper is now available! Shop now! #winterfashion #newarrival 🛍️

Ready to upgrade your winter wardrobe? ❄️ Our brand new jumper is a must-have! Shop now! #wintercollection #fashion 🛍️

Introducing our newest addition to the winter collection ❄️ The perfect jumper to keep you warm and stylish! Don't miss out! #newrelease #fashion 🛍️

Winter just got a whole lot cosier ❄️ Our brand new jumper is here and it's a game-changer! Shop now! #winteressentials #newarrival 🛍️
ChatGPT is a great tool to get started with some ideas and inspiration. But, if you truly want your content to sound like you, you'll need to start writing content of your own. Use it as a launching pad. Not a safety net. Make it yours.
Use hashtags
You might have heard people talk about the overuse of hashtags. While they might be bothersome on other social media platforms, they're fully acceptable on Instagram. Not only are they accepted, but they're also an important tool to help you build your brand. You should think of hashtags as a unifier that links like-minded people. When someone has an interest in something (like learning about Lightspeed), your hashtag will link that word search to your posts.
However, it's important that your hashtags aren't too obscure (#porcelainbowlsmadeinengland) or too generic (#beauty). Make them relevant and stick to words and phrases you think people might actually search for.
Use location tags
Things are starting to get advanced here, but don't panic, this is easy. To geotag, simply click on "Add a location" during the image editing, look up the spot you want to tag (places nearby will pop up) and pick the most appropriate one. This will apply when you are taking a photo of a product that happens to be in an aspirational place (think Soho House in Berlin or Point Dume in Malibu). This is especially important if you want people to find where your store is (try geotagging your mall or local area). Instagrammers often search locations, and you want your store to pop up in that search.
Consider when to post content
Life would be so much simpler for brands if they just posted content whenever they felt like it. But, unfortunately, there's a bit of strategy involved. You should be posting frequently and consistently. However, you also need to consider when you post content. When is the 'right time' to post content? Well, that depends entirely on your customer base.
For example, if you manage an apparel store, you will probably want to target parts of the day where you'd imagine people get a little free time. So, let's say lunchtime, and after dinner, maybe around 7PM. Honestly, when you get started, working this out is largely guesswork. You'll have to trial and test different send times for your content. And, once you have posted enough content, and have a large enough bank of data to look through, you can dive into Instagram analytics and see at what point in the day that your posts performed the best.
Promote user-generated content
User-generated content is an incredibly important part of any Instagram marketing strategy. You need to connect with your audience.
Think of it like this: Instagram is all about community. If all you do is hype your own products, people will lose interest. A great way of getting new followers is by posting about them. Show your customers rocking your latest boots for autumn, and especially show your employees using your products — they might have a strong Instagram following, and could repost your content, amplifying your business' reach even further.
User-generated content will happen naturally, but you can also request it too. Some examples include creating a contest for your audience, asking your followers to submit pictures of them using your products for a chance to win free products in return, or asking people to leave reviews or testimonials for your products, and rewarding them with discounts.
We're always featuring our customers on the Lightspeed Instagram account. At the end of the day, it's a two-way street. And, the more love you show, the more you'll get in return.
Offer discounts and incentives
We'll mention discounts again as they really are a great way to generate some engagement with your audience on Instagram. If you want to drive traffic from Instagram to your eCommerce store, you have to give people a reason. Offering a discount or incentive for your products will encourage more customers to visit your store.
Instagram users will often scroll quite quickly, and sometimes absent-mindedly, through their feed so try to create something eye-catching on your images and videos to stop them in their tracks.
Share images from behind-the-scenes
Were you at an exciting trade show? An appointment in an amazing showroom? Did you throw an in-store party? Posting behind-the-scenes photos of your store and events is a great way to connect with customers, suppliers, and other people in the community. And, don't forget to ask people for their Instagram info so you can tag them in your pics.
Post to your Instagram Story
Instagram Stories are an in-app feature that allows users to post pictures, videos, polls, stickers, and more. The content automatically disappears every 24 hours so they're a great opportunity to show off behind-the-scenes footage, polls, or even AMAs (Ask Me Anything).
If your business is on the smaller side, and you don't have as much time as you'd like to post on Stories frequently, you can post every other day, or every few days if you need to. Just remember, the more engaged you are, the more engaged your audience will be. Try to plan and schedule posts in advance so you're not creating content last minute!
Use Instagram Story Highlights
So, do you remember how we mentioned that Instagram Stories delete every 24 hours? Well, if you're quite fond of some of the content you posted, and don't want to see it go, you can create Instagram Story Highlights. These are folders, or collections, of content you've posted to your Instagram Story in the past. They're called 'albums' and you can create different categories for all the content you've previously created. So, if you posted a lot of content on 'products', 'behind-the-scenes', or anything else over the years, you can create a folder for it.
Use Instagram Live
Instagram Live is a feature within Instagram that allows creators to live stream, or broadcast video, to their Instagram followers in real-time. While the idea, to some, of broadcasting themselves live for everyone to see may seem a bit daunting, we can assure you, it's a fantastic way of connecting with your audience.
You can use Instagram Live to promote your products. If you were promoting a new range of moisturisers, you could go 'Live' and do a demonstration of the product in action and cover every last detail someone may want to know about it. It will also help answer any unanswered questions that users may have.
Think about it this way: how many times have you abandoned purchasing something because you weren't quite sure? Or because you didn't have all the information you needed to comfortably make that purchase? Well, Instagram Live can help you address any questions someone might have about your product, and encourage more purchases. Instagram Live also has a comments section so your viewers can ask you questions in real time.
Track and report using analytics
While all the social media gurus and marketing strategists would like to convince you that there is a sweet science behind social media marketing (Instagram included), truthfully, it's a lot of trial and error. You need to fail a few times to find out what works, and what doesn't.
The only way you're going to be able to see what's working for you on Instagram is by making sure you're tracking your post performance using analytics. Instagram Insights allows you to monitor your Instagram performance and help you understand how your audience is interacting with your posts.
Instagram Insights allows you to access the following reports:
Posts – Find out how your posts are performing, i.e. how many likes, comments, and saves they have.

Actions – Learn how many visits and follows your profile receives. Plus, how many website clicks you get too.

Audience – Discover who your audience is with insights into their average age, gender, and location.

Discovery – See the 'Reach' (the number of unique accounts that saw your post) and Impressions (the number of times a post was viewed).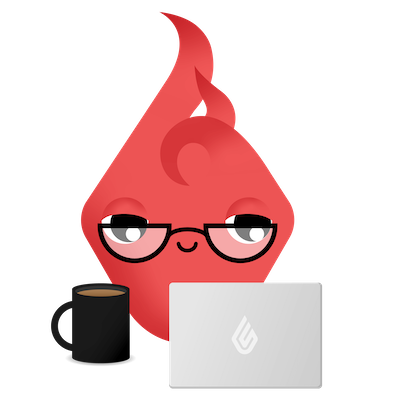 News you care about. Tips you can use.
Everything your business needs to grow, delivered straight to your inbox.