Email marketing has a bad reputation. The dot-com generation's email marketing malpractice left a sour taste in the mouth of consumers for generations to come. If you're wondering why that might be, the answer is simple: lazy, generic emails. How many times have you opened your inbox to a horde of emails from companies you don't shop with, poor formatting, and zero personalisation? We're betting it's a lot.
Well, we're going to try and change that. Email marketing is great. But, only if the content is created by businesses and brands who care. So, we've put together a crash course explaining why they're great, and how you can make email marketing content people want to read. Let's get started.
Need customer data? No problem with Lightspeed Retail
If you're looking to gain insights into customer behaviour so you can supercharge your email marketing campaigns, Lightspeed Retail comes equipped with Lightspeed Advanced Reporting.
Why is Email Marketing Important?
Hubspot reports that for every $1 (80p) you spend on email marketing, you can expect to see an average return on investment (ROI) of around $36 (£29). That's a 3600% ROI. And, that's for an average email. Imagine how much your ROI would improve if you were sending a personalised and engaging message.
There are now more than 4.2 billion people using email worldwide. That's more than half of the world's population. Email marketing campaigns are inexpensive, relatively quick to create and send, and are one of the highest-converting forms of outbound marketing. And, it's just waiting at your fingertips. Why on earth wouldn't you think email marketing is important?!
Email marketing can be used to improve sales, acquire new customers, generate traffic to your website, enhance customer engagement, reward customer loyalty, create brand awareness, and much, much more. Which is why your business should be doing it, too. Good thing you found this blog, isn't it?
How to Create Email Marketing Campaigns
You don't need much to get started. You will, however, need an email marketing platform. Email marketing software allows users to create, send, and track the performance of emails sent out to their subscribers.
This will allow you to further increase your audience, segment your subscribers, and personalise your email marketing content based on who you're sending it to. You can even generate reports that show you open rates, click-through rates, unsubscribe rates, and more so you can see what's working, and what isn't.
If you're unsure where to start looking, we'd recommend: MailChimp, Hubspot, Zoho Campaigns, and more. They all have their advantages and disadvantages, depending on your business. You just need to find one that works for your needs.
Creating your first email marketing campaign sounds scarier than it is. Once you have your email marketing platform, you're halfway there. You'll now need to have a clear idea of what you're trying to achieve, what you want to say, how many emails you plan to send (as part of your campaign), and an hour or two to write everything. We've outlined some general steps you should follow when creating your email campaigns.
Step 1. Collect Customer Data
If you want your email marketing campaigns to be successful, you will need to use customer data. If you've sent email marketing campaigns before, you could use this data to inform what your future email campaigns will look like. But, for now, as we're assuming you're starting from scratch, you can use customer data from elsewhere.
You can find customer data using your point-of-sale system's reporting features. This will show you customer location (town/city), age, buying habits, and more.
Step 2. Create a Targeted Email List (Customer Segmentation/Personalisation)
Sending generic emails sounds appealing, doesn't it? Writing up a few one-size-fits-all emails, drafting it, clicking 'send', and hoping that it works. Well, we'll save you the trouble… and inevitable disappointment. It won't work. If there's anything you take away from this blog, it's that personalisation is king.
Consumers today require more than generic half-hearted efforts at gaining their custom. Consumers want one-on-one relationships with brands that care about them, their habits, and their interests.
Did you know that when eCommerce emails add small personalised details, such as first names, product recommendations, or personalised offers, 91% of people are more likely to shop with you? Personalised marketing emails will not only help you drive sales in the short-term, but they'll also help you build customer relationships, and brand loyalty in the long-term, too.
Welcome to the wonderful world of 'customer segmentation'. Customer segmentation is where you divide your customers into groups depending on different factors. There are a few different groups you can divide your customers into:
Demographic:

based on age, gender, marital status, family size, income, education, race, occupation, nationality, and/or religion.

Geographic:

based on location (e.g. temperature, population, food habits, or clothing)

Behavioural: based on behaviour (e.g. purchase behaviour, occasion and timing, benefits sought, or loyalty).
Value:

based on the economic value of the customer to your business.

Needs:

based on the needs of the customer (e.g. pain points, problems, or motivations).

Psychographic:

based on psychology, lifestyle, personality, or social status.

Lifecycle stage:

based on the customer's relationship with your business over time (e.g. customer lifecycle consists of 5 stages: reach, acquisition, conversion, retention, and loyalty).
You can segment your customer base any way you choose. Whether that be purchase history, loyalty program status, gender, or more. Any information that your point-of-sale system or loyalty program captures can be used to segment customers.
Step 3: Write Email Marketing Campaigns for Each Customer Segment
Writing great emails isn't down to luck, talent, or divine inspiration. There's a science to it. You follow along with the correct formula for email marketing success, and you'll be writing content so inspiring you'll be giving Hemingway a run for his money.
Let's explore, before we do anything else, what makes a great email. Great emails that catch the attention of the reader, encourage them to read more, and convert into active consumers of your brand, will have:
Subject lines and preheaders:

Instantly engaging, and relevant to the email.

Body content:

Personalised content relevant to your target audience.

Cadence:

Part of a sequence of emails that are appropriately timed, and frequent enough, but not too frequent.

Format:

Neat and clear, easy to scan, and pleasing to the eye.

Design:

Persuasive imagery

Accessibility:

Formatted correctly for both desktop and mobile users.

Legal:

Emails must be compliant with General Data Protection Regulation (GDPR).

Call to action:

Clear, simple, and direct call to action (CTA) for the reader.
If your emails fail to follow this formula, you're at risk of writing a bad email. Emails that are missing these components can tend to be confusing, unclear, misleading, and simply not relevant or useful to the people receiving them. We're not trying to add to the fearmongering of poor email creation, but there are some more statistics that you should be aware of:
47% of people

will open an email purely based on the subject line.

Over

70% of people

will delete a poorly formatted mobile email within

three seconds

of opening it.

23% of people

will unsubscribe from an email marketing list if the email has been incorrectly personalised.
You get the point. Write emails, without doing the right things, and your business' marketing efforts will suffer for it. We've covered what makes a great email, and what makes a bad one. Now, let's take a look at writing your own.
Subject Lines/Preheaders
The average open rate for a marketing email, according to MailChimp, is 22.71%. What does that mean? It means you have until the time your reader finishes reading your subject line to grab their attention, or risk having your email sent straight to the 'Bin'. This is what we recommend you do, if you want to create killer subject lines with sky-high open rates:
Hook them. Immediately:

Most emails suffer from one glaring problem; they have terrible subject lines. Subject lines that are dull, generic, and uninspired will leave your reader feeling the same way. You need to generate interest. Easier said than done, we know. Write as though you were the one reading it. Would it inspire you to open it? Does it create urgency, excitement, or curiosity? Does it make the reader feel something? Use interesting words, compelling stats or offers, and a personal touch.

Make it punchy:

Subject lines have a character limit, so, if it's too long, your subject line will get truncated (cut off). Write subject lines that are around 40 characters.

Get to the point:

Don't waffle on. Your reader doesn't have all day. Try to front-load the subject line with the interesting, relevant part of what you're trying to say.

Stay true to your brand:

Your brand doesn't change, no matter what. Make your subject line short, punchy, and so on, and so on. But, make sure you don't sacrifice your brand's tone of voice in the process. Write like a human being, most importantly. Your readers aren't robots, and neither are you.

Test your emails:

Most email marketing platforms will allow you to A/B test your emails. A/B testing, in this context, is where you send out different versions of the same email to different groups (e.g. Group A and Group B). You can then see which version was the most successful. And, then, use that as your reference point for future emails. Write 3-5 subject lines for every email you send. Work out what your customers enjoy, and let the good times roll.

Get inspired:

Go into your own inbox now, and look through the best marketing subject lines you can find. Why not borrow a few? The format, the style, the CTA's, etc. Find what works for your business.
Body Copy
You know we mentioned that the average open-rate for a marketing email was 22.71%? Well, we've got some bad news for you. The click-through rate is even lower. The average, currently, sits at 2.91%.
The main goal of your body copy is to direct readers where you'd like them to go. You need to provide next steps, i.e. a clear call to action. Your content should provide clear context around what you want them to do, and it should be relevant and persuasive enough to encourage them to do it. Whether you're sending users to a product page, favourited items, abandoned carts, exclusive deals, or elsewhere.
If you want to increase your clickthrough rate, you should try to remember these tips:
Personalise. Personalise. Personalise:

We've said it already. But, we'll say it again, just to be sure. You will enhance your reader's email experience tenfold if you add personal touches to your email. Refer to them by their name, offer them product recommendations based on their previous purchases or viewing history, or even offers for positive reviews they have left for you. The possibilities are endless.

Make it short:

In the year 2000, in the dawn of the Internet age, Steve Krug published 'Don't Make Me Think'; his seminal work on user experience that implored developers to make user experience as seamless, and frictionless as possible. The main rule he had was this: every time a user has to pause to think about something, it distracts them from the action you want them to take. This same rule applies to email marketing content all the same. The longer your email is, the more actions you give your reader, the more difficult you make it to read and digest, the greater the chance that your reader is not going where you want them to. Make it short. Make it clear. Don't dilute your message. Don't make them think. Try to keep emails beneath 200 words.

Clear call-to-action:

Don't dilute your message. Pick an action you want your reader to take, and direct them to that action. Don't ask them to 'Read more', 'Watch a demo', 'Complete survey', and more in one email. Pick something and stick to it. Otherwise, you'll make it too difficult.

Break it up: Paragraphing helps your readers to easily scan and read your emails. You're not writing War and Peace. Keep it brief and chop things up where you can.

Be on brand:

Similar to your subject line, keep your email copy aligned with your brand voice.
Cadence
You'll need to craft email marketing emails as part of a series, sequence, or campaign. Try to create a few emails for each campaign (around three or four emails).
Plan out what the point of the campaign is. Improve web traffic? Drive sales? Customer loyalty? Whatever it is, you need that front of mind.
Work out what you want to say, or do, at each stage of your customer's journey as you 'nurture' your customer to your next email, or area of your website. Imagine your campaign as a 'story' and each email is a chapter within that story. Each chapter needs to effortlessly flow from one to the other for the story to make sense. Your email marketing campaign is the same.
Consider customers who have abandoned their carts, bought similar products, and more, and tailor your content to where they are in the nurture journey. Put yourself in their shoes as you write it, too. If it doesn't make sense to you, it won't make sense to them.
Misc
That covers everything we need to go over with regards to writing your email campaigns. Make sure your audience is at the heart of everything you write and you won't go far wrong. Before we move onto the different types of email marketing campaigns you can create, here are a few miscellaneous tips to remember:
Keep your list clean:

Get rid of addresses that are no longer in use (hard bounce), and those who haven't engaged or opened in a while. Every time you send an email and it doesn't get opened, it increases the risk of your emails being sent to a spam folder. Don't waste anyone's time (including your own). Scrub that list.

Text-to-image ratio:

Spam filters can be suspicious of emails that are made up of mostly images. Ensure you're not overusing them, and that they're formatted correctly.

Reduce trigger words:

If you overuse 'trigger words', it can increase your chances of ending up in the spam folder, also. There's nothing wrong with using them sparingly, but too much can hurt your marketing efforts.
Types of Email Marketing Campaigns
Email marketing campaigns come in all shapes and sizes, and accomplish different goals. Whether you're trying to improve sales, brand awareness, or customer loyalty, there's an email marketing campaign out there for every occasion. Let's dive into the most popular types of campaigns so you have a better idea of what to create.
Note: How you create these emails will largely depend on the email marketing platform you use. Many leading platforms will offer you templates for different types of emails you may want to create.
Order Confirmation Emails: Your customers will expect you to send these emails. They are not so much 'nice-to-haves' as 'need-to-haves'. Order confirmation emails are emails that are sent out to a customer once they purchase something from you. These will have important information like product/service name, price, date of purchase, delivery date, customer service information, and the option to edit or cancel the order.
Shipment Confirmation Emails: Yep, your customers will expect you to send these, too. Shipment confirmation emails are emails that let your customers know that you have shipped their order. This will have important information like product/service name, price, shipment tracking information, and estimated delivery date.
Abandoned Cart Emails: This one is a classic. If you have an eCommerce presence (which we imagine you do), a problem you've likely run into numerous times is the dreaded 'abandoned cart'. This is where a customer adds something to their cart (basket/trolley) and doesn't complete the purchase. Statistica reports that up to 69.5% of carts are abandoned, so setting up triggered emails that remind a customer of their cart is a great way to tackle this. If you really want to drive home the sale, offer an incentive. Limited-time offers or free shipping can help give someone that extra nudge.
Loyalty Programme Emails: You remember earlier when we mentioned twenty different times that personalisation was really important? We're saying it again. Emails that reward customer loyalty are a fantastic way of doing this. If you have a customer loyalty programme, you can let your customers know how many points they have, if they can redeem them for specific products, or even, just send them points, rewards, or offers for specific actions like recently buying something, or leaving a review.
Birthday Emails: Everyone wants to feel the love on their birthday. And, through the power of email, you can show your customers how much you value them. Offer limited-time offers, gifts, or discount codes. Gymshark sends out a 15% discount for any items in their store. While this can improve brand loyalty, it also can help drive people to your website, where maybe they pick up a few different items.
Product Release Emails: If you're releasing a new product, you need to make sure your customers know about it. Show off the new products you have in store, and if you want to be really savvy, you can offer product recommendations that compliment that item. For example, do you have some new jumpers in stock? Recommend jeans, t-shirts, trainers, and more, so your customers can complete the fit.
Email Marketing Metrics You Should Track
We've covered a lot of ground, but we're almost at the finish line. We'll now walk you through the metrics you'll need to track to ensure your marketing campaigns are performing well, and are providing ROI. Any email marketing platform you choose will allow you to create, automate, send, and report on email campaign performance.
It will, ultimately, be up to you which metrics you choose to track (depending on your business and your goals). And, success will look different depending on your targets. There will, however, be a number of general metrics that you'll be expected to track, analyse, and act upon. Let's review them:
Open Rate: This refers to the number of people who are opening your emails divided by the number of people you send it to. Your open rate will appear as a percentage. High open rates indicate that your emails are being sent to the right people, your emails are well personalised, relevant, and that you have great subject lines. Poor open rates mean the opposite.
Clickthrough Rate: This refers to the number of email recipients, who opened the email, that clicked on one of your links in the email. Your clickthrough rate (CTR) is a measure of how engaging and successful your content was in getting them to perform the action you want them to when sending the email. If you have a poor CTR, you should refer back to our formula for creating email body copy above.
Conversion Rate: Once someone has clicked on a link in your email, you need to find out how many of them performed the action you wanted them to perform. You can work this out by dividing the number of recipients who took the action you were looking for by the number of emails delivered to recipients. You then multiply the result by 100 to express the outcome as a percentage. Conversion rates are one of the most definitive ways to determine whether or not an email was effective.
Bounce Rate: If you send an email to someone and it doesn't arrive in their inbox, there's no point in doing it. This is what is called a 'bounce'. Bounce rate refers to the percentage of emails sent that couldn't be successfully delivered to a recipient's inbox. When thinking about bounce rate, it's important to understand the difference between hard bounces and soft bounces.
Hard bounces are the result of an non-existent, or closed, email address, and your email didn't reach the recipient because of those reasons. Remove these email addresses. Soft bounces are a result of a problem with a valid email address that's impacting deliverability. This can be things like a full inbox, or a problem with the recipient's server.
Conclusion
That's all there is to it! Email marketing is a cheap, simple, but highly effective form of outbound marketing that can transform your marketing efforts enabling you to drive sales and improve your customer loyalty for years to come.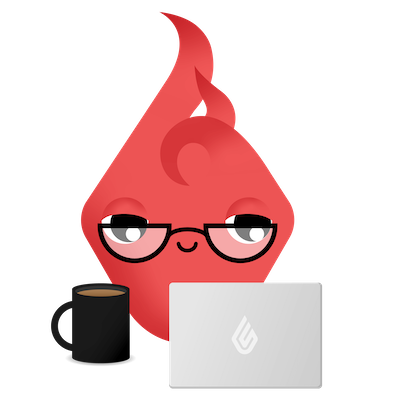 News you care about. Tips you can use.
Everything your business needs to grow, delivered straight to your inbox.