An electronic point of sale may seem like an unlikely agent for environmentalism. Business owners certainly don't buy them with the environment in mind, but rather to make their lives easier, and help their businesses grow.

But, what if you could do all that while offsetting carbon emissions, helping the environment and enriching communities along the way?

By joining the Carbon Friendly Dining initiative, you can do exactly that. In this article we'll be discussing:
See Lightspeed in action
Lightspeed is the unified ePOS and payments platform powering ambitious entrepreneurs in over 100 countries.
What is Carbon Friendly Dining?
Carbon Friendly Dining is a unique rewards programme that's part of GiftTrees. As all restaurateurs know, there is a large environmental impact associated with the hospitality industry, and the Carbon Friendly Dining initiative aims to address that, and encourages restaurants to take responsibility for their carbon footprint at zero cost to them–it is completely free to join.
Restaurants who join Carbon Friendly Dining empower their customers to plant trees in countries like Tanzania, Uganda and Kenya–countries suffering high rates of deforestation–helping the environment and supporting the communities that plant the trees.
Every tree a customer funds will be planted through GiftTrees, where the diner can go and choose their own tree on the website. Every tree is photographed and geo tagged, and every tree that is associated with a restaurant can be viewed in the restaurant's very own forest.
For every six GiftTrees diners fund, the restaurant earns a Sustainable Credit–these can be saved and redeemed against Lightspeed products and services including the restaurant's annual Lightspeed subscription.
GiftTrees are on a mission to plan 1 billion trees and lift 1 million people out of poverty.
How does Carbon Friendly Dining work?
Restaurants who join the Carbon Friendly Dining initiative can offer diners the option to add an optional £1.23 contribution to the customer's bill–it's as easy as one, two, tree!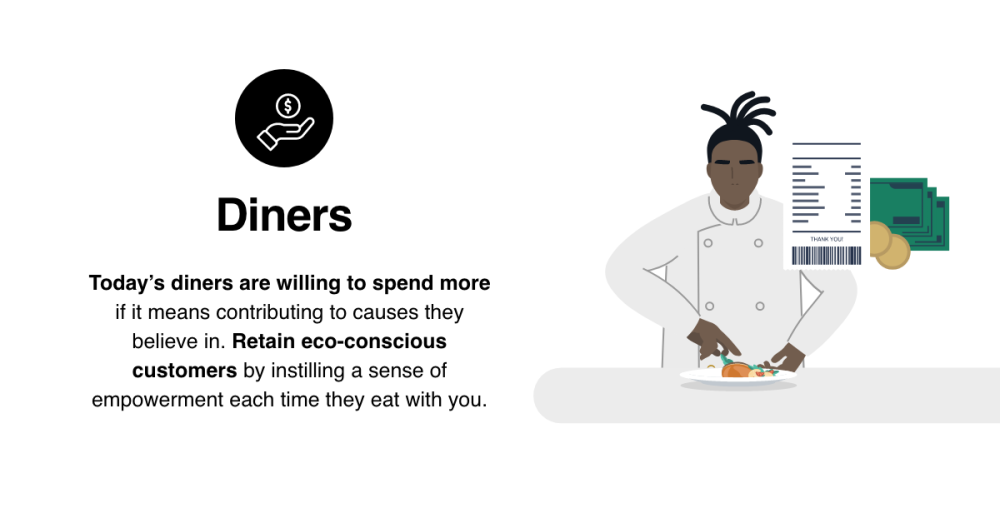 For every six trees funded, the restaurant receives one sustainable credit. Through your restaurant's personalised Carbon Friendly Dining portal, you can keep track of credits earned and redeem them for Lightspeed annual renewals, upgrades and additional software.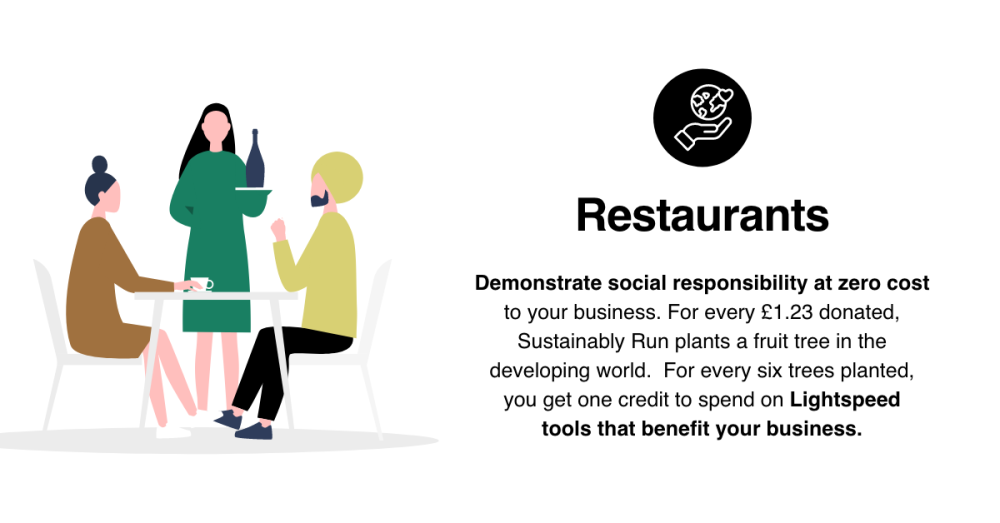 In most cases, the sustainable credits earned will fund the cost of renewal of a restaurant's annual Lightspeed subscription–a way to say thank you for collecting contributions that fund the planting of thousands of life-saving fruit trees.
What are the benefits for restaurants?
There are many benefits for restaurants to use Carbon Friendly Dining including:
It is free of charge to join the Carbon Friendly Dining initiative if you're using Lightspeed Restaurant.

You receive rewards redeemable against Lightspeed software.

The app is integrated within your ePOS for a seamless collection of contributions.

You're able to establish a Carbon Friendly Dining forest for each restaurant you own.

There is promotional content available to help you promote your restaurant's sustainable practices.
How does planting trees help?
Planting fruit trees helps communities in the developing world achieve food security and gain a sustainable income through agroforestry. The trees planted through diners' contributions provide a sustainable food source for families, and a surplus they can sell.
So far, these GiftTrees trees have helped lift hundreds of families out of poverty through the creation of a sustainable circular economy where fruits can be eaten, given to livestock and sold. Revenues are then available for things such as school fees, medical bills and further investment in their smallholder farms. As of August 2023, the carbon impact of over 10 million meals has already been offset.
For example, Gulamseni for Mabama, Tanzania uses fruits and vegetables from trees planted through the Carbon Friendly Dining initiative for both domestic and business use.
By selling surplus yields she's able to buy a new house for her and her family. She uses the income from her forest garden to expand her farm and pay for children's education and healthcare.
Plus, the trees return nutrients to soils degraded from cash crops like tobacco, that rely heavily on chemical fertilisers. This leads to higher yields of more diverse crops, increased food security and healthier soils to support future harvests.
Sustainably Run helps these farmers design and maintain their garden forests, populated with trees planted with the help of restaurant diners.
Agroforestry helps promote carbon-sequestering plant life and creates a 'sponge' of biomass that retains water more effectively, preventing flooding, drought, or chemical runoff contaminating rivers.
Every tree funded offsets up to 1 ton of carbon, and the guest leaves their experience happy they have given back. As a restaurant, you can monitor your own growing forest and see the significant positive impact you are having on the planet.
The partnership between Carbon Friendly Dining and Cubitt House
Cubitt House is a family of eight luxurious pubs, restaurants and boutique hotels. For Cubitt House, sustainability is a key pillar to the business, and working with Carbon Friendly Dining helps them achieve their ambitions.
"With Carbon Friendly Dining, we try to mitigate the impact of carbon emissions produced during our operations by planting trees. This is done through a discretionary donation on the customer's bill, now at £1.23 which covers all overheads in doing so–it's as easy as one, two, tree." said Curtis Scott, Head of Marketing.
"Cubitt House is the largest initiative contributor, with over 300,000 planted equating to 10% of the overall trees planted, which is a phenomenal effort we're all very proud of." Curtis added.
"The partnership with Carbon Friendly Dining gives us a certain sense of responsibility that keeps us in line because a commitment to sustainability should be viewed holistically." said Curtis.
Tackling deforestation, one diner at a time
Carbon Friendly Dining and Lightspeed work hand in hand to help your restaurant implement sustainable practices. Interested in learning more? Let's talk.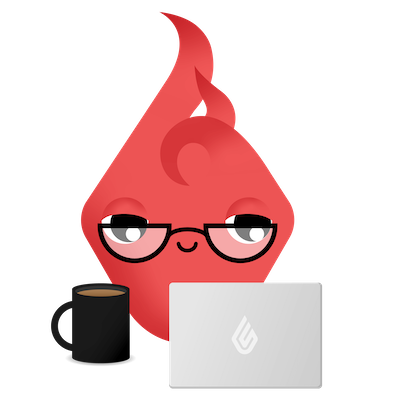 News you care about. Tips you can use.
Everything your business needs to grow, delivered straight to your inbox.