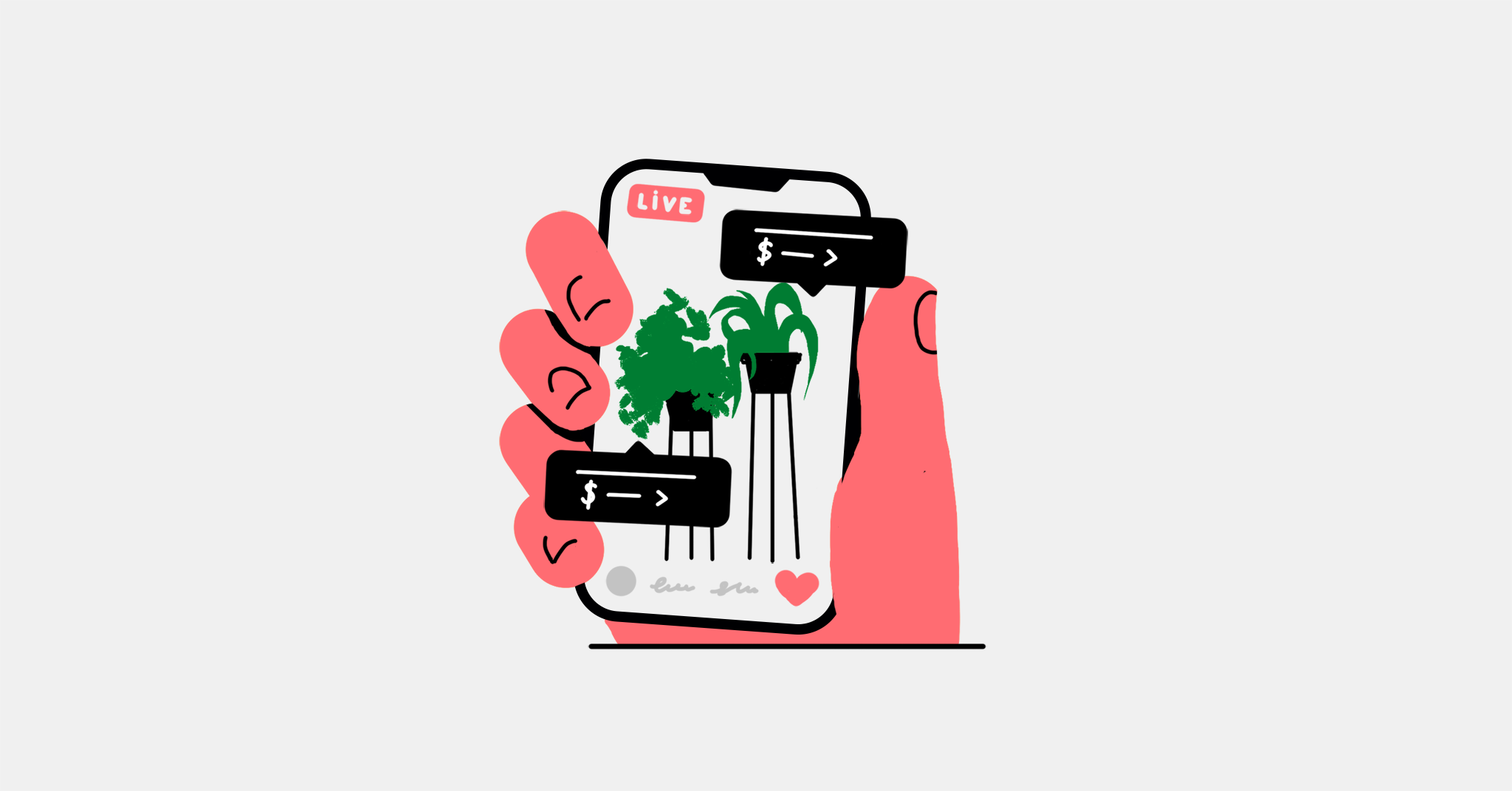 As a business owner, you know the importance of using social media to promote your products or services. Instagram is the perfect place for that—being a visual platform, it makes it easy to showcase your products and services.
To step up your social media game, you can make your content shoppable on Instagram. That's right—by tagging products in your posts and stories, you can give your followers a direct way to purchase the items they see in your photos, videos, or lives. With a few simple steps, you can turn your Instagram feed into a veritable online store.
In this blog post, we'll show you how to set up shoppable posts on Instagram so you can start driving sales from your profile today.
We'll cover:
Shoppable Instagram posts are just a few clicks away
Leverage the most popular visual platform—let customers order directly from your Instagram content.
What are shopping tags on Instagram?
Shopping tags on Instagram are a feature that allows your followers to learn more about your products and purchase your items right from your Instagram content.
When you add a shopping tag to your Instagram content, you make it shoppable. That means customers can click on your post to learn more about the tagged product, including the price. In a couple of clicks, they can purchase the item without leaving the app.
With shopping tags enabled for your profile, not only can you tag items in your Instagram content, but you also get a dedicated Shop section added to your profile. Customers will be able to click on it to see the whole product catalog, browse it and make a purchase.
What is more, your page isn't the only place where potential customers can see your tagged products. Tagged items from your account can also appear in their Explore tab on Instagram. The Explore page is a collection of recommended pictures, videos, Reels and Stories. Explore differs for each user, as it's personalized to their interests. This way, new potential customers can discover your products while browsing their Explore page.
Why you should make your content shoppable
As a business owner, you know that generating sales is essential to your success. One of the best ways to generate sales is by making your content shoppable on Instagram. Here's why:
Instagram has 2 billion monthly active users

. That means there are plenty of potential customers scrolling through their feeds every day.

People are already used to buying things on Instagram

.

44% of people surveyed

use Instagram to shop weekly via shopping tags and the Shop section.

Making your content shoppable on Instagram

makes it easy for potential customers to buy from you

—they don't even have to leave the app.
The last point is especially important: with shopping tags, if a customer likes an item they see in your photo or video, they can buy it right away. They don't need to ask for a price in direct messages or go from the post to your profile looking for a link to your website. Not all customers are motivated enough to do that. Some people might get distracted or decide to purchase later and then forget all about your business.
With shopping tags, the chance of losing a customer on the way to checkout is much lower. They can see the product details in a single tap on your post or story and buy what they like right away.
How to make your content shoppable on Instagram
Now that we've gone over some of the reasons why you should make your content shoppable on Instagram, let's take a look at how to actually do it.
Step 1: Switch to a business account and optimize your profile
First, you need to have an Instagram business account. If you don't already have one, don't worry—it's easy to set up. Just go to your profile settings and switch to a business account.
Once you have a business profile, make sure you've added all of your relevant contact information to your bio, including a link to your website. This way, customers can easily find out more about your business and products. You should also use relevant keywords in your profile so that people can easily find you when they search for those terms.
Step 2: Connect your profile to an ecommerce platform
Second, make sure you have an ecommerce platform set up and connected to your Instagram account.
Consider Lightspeed eCom, a fast and user-friendly platform. With Lightspeed eCom, you can create an online store and connect it to Instagram in no time. Your online store will be synced with your Instagram account, so if you make any changes to your products, your catalog on Instagram will update automatically. You can also manage all your orders in one control panel, no matter where they came from—Instagram or website.
Sign up for Lightspeed eCom to make your Instagram content shoppable and manage all your orders from one place.
Step 3: Add shopping tags to your Instagram content
Once you have everything set up, it's time to start adding shoppable tags to your content.
To do this, simply upload a photo or video of one of your products (make sure it's high quality). Then, tap "Tag Products" and select the product from your ecommerce platform that you want to tag.
Once you've tagged all of the products in your content, just write a caption and hit "publish." Your followers will now be able to shop directly from your post.
That's it—you're now ready to start driving sales from your Instagram account. Keep posting great content and tagging any featured products to give your customers a direct way to purchase them.
Ways to use shopping tags on Instagram
The beauty of shopping tags is that you can add them to any type of content you create on Instagram—Feed posts, Stories, Reels, Lives, and IGTV.
Let's explore how exactly you can use shopping tags to highlight your products and make your content lead to more sales.
Create shoppable Feed posts
One of the most popular uses of shopping tags is to add them to a photo or video Feed post. You can add multiple tags to one post. Customers who tap it will see all the tagged items:
Posts with tagged products are marked with a shopping bag icon. This way, potential customers see which posts are shoppable:
Make Stories shoppable
It's likely you're already familiar with using stickers in your Instagram Stories, such as the poll or question sticker. You can also add a shopping bag sticker to your Story to make it shoppable.
Shopping tag stickers are great because you can personalize them to match your Stories. Tap a product sticker to change its color or edit the product's name. You can also resize a sticker and drag it to the desired place in your Story.
Shoot shoppable Reels
Reels are short videos up to 90 seconds long. Use the Instagram Camera to shoot Reels, add effects and music.
When watching a Reel with shopping tags, Instagram users can tap "View Products" to learn more about or buy the featured product: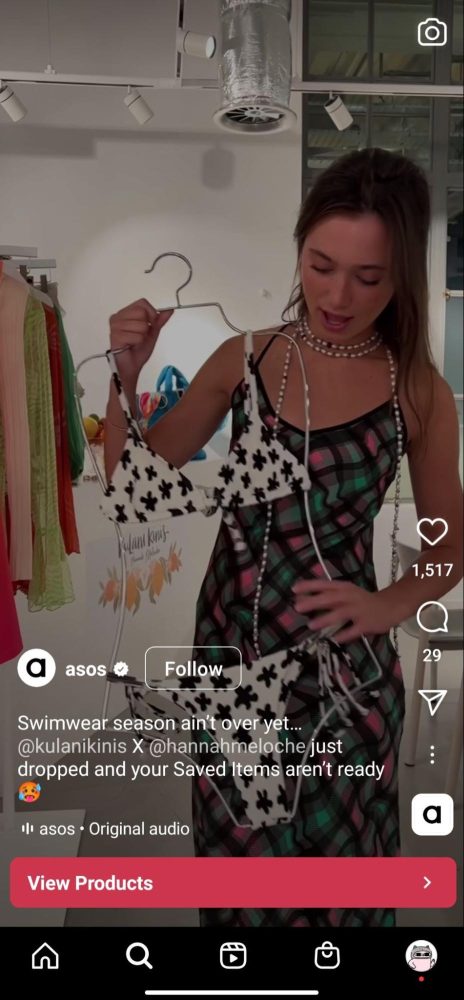 Reels have the potential to reach a large, organic audience because they might end up in the Reels tab on Instagram if they are engaging enough. Tagging products in your Reels will ensure that not only your followers see them but also other users who come across your Reel.
Tip: If you like someone else's Reel, you can quickly create your own using the same template:
Add shopping tags to Lives
You can share live broadcasts with your followers on Instagram through Stories. This way, they can watch your video in real time.
By using Instagram Live, you not only have the opportunity to connect with your viewers and answer their questions but also pin products to the screen. Your followers can then tap on these tagged products as they watch your live video to see more information about them or make a purchase.
Use shopping tags in IGTV
With IGTV, you can share longer videos on Instagram—up to 60 minutes. You can also make your IGTV videos shoppable, so it's a great way to promote your products and services.
Tag products in your IGTV content to show people how to use a product, answer common questions about it or announce new product launches.
Best practices for using shopping tags
Instagram supports tagging products in all forms of content. By taking advantage of shopping tags, you open up your product to potential customers who might not have otherwise discovered your store. This eventually could lead to an increase in sales.
Let's explore some ways that you can maximize the use of shoppable Instagram content.
Explain how to use shoppable content to followers
Many Instagram users are already familiar with shoppable feed posts or stories, but not everyone knows that it's possible to shop while watching Reels, Lives or IGTV. So be sure to use captions to educate people on how to buy your products and remind them that they can always save the posts they like for later purchases.
Include relevant hashtags
Choose hashtags that are relevant to your post to help more people discover it. By selecting both specific and broad hashtags, you will have a greater chance of getting more attention for your content. When using niche hashtags from your industry, be sure that other brands are not overusing them.
Check analytics to see how your hashtags perform by tapping "View insights" on the post. You'll learn how many people found your content from the specific hashtags you used, which can help plan future posts.
Write informative product descriptions
When customers tap on a shopping tag, they can read a product description. Keep it concise but informative so that potential customers are encouraged to complete their purchases.
Think of the most common questions customers ask about your product and ensure your product descriptions answer them. Describe the benefits customers get when buying your products.
Adapt content to Instagram trends
To promote your products on Instagram, you should use content that customers are likely to be interested in. The best way to do this is to adjust your content to current trends: use popular video formats, effects or music to make your posts more interesting.
Trending content is more likely to interest customers, and if you tag products in it, your products are more likely to be discovered by new potential customers.
Analyze the performance of your content
With Instagram Insights, you can see how much engagement your posts get. This includes how many people click on shoppable posts. You can use this information to figure out what kind of content your audience likes the best and post more of it.
When choosing which products to tag in your content, think about who your audience is. Instagram Insights will show you the top locations, ages and genders of your audience. Use this information to decide which products to feature next.
Start selling on Instagram
If you're not using Instagram to sell, then you're missing out on a huge opportunity. Making your content shoppable on Instagram is a great way to increase sales and reach new customers. Ensure to convert to a business profile, add relevant contact information, and tag products in all types of content you post on Instagram, be it Feed posts, Stories, Reels, Lives, or IGTV.
By following the tips above, you can easily make your content shoppable on Instagram and start driving sales for your business. Get creative with shoppable content to stand out from other brands and make it easier for your audience to learn more about products they are interested in.
Sign up for Lightspeed eCom to make your Instagram content shoppable in no time and start making sales from each of your Instagram posts.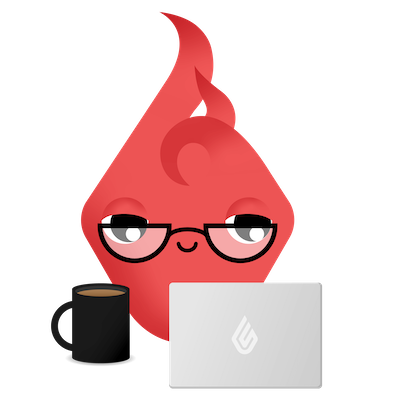 News you care about. Tips you can use.
Everything your business needs to grow, delivered straight to your inbox.