As a retailer, you probably can't imagine ever not using your Instagram for marketing. What if you could expand the possibilities of Instagram even further by using it as a webshop? You can with Instagram Shopping!
Retailers everywhere are seeking out additional online sales channels, and Instagram Shopping is one of them. Think of it as a virtual shop window where you can show off your best products. As many as 130 million users click on shopping messages every month to view. Plus, it's free!
In this article, we'll explain everything about Instagram Shopping, from posting products to getting the most of your posts.
What is Instagram Shopping?
Instagram Shopping is an instagram feature that lets you sell products by bringing them to the attention of potential customers through engaging posts and stories.
Previously, users had to click the link in the bio to view a single product page on your website. Since the arrival of Instagram Shopping, however, the experience has greatly improved. Your followers can now click on a product tag in a direct message or on a sticker in a story and get redirected to a product page without leaving Instagram. There, they'll see the following.
Product

Description

price

Link to the website (you can pay here)
This is what a shopping post with a product tag looks like: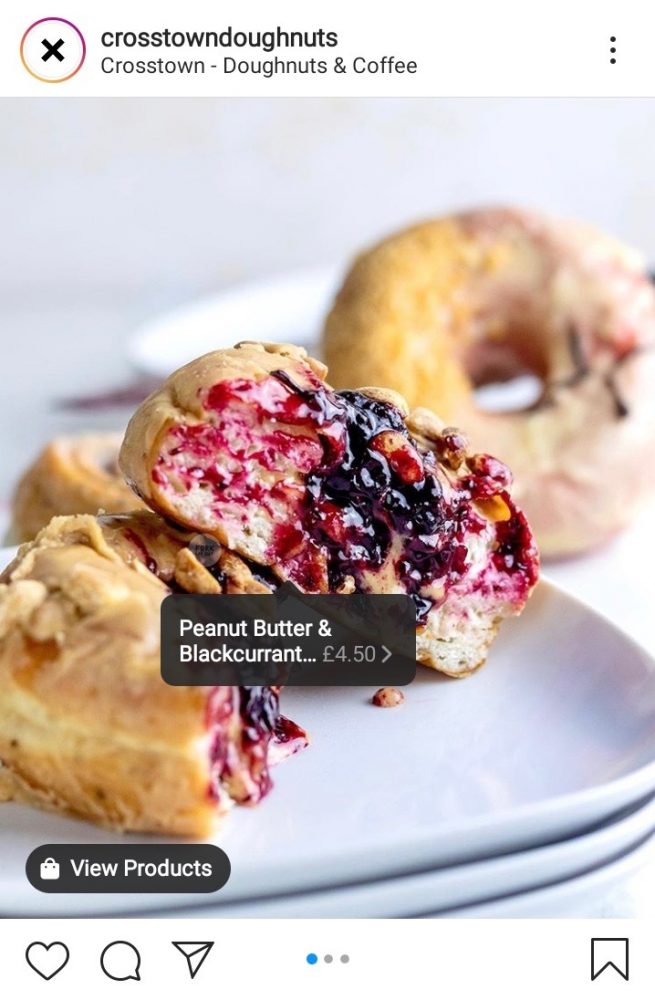 And that's not all. As soon as you've placed 9 shopping posts as a retailer, you will be given the option to add the 'view store' button to your profile. When users click on it, they'll see all products in your Instagram shop.
Via the search function → shop users can discover new products. Which products are shown here is determined by Instagram's algorithm. By tagging your photos or videos with product tags you increase the chance that they'll be shown to the right people..
Set up Instagram Shopping in three steps
Before you get started, you need to take a few steps to add your products to your Instagram Shopping account.
Check if you are eligible

Link your catalog

Register your account
1. Check your eligibility
To use Instagram Shopping you must meet the following conditions:
2. Link your catalogue
Do you meet all the requirements? Then link your Instagram company profile to a Facebook catalogue via your Catalog Manager. If you want to use product tags and stickers, choose an e-Commerce catalogue.
Are you using Lightspeed eCommerce and want to upload your catalogue for Instagram Shopping? Then get the feed link in the backend. You can enter this in Facebook Catalog manager and then display your products on Instagram. Here is a detailed walkthrough on how to do this with Lightspeed eCommerce.
Register your account
You are almost there. Your account only needs to be submitted for verification. Go to your Instagram app → Business → Instagram Shopping . Check your details and submit your account. In the settings you can see under ' Shopping ' whether your account has been approved. If so, you can configure everything and create your first product post!
Tag products in Instagram Shopping
Tagging products on Instagram isn't rocket science. It works much the same as tagging other profiles. You can tag products in stories, and in old and new messages. Here's a step-by-step guide on how to do it.
Tag products in posts
You can tag up to 5 products in a post with one photo. If you create a carousel with multiple images, then you have room for a maximum of 20 products. This is how it works:
Upload your (edited) photo, provide an appropriate description with hashtags and add a location if necessary.

Click on '

tag products

'.

In the catalogue, find the product you want to tag by name and select the product.

Share it!
Tag products in stories
Stories are a fun way to give followers a look behind the scenes and showcase your new collection. They're also a great opportunity for tagging products. Unlike a post, only one product can be added per story. You can do this as follows:
Select the photo or video you want to share in your story.

Add a product sticker.

Select the product from the catalogue.

Drag the sticker to the product and choose the desired sticker colour.

Your story is ready to be shared.
This is an example of a story shopping post: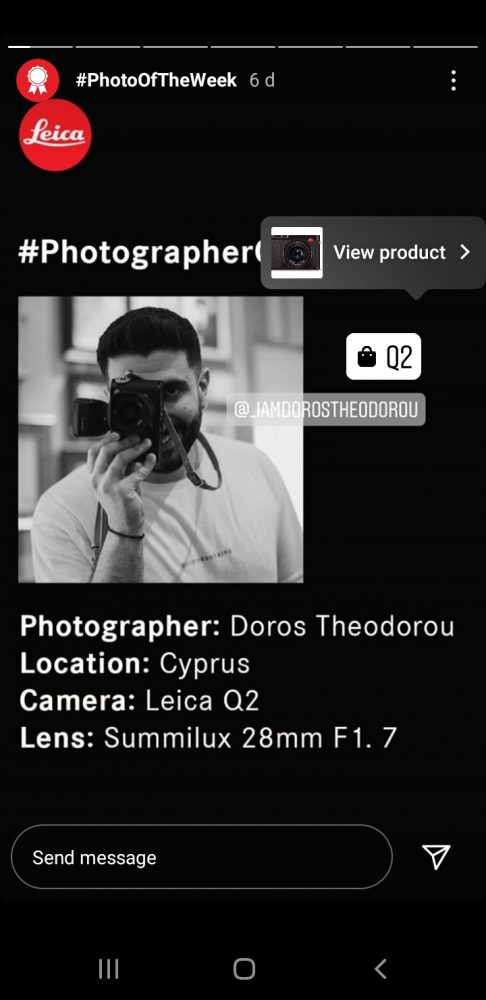 Tag products in older photos
Was your Instagram account already up and running before you started Instagram Shopping? Would you like to tag products in older posts? You can. Simply go to the old posts in which you'd like to tag the products, click on the 3 dots at the top right and then on ' edit '. You can now tag the photos as you would for new posts.
Tips to Get the Most Out of Instagram Shopping
Now that you know how to post products on Instagram, it's important to know how to get the most out of it. Here are four tips on how to get your Instagram users to buy your products.
Develop a content strategy

Post your best photos

Measuring is knowing

Add the 'view store' button
Develop a content strategy
Your business uses different channels to achieve different goals. Visitors to your own website, for example, are most likely seeking practical information. On Instagram, users are mainly looking for inspiration.
Consider what kind of product photos you're using in your content strategy. What kind of photos do you want to post? How can you get people to click through to your website? Elaborate on this strategy in a content calendar, so that you can monitor the content properly and not just use the same content as on your website.
Post your best photos
It may seem obvious, but it's worth repeating: post your very best (product) photos on Instagram. You still see company profiles with home-garden-and-kitchen snapshots. They might be nice for your personal account, but your company profile should look slick and professional. You don't have to be a pro photographer to post good photos; think about what kind of photos you want to publish, and edit them with a filter if necessary.
Measuring is knowing
With a business profile you can already see how often your message is displayed and how large your reach is, for Instagram Shopping there are even more statistics available. Find out how often users click on the product tag or end up on your website via the product post.
Below each post you will find the Instagram Shopping statistics and via Facebook business manager you can view the total number of products sold. With this information you can continue to optimize your content.
Add the 'view store' button
The 'view store' button works like a catalogue, where users can scroll through all products. You can only add this button if you have posted at least 9 shopping posts.
Build the right social media strategy for your store
Knowing which platforms are best for your type of business is crucial to targeting the right audience and making the kind of connections that will drive your business forward.
Examples of shopping profiles
These three Lightspeed customers have applied all previous steps in Instagram and are now generating extra sales from the social media channel. Get inspiration from the following examples:
Oliver Brown
Oliver Brown sells premium menswear through their webshop and use Instragram Shopping as an additional source of income. On their profile you will find the 'view shop' button which allows you to view all products at a glance. When users click on the button, they're led to a catalogue of Oliver Brown's products, with clear imagery. The price is included with each product, and there is an option to view the product on their website, where a sale can be completed.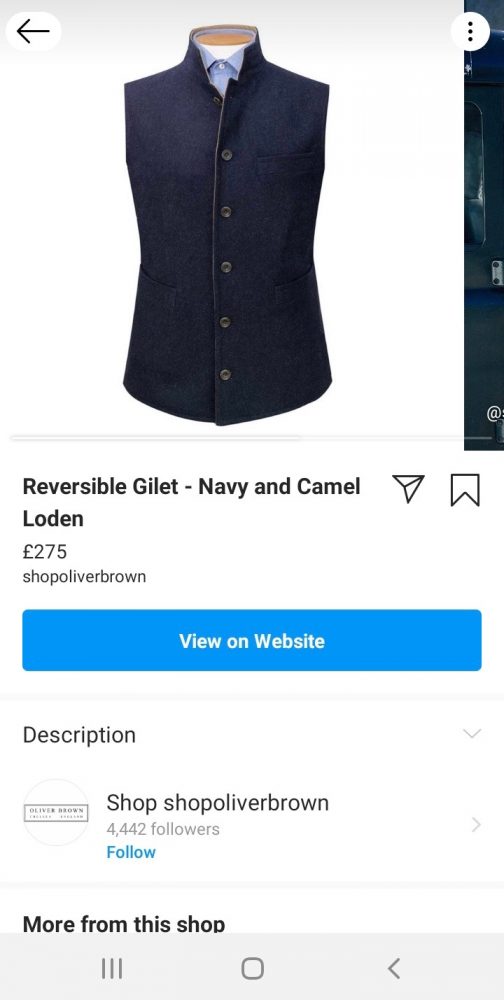 Fiorucci
Fiorucci is a forward-looking fashion brand from London. Almost all of their product photos include product tags. The well composed, aesthetically-pleasing images are enough to grab attention on a user's feed and get them browsing products. Because of the product tags , followers do not have to do much searching. Within one click they arrive on the website where they can make a purchase.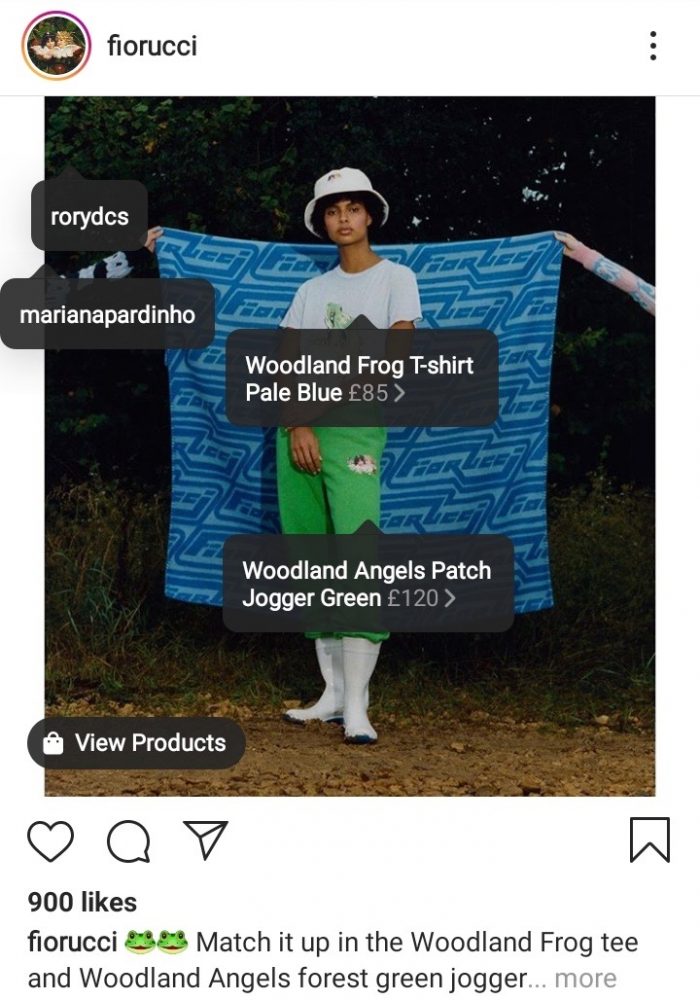 Crosstown Doughnuts
Crosstown Doughnuts is a luxury doughnut brand that makes the most of Instagram Shopping to generate more sales. They use each of their posts to showcase their products, linking viewers to their webshop where they can get them delivered throughout the UK. Crosstown also regularly shares stories with a product sticker, so followers can easily find the products they showcase on their website.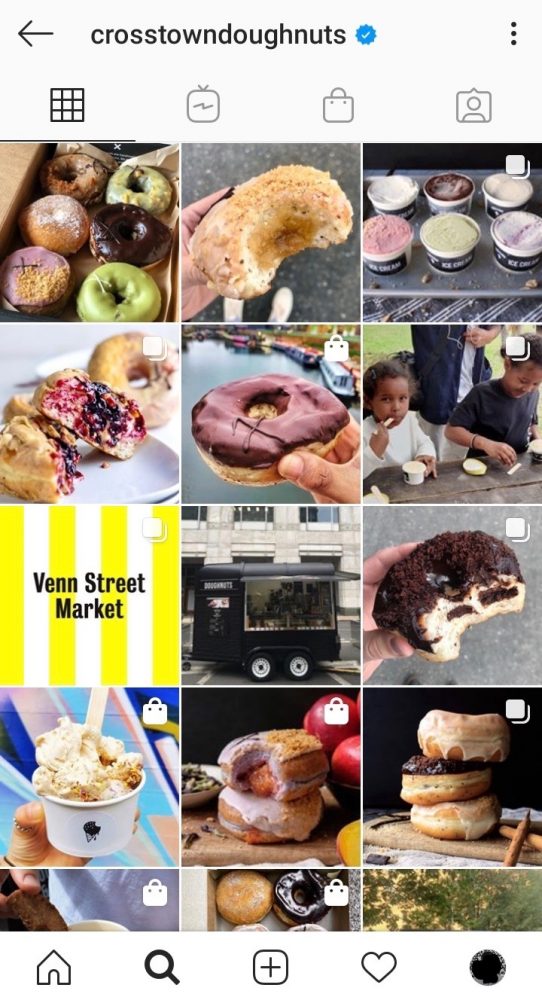 The future of Instagram Shopping
Instagram is constantly developing new functions to become a complete e-Commerce platform. For example, in North America they are testing a beta version at 20 major brands where users can also pay for their products via Instagram. The extra step where you first have to go to the website is therefore unnecessary. Users will even be able see the status of their order, cancel or return their order via Instagram. These functions are not yet available in the UK, but it is expected that they will also enter the market within a few months.
Get started with Instagram Shopping yourself
Instagram Shopping is an extra sales channel next to your webshop or physical store. By uing it, you can create more opportunities to sell products and generate sales. As soon as you have created a business account and your Instagram Shopping profile has been approved, you can get started right away. With your own webshop, such as Lightspeed eCommerce , it is a piece of cake to upload your products and tag them in your Instagram posts.
Do you already have a physical store, but no webshop yet? Or would you like to start a webshop alone? Then contact our experts to discuss the possibilities.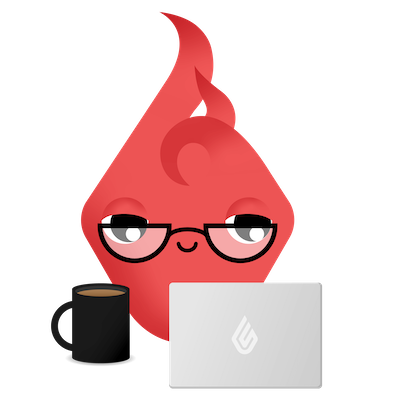 News you care about. Tips you can use.
Everything your business needs to grow, delivered straight to your inbox.