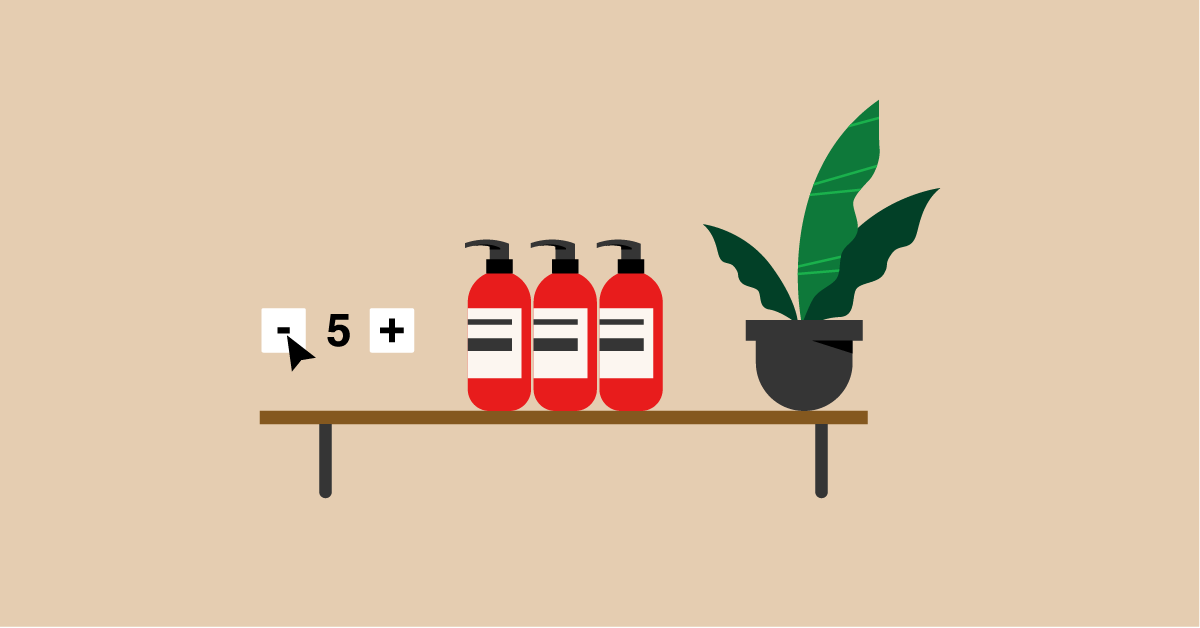 When's the last time you compared the inventory records from your point of sale system to the counted inventory levels in your stores?
As every retailer unfortunately knows, inventory records and the results of an inventory count rarely match. While you always hope the discrepancy isn't too large, you do need to reconcile inventory records against the physical inventory in stock to deal with the fallout.
In this post, you'll learn exactly what inventory reconciliation is, how it works, why it's important and how to reconcile inventory records without having to close up shop and miss out on sales opportunities.
Let's dive in!
Get your free inventory management spreadsheet
Our experts have put together a template spreadsheet with built-in formulas. Just enter your data and watch it calculate everything for you.
What is inventory reconciliation
To recap, a quick inventory reconciliation definition: it's the process of matching inventory levels in your POS system with the physical inventory levels in your stores and stockroom.
By reconciling inventory, retailers can address discrepancies between the results of their physical inventory counts and the recorded inventory levels in their point of sale.
By reconciling inventory often, retailers can better understand why there are discrepancies and better prevent them in the future.
What happens when there's an inventory discrepancy?
When there's a discrepancy between what your point of sale has on record and what you actually have on hand, you'll need to update your POS system.
Did human error lead to an over or undercounting of available inventory? This can happen when receiving a stock order, transferring inventory between locations or during inventory counts (especially if you're using pen and paper). You'll probably need to adjust any inventory forecasting and projected revenue based on the incorrect numbers.
Have there been problems with theft or shrinkage—is the inventory outright gone instead of just miscounted? In addition to adjusting your forecasting and projected revenue, you might need to take a look at your budget to make room for more anti-theft measures.
No matter the cause of an inventory discrepancy, here's how you'd address it:
Reconcile the inventory in your POS.

Address how large the discrepancy is. Order new stock or transfer stock between locations as needed.

Look into ways to minimize inventory discrepancies.
Why is inventory reconciliation important?
If inventory reconciliation reports don't match records of inventory on hand, retailers have a problem.
Even with the right inventory management software, shrinkage (either an excess or shortage of inventory on hand compared to recorded inventory levels that cannot be accounted for) is inevitable. The National Retail Federation reports that the average shrink rate expressed as a percentage of total sales is 1.38% for U.S. retailers.
By cycle counting and reconciling inventory frequently, retailers can better monitor shrinkage and uncover the reasons behind discrepancies. While it may be caused by administrative human error—like inaccurate inventory counts or misplacing items in the stock room—it may also be caused by a larger issue like employee theft or supplier fraud.
If your shrinkage rate grows from one inventory reconciliation to the next, it may be a signal that you need to perform some investigative work and establish loss prevention strategies to keep that number as low as possible.
How inventory reconciliation works
While the process of reconciling inventory may vary from one merchant to another, there are steps that each typically follows to varying degrees:
1. Perform an inventory count
A physical inventory count is when a retailer counts all of a store and its stockroom. Typically, inventory counts are performed by an assigned team of workers who will count the inventory levels of each item and record the results with a pen and paper, an Excel spreadsheet (like our free inventory management spreadsheet) or directly into your POS system.
Tools like Lightspeed Scanner speed up inventory counts by cutting out a step. Instead of counting stock, recording the results and then inputting the results into the POS, a stock counting app like Scanner immediately updates POS levels. It also enables multiple team members to do counts at once, speeding up the time they take.
Watch how Neal's Yard Remedies uses Lightspeed Scanner to modernize their stock take processes.
Inventory counts can be sorted into one of two categories:
The full inventory count (or physical inventory count). This is where you count every single piece of stock you have on the floor and in the back. As such, it takes a long time.
While some retailers close their store during typical business hours to perform a full inventory count, others opt to pay employees overtime to count inventory after business hours. Having employees stay after hours may require paying the counters overtime, but it also enables them to transact with customers throughout the day.
It's a good idea to do a full inventory count at least once a year for every location.
The cycle count. This is where you count a selection of your inventory on a regular basis. It's usually pretty quick and fills in gaps between full counts. You won't need to close your store or compromise on customer service, as it can be done by only one employee.
There are a few different methods retailers use to select inventory for cycle counting. Some retailers count the same SKUs over a period of weeks to monitor shrinkage in one product category. Others go through SKUs methodically and restart once they've all been counted. Others still randomize the SKUs to be cycle counted.
Cycle counting can be done on a weekly, bi-weekly, monthly or seasonal time frame.
2. Compare count results to inventory records
Next, employees need to compare the results of their inventory count to the inventory levels recorded in the point of sale system.
While comparing recorded inventory levels to the results of their count, employees may uncover discrepancies—that is, when recorded inventory levels and the results of a count don't match. Discrepancies can occur because of a host of reasons: from administrative stock-keeping issues to bad math, human error, theft or fraud.
3. Investigate missing items
Once you uncover discrepancies, the next step is to address them and find out why they're occurring. This involves digging through previous transactions and receipts to identify whether or not certain item sales have been overlooked. Is it possible some orders are being sent to the wrong locations?
4. Pinpoint the source of discrepancies
When the source of discrepancies can't be easily addressed, it may be time to look into other possible causes.
Some likely sources of discrepancies are:
Bad paperwork:

are order invoices getting lost? Are sales not being input into the POS correctly? If this is the case, you need to find a way to reduce human error. For example, a Lightspeed retailer could start using Scanner to ensure POS records are always up to date.
Miscounting (or undercounting):

have some items missed being counted or been counted twice? Do you need to be counting more often? If you're running into counting error problems, change how often you count and give your employees a refresher on counting. Scanner would help here, too.
Theft:

are products unsecured? Do you need to update your theft management systems? Don't start treating all customers (and employees) like criminals, but take precautions. If, say, perfumes are showing discrepancies higher than other inventory items, only keep testers out on the floor and lock the stock in drawers for employees to retrieve as needed.
5. Match your inventory records
Regardless of the reason for discrepancies, you need to reconcile inventory records so they match the results of your inventory count.
If you're using an Excel spreadsheet to manage inventory, you'll need to manually update inventory levels for each item. If you use Lightspeed point of sale, you can simply reconcile your inventory records in the system's back end. You'll even be prompted to reconcile inventory after you perform a new inventory count.
6. Set a time to do it again
Inventory reconciliation is an ongoing process, so set a time to do it again.
Schedule weekly, bi-weekly or monthly cycle counts and annual physical counts and be sure employees in every location are trained on how to do it.
Inventory reconciliation tips
Inventory reconciliation can feel tedious or prohibitively time-consuming but it's essential for maintaining accurate inventory levels and ordering the right products at the right moment to meet demand.
Here are a few things you can do to streamline inventory reconciliation:
Stay organized
It may seem rather basic, but keeping your stores and stockrooms clean and organized is critical. When it's easier for staff to locate and count merchandise, cycle counts become quicker to perform and more accurate.
A few tips we cover more in-depth in our article on inventory classification basics include categorizing your store layout, clearly labeling stockroom shelves and assuring items are stored in the proper place or department.
Pick the right counting method for your business
How you count your inventory will impact how often you accurately uncover discrepancies. Depending on your stock, what works best for you might not work as well for a different retailer.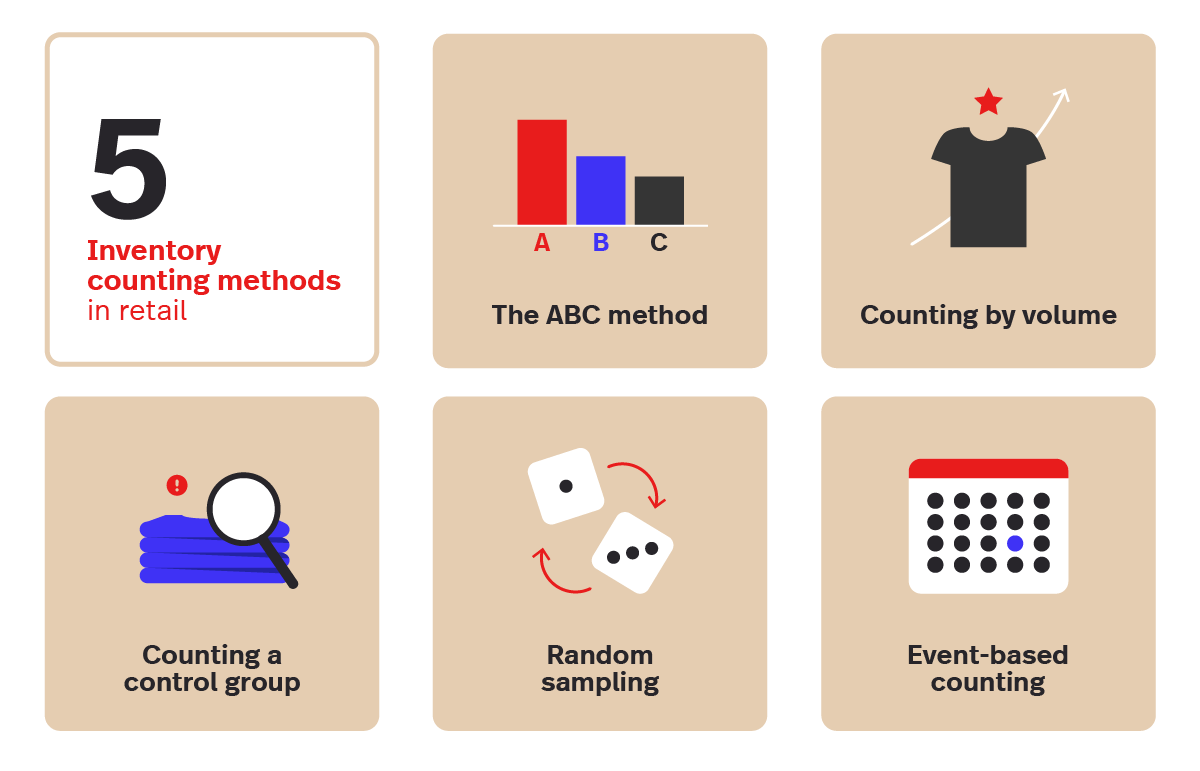 Here are some methods you could consider:
The ABC method:

sort your inventory into three buckets—A, B and C. "A items" could be the most popular items or the items with the highest discrepancies and are counted most frequently. They would then be followed by "B items" and "C items."

Counting by volume:

count the inventory that sees the highest sales more often than inventory that isn't moving as fast.

Counting a control group:

select a group of SKUs and only count them multiple times over a short period.

Random sampling:

take a random group of SKUs and count them, changing the SKUs every cycle count.

Event-based counting:

count all inventory under a SKU once it hits a particular milestone, like every three orders or fifteen transactions.
Use the right tech
Human error is one of the primary causes of stock discrepancies, but when equipped with the right tech, retailers can improve the speed and accuracy of their inventory counts.
With Lightspeed POS and Scanner, for instance, retailers can add, sell, count and reconcile inventory from the same platform.
With connected tech in hand, retailers can manage both their online and physical retail space's inventory from the same platform; stock levels are automatically adjusted as soon as a cashier scans a product tag at checkout or a product is purchased through your online store.
Count inventory often
To maintain inventory accuracy and minimize the number of discrepancies you need to reconcile, it's important to count your inventory often.
Rather than routinely performing full inventory counts (counting the inventory levels for each and product you carry), consider doing cycle counts (counting one specific product or categories inventory levels) more frequently.
Since full inventory counts are prohibitively time-consuming, most retailers only do them once or twice a year. But with cycle counts, you're counting a lot less inventory at a time, so counting more often becomes feasible.
By cycle counting inventory regularly, retailers can keep a continuous pulse on stock levels and find the root cause of shrinkage and discrepancies, whether it's theft, miscounting or something else, while it's still possible to do so.
Cross-reference reconciliations
After you've done a few counts, it's useful to examine those inventory reconciliation reports side by side and try to spot patterns.
For instance, is there one product or category where shrinkage consistently occurs? That could be a clue that shoplifters covet that item and are stealing it regularly. The only way to know for sure is by reviewing security footage, but at least you know where to dig deeper.
By reviewing reconciliation results next to one another, retailers can uncover patterns and find solutions to minimize shrinkage.
Make sure to review inventory reconciliation reports both by location and as a whole. Some locations will have a different risk profile than others, and if not every outlet is using the same technology, human error might be more of a problem in store A than store B. Comparing locations against each other will help you tackle discrepancies more effectively than extrapolating out results from one store to all the others.
Keep a pulse on your inventory
Performing timely and accurate inventory counts are essential for proactively addressing the cause of shrinkage and discrepancies in your retail store. By checking inventory with regularity, retailers can optimize loss prevention while assuring that they have enough stock to meet consumer demand.
Looking to keep your inventory under control? Lightspeed has built-in inventory management features that help retailers keep their inventory records in order. Order, sell, count, reconcile and report on the inventory online and in-store from one platform. Why not watch a demo to see for yourself?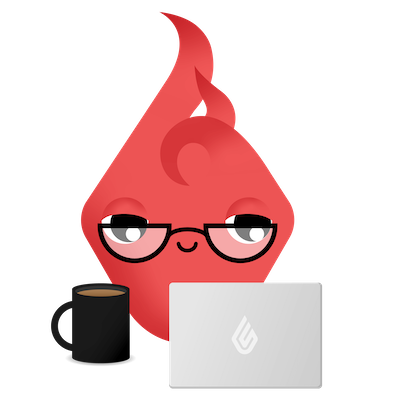 News you care about. Tips you can use.
Everything your business needs to grow, delivered straight to your inbox.