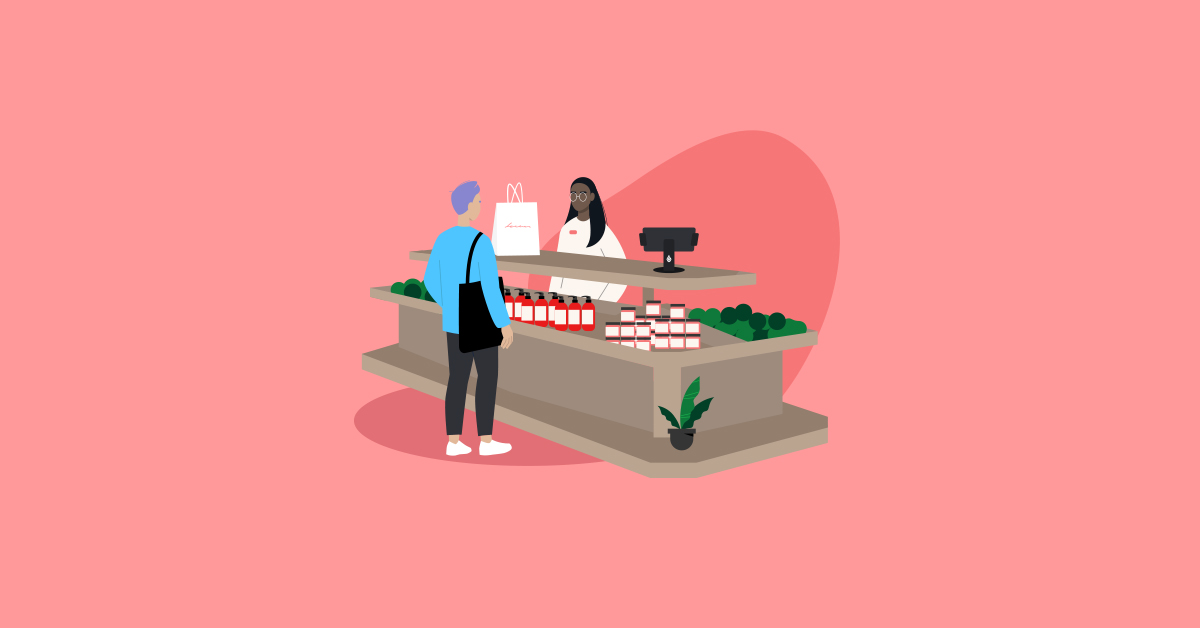 Consumers spend up to $5,400 a year on impulse purchases alone—imagine being able to capture a percentage of those sales. That's where point of purchase displays come in.
Point of sale marketing is at the center of any retailer's transactions and, when leveraged, can be high-value in-store promotional real estate to drive more sales pre-checkout.
In this article, we'll go over:
Ring up sales from anywhere
With Lightspeed's cloud-based POS, you can eliminate customer wait times, all while offering amazing service.
What is point of sale marketing? How we're defining it
Point of sale marketing (also known as point of purchase marketing) is when a retailer strategically places low-cost products near their point of sale with the hope that customers purchase additional items. These items are showcased using point of purchase (POP) displays.
Unlike the items placed on your shelves, customers only take a couple of seconds to decide whether or not they want to buy products featured on a point of purchase display. If you sell low-investment products (like shoe cleaners, gift cards, gum or accessories) you can consider placing them near your point of sale.
Why point of sale marketing works
The majority of consumers make impulse purchases. The reason why point of purchase displays work so well is because it's inferential suggestive selling. If a customer is already making a purchase, they're more likely to feel comfortable buying additional, less expensive products.
That's why showcasing low price point items near your store's checkout or point of sale is such an effective way of cross-selling.
The psychology of impulse purchases
Impulse purchases are more likely to happen in specific circumstances.
In-store shopping seems to produce more impulse buys than ecommerce, for example. Online, you have fewer chances to present customers with items they didn't know they needed or had forgotten to pick up. In store, there are far more opportunities for discovery, especially with inspiring and eye-catching displays.
People are also more likely to make an impulse purchase if they're shopping with someone they feel close to. The University of Florida and University of Tennessee found that a customer's parents and/or children coming along on a shopping trip were the most likely to increase impulse purchases.
And, ultimately, impulse purchases are usually easy buys—tempting, indulgent, immediately useful, novel.
This is why point of purchase displays are all about impulse purchases. They help drive discovery by presenting customers with new, easy to pick up products. When stocked thoughtfully, they cater to families shopping together, group activities and that sense of delight we all crave.
The benefits of point of purchase displays
The primary benefit of point of sale displays is they can contribute to higher overall sales by increasing the number of items a customer purchases. They also help you leave a lasting impression—they're the last things a customer sees before leaving the store.
Retailers can use POS displays to push promotions like BOGO, accessories, consumables and any other items that may not have been on a customer's original shopping list. Impulse purchases also help customers discover new brands or pick up missed items on their lists.
To summarize:
Point of sale marketing increases the potential for impulse buys, which increase revenue

POP displays give you one last chance to alert customers about promotions

POP displays aid in product discovery by introducing customers to items they didn't know they wanted

By using point of sale marketing carefully, retailers can present shoppers with a final picture of their brand—be that through signage about a loyalty program or interesting products
The most impactful types of point of sale displays (with examples)
There are several different types of POS displays, each with their own benefits and use cases.
Let's review common purchase displays and how to use them correctly for impact—after all, not all displays are right for every kind of business or store format.
Freestanding units

Signage

Counter displays

Dump bins

Sampling areas

Checkout displays

QR codes at checkout

Endcaps
1. Freestanding units POP displays
Free standing display units are a great option for showcasing products that you want to draw explicit attention to.
This type works for nearly any type of retailer. If you're a high-end retailer worried about POS displays looking out of place in your stores, a free standing unit can be designed to blend in with your existing shelving and displays. That way, customers aren't distracted by the fact that they're suddenly presented with a POS display—they're just being given one last chance to consider products they should add to their basket.
In the example below, we can see Lululemon using free standing displays, designed with clean lines and bright wood like the rest of the store, to showcase their no-show yoga socks.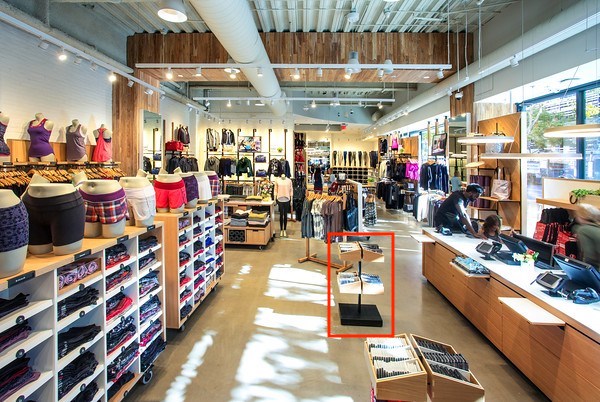 Image credit: John Watkins/Lululemon
2. Signage
You can use signage at checkout either on its own or in combination with other point of purchase displays, like free standing units or counter displays.
On its own, this type of point of sale marketing is less about selling an impulse purchase right then and there and more about getting a message out to customers. You could use signage to promote your loyalty program, for example, so that customers know they should ask about signing up once they get to the front counter.
In combination with products, signage gives you a chance to sell customers on the benefits of products they might not have considered otherwise, or to showcase promotions. This variation on signage could be highly effective in stores that typically cater to families, as it'd give busy parents a quick overview of products they might not have had time to pick up and examine while managing kids.
3. Counter point of purchase displays
Counter space is incredibly valuable real-estate in any retail store to showcase accessories; just be sure to keep a clear line of sight between the sales associate and the customer and to not clutter your counter.
Counter point of purchase displays can either be on the counter itself or behind it, but keep in mind anything a customer can't grab themselves should be high value, highly desired and highly indulgent.
An example of behind the counter displays done well is Saturdays NYC's store in Sydney, Australia. The counter itself is kept tidy and their branded candles are clearly in a paying customer's line of sight. As a bonus, Saturdays' product display in front of the counter features impulse-worthy purchases like a branded reusable bag and coffee mug.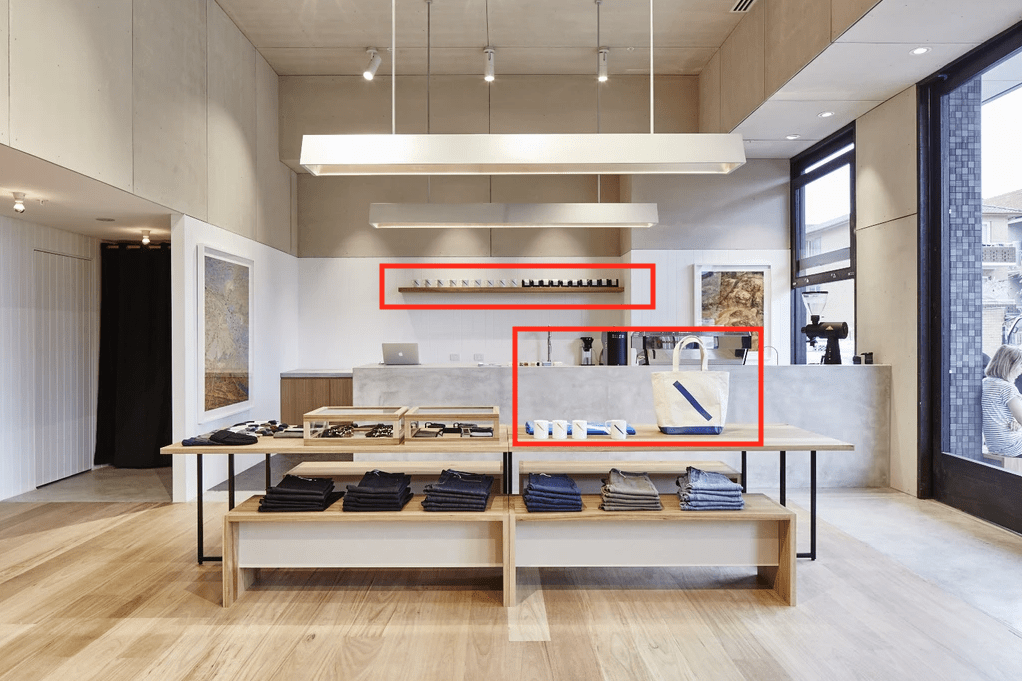 Image credit: Saturdays NYC
4. Dump bins
This type of display is most commonly used for small items like candy, drinks, toiletries or other products that consumers usually buy more than one of at a time.
Red Bull's giant can is a notable example of a dump bin product display that we frequently come across everywhere from convenience stores to big-box home goods stores like Home Depot.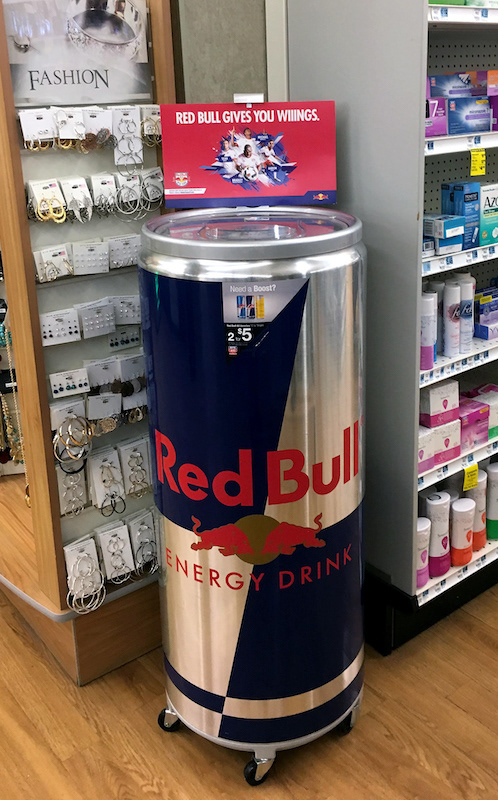 Image credit: Michelle Cruz
High-end retailers might want to skip this display type and opt for a free standing unit instead—their association with small items and convenience stores might turn off luxury shoppers. But if you sell, say, makeup or children's clothing, a dump bin could help you move chapstick and candy. It's all about context.
5. Sampling areas
Sampling areas let customers try products before they buy, which can influence their decision.
You will often see sampling areas at supermarkets or health and beauty product stores. For example, The Olive Oil Dispensary has sampling areas that give potential customers the opportunity to smell and try a product to see if it's right for them.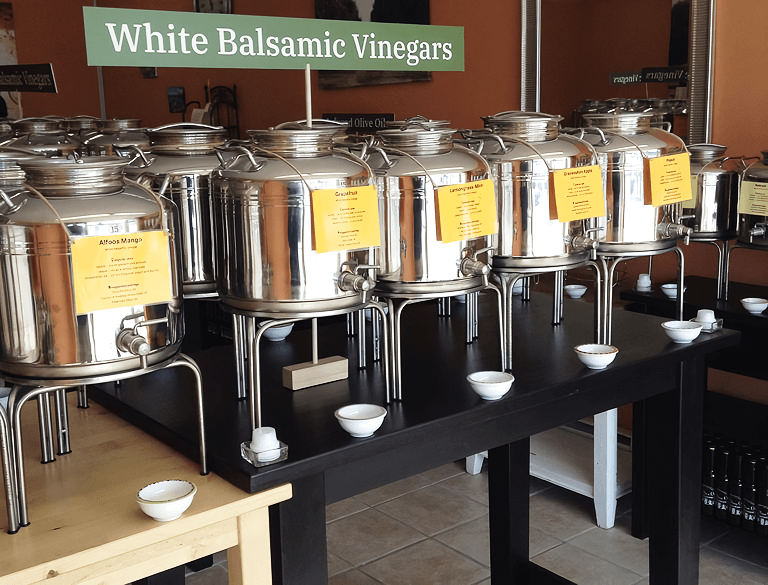 Image credit: The Olive Oil Dispensary
As long as the featured product is aligned with its purpose, sampling stations are also great compliments to in-store events and workshops that you host. In store events are a fantastic way to increase impulse purchases, especially when they draw on the psychology of shopping with loved ones.
Liza Amlani, Principal and Founder of Retail Strategy Group, says, "Trunk shows, champagne shopping and having a stylist present the latest collection to customers and their friends are a few ways that retailers can encourage impulse shopping. It's about the experience."
Marry that with point of purchase displays designed to compliment the free samples, and you've got a winning combination.
6. The checkout POP display
Customers hate waiting in line, but during busy periods, lineups are bound to happen. Why not make it a pleasant experience?
Take, for example, beauty retailer Sephora's checkout experience. Given the number of customers they serve, lineups to pay are unavoidable, so they transformed the entire lineup into a point of sale display in all of their locations. Customers browse featured products while they wait to pay and can add them to their cart.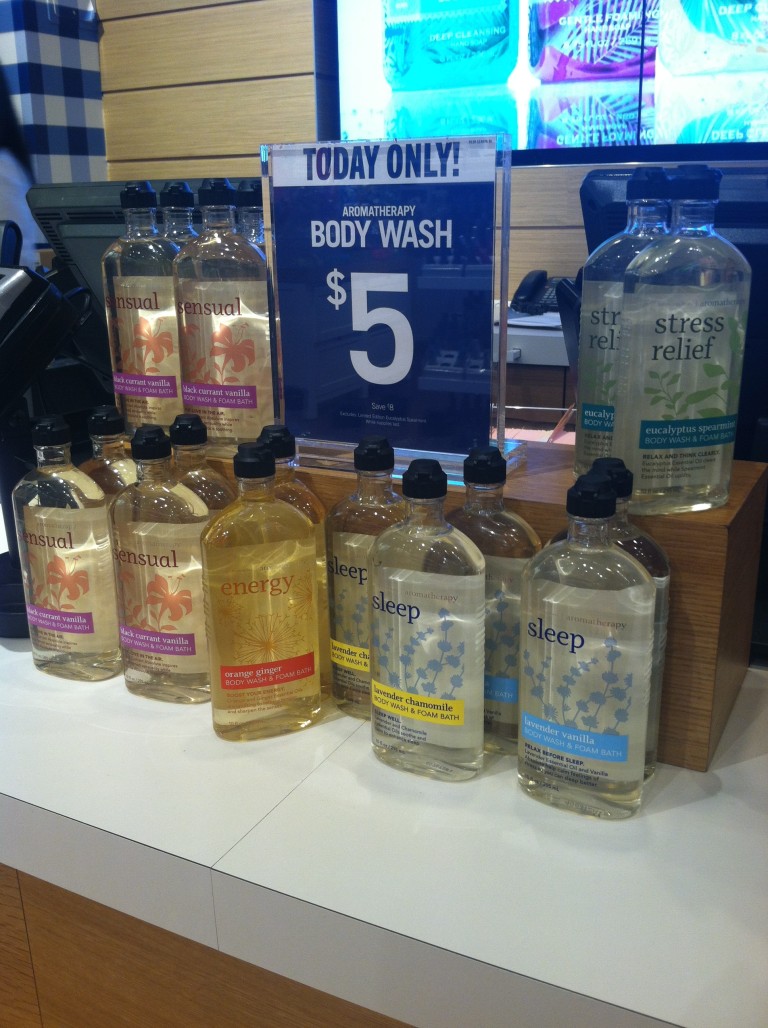 This kind of point of sale marketing is ideal for any retailers who regularly deals with busy lines, and are particularly popular for fast fashion, beauty and electronics retailers.
7. QR codes at checkout
With this tactic, you turn your online store into a point of purchase display by directing customers to a landing page of your choice through a QR code.
The goal here is to encourage future impulse buys by alerting shoppers to your website, so make it memorable. If you have online exclusive items, this is a good way to encourage customers to discover them. You could also promote any sales you've got going on, your curbside pickup options or details about your loyalty program.
You'll want to marry the use of the codes with other POP displays, but with QR code use skyrocketing, this is a good tactic for any type of retailer to try.
8. Endcaps
Endcaps, those shelves placed at the end of an aisle, aren't exactly at your point of sale. Still, they can be considered in the same genre of marketing as point of purchase displays. They serve to highlight products and increase impulse buys, but they influence customers before they get to the point of sale.
You could use endcaps to promote new products (or products on sale) that are a bit bigger than the goods in dump bins and free standing units closer to the front counter.
Point of sale marketing tricks for in-store sales
You want your point of sale displays to generate as many impulse purchases as possible. To do that, we suggest considering these tips:
Cross-sell related items

Promote special offers

Be strategic with positioning

Leverage social proof

Make your point of purchase displays Instagram worthy

Use online and mobile technology

Choose impulse products wisely

Use data to refine your point of sale marketing

Hit the psychological triggers

Train associates in suggestive selling
Cross-sell related items
Often, the best opportunity to promote an impulse item happens when the customer has already decided on what they want to buy. If the shopper intends to purchase a specific product, you can generate impulse transactions by recommending items that complement what's already in their shopping cart.
This is where cross-merchandising comes in. Displaying relevant items together prompts impulse shoppers to make an additional purchase.
Take a look at this merchandise effort from Target, which displays baby sunblock together with swim diapers. The Target team knows that many people shopping for swimming diapers would also be on the lookout for sunblock, so Target put the two products together.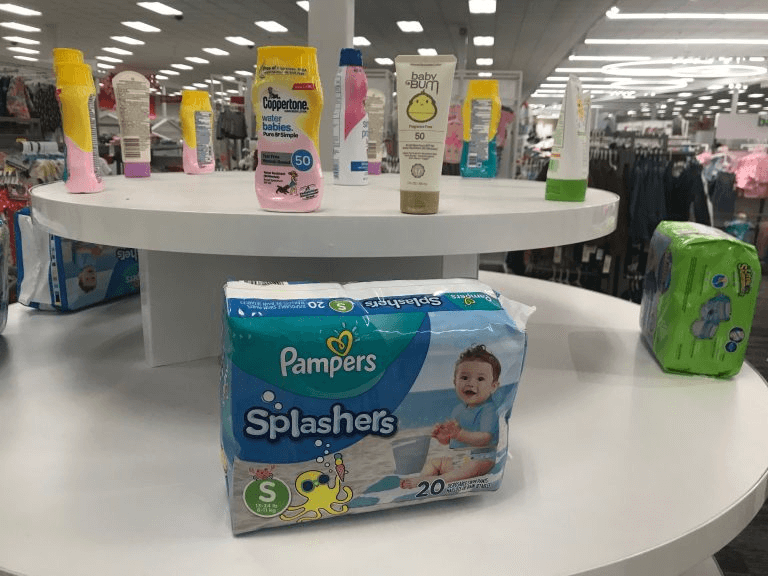 Promote special offers
Point of sale marketing is also a great way to promote specific products or highlight any ongoing campaign you have at your store. Your point of purchase is the perfect place to showcase products or signage with offers detailing specific discounts, BOGO deals, new merch or seasonal campaigns.
According to a survey on impulse purchases, approximately 85% of respondents said their impulse purchases had to do with a discount or promotion. Making sure you have signage and products relating to promotions at the point of purchase, will help make the sale once customers reach the cash.
Your staff are equally important to the equation. They need to be equipped with knowledge on active deals and promotions so they can let customers know about them once they've arrived at the cash. Make sure to train your staff on ongoing promotions, suggestive selling tactics and scripts to help them motivate customers to purchase.
Be strategic with positioning
Part of increasing visibility (and sales) with impulse purchases entails placing the merchandise where customers are sure to see it. In retail stores, the two most effective ways to pull this off would be positioning impulse products at the checkout area and placing them near your bestsellers.
Placing products at the checkout zone is a common and highly effective tactic. Shoppers who are at the point-of-sale area are likely already in the mood to buy, so more likely to make additional purchases. You have two options for placing items near your POS: put them on or in front of your checkout counter, or place them along the aisle of your checkout queue.
Position your products near your store's prominent sellers. What parts of your store do customers frequently head to? What are the items that customers usually go for? Strategically place merchandise near these areas or products to increase their visibility.
Leverage social proof
Online retailers have long been using social proof to reel in impulse shoppers. Amazon, for example, has the popular "People also bought" section on its product pages that showcase products that other customers have purchased.
The same tactic can be implemented in-store. Putting together displays of your most popular products — and labeling them accordingly — can grab the attention of impulse buyers and encourage them to consider purchases they wouldn't have thought of otherwise.
Amazon, once again, does an excellent job here. Take a look at this photo from one of its brick and mortar locations, which has signage displaying social proof points like "Most Wished For" and "Highly Rated."
Image credit: Amazon
Make your point of purchase displays Instagram worthy
Displays that customers can't help but take a photo of also leverage social proof—but this time, they're the ones helping sell to other potential customers.

Tap Instagram-savvy sales associates, or hire a retail display designer, and have unique, eye-catching displays set up in your stores. They'll help delight customers, which is key to making your displays an impulse point.

Make sure managers are instructing sales associates to clean up these displays regularly. A messy point of purchase display may be Instagram worthy for all the wrong reasons.
Use online and mobile technology
A study on shopping behavior found that social media, mobile apps, and SMS marketing can drive unplanned visits or purchases.
Mobile Commerce Daily cited that "21 percent of respondents say they make more unplanned purchases because of shopping apps, 20 percent do the same because of retailer texts and 22 percent for retailer social media. These were the highest scoring tools in terms of encouraging shoppers to make more unplanned purchases."

Be sure to leverage online and mobile tools to increase impulse store visits and purchases. If you're on social media, make sure your fans are in the loop by posting news about any items or promotions.
Covet, a jewelry shop in San Francisco, does this really well. Covet keeps their Instagram account updated and they often post pictures encouraging people to stop by the store.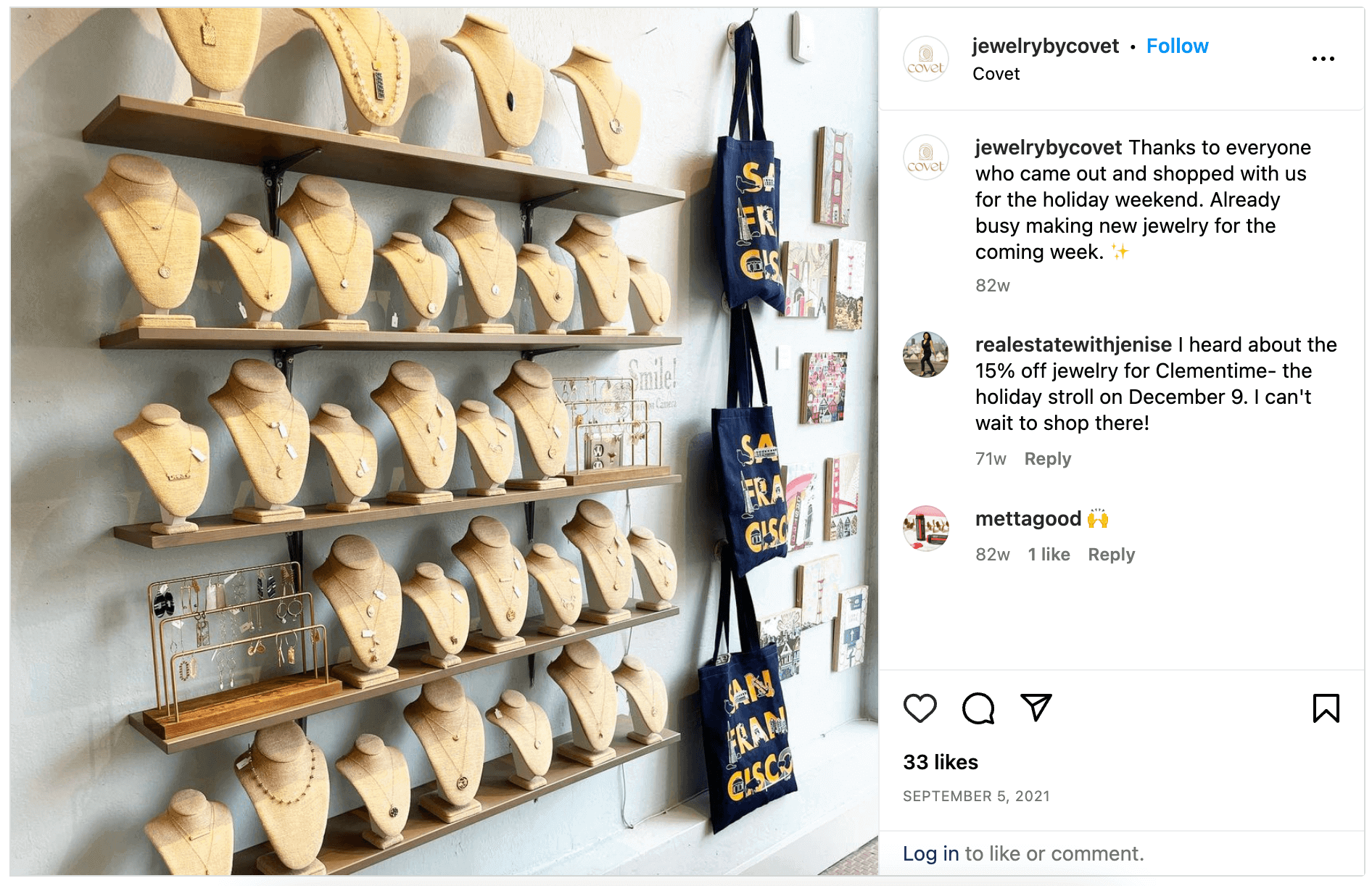 And if you have a mobile app, keep it updated so users can see the latest happenings in your store.
Do the same thing via email and text. Grab the opportunity to bring people into your shop by alerting subscribers whenever you have something happening in your store. (Just don't overdo it. Keep messages relevant and only alert people who have opted in to your list.)
Choose impulse products wisely
The best impulse products are the ones that are easy to grasp—both physically and mentally. Keep them simple. As business consultant Lynn Switanowski told ABC News, "Such products don't need a lot of explaining. It sells itself (because) you understand what it does."
Ideally, impulse products should be small and inexpensive. These are items that people can pick up and easily add to their baskets or hand to the cashier.
Keep these principles in mind when you're deciding on which impulse items to display.
Use data to refine your point of sale marketing
Test, test, test. Whatever products you choose, however you choose to display them, make sure you're testing for sales increases and tweaking the products and displays on offer as needed.
Using reporting like Lightspeed's Advanced Reporting, track metrics like average items per sale after implementing your POP displays. If stores aren't hitting your targets, you know you need to adjust something—and data on items sold will tell you what products are shining and which ones need to be swapped out.
Consider A/B testing your displays in different locations. That will help you decide what to change if something isn't working. Again, data will give you the answers.
Hit the right psychological triggers
You can make your impulse buys more noticeable and enticing by pushing the right consumer buttons.
Consider these triggers:
Urgency: trigger people's sense of urgency through limited-time promos. Think about the Bath & Body Works example above. It included a "Today Only" description in its signage to make the impulse buy more compelling.

Value: make people see that they're getting a good deal with generous offers. Victoria's Secret, for instance, runs "Buy two, get two" promos with its impulse products to further encourage shoppers to buy.

Excitement or novelty: you don't always have to throw in an offer with your impulse products. Often, if a product looks fresh or novel enough, people will notice them. If you have new and original items in your store and they fit the above-mentioned criteria (i.e., handy and low cost), then consider testing them out as impulse buys to see how customers react.
Retail giant Hersheys has their own take on psychological triggers for impulse buys. They say the most important beats to hit are:
Indulge: make shoppers feel like they have permission to spoil themselves.
Delight: excite shoppers with something new that they hadn't planned for.
Score: give shoppers a deal they can't pass up.
Recharge: sell energy-boosting or relaxation-inducing products shoppers can use immediately.
Remind: sometimes the little things on our lists get missed. Keep essentials in your POS displays to remind shoppers to pick them up.
Inspire: convince shoppers they should try out products they wouldn't otherwise think of.
Gesture: Hershey's defines this trigger as helping parents—give them a gesture of support to help them with tired, cranky kids, like a distracting treat.

Incent: give shoppers the opportunity to make an impulse purchase that they can use to connect with loved ones.
Train your associates in the art of suggestive selling
While impulse buys typically come in the form of those small, handy items near the checkout counter, let's not forget that you can also encourage impulse buys for moderately-priced or even higher-priced merchandise.
The key is training your associates to practice suggestive selling. When an associate develops a rapport with the shopper, they'll be in a much better position to recommend unplanned purchases.
Here's some things to consider:
Suggestive selling only works if your sales associate is able to make a genuine connection with the customer

The products your employees are recommending should truly benefit the customer

When a customer already has a product in their hands, suggesting something that is complementary to it could increase add-on sales
One way to ensure every sales associate can hit these beats, no matter how junior or senior, is to equip them with a POS that tracks customer details and inventory information. A sales associate who can use an iPad to quickly look up a customer's purchase history and related products will be equipped for effective suggestive selling, far more than if they're relying on a legacy point of sale stuck at the front counter.
Reese Evans, a former retail associate, also recommends using suggestive selling to address objections.
"If someone is in your store and saying things like 'I'm not sure about this…' or 'The fit is a little loose…' retailers should grab the opportunity to suggestive sell. The fact that they're going through the process of eliminating things that they might not like means they're seriously considering buying. If they weren't, then they would've walked out of the store already. So let's say the shopper thinks a particular garment is too loose for her body type; that would be a great opportunity to suggest a belt to go with the product to help make an outfit complete."
Make the most of your stores' point of sale marketing
The square footage in your stores is limited. While you don't want to clutter them, you definitely want to use that real-estate to promote your products and drive more in-store sales.
And that's where point of sale marketing comes in handy. With it, you create additional sales opportunities and increase sales without being an annoying salesperson. By focusing on finding products that help customers solve their problems, you're sure to win their loyalty and their lifetime value (LTV) in the process.
Once customers are past your displays and at the front counter, you want them to have the best possible experience. Lightspeed's retail platform is quick and efficient, freeing up your sales associates to focus on customer service. Watch a demo and see what we mean.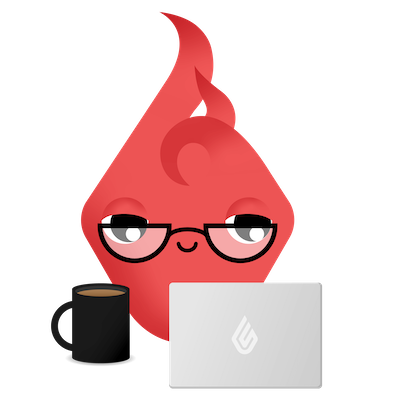 News you care about. Tips you can use.
Everything your business needs to grow, delivered straight to your inbox.