Getting an alcohol license is an important part of starting a restaurant. Alcohol is a big part of our culture and everyday lives, and while it should be managed responsibly, leaving it out of your restaurant's offering would be a big mistake.
Alcoholic beverages also do a lot for your profit margin. Mark-ups for booze are often between 350-450%, and you can sell a glass of wine for the amount you bought the whole bottle for. If you haven't got an alcohol license yet , you could be missing out on some serious profit.
Looking to upgrade your restaurant tech?
Lightspeed Restaurant ePOS provides your restaurant with tools for longevity. Download our free guide and learn how to build a more resilient business.
First, make sure that your restaurant has the capacity to sell alcohol. Do you have a bar, complete with a bartender? These assets can seriously hike up your beverage offering – opening up a world of mixology, craft beers and much more to your customers.
If you're a quick service restaurant – having quality beers in the fridge could set you apart from the competition. During corona time, customers who can't go to a bar or restaurant for a drink have created a growing demand for alcohol delivery.

In this article, will guide you through obtaining the appropriate licenses for selling alcohol legally at your restaurant and elsewhere. We will cover:
Let's get started!
What is an alcohol license?
An alcohol license lets you and your employees legally sell alcohol on a business premises. Selling booze in your restaurant, pub or cafe without it could land you a hefty fine of up to £20,000, or even a prison sentence. So getting one is worth the trouble.

But here's the thing: there's no single alcohol license that UK business owners can hold. In fact, you need two licences, one for your business premises (premises license) and one for you or your bar manager (personal license).

Once you have both these licenses, you're then also legally obliged to buy alcohol from suppliers approved by HMRC.

Premises License
A premises license is what authorises your business to buy and sell alcohol. It differs from a personal license in that no individual can hold it, only physical locations.

However that location doesn't need to be fixed. If you're a pop-up, food truck or a party boat, for example, you will also need a premises license.

A premises license isn't just for alcohol either. You also need one if you plan to have evening entertainment in your restaurant, or to serve food any time between 11pm and 5am.
Personal License
A premises license alone is not enough to be able to sell alcohol at your restaurant. In conjunction with a premises license, you also need a personal license.

A personal license allows certain individuals to serve alcohol on a licensed premises. When you hold it, you become designated premises supervisor.

Under your supervision, non-licensed individuals others can sell alcohol on a licensed premises, provided they're over-eighteen (and know how to make a good margarita.)
How do I get an alcohol license in the UK?
You can apply for a premises license through your local council. To obtain a personal license, on the other hand, you will need to complete a qualification.
Personal License Qualification
Before you can become a designated premises supervisor, you'll need to complete a qualification. Don't worry though, you won't need to go back to school. The course itself usually takes around a day to complete, and involves a multiple choice exam.
You can apply to do your personal license course from an accredited qualification provider. You just need to be over-18 and eligible to work in the UK.
How long does a personal license last?

Forever, basically. You can give up your license if you know longer wish to act as a designated premises supervisor or, if you use your license irresponsibly the courts can remove it. Use it wisely, and a personal license is yours for life.
How much is an alcohol license?
A personal license costs just £37, which you pay when you apply for the qualification. To pass you will also need to complete a DBS check which will cost you £25.
The cost of a premises license varies depending on the rateable value of your commercial property. Either way, you will have to pay both an application fee and an annual charge. The higher the rateable value of your restaurant premise, the higher the fees for an alcohol license will be.
See below a table of costs depending on rateable income: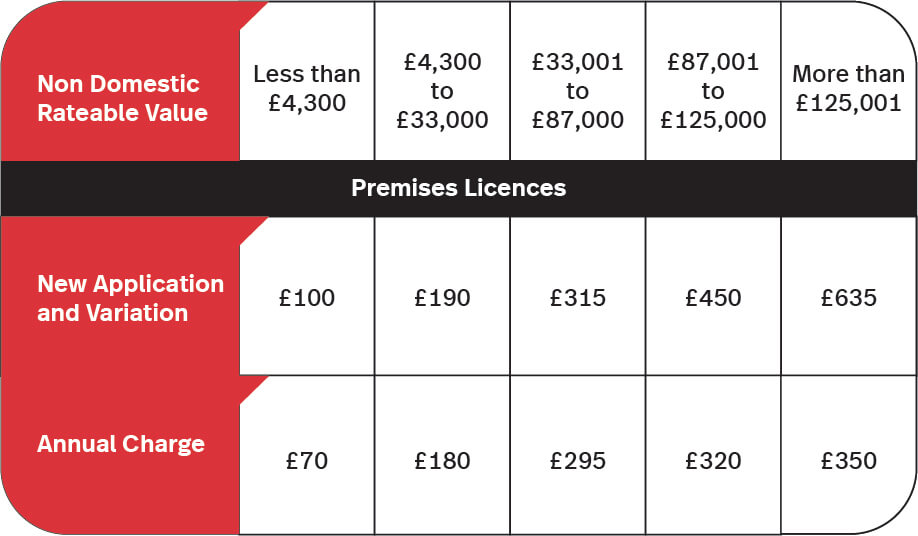 Your responsibilities as an alcohol licence holder
Booze is fun. That's why customers are willing to tolerate such a high markup for it, and why it contributes so much to your profit margins.
But there's another side to alcohol, one that has an effect both on individual wellbeing and the larger community. When you obtain an alcohol license, you become a supplier. With that status you're obliged to sell it responsibly.
Consumption of alcohol can pose huge risks. According to Drinkaware, 39% of all violent incidents reported in England and Wales between 2017/18 were perceived to be alcohol related. In 2019, deaths from drink driving were at their highest in a decade.
As a designated premises supervisor, you're not only responsible for the consumption of alcohol on the premises, you also act as a representative of the business. That makes you the first point of contact with local authorities, be it the police or civic council.
Asking for ID

It is illegal in the UK to sell alcohol to anyone under 18. Over 16s are allowed to drink beer with a meal provided they're with an adult. Over 16s can also serve alcohol in restaurants upon the license holders approval.

But how can you tell if someone is over 18 or not? Loose determinators such as whether they have a beard or how tall they are won't cut it. The most reliable way to find out a customer's age is asking for their ID.

However, when it's busy or you're training new staff, it is easy for these procedures to fall through the cracks. Getting caught selling alcohol to under-eighteens on your premise, however, can lead to severe legal consequences.

With a restaurant ePOS, you can add instructions to alcoholic items on your menu, reminding your staff to ask customers to show their ID.

Doing this is Lightspeed Restaurant is easy. Just do the following:

Step 1. In the Back Office, go to Configuration
Step 2. Click Settings> Production Instructions
Step 3. Towards the bottom of the screen click Add a production instruction
Step 4. Name the instruction "ID?" or "18+?"
Step 5. Click Save
Step 6. Go to Items

Step 7. For each alcoholic beverage click Edit under Actions
Step 8. Go to Production Instruction section and select the instruction from the dropdown menu.
Now when a customer orders these items, and a waiter or barman taps it on an i-Pad, they will be reminded to ask for ID.
What else can you do with Lightspeed Restaurant ePOS?
Watch our product demo and see for yourself.
Legal Measurements

Asking a customer for their ID can be a risky business. The customer may get offended, and end up with a negative perception of your restaurant. That's why it's important that your staff ask for ID in a tactful manner.
In the UK, you're required to serve alcohol in the prespecified measurements as follows,
Wine: 125 ml,

175ml

Spirits:

25ml, 35ml

Draught beer and cider:

full pint or half, third or two-thirds of a pint

Fortified wine:

50/70ml
Each beverage also can be served in multiples of their specific unit. For example, cocktails often contain double units. That would be two units of 125ml in this case.
To comply with the law, it's necessary to purchase measurements. When it comes to cocktails, where multiple spirits, as well as juice and sodas, can be added, jiggers make proportioning much easier. You can also buy them to measure wine and sherry.
Using measures makes beverage stock control much easier. Knowing exactly what amount of alcohol went in what beverage can help you calculate a better cost of goods sold, and better inform stocking decisions going forward.
What other licenses and certificates do restaurants need?
Now you know how to obtain an alcohol license, perhaps have a think about what other license and and certificates your restaurant may need.

Food Hygiene Certificate
Any business that handles food should have some way of ensuring their customers and employees that the food produced on their premise is safe for consumption. This is a food hygiene certificate: a document verifying your knowledge and practice of food hygiene.

It is a legal requirement that anyone who handles food must first be trained in food hygiene. The appropriate training course will depend on the food service role (bar, kitchen, bakery etc.)

Needless to say, food safety is incredibly important for a restaurant. So when hiring kitchen staff, make sure they have appropriate food safety training. Poisoned customers is the last thing you want on your plate (no pun intended).
PRS for Music license
If you wish to play or perform music on your restaurant's premises you may need to obtain a license from a PPL and PRS for Music. Any music played in a non-domestic environment legally counts as a performance and this is what you need a license for.

This gives you the peace of mind to play whichever music you like in your restaurants. The fee for a music license, much like that of a premises license, depends of the size and type of your business, amongst other things.
What licences do I need for alcohol delivery and click and collect?
To offer alcohol delivery, restaurant will need much the same license they'd need for any alcohol sales: a premises license and personal license.
Before implementing alcohol delivery, a business needs to authorise the supply of alcohol for consumption off premise by ticking a box on the second page of their premises license. In order for off premise sales to be legal, the beverages must be packaged and labelled for the customer on the licensed premises and nowhere else.
When applying for these licenses for the purpose of selling alcohol online or setting up an alcohol delivery service, you must clearly outline to the relevant authorities the steps you will take to make sure your products don't end up in the hands of anyone under the age of 18.
Licensing authorities also expect that:
Couriers are trained to ask anyone who looks under 25 for ID when delivering to doorsteps, much like one would at a bar.
A delivery log and log of refusals (for lack of ID) is kept.
Lightspeed Order Anywhere

Lightspeed Order Anywhere is a new online ordering platform where restaurant's can upload their menus and sell their products on our online ordering platform without commission fees or hidden charges.

That's what sets Lightspeed Order Anywhere apart from third-party online ordering platforms, and provides operators with effective means for increasing revenue without cutting into their margins.
In addition to saving you money, Lightspeed Order Anywhere allows you to offer flexibility to your customers. They can order without downloading an app, and can choose to pay hours or days in advance—all by simply scanning a QR code.
The platform also allows you to customise and modify the menus you display in a few clicks (by clicking on the "Update menu" button in the back office, your new menu is immediately available to your customers). With such easy menu changes, you can tailor a profitable takeaway menu with dishes that travel well.
What's more, Order Anywhere fits perfectly into your existing workflow. All orders received via Lightspeed Order Anywhere are automatically synchronised with your Lightspeed Restaurant ePOS software and sent directly to the kitchen. This seamless integration with your Lightspeed ePOS reduces the risk of manual error and eliminates the need to retrain staff.
Get licensed, get serving
Obtaining an alcohol license is a great forward step for your business. It will allow you to expand your network of suppliers, and grow your customer base.
Hopefully after reading this article you have a good idea of how to get an alcohol license, the responsibilities that come with it, and any other licenses your restaurants might be missing.
Curious what Lightspeed can do for you?
Talk to one our experts and find out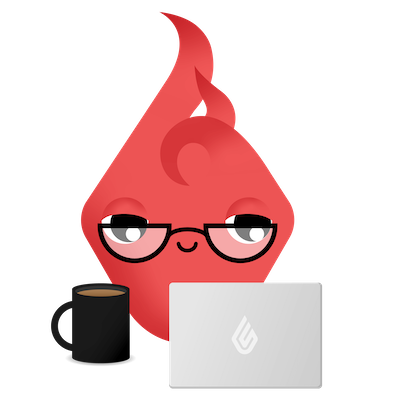 News you care about. Tips you can use.
Everything your business needs to grow, delivered straight to your inbox.