Whether you're opening your first location or your seventh, you'll need to make sure you secure the correct licences before you can legally commence operations. Luckily, the UK requires relatively few licences before you can open. In this blog, we'll delve into details about the following restaurant and bar licences:
Discover the trends shaping the restaurant industry
A global survey of over 8,000 hospitality operators and guests reveals how operations and consumer preferences have shifted in the past year.
What licence do I need to sell food?
Before starting a food business you will need to make sure that you are registered as a limited company with Companies House. Once registered as a limited company, you'll then have to register as a food business at your local council. You should register at least 28 days before opening your business.
Commercial buildings are classified based on their use. If your premises wasn't previously used as a food service business, it may be under a different classification. In this case you'll need additional planning permission from your local council to change its classification. Registering a business is completely free and cannot be refused – at least they make that part easy for you!
Alcohol licence
If you're running a restaurant or bar, it's likely alcohol will feature on your menu. Unsurprisingly, an alcohol licence is one of the main legal requirements for opening a bar or restaurant in the UK.
But here's the thing: there's no single alcohol licence that UK business owners can hold. In fact, you need two licences, one for your business premises (premises licence) and one for you or your bar manager (personal licence). Once you have both these licences, you're then also legally obliged to buy alcohol from suppliers approved by HMRC.
Premises licence
A premises licence is what authorises your business to buy and sell alcohol. It differs from a personal licence in that no individual can hold it, only physical locations. However, that location doesn't need to be fixed. If you're a pop-up, food truck or a party boat, for example, you will also need a premises licence.

A premises licence isn't just for alcohol either. You also need one if you plan to have evening entertainment in your restaurant, or to serve food any time between 11pm and 5am.
Personal licence
A premises licence alone is not enough to be able to sell alcohol at your restaurant. In conjunction with a premises licence, you also need a personal licence. This allows certain individuals to serve alcohol on a licenced premises. When you hold it, you become designated premises supervisor.
Under your supervision, non-licenced individuals can sell alcohol on a licenced premises, provided they are over eighteen (and know how to make a mean margarita).
How much is an alcohol licence?
A personal licence costs just £37, which you pay when you apply for the qualification. To pass you will also need to complete a DBS check which will cost you £23.
The cost of a premises licence varies depending on the rateable value of your commercial property. Either way, you will have to pay both an application fee and an annual charge. The higher the rateable value of your restaurant premise, the higher the fees for an alcohol licence will be.
See below a table of costs depending on rateable income: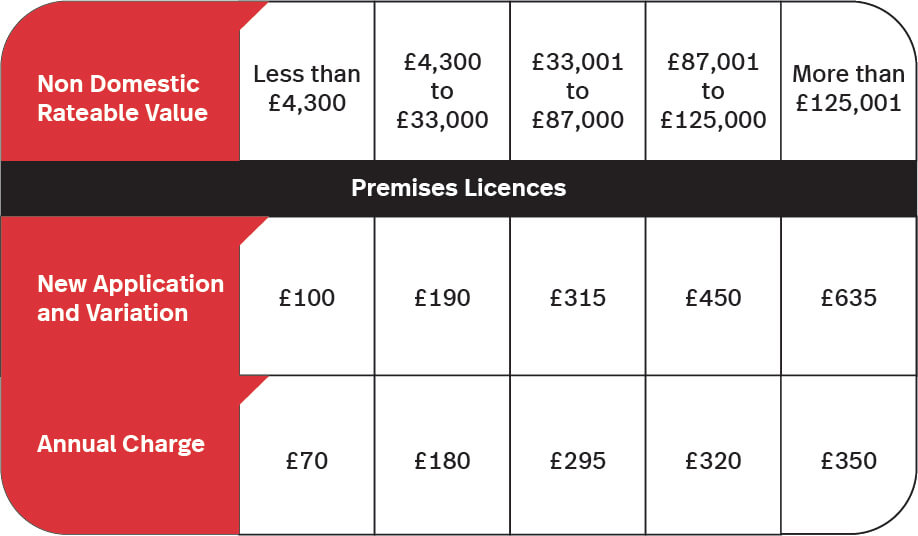 Pavement licence
Some local governments will require you to have a pavement licence to place tables, chairs and other furniture on the pavement. Rules, restrictions and fees vary region to region. Certain restrictions apply on how big the furniture can be. You will also have to leave an amount of pavement space free for pedestrian traffic and clearly mark the borders of your outdoor seating area.
When applying you'll need to supply a site plan and a public liability insurance certificate, and may be subject to fines if you fail to meet the requirement or fail to pay the licence fee. The cost of a pavement licence will vary by location, but it is capped at £100.
Liability insurance
Although not technically a licence or a permit, liability insurance is a legal obligation for a business in the UK.
Employers' liability insurance
If you plan to have employees, you're legally required to purchase employers' liability insurance. It helps cover compensation costs in the event that an employee becomes sick or injured at work. You must get employers' liability (EL) insurance as soon as you become an employer, and, according to the UK government website, your policy must cover you for at least £5 million and come from an authorised insurer.
The costs of employers' liability insurance depends on what type of business you're opening, its size (numbers of employees) and the amount of risks posed to employees while working there.
Public liability insurance
Public liability insurance covers claims against your business for damage to a customer's possessions or accidental injury to a customer caused by you or an employee. It's not a legal requirement for starting a business, but nonetheless good to have if something should happen to a customer on your premises.
The costs of public liability insurance also depends on the size and nature of your business. The average small business public liability insurance cost in the UK is around £118, assuming £2 million of cover.
TheMusicLicence
Planning to play or perform music on your premises? You'll need a licence for that too. Playing music without appropriate licences is copyright infringement. Music can contribute heavily to atmosphere and customer experience, so applying for a music licence, officially named TheMusicLicence is worth it.
TheMusicLicence is distributed by PPL PRS and its cost is dependent on what type of venue you are and how the music is used. PPL PRS charges tariffs based on business types. For bars and restaurants, licence fees are relative to the audible area in square metres. So the larger your premises, the larger the fees.
Get licenced, get ahead
Don't skip the step of getting the licences you need to start your hospitality business. It may not be the most exciting aspect of running a business, but failing to get the right licences will cost you a lot in the long run. Interested in how technology can help your hospitality business thrive? Let's talk.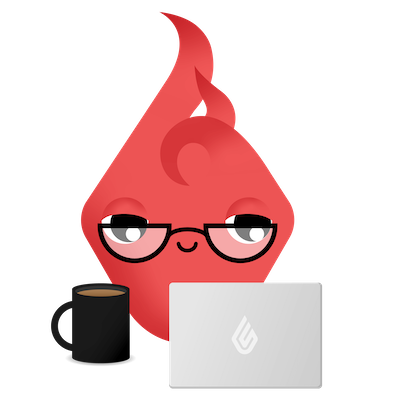 News you care about. Tips you can use.
Everything your business needs to grow, delivered straight to your inbox.