Summer is on the horizon. It's time to start thinking about how you can make your restaurant warm-weather ready.
According to Big Hospitality, 79% of UK diners would increase their dwell time in a restaurant if they could dine outdoors.
And, the benefits aren't just limited to dwell time. Try to think of an al fresco dining offering like opening a second location, without having to put in as much work. The more seats you have, the more customers you can serve, and the more money you can make.
Read our guide to al fresco dining to find out more about:
The ultimate restaurant expansion checklist
Whether you're planning to expand next week or next year, you can start making a solid restaurant expansion plan based on the five steps that we outline in this free guide.
What is al fresco dining?
In Italian, al fresco literally means 'in the cold,' but in English, it is used to mean 'outside' or 'in the open'. In its native Italian, al fresco also means 'in prison'. If you tell an Italian waiter that you'd like to dine al fresco, you may get a funny look.
Outdoor dining was once associated with our more sun-kissed continental cousins. Our dreary weather, it was thought, had forever rendered us a nation of pub dwellers, less privy to lunch under a parasol in our local town square.
But, that's changed. The UK now has a thriving outdoor dining culture, and al fresco dining spaces are a common sight in many city centres and towns. This is, in part, a result of the Covid-19 pandemic. Outdoor dining has gone from necessary to the norm.
The legal process for al fresco dining
You may be required to apply for a pavement licence to place tables, chairs, and other furniture on the pavement. Rules and regulations can vary from region to region, so you will need to check whether you need to apply for a licence before you get started.
You may face restrictions on how big the furniture can be. The furniture you use is required to be removable, not be a fixed structure, and be able to be stored away in the evening. You will also have to leave an amount of pavement space free for pedestrian traffic, and clearly mark the borders of your outdoor seating area.
When applying, you'll need to supply a site plan and a public liability insurance certificate. You may be subject to fines if you fail to meet the requirement, or fail to pay the licence fee.
If your customers want to eat outdoors, they are likely to want to drink outdoors, too. If you're planning to start selling alcohol at your restaurant, make sure you've got the appropriate licences to do so.
How to plan your al fresco dining space
If you decide to add an al fresco dining space to your bar or restaurant, make sure to follow these top tips for making your outdoor area a lovely place to lounge:
Make sure you have the room for it. This space could either be outside your restaurant (possibly overspilling into a pedestrianised street), or making use of space already on your premises – a front or back garden, or a car park.

The space you select should be the kind guests want to sit in, far away from any unpleasant sights or smells, and should be spacious enough to ensure your customers are comfortable.

Consider how to design your al fresco dining area. Plants add colour, texture and homeliness to any dining area providing they're properly looked after. However, be careful which plants you choose to place in your dining area; plants that attract insects or cause hay fever will drive customers away.

Think about the weather. Offering al fresco dining doesn't mean the rain won't still pour. If you want to be able to offer outdoor seating in all weather conditions, think about having a sheltered area, or awning in place to protect your customers from the rain.

Keep customers cosy. Investing in infrared heaters will warm the entire table area. Alternatively, consider soft furnishings. Danish brand,

Stoov

, is creating wireless, energy-saving heated cushions and blankets, designed especially for the hospitality industry.
It's also important to have a well thought out floor plan that allows for efficient service and optimal guest satisfaction. Make sure that it is accurately reflected in your restaurant ePOS — from which you can assign guests tables and keep track of tabs and orders.
How to adapt your menu for al fresco dining
When serving outside, you may want to create a new menu and diversify your offering. Consider dishes that are more specific to summer, and which promote a social style of dining. Tapas and meze plates are perfect.
It's also important to consider the weather conditions. You don't want to be serving food that needs to stay hot, as eating outside means the food will go colder, quicker.
With Lightspeed Restaurant ePOS, you can add multiple menus to your system, and have them functioning at different times of day and in different parts of your restaurant, or in parallel with a delivery menu. This makes the transition to al fresco dining seamless for you and your guests.
How to edit menus with Lightspeed

Quickly adapt your business to changing circumstances and shifting demands by making quick menu changes, without having to get a support team involved. This means that you can add and edit menus across many locations using just one system.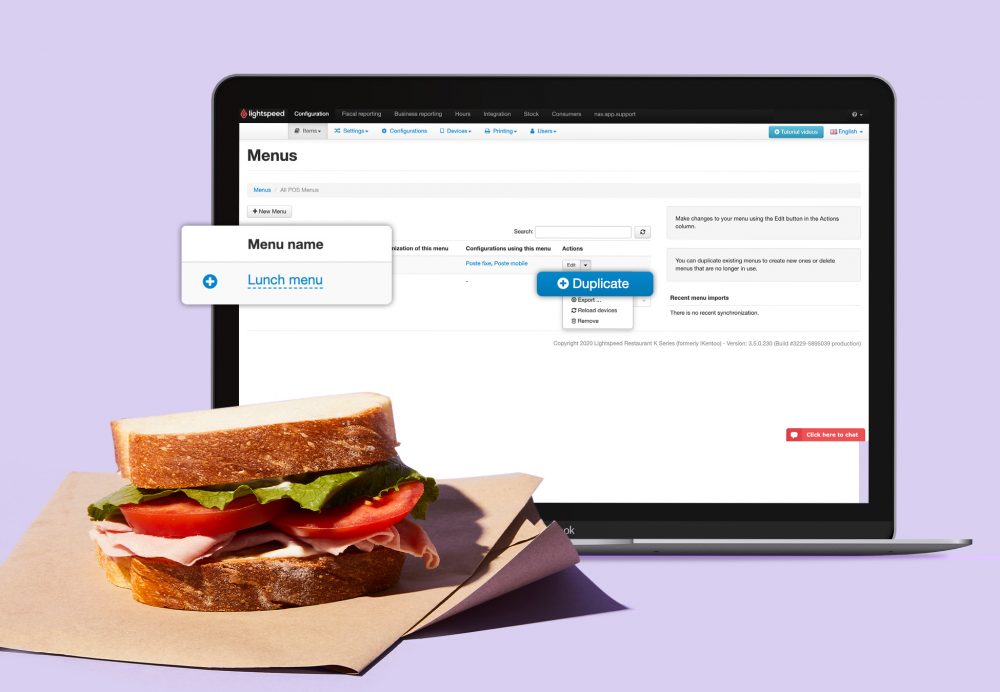 Here's how you can make easy menu changes from Lightspeed's back office:
You can adapt an al fresco dining menu from menus that already exist in your back office.

Go into Lightspeed's back office and click on the

Menus

section, here you'll see a clear overview of all your existing menus. In the drop down menu, there's an option to

Create new menu.

You don't want to think up a whole new menu, and luckily that won't be necessary. Select your a la carte menu, then select the

Duplicate menu

from the drop down menu.

Now that you've duplicated your menu, you can rename it and remove the items that aren't suitable for al fresco dining, and add any new dishes that are.
How to use technology to keep customers happy
Maintaining a positive customer experience in an outdoor setting is important. According to a poll by HospitalityGem, 48% of UK diners say slow or low-quality service puts them off eating outside.
Luckily, ePOS technology makes delivering table service al fresco much easier.
Lightspeed customer, Boundary London, is known for its rooftop terrace that's a buzzy hotspot come summer. By implementing a cloud-based system, Boundary was able to turn what was once a manual, time-consuming procedure – where staff would take receipts from the terrace and run them through to reception – into an automated, seamless process.
With an iPad ePOS system, waiting staff can send customer orders to the kitchen straight from the table. That way, employees no longer need to travel from the table to the waiting station to punch in an order for the kitchen.
Ordering meals via an app is an experience that customers aren't just familiar with, but expect. Offer a safe way to dine in at your restaurant with Lightspeed digital menus and contactless payment directly from the table. There's no need for customers to download an app, it's all done through unique QR codes linked to specific menus or tables.
As well as ordering meals digitally, paying on a phone makes the process easier for both guests and employees. Letting guests pay via QR code speeds up service and reduces wait times.
Online booking and al fresco dining
You can choose to make your al fresco dining space bookable, or keep it for walk-ins only. If you choose the former, it's a good idea to use an online booking system such as OpenTable.
These digital reservation tools give you the opportunity to separate indoor and outdoor bookings, and give customers the choice as to where they'll be seating. As well as making this a smoother booking experience, it helps you plan ahead, and have a better understanding of how many customers will be dining with you.
After your first summer season, you can delve into the data, analysing the number of indoor booking vs outdoor booking, and the popularity of outdoor bookings. This can inform your al fresco dining strategy going forward.
Al fresco dining: a win for restaurateurs
With the right technology in place, an al fresco offering is easy to achieve. As well as increasing dwell time, al fresco dining gives you the opportunity to test new menu items, and increase your revenue. Curious how Lightspeed can help your restaurant this summer and beyond? Let's talk.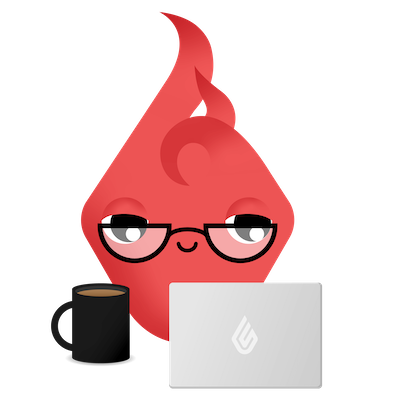 News you care about. Tips you can use.
Everything your business needs to grow, delivered straight to your inbox.