Al fresco dining may provide a solution to thousands of hospitality businesses across the UK, allowing them to operate at as large a capacity as possible.
This article serves as an introduction to outdoor dining — how you can implement it, what to consider and how to stay within the law.
As economies learn to live with coronavirus and the UK government announces its plan to allow outdoor hospitality by April 12th, we're likely to see al-fresco dining becoming more popular during the warmer months.

Luckily, a range of technology exists to facilitate this shift, and keep you adaptable in the face of ever-changing circumstances. We provide some tips on:

Equip your business for short and long-term success
Lightspeed Restaurant ePOS provides your restaurant with tools for longevity. Download our free casual dining guide and learn how to build a more resilient business.
What does al fresco mean?
In Italian, al fresco literally means 'in the cold,' but is used in English to mean 'outside' or 'in the open'. Ironically, al fresco has a more figurative sense in its native Italian, meaning 'in prison'. If you tell an Italian waiter that you'd like to dine al fresco, you may get a funny look.
Outdoor dining was once associated with our more sun-kissed continental cousins. Our dreary weather, it was thought, had forever rendered us a nation of pub dwellers, less privy to lunch under a parasol in our local town square.
But that's changed. The UK now has a thriving cafe culture, and alfresco dining spaces are a common sight in many city centres. As businesses seek novel ways to stay operational during the warmer months, al fresco dining has started to pop-up even more.
Why go for alfresco dining?
Given the right conditions, people love to eat outside. According to Big Hospitality, 79% of UK diners would increase their dwell time in a restaurant if they could dine outdoors.
This, unlike much of the news these days, bodes well for restaurants with outdoor dining spaces. COVID-19 is forcing us to reinvent our urban spaces, making them more open and pedestrianised. Not only could this help relieve town and city centres of problems like congestion and air pollution, it could also free up more space for bars and restaurants to open up al-fresco dining areas.
With spring around the corner, the desire to eat outdoors is getting stronger by the day. After months spent cooped up inside and abiding by lockdown restrictions, diners across the country are eager to get outside.
But pandemics aside, there are plenty of other reasons why you should offer al fresco dining. The practice of eating outside has been associated with multiple health benefits, including greater exposure to vitamin D. By opening up your back garden or front terrace space for al fresco dining, you'll be offering guests something that they may have been craving for a while.
Plan your alfresco dining space.
There are many things to consider before adapting your restaurant space for al fresco dining.
Make sure you have the space for it.

This space could either be outside your restaurant (possibly overspilling into a pedestrianised street) or making use of space already on your premises, a front or back garden or a car park.





The space you select should be the kind guests want to sit in — it shouldn't be near any unpleasant sights or smells, and should be spacious enough to keep customers and staff up to two metres apart at all times.

Consider how to design your alfresco dining area.

Plants add colour, texture and homeliness to any dining area providing they're properly looked after. However, be careful which plants you choose to place in your dining area; plants that attract insects or cause hay fever will drive customers away. Tasteful and cosy furniture is also a big factor in your guests al fresco enjoyment.

Have a well thought out floor plan that allows for efficient service and optimal guest satisfaction

. Make sure that it is accurately reflected in your

restaurant ePOS

— from which you can assign guests tables and keep track of tabs and orders.



For a truly attention-grabbing outdoor floor plan, consider hiring a professional architect or landscape designer. It may cost a fair few, but the difference it could make to your restaurant's foot traffic may make it a worthy investment.
Lightspeed customer
A Rule of Tum
expanded their restaurant into a 150 seat alfresco dining space,
alongside the existing restaurants at their Hereford site.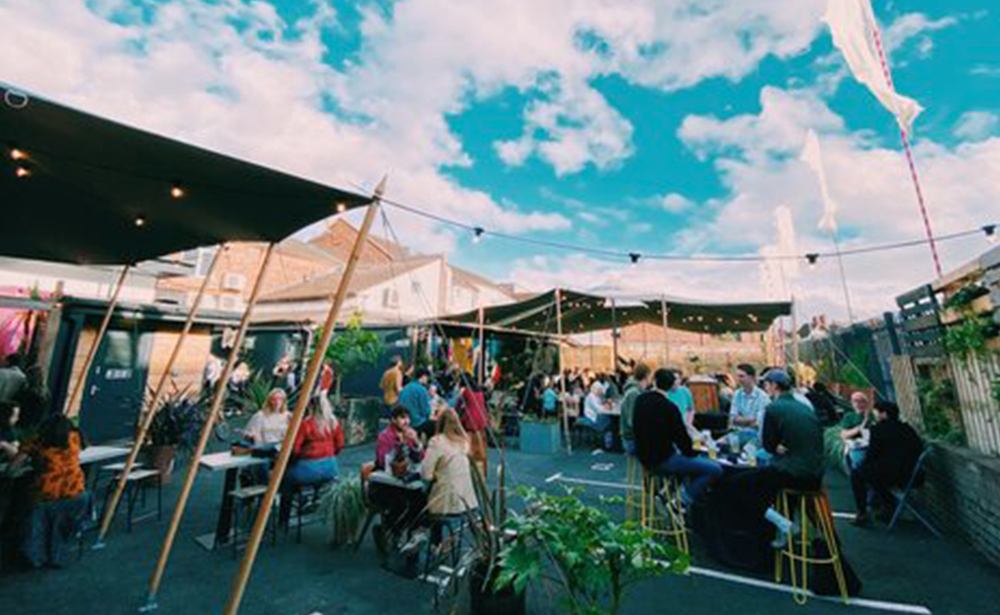 Lightspeed made expanding their offering easy – they could add additional menus to their ePOS, allowing staff to process orders and payments from each on one intuitive platform.
Management can now track revenue from each restaurant separately and access in-depth and detailed reports that inform future business decisions.
Adapt your menu for alfresco dining.
When serving outside you may want to create a new menu and diversify your offering. Talk with your chef about al fresco dishes, and even consider concepts like Tapas or Meze which are perfect for warm weather and promote a social style of dining.
Using an Lightspeed Restaurant ePOS, you can add multiple menus to your system, and have them functioning at different times of day and in different parts of your restaurant, or in parallel with a delivery menu.
Editing menus with Lightspeed.

Quickly adapt your business to changing circumstances and shifting demands by making quick menu changes, without having to get a support team involved. This means that you can add and edit menus across many locations using just one system.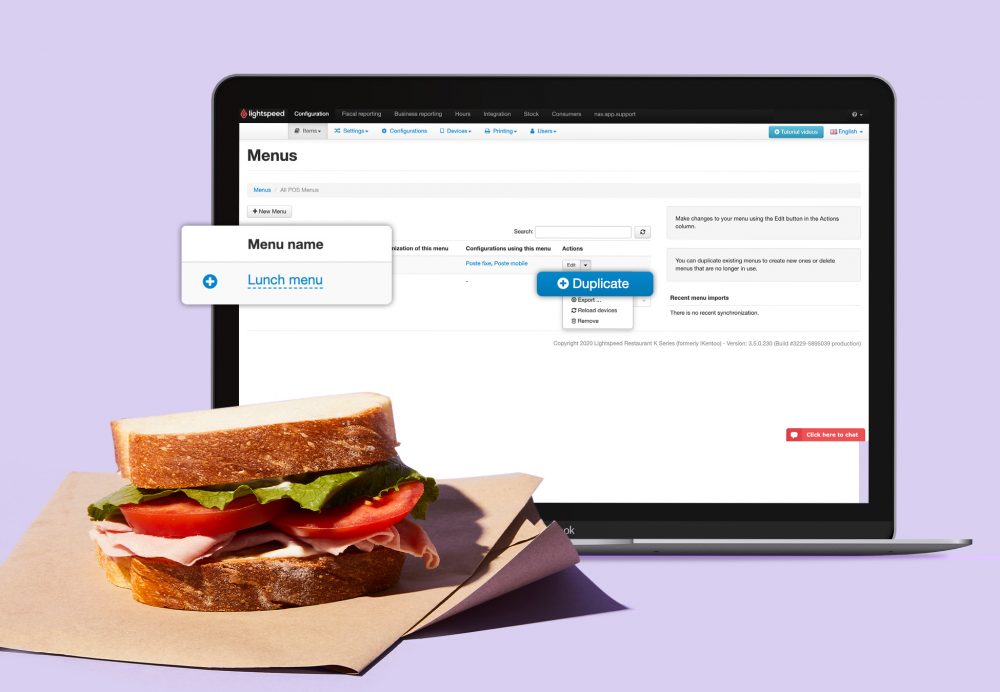 Here's how you can make easy menu changes from Lightspeed's back office.

You can adapt an alfresco dining menu from menus that already exist in your back office.

Go into Lightspeed's back office and click on the

Menus

section, here you'll see a clear overview of all your existing menus. In the drop down menu, there's an option to

Create new menu.

You don't want to think up a whole new menu, and luckily that won't be necessary. Select your a la carte menu, then select the

Duplicate menu

from the drop down menu.





Now that you've duplicated your menu, you can rename it and remove the items that aren't suitable for alfresco dining, and add any new dishes that are.



Download our free menu templates
You don't need to hire a professional designer to have a professional looking restaurant menu. Just download your free restaurant menu template.
Consider the customer experience
Maintaining a positive customer experience in an outdoor setting is important. According to a poll by HospitalityGem, 48% of UK diners say slow or low-quality service puts them off eating outside.
Luckily, ePOS technology makes delivering table service al fresco much easier. With an iPad ePOS system, waiting staff can send customer orders to the kitchen straight from the table. That way, employees no longer need to travel from the table to the waiting station to punch in an order for the kitchen.
You can also add customer tabs which make it easier to keep track of guests orders. Happy guests sitting on a terrace on a sunny day may spend a lot more money if you give them the facility to do so.
In an age of social distancing, more traditional payment methods like cash and chip-and-pin will likely go out the window. Introducing mobile-ordering solutions to your existing technology stack not only makes ordering and paying easier for both guests and employees, it also keeps them safe. According to mobile ordering integration Wi5, 57% of diners are more likely to order and pay at the table than before COVID-19.
This is partly due to awareness of the risks involved with physical contact in this time, but could also reflect the way consumers have gotten used to ordering their food.

Ordering meals via an app was growing in popularity way before the pandemic. Now, the process will have become even more familiar during the lockdown where many diners relied on delivery apps to carry on patronising their favourite restaurants.
Make sure you have a license.
Some local governments will require you to have a pavement license to place tables, chairs and other furniture on the pavement. Rules, restrictions and fees vary region to region.
Certain restrictions apply on how big the furniture can be. You will also have to leave an amount of pavement space free for pedestrian traffic and clearly mark the borders of your outdoor seating area.
When applying you'll need to supply a site plan and a public liability insurance certificate, and may be subject to fines if you fail to meet the requirement or fail to pay the license fee.
However, in a push to stimulate the UK hospitality sector, the government has announced plans to reduce approval time and remove fees for pavements licenses to make the process easier, helping businesses reopen and continue operations quickly.

If your customer wants to eat outdoors, likely they'll want to drink outdoors too. If you're planning to start selling alcohol at your restaurant, make sure you've got the appropriate licenses to do so.
When including an outdoor area in your premises licence, you're responsible for the consumption of alcohol in your al fresco dining areas as well as the rest of your establishment. Make sure you always ask for ID when uncertain, serve alcohol within the legal measurements and do your best prevent excessive drinking.
Don't fear the outdoors
These strange times throw up a lot of uncertainty. But they also create opportunities to reinvent ourselves, to change our approach, to learn and grow. If you're unsure about how to make your business work this summer, we hope this article provided some inspiration.
With today's technology, restaurants, cafes and pubs can operate in ways they never have before. As hospitality businesses adapt to the new normal, so will the technology we use to smooth out our day-to-day tasks and grow customer bases.
There is no one-size-fits-all solution to the problems we currently face, but armed with information and the right technology we can at least take a step in the right direction. Curious what Lightspeed can do for you? Let's talk.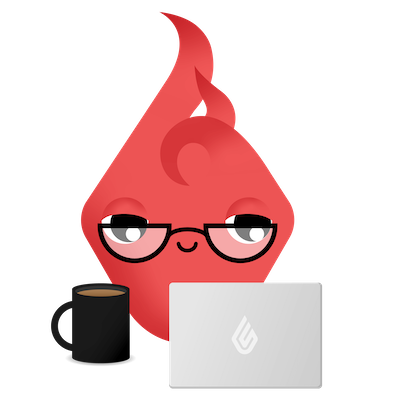 News you care about. Tips you can use.
Everything your business needs to grow, delivered straight to your inbox.