Table service took a big hit during the pandemic, government closures meant customers were unable to enjoy a dine-in meal for much of the year.

That doesn't mean, however, that table service should be consigned to history books. The desire to eat out is as strong as ever. As soon as they're able to, customers will come pouring back.

Restaurants, cafes, pubs and hotels need to be prepared for when that time comes. The best way to prepare is with a flexible, cloud-based ePOS system that helps you adapt to changes quickly.

From mobile table ordering to contactless payments—operators across the UK are looking to technological solutions to meet the new expectations of the post-pandemic diner.

In this post, we go into some detail about how a restaurant ePOS system can help you upgrade your table service, and bounce back stronger than ever.

Let us show you how Lightspeed Restaurant can prepare you for the new era of hospitality. We'll cover common pain points such as:
Bring your restaurant to the new era of dining
Learn how you can safely serve customers, add alternate revenue streams and increase business with delivery, takeout and order ahead.
Waiting tables becomes faster and easier
Traditionally, waitstaff would walk to and from tables, penning orders onto a notepad then returning to the clunky till on the other side of the dining room to punch it in. With more modern, cloud-based restaurant software, however, it doesn't need to be this way.
Lightspeed Restaurant gives waitstaff the flexibility to move around the dining room with ease. Staff can take and edit customers' orders and send them to the kitchen all from one place.

When staff have to make less trips across the dining room floor, they gain more time and peace of mind to deliver the kind of customer service that sets your restaurant apart.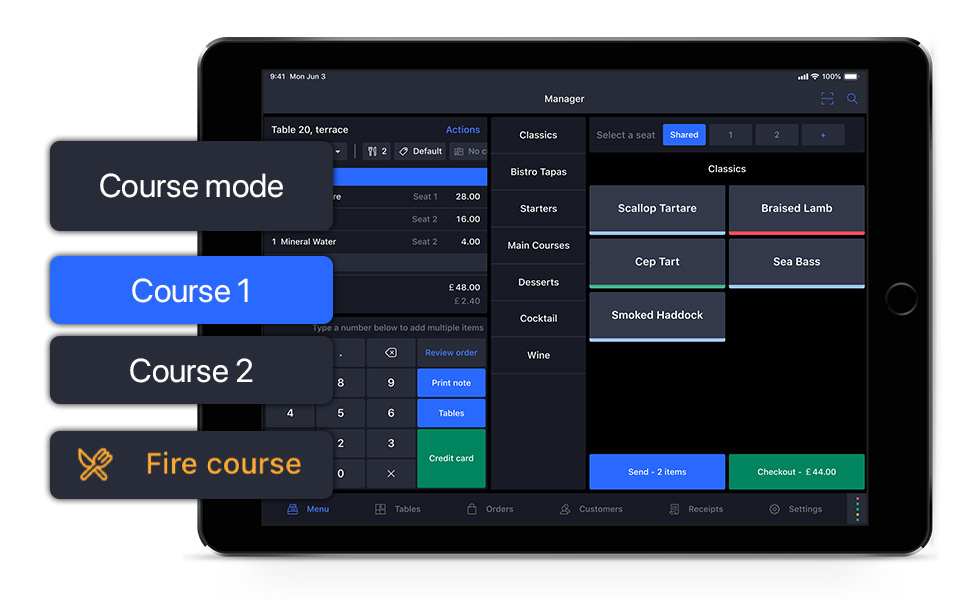 Waiting Tables with Lightspeed
Tap Tables in the ordering screen to select a table from your floor plan. Here you can select a table from the 2D, interactive layout of your restaurant's floor plan. Alternatively, you can tap in the table number using the keypad shown on the order screen.

Now that your customers are sitting comfortably, and you've opened their table on the ePOS, you can give them the option to order by course or by seat.

Ordering by seat

helps avoid confusion when serving customers. For example, if a waiter takes an order at the end of their shift, and has to hand over a ticket to someone else, the new waiter can see who has ordered what by looking at the orders assigned to each seat.

Ordering by Course

is exactly what it sounds like. The feature lets customers split their ticket into as many courses as they choose. Each time they wish to add a new course when making an order, you can simply tap

Add Course.

This features aids communication between the kitchen and front-of-house. Waiters can prompt the kitchen to prepare each course once customers are ready by tapping

Fire Course

.
Editing Orders with Lightspeed
Customers sometimes behave in unpredictable ways. When they unexpectedly move tables, or change their mind about an order, staff can efficiently review and edit multiple order items from Lightspeed Restaurant ePOS.

Tap Edit order on the order screen to access an overview of a table's entire. You're now in Edit mode, and can perform the following actions for menu items.
Assign to: This button moves items to another assigned course or seat. You can only use this transfer function if items have not yet been sent to your prep station.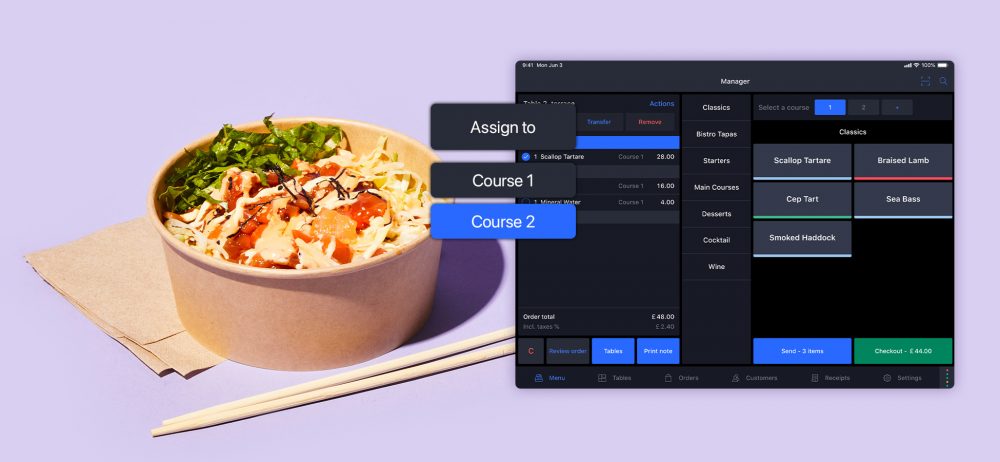 Transfer: Use this to move items to another table. Select the table by typing its number into the keypad, or by selecting on the floor plan.
Remove: If you have not yet sent the order items to the prep station, use this button to remove the items from the order
Personalise table service with product sequences
With a restaurant ePOS system like Lightspeed, you can create product sequences to personalise guest's orders down to the last detail. Offer several variations of a single product, so guests can tailor it to suit them.

For example, Nachos may be a single item on your menu screen. Product sequences allow waiters to offer guests a range of different toppings.
Adding product sequences with Lightspeed

First, you'll have to create the items you'd like to include in the product sequences. Do this by clicking Add item in the back office toolbar. This may include topping like Jalapenos, Cheese, Caramelised Onions and Pulled Pork.
Once you created all the items you'd like to include in a sequence click Create item sequence. You can name the sequence Nachos, and it will be stored as an item with its own SKU number.
When you select the sequence, you'll get an overview of all the items in the sequence. To add the appropriate items to the sequence, click Create new item group. Here you can add a group for each different topping you serve with Nachos and link your items to them.
When you select the item on your ePOS order screen, you'll be presented with all the items in the sequence.
Enhance table service with a sleek and intuitive mobile point of sale
Lightspeed gives you the tools to adapt. Talk to one of our experts and find out how you can drive your business forward today
Build relationships with customer profiles
A business is only as good as the experience it creates for customers. And what better way to enhance table service than with valuable customer data?
You can refine your restaurant customer relationship management and boost customer retention by adding customer profiles to your ePOS. Save customer personal details to deliver a more personalised restaurant experience.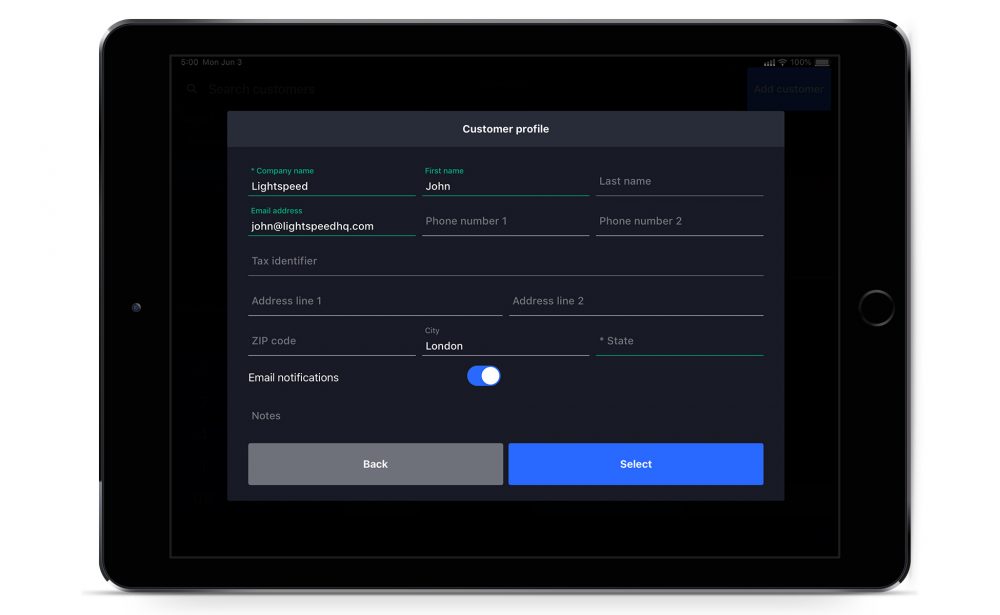 Once a customer has a profile, you can assign them to an order by tapping the Assign customer button on the order screen, and punching their name into the search bar. Having a profile on a customer can greatly enhance their experience:
Email customer's paperless receipts

Give customers the option to pay using preloaded gift cards, punch cards or QR-code enabled discounts.

Enable customers to expense a business lunch through their Tax ID number.
Control floor plans from one system
Your front-of-house staff may be heroes, but they're not superhuman. Keeping track of every single detail in the dining room can be a stressful job without the right tools. With a restaurant ePOS system, staff don't need to be everywhere at once to know what's going on.

Control the floor, increase efficiency, avoid costly errors and maintain a high standard of customer service with Lightspeed's advanced floor plan management features.

Floor plans can be customised within the ePOS to match the physical layout of your dining room. Once your physical dining room is digitally represented, you'll be able to see which tables are occupied and which staff member is managing a table.

Managing floor plans with Lightspeed

In the floor plan view, staff can see who is managing a table, as well as who has access to other staff members' orders, and who doesn't.

The name tag shows green when the table is being managed by the staff member currently using the POS. If the name tag shows orange, it means the table is being managed by another member of staff but can be accessed by other staff members, provided they have the access.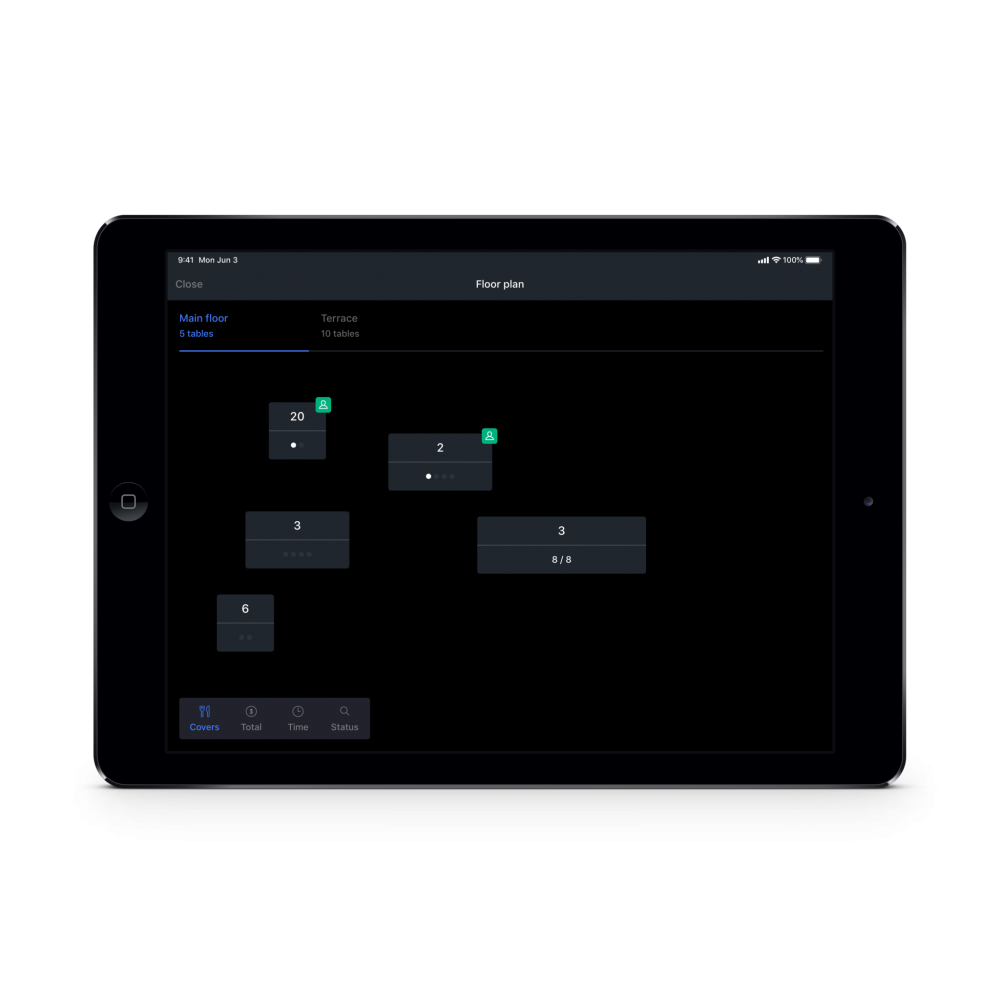 If a name tag shows red this means that the table's order screen cannot be accessed by the user.
Managers can monitor which staff are waiting on which tables. The restriction means that staff members cannot confuse each other's tables and make unnecessary mistakes.
Within the floor plan, you can use Filters to reveal specific information about different tables. Lightspeed lets you filter tables by the following:
Covers:

The total number of people seated at a table.

Total:

The total revenue generated by the table so far. This helps track revenue against time spent on the table. If revenue from a table is low, and guests exceed the average occupancy time for your restaurant—they can be moved along to make space for other guests.

Time:

See how long a table has been open and compare it to the average occupancy time of that table. If a table has been open longer than average, a green bar will show below it on the floor plan. If it's been open longer than the average occupancy time, the bar will show red.

Status:

Check where a table is in its lifecycle. Status shows how many courses the table has ordered, as well as the course currently being prepared by the kitchen.

This allows staff to know why they're approaching a table, preventing unnecessary intrusion, and making the customer experience as smooth as possible.
Take the pain out of payments
We all know that splitting a bill between multiple parties can feel like a painful process.
Luckily, Lightspeed's powerful bill splitting and payment tools reduce friction when the time comes to pay. Our advanced platform supports an entire slew of payment methods and bill splitting options—giving customers flexibility.

Moreover, offering contactless payments is more important than ever. A study by GoCompare found that 37% of UK adults now use contactless as their first choice payment method for purchases under £30.
Payments and bill splitting with Lightspeed
A customer is leaving slightly earlier than the rest of their table, and has requested to pay for their meal separately. No problem! Pull up the table's account, and tap Pay. You have the option to split the bill by Item, Cover or Seat.
Seeing that you took the table's orders by seat, you can also split the bill by seat. This way, each customer can pay for the items they ordered. The total will be subtracted from the whole amount. You can then alter the number of covers in the order summary using the +/- beneath the Covers tab
The rest of the table would like to split the bill equally. To do this, tap the Covers button on the payment screen. This will automatically split the total amount between all the covers left.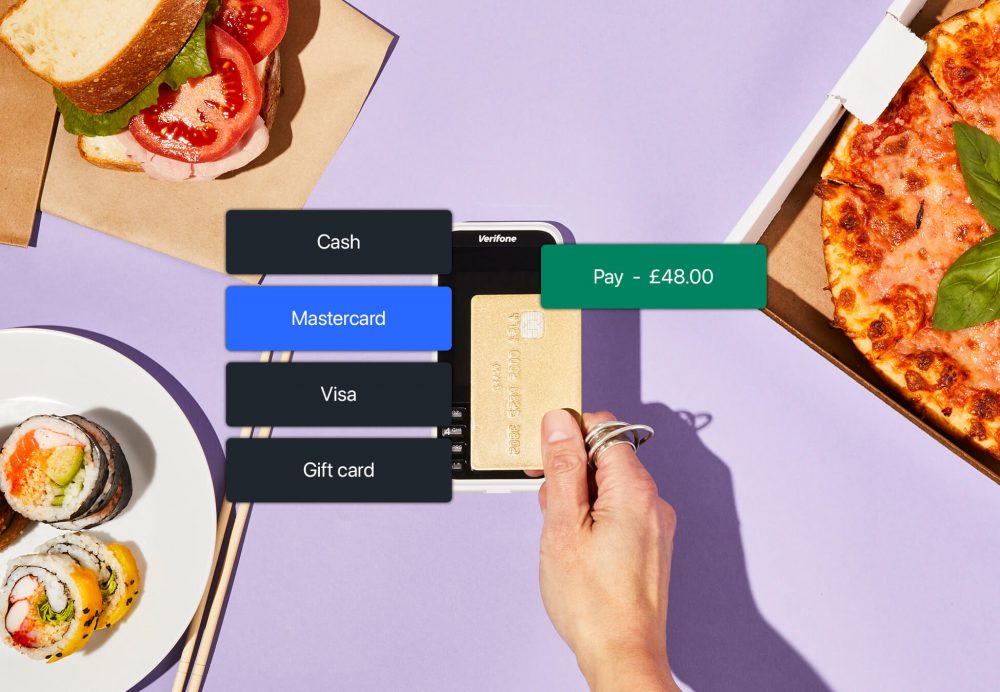 But wait, each customer would like to pay their share with a different payment method! No problem. Lightspeed accepts a broad range of payment methods which you can add or remove as you please in the back office.
One customer would like to pay with Mastercard, another with cash. You select their desired payment option, then take their payment.
The third guest has a gift card from your restaurant's loyalty programme. They can pay with this using the QR code option, where they scan a QR code on their phone to the iPad.

Process the payment using the Gift Card payment option; this will automatically open a camera with which a customer can scan their QR Code.
Get ready for the the new era of hospitality
Hospitality is changing. Technology has quickly become the norm for the bulk of practices. If you haven't embraced this technology, you could get left behind.

Want to know how Lightspeed could help you adapt? Let's talk.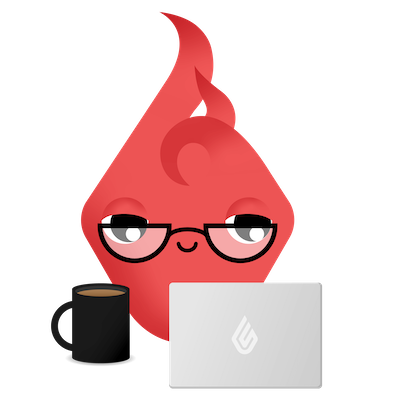 News you care about. Tips you can use.
Everything your business needs to grow, delivered straight to your inbox.