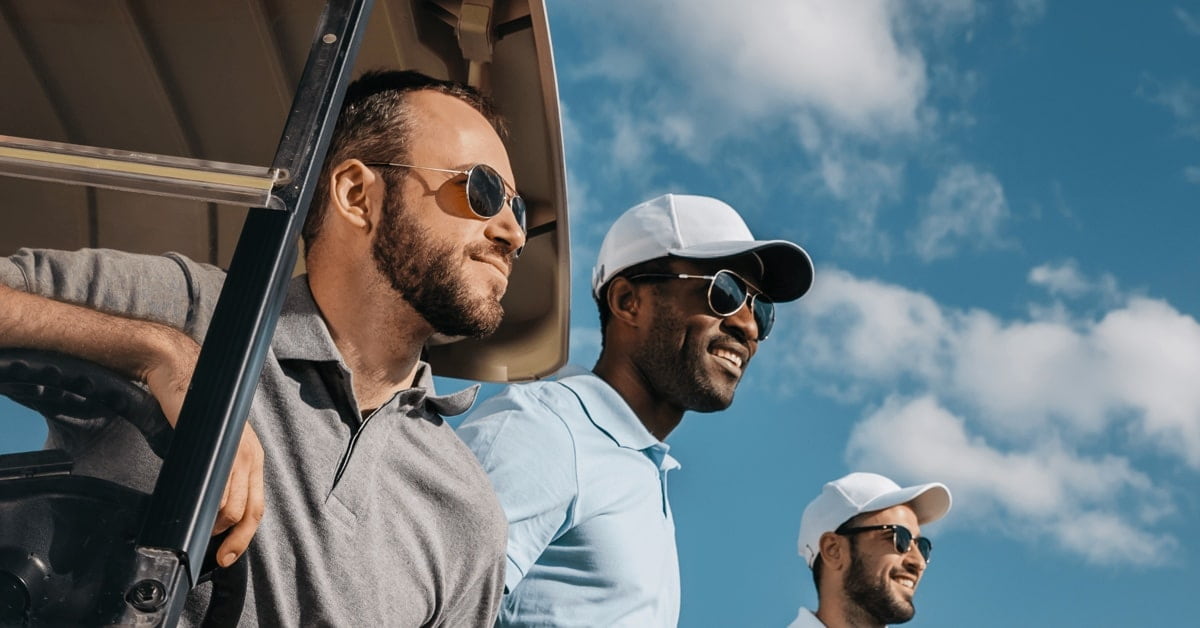 For whoever keeps saying millennial golfers and younger generations aren't interested in golf, it's time for a reality check. Since the pandemic, this could not be further from the truth!
Reaching, resonating with and delighting millennial golfers is a crucial strategy for any public or semi-private course, both now and in the future. But how to do it? Here are some thought starters you can think about putting to use at your course.
The Golf Marketer's Playbook
Not sure what golf marketing should look like in the 21st century? Don't worry, we're here to clear up any confusion you might have.
1. A smart mobile application
From shopping and entertainment to navigation, booking, communicating and more, our devices are indispensable. For millennials, this fact is even more acute: they spend nearly four hours a day on their smartphones. As a result, it's becoming increasingly important to give young golfers an easy way to book and pay for rounds on their smartphones.
With a mobile app, you also get an incredibly powerful marketing platform that allows you to send push notifications, discount green fees, and promote offers directly to the user's smartphone. Don't sleep on the opportunity to truly engage your younger clients where they are spending more and more of their time and their money.
2. Automatic mobile check-in
Taking mobile accessibility one step further, why not explore mobile self check-in? This feature allows a golfer to check in from the parking lot upon arrival, walk on the course and tee off seamlessly.
Not only does this cut down on wait times, it also frees up your staff to deliver better customer service where it counts. From a business perspective, there's a number of additional perks:
Firstly, a self check-in kiosk allows you to upsell additional booking extras such as food and beverage, pro shop merchandise and range balls.
It's also another way to collect customer data for your CRM for future re-marketing efforts.
3. Subscription-style memberships
Whether it be Netflix, Spotify or Amazon Prime, millennials have gotten used to low-commitment memberships that charge monthly fees. This model has pervaded the media and service industry and there's no reason why you can't put a similar model in place at your course.
Charging initiation fees and F&B minimums is a barrier for generating new members. Much like gym memberships, golf courses can generate interest from young people by offering a monthly subscription option that is billed automatically, provides a certain level of access to the course, and can be canceled at any time.
Managing these kinds of subscriptions used to be very complicated, but with modern golf course management software, tracking, billing, managing, and selling subscriptions is very simple.
4. Self serve POS in the restaurant
You can also explore the many efficiencies of self-service in your F&B operation:
Empowering customers to enter their own orders eliminates the risk of miscommunication with staff, and the kitchen receives more accurate tickets.
Streamlining the ordering process will help to cut frontline staff costs
It will also give servers more time to master the menu and better inform all customers.
With modern advances in cloud-based POS systems, golf operators can now access technology that once was only available to airports and big box retailers.
5. Serve more interesting beverage options
Here's a quick one that you can put into practice soon. From craft beer and ciders to hard seltzers and sodas, the craft drink craze is firmly established among millennials. For golf courses, stocking a few household brands just doesn't cut it any more. It's time to offer a more curated selection!
Do some research, talk to your staff and reach out to customers (both in person and via email marketing surveys) to find out which brands to stock.
An overlooked benefit of stocking craft drinks is the partnerships you can develop with local breweries, wineries and distilleries:
Sourcing and stocking these local products shows your course is invested in the community
It also sets up a number of marketing and sponsorship opportunities for the future
It's always wise to track sales and purchases with a good POS. You should make sure that the new beers you are introducing are actually selling, so make sure you track every possible data point.
6. Ditch the formal attire
Stuffy, hyper-formal dress codes imposed by many courses will only continue to put off millennial golfers. Millennials are all about self expression and when you limit them, you risk alienating them. Moreover, golf fashion has evolved.
From athleisure, tapered joggers and sporty golf shoes to vintage looks, bucket hats and tee shirts, golf style has been thrown into a blender in the past few years.
The biggest takeaway? Today's younger golfers are bucking tradition in favor of personal style, comfort, performance and fun. It may sound strange, but championing these new relaxed standards is a great way to make millennial golfers feel welcome.
7. Let your golfers play music on the course
Golf course operators should never forget that playing golf is a great excuse to enjoy beautiful weather with friends and family. And like beaches and parks, adding music to your time outdoors can be an additive experience.
As younger golfers move away from the traditional view of the game, playing golf in complete silence is becoming more and more alien. Allowing customers to play music at a reasonable volume in their carts through phones and portable speakers is an easy win for your course and one that millennial golfers will appreciate.
You can also take it a step further! Consult your staff and create a curated playlist on platforms like Spotify, Apple Music or Amazon Music.
8. Stop selling only 9 and 18 hole rounds
It's no longer realistic for courses to expect everyone who wants to play golf to do so for 4-5 hours. In fact, the time it takes to play on a busy Saturday or Sunday can be a major deterrent for casual or millennial golfers.
This doesn't mean they don't like the sport. It just means they would ideally like to play fewer holes before heading to the clubhouse for a drink or meal with friends.
Get around this and experiment by selling "rounds" in shorter, more custom configurations. You'll see people coming multiple times a week to play their favorite stretches of the course and to hang out at the lounge, increasing enjoyability and helping your bottom line.
9. See your golf course as an immersive experience
Every part of your operation should be designed to create an experience. Ideally, everything at your course should reflect each other in terms of ambience and atmosphere. Golf is a form of entertainment and that's why clients come to your clubhouse!
By creating a complete experience you'll leave an important and lasting impression of what visiting your golf course is like. Consider:
Add a number of golf simulator bays in your clubhouse
Add pool tables, arcade games, cornhole sets, ping pong and other table games to your clubhouse
Deliver an amazing pro shop retail experience by letting people test equipment
Try partner marketing and invite food trucks, craft beer vendors to set up by the clubhouse
Invest your driving range: add targets, Trackman, host night golf, demo days and other fun events
10. Create an omnichannel experience at your course
Millennials have grown up and gained purchasing power in the age of ecommerce. Shopping for goods and services online is second nature to this generation and it shows no signs of slowing down. That said, this generation also values great in-store shopping experiences. Look no further than survey data from our 2023 State of the Golf Industry report.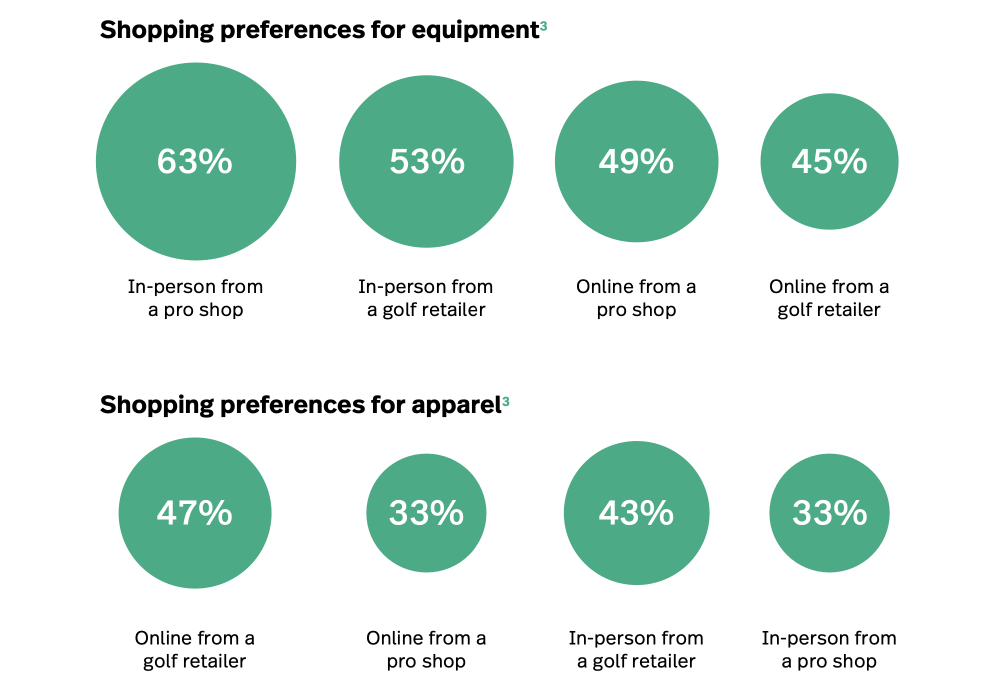 The takeaway? Empowering your customers comes down to going omnichannel and fusing the digital and physical shopping experience. Regardless of whether they are at the course, on their smartphone or at home on the computer, omnichannel means golfers can:
Book tee times online
Browse pro shop inventory online
Make pro shop purchases online
Make food and beverage orders online
Access key course updates and information online
Developing an omnichannel strategy is an excellent way to appeal to millennial golfers now, but it's also a sound investment in the future of your business. And with golf management software designed for omnichannel experiences, futureproofing your facility has never been more possible.
11. Ecommerce in the pro shop
Outside of online tee time booking, embracing ecommerce is the most crucial aspect of any omnichannel retail strategy. These days, you don't need to hire a web designer or even have a background in tech to get started. Today's ecommerce platforms are simple, do-it-yourself platforms with low cost and low risk.
Ultimately, this helps to even the playing field between large retailers and big-budget courses and small golf pro shop retail shops. Better yet, if you invest in a solid digital marketing strategy, ecommerce can help you unlock significant omnichannel growth.
When choose a platform to launch your ecommerce store, be sure to look for:
Easy inventory management
A platform that syncs to your POS
Customer data storage and management
User-friendly design
12. Create an amazing restaurant experience
For millennial golfers paying for daily fee golf, their experience at your course (and their decision to come back) is not based on the golf alone.
This is a generation that craves dynamic, complete experiences. And it's the quality of these experiences that determines if and when they will back. According to our 2023 Golf Industry Trends report, 67% of 18-34 year old survey respondents said that their overall experience at a golf course is what compels to play it again.
One major way you can create a great experience at your course is by ensuring your restaurant experience stands on its own. From the food to the ambience to the events, there are plenty of things you can optimize to deliver the best experience possible for a post-round meal.
Do your research, talk to your staff and do customer outreach to find out what people want from a restaurant
Test new menu options, work in old favorites and created a paired-down, strategic menu your staff can deliver on with excellence
Get creative with decor and table settings and lean into an atmosphere you can be proud of. It doesn't have to be fancy, it just has to be consistent and aligned with your course's personality
Switch to a restaurant POS that helps you both speed up and deliver better service
Host events and themed nights to get people excited about coming to your restaurant even when they aren't golfing
Brand your restaurant and market it as a unique experience
13. Refine your marketing and communications strategy
Young people can tell when they are part of an email blast list. Generic messages don't cut through the noise in our overcrowded inboxes anymore, to truly target the young marketing golf you need to refine your marketing and communications.
Personalize your marketing through email and text message marketing
Be active on social media, lean into your course's personality and show off your course in unique and exciting ways
Create dynamic, bold, unique ads that speak to younger golfers and leap off the screen
Work with golf influencers and create meaningful content partnerships millennial golfers care about
Millennial golfers represent the future of the game, and your customer base
The work you do now to create an amazing experience for millennial golfers will only serve you in good stead for the future. The tips and strategies listed above are a great place to start, but don't that be the limits of your research! Talk to your younger customers and staff members, engage with them and find out what they love about the game and their time at the course.
To be clear: appealing to millennial golfers doesn't mean excluding or alienating your other customers. On the contrary: making improvements to your course, your operations and your customer service will benefit every golfer that tees it up at your facility.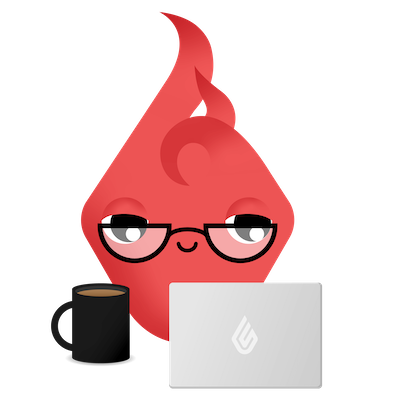 News you care about. Tips you can use.
Everything your business needs to grow, delivered straight to your inbox.