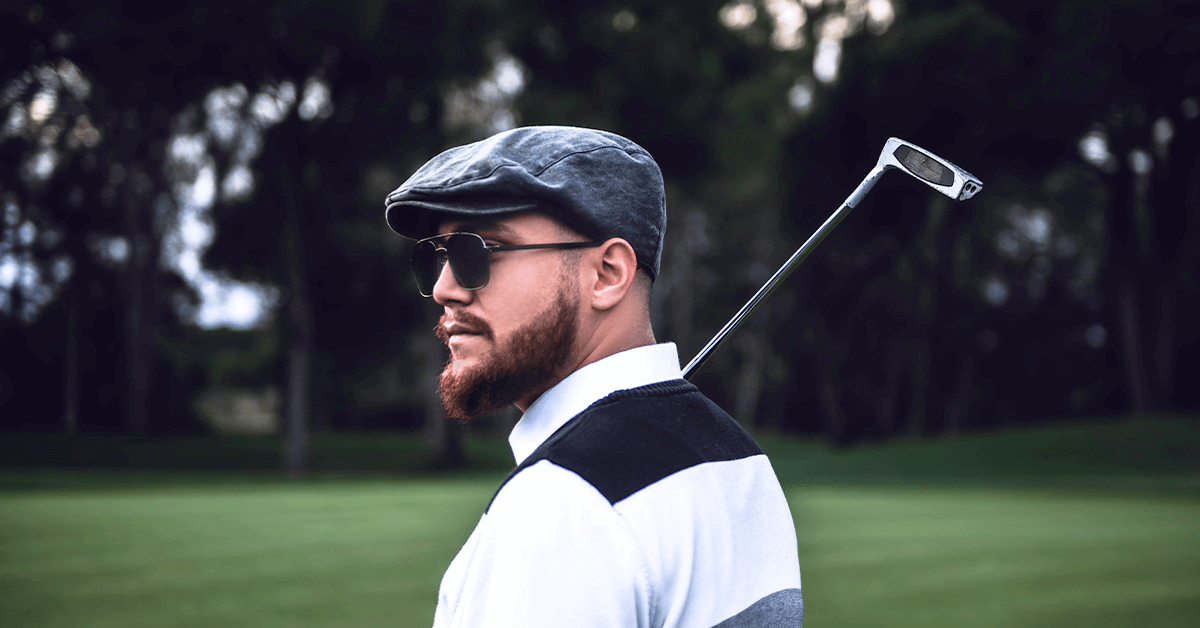 Ever since the pandemic drove millions of us outdoors to socialize and find new activities, golf has enjoyed a sustained, near-unprecedented rise in popularity. This increase in participation has coincided with another exciting development: a growing number of online golf influencers are creating a thriving online community and playing a key role in redefining golf's culture for younger generations.
On online channels like YouTube, Instagram and Twitter, as well as on the course, golf is cooler, younger, more stylish and more diverse than ever.
Considering meteoric rise of the golf influencer community, and the fact 83% of 18-34 year olds who watch golf influencer content are more likely to visit a course or driving range, it's important for golf course operators to learn more about golf influencers, the effect they are having on younger golfers and how to leverage the benefits of golf influencer marketing.
The Golf Marketer's Playbook
Not sure what golf marketing should look like in the 21st century? Don't worry, we're here to clear up any confusion you might have.
A background on influencer marketing
What started as an outlier method of marketing has become one of the most effective forms of showcasing products, services and lifestyles to passionate audiences.
From retail stores and restaurants to travel, tourism and entertainment, businesses across industries leverage influencer content to create more organic, experiential, user-verified marketing experiences.
Instead of directly selling products and services, the best influencers sell their personalities, experience, lifestyles and authority on a given subject. From there, everything from the products and services they use to the destinations they visit become aspirational and desirable to a given audience.
This is why brands are so keen to sponsor these influencers—they are reliable, popular third parties that lend credibility to products and services by actually using them.
Key stats you should know about influencer marketing
According to Hubspot:
In 2022, the influencer market in the U.S. was valued at a record 16.4 billion
1 in 4 marketers currently leverage influencer marketing
72% of Gen Z and Millennials follow influencers on social media
50% of Millennials trust product recommendations from influencers
YouTube micro influencers (those with 100,000 to 1 million followers) have the highest engagement rates on the platform
28% of consumers from the United States report following at least one virtual influencer on YouTube
So, what about golf influencer marketing?
Golf influencers have traditionally been tour players and professionals.
From the apparel they wear to the equipment they use, they have always been an aspirational standard to which amateurs, weekend golf enthusiasts and consumers look to when deciding what to buy, where to play, what to watch, etc.
The Tiger Effect
In this context, no player has made a bigger impact than Tiger Woods. With his play, his swagger and his style, he made golf look cool, athletic, modern and edgy in a way that had not been seen before. He inspired a whole new generation of golfers and almost singlehandedly reshaped the culture of the game through the 2000s.
Before online influencer marketing took off, brands like Nike, Buick, Bridgestone, TaylorMade and the PGA Tour have leveraged Tiger's influence to lend credibility to their brands, generate buzz and sell to consumers.
New era, new influencers
Decades on from the 'Tiger Boom', and a new generation of golf influencers is using social media to:
Grow their own personal brands
Create amazing golf content
Create an exciting new culture around the game
Drive new interest in the game from younger generations and new demographics
Monetize their influence
From ex-professionals and collegiate golfers to current professionals, equipment fitters, everyday golfers and cutting-edge direct-to-consumer brands, the list of golf personalities influencing the modern look and tone of the game continues to grow.
And some of the biggest brands and names in the world of golf are starting to take notice.
Who are the most popular golf influencers?
As the list of online golf influencers continues to grow, it's important to recognize the individuals who are moving the needle most significantly.
And while they are all seeking to carve out a unique place in golf's shifting cultural landscape, it's important to consider the collective impact of their content: it's making the game seem cooler, stylish, relatable, accessible, fun, informal, data-driven and newsworthy.
Rick Shiels
2.5 Million YouTube Subscribers
662,431,443 views
On-course vlogs, podcasts, reviews, instruction
Why is Rick Shiels such a popular golf influencer?
A former golf teaching professional based in Manchester, UK, Shiels started his YouTube channel back in 2011 and primarily focused on golf instructional videos.
Since then, he has expanded his golf media enterprise and has become one of the most popular and influential golf personalities in the world.
Highly strategic and staunchly independent (so he can remain impartial in his extremely popular equipment reviews and YouTube content) Rick has still used his influence to sign brand ambassador deals with Lyle and Scott and Toptracer.
He also frequently partners with The R&A to create Open Championship-related content
His Break 75 content series has generated tens of millions of views on its own and it's allowed Shiels to create content at some of the most famous golf courses in the world.
His channel has featured some of the biggest names in Golf—Tommy Fleetwood, Adam Scott, Sir Nick Faldo, Lee Westwood, Bryson Dechambeau, Rickey Fowler and more.
Good Good
1.17 Million YouTube Subscribers
247,077,107 views
Fun, laid-back, on-course videos and team challenges, apparel company
Why is Good Good Golf so popular?
Part golf apparel company, part incredibly popular YouTube channel, Good Good features five golfers: Garrett Clark (founder of GM Golf—another YouTube channel with 866K followers in its own right), Matt Scharff, Stephen Castaneda, Luke Kwon and Thomas "Bubbie" Broders
A mix of dynamic personalities and skill levels, the Good Good crew film on-course scramble challenges and creative team format videos at various courses across the USA
Laid back, good natured, enthusiastic and highly entertaining, Good Good videos show golf through a modern lens and specifically target Gen Zs and Millennial audiences
The crew wear Good Good apparel during every video they release, marketing new seasonal drops and the various patterns available via their website
In January of 2023, Good Good and Callaway announced a partnership that sees the crew use Callaways clubs and, eventually release clubs with Good Good branding.
As part of the deal, Good Good has created videos featuring Callaway ambassadors like Masters champion Jon Rahm, Sam Burns, Annika Sorenstam and more.
Paige Spiranac
3.7 Million Instagram Followers
324K YouTube Subscribers
On-course vlogs, commentary, instagram photos and videos
Who is Paige Spiranac and what does she do?
A former Division 1 golfer at both ASU and San Diego State University and a former professional, Paige Spiranac has become one of the most popular golf social media personalities going
Blending on-course vlogs, lifestyle content, instructional videos and more, Paige has arguably become one of the more influential figures in golf's new media landscape
She is a brand ambassador for PointsBetUSA and a former ambassador for PXG golf clubs
No Laying Up
425K Twitter Followers
132K YouTube Followers
Ranked 13th on Chartables list of United States Sports Podcasts
Podcasts, media and journalism, videos, commentary
What is No Laying Up and what do they do?
Made up of self proclaimed "fanalysts", NLU creates podcasts, written journalism, digital videos and social media content for devoted fans of the game
Their in-depth coverage of PGA Tour players, range of golf podcasts and entertaining content has resulted in a passionate audience and a reputation as one of the most respected modern media golf entities in the USA
At the beginning of 2023, Titleist announced they were partnering with No Laying Up for both equipment and content creation
Who are some other popular golf influencers?
While the golf influencers listed above are certainly at the forefront of the industry, there are hundreds of other creators, brands and personalities gaining more visibility and influence every day. Here are some other notable golf influencers to familiarize yourself with:
Me and My Golf: Golf instruction – 875K YouTube Subscribers
Kyle Berkshire: Long drive, course vlogs – 529K Instagram followers
Zire Golf: Social media, commentary, crowd-sourced videos – 1.5 Million Instagram Followers
Peter Finch: On-course vlogs, equipment reviews, instruction – 536K YouTube Subscribers
Random Golf Club: Apparel, accessories, on-course vlogs, storytelling – 256K YouTube Subscribers
Metalwood Studios: Apparel and lifestyle brand, golf nostalgia, asesthetics
Claire Hogle: Instruction, vlogs, social media content – 111K YouTube Subscribers
Bob Does Sports: On-course vlogs, podcasts – 414K YouTube Subscribers
Tour Experience Golf: Club reviews, fittings, testing, instruction – 211K YouTube Subscribers
The list goes on. Need more convincing that these types of personalities are here to stay? Many of them landed themselves on Today's Golfer's list of The 100 Most Influential People in Golf.
How can course operators leverage influencer marketing tactics?
For golf course operators, the question becomes how can they learn from this group of influencers, or even work with them?
1. Follow them on social media
First things first: the best way to learn about the benefits of golf influencer marketing is to follow the accounts above and keep tabs on who is making an impact online. It may not always be your cup of tea, but it's essential to understand how younger golfers are interacting with the game both on and off the course.
Following them is also an ideal way to see what is trending in footwear, apparel and even on-course activities. These influencers are on the forefront of golf trends. You can rest assured that juniors, high schoolers and young professionals (in other words, your customers and members of the future) follow them and are heavily influenced by them, both in how they play the game and shop the game.
2. Invite them to create content at your course
This may seem like a stretch, but it really isn't! Influencers and content creators are always looking for places to play and shoot content and your course may be the perfect fit.
It's a great way to build awareness of your course on YouTube , reach new audiences, show off your property and build lasting relationships with young golfers.
For an example of how this works in practice, Good Good will travel to various courses, shoot content for a week on the property, giving these courses hours of shareable content that is seen by hundreds of thousands of passionate young golfers across YouTube, Instagram and other channels.
Best of all, reaching out to these content creators and influencers is easy with social media. And while it will work, your efforts will pay off if you can establish an effective partnership.
Begin interacting with them on their social media platforms, that way they'll be much more likely to pay attention and partner with you once you ask them. Leaving likes and comments are the perfect way to introduce yourself to an influencer. Make sure that the comments you leave don't sound generic, take the time to actually think of an insightful or interesting comment.
3. Reach out to local golfers and influencers
While it may be challenging to work with the upper echelon of golf content creators, that doesn't mean you can't leverage young golfers and creators in your area to create golf influencer marketing content.
Local golfers that have a sizeable following can be the perfect candidates for social media influencer marketing. They're a great way to reach your target market as many of their friends and followers will be golfers in the same area. It'll also be much easier to get them out onto your fairways to create some content since they won't have to travel far.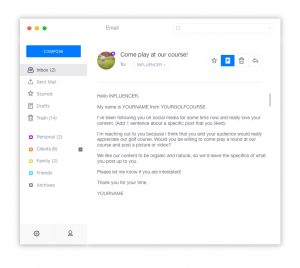 Know how to reach out
Deciding what to offer is often case by case, and knowing what works best comes with time. If you're reaching out to someone with a relatively small follower base (1500 followers or fewer) you might want to offer them a free round and some merchandise.
If you're reaching out to someone with a larger base, you need to offer something more valuable. You'll also want to check out all of their posts to see if they've partnered with another company in the past. If they have, they might be more selective and have bigger demands than a first-timer, so keep that in mind when deciding what to give away.
You also need to decide what kind of post you would like the influencer to make. One of the most easy and effective ways is to have them come play a round at your facility and have them take pictures or videos of themselves. You'll be able to show off the beauty of your course in a more natural way, and the content will feel much less forced than a pure advertisement.
If the influencer has a large follower base on a platform that allows for long-form videos, like Facebook and YouTube, you may want them to review your course.
4. Get your head pro to make great content
Reaching out to influencers is great, but you've got a great marketing channel that you're already paying for at your course. Your head pro has a wealth of knowledge on the sport of golf, and chances are they're willing to spread that knowledge with others. Golf is a highly technical sport, meaning that players are always looking for tips and advice on how to improve their game.
The point of a golf influencer marketing strategy is to get golfers who aren't currently your clients to find these videos and learn about your golf course through them instead of through advertisements.
This is the perfect way to begin building customer relationships as you start out by providing value to those potential customers without asking for anything in return.
Start with tutorial videos
Tutorial videos are both extremely helpful and easy to make. And best of all? There are thousands of swing tips and tricks to cover, so you can never really run out of content ideas.
Help your head pro out as much as possible by giving them the resources that they need. Provide them with a good camera (a sound investment as it can be used for your entire social media strategy), the time to make the videos, and another employee to help record.
Keep in mind that your social media strategy is not specifically tailored for sales messages, you need to use the platforms as a way to build relationships and create a community around your business.
Doing so will build loyalty and ensure that your golf course will thrive for years to come, instead of bombarding people with one time deals that will only serve to fill up your tee sheet for an upcoming weekend.
Share these videos effectively
Your head pro's Instagram, Facebook, and YouTube pages should be the home for the videos, but they can also continue to share their own personal content as well. M
Make sure that your golf course's social media pages are tagged in all of the content to drive traffic back to you.
You can also post these videos to your golf course's social media pages as well. This kind of content is highly engaging and will help your pages, while also sending traffic back to your head pro's pages.
Sharing content between these two channels will build both audiences and lead to a higher number of quality posts.
Get creative!
Don't be afraid to get creative with the types of content that your head pro posts. If they've got a cool trick shot they want to capture, that can definitely lead to more eyes on their profile. They're also the perfect source of information for blog posts about the golf world.
Articles that show off opinions or insights are often interesting and can help vary the content on your blog, which is usually mostly filled with news or information about events at your course.
5. Incentivize guests and members to create and share content
It doesn't take much to get a golfer to promote your facility. Good service, good golf course conditions and a great experience – that's all it would take to entice your members and guests to post their on-course pics and videos, and tag your golf course. See it like a more authentic and shareable Yelp! or Google review. This type of grassroots golf influencer marketing can really pay off the more times people tag your course and speak about it positively.
Start your influencer campaign today!
Regardless of your thoughts on influencer marketing, it's clear that golf influencer marketing and golf influencer content is an industry game changer. Understanding this new online community of creators and learning from their example is a great way to stand out from the crowd and take your online presence to new heights.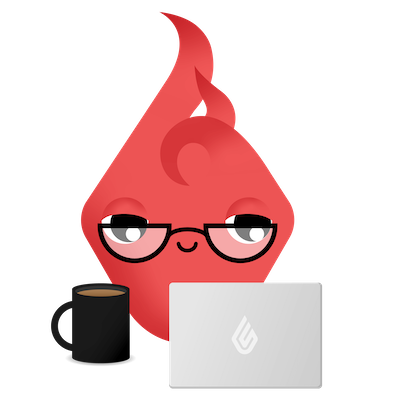 News you care about. Tips you can use.
Everything your business needs to grow, delivered straight to your inbox.