Caffe Napoli's success has always lay in the simplicity of its core offering: Neapolitan espresso with cremina and sugar. Whether you're in Milan, Naples or London's West End, you get the same traditional Italian espresso, made with the love and care of well-trained staff.

A combination of quality, consistency and simplicity is what distinguishes Caffe Napoli from other cafe brands. But getting to where they are today—with 24 locations across both the UK and Italy—took bold acceptance of innovative new technology.

In this post, we talk with CEO and founder Fabio Compagnoni about how Lightspeed and its integration partners helped him ignite his business' potential through digitalisation.
Putting faith in the cloud
In 2015, Caffe Napoli opened their first location in Milan. Six year later they boast twenty four locations spanning four cities.

Their unfettered growth, however, brought with it its fair share of challenges. Principally, how to maintain a consistent brand and product across so many locations.

If Caffe Napoli were going to continue to grow, they needed some way to gain oversight over all their locations quickly and easily. For Fabio, the answer lay in the cloud. As a cloud-based ePOS system, Lightspeed stood out.

"We chose Lightspeed because, running an international operation, we needed to be able to access and collate business data from where we are," says Fabio.

"If I'm in Italy, for example, I can look into the London location directly from the back-office. That's why we started using Lightspeed across all 24 of our locations"


Scale your multilocation business
Managing multiple locations? Scale and simplify with a one-stop commerce platform
Straightforward system, speedy training
But adopting a cloud-based ePOS system was just the first step towards greater digitalisation. Fabio soon came to appreciate just how beneficial a one-stop platform like Lightspeed was to his business.
So much so that he decided to make the system part of his staff training programme. He opened a designated training location that replicated a Caffe Napoli shop inside and out. There he dedicates three of his staff to teaching Lightspeed to new employees.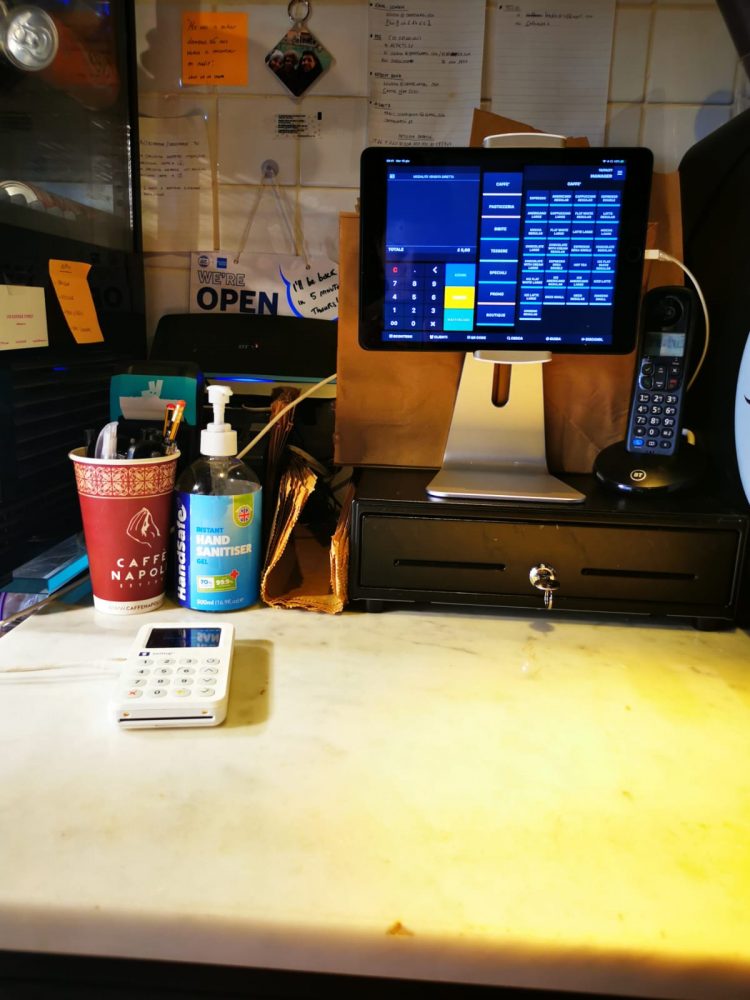 "I have a team dedicated just to learning and teaching the a to z of Lightspeed. With 24 locations, I need to ensure that each has the same technology, that they can receive the same support," adds Fabio.

"This way I can consolidate a consistent structure across all locations. So when we open our next location, it'll be a much quicker process."
Use data to get the most of out of staff

Once staff are trained and ready to go, Fabio can continue to track their performance in the Lightspeed back office. There he can access an overview of turnover rate, number of receipts and average transaction value per employee across all locations.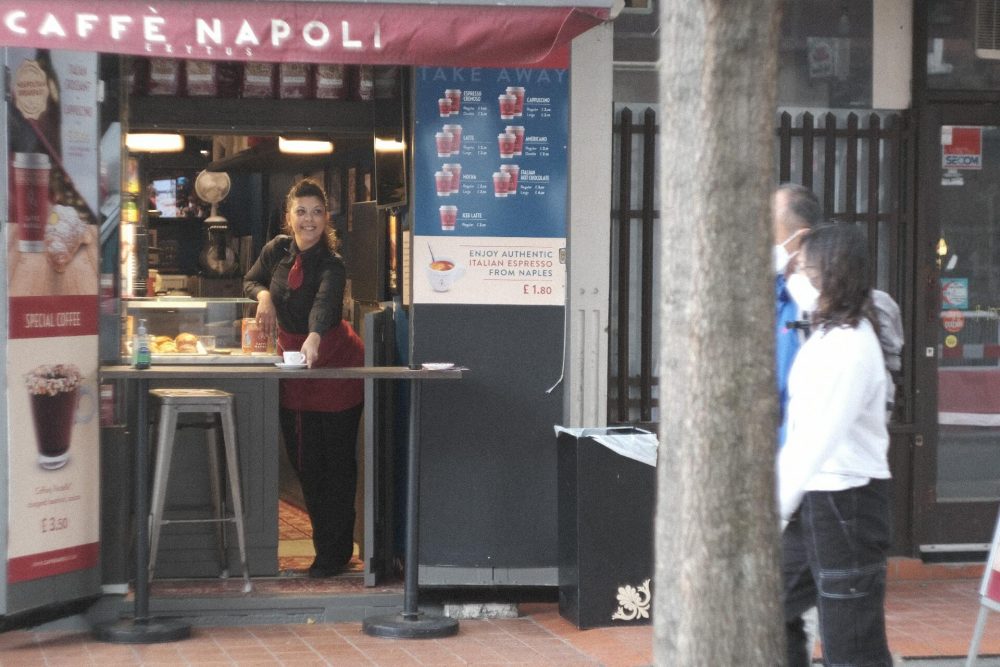 "I use that data to create goals for my employees," says Fabio. "For example, I can take the average transaction value across all my employees and locations, then give them a bonus if they increase it by 10% in a week. It's great for motivating my baristas. I can aslo track turnover by employee to see which staff are bringing in the most revenue."

With clear oversight on employee performance, Fabio can work to reduce his labour costs while improving employee satisfaction in the process.
Achieving consistency while staying flexible

When Caffe Napoli opened their London location in 2016, the strategy was to cater to the Italian community in Fitzrovia, who largely worked in restaurants and had a lot of use for a grab-and-go style espresso bar.

But despite the abundance of Italians working at the high-end restaurants of Fitzrovia, Caffe Napoli still needed to adapt it's offering to a UK market.
And so a new challenge arose: how to adapt their menu and product to a new market while remaining consistent with their brand.

"Our principal is espresso with cremina, a traditional style espresso like our grandmother makes. We sell it everywhere"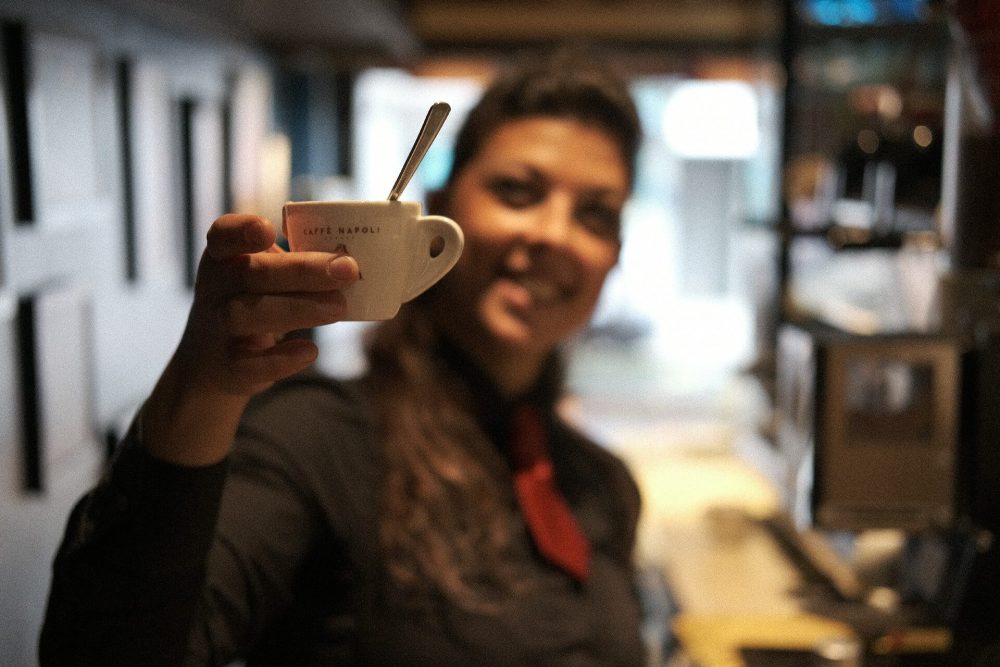 "We like to maintain consistency across all our locations. But of course, in a wildly different market like London, you have to make some changes to the menu. Maybe we add flat white or some special product requested by our London customers."

Using Lightspeed ePOS, Caffe Napoli can quickly make menu changes by location and respond quickly to the demands of different markets.

But for their star product, they use Lightspeed's stock control features to ensure consistency no matter where it's sold.

"In the back office I can manage the quantity of coffee, the quantity of sugar and then place that under a single menu item which helps track stock. So I know exactly how many espressos I can theoretically produce with the amount of stock that I purchase."
Start your own digital transformation
Scale and simplify with the modern restaurant tech set-up. Download out guide to find out more
Boosting customer retention with digital prepaid cards
The final challenge of Caffe Napoli's digital transformation was finding a way to facilitate and track customer loyalty.

"For a long time we used a paper card system, where the customer would show their card to the barista and the barista would tick it off. But it was hard to track how many coffees were being sold using prepaid cards" says Fabio.

"So we teamed up with Obypay to develop a bespoke loyalty card system, integrated through Lightspeed's open source API. Now the process runs much smoother: one scan corresponds to one coffee. That gets communicated directly to Lightspeed ePOS"

Customers prepay for a specific number of coffees at a reduced price, they're then given a physical card with a unique QR code. They scan the code with their phone to activate a branded digital loyalty card that can be stored in a digital wallet.

When the customer returns for their coffee, Cafe Napoli staff simply need to scan the QR code on their digital loyalty card using a 2D QR reader.

Obypay then sends this order to Lightspeed ePOS using a mini computer. A production ticket is created, a thank you email is sent to the customer.

"When we were using paper cards, customers could only prepay for a limited number of coffees at a time. Now, they can select to prepay for 10, 50, 100—we even had a customer who prepaid for 1000 espressos!"
Caffe Napoli ignited their potential with Lightspeed

Through their fearless embrace of new technology, Caffe Napoli demonstrates how quickly a business can scale when equipped with the right tools.

Looking for an advanced and adaptable ePOS system for your growing multi location business? Let's talk.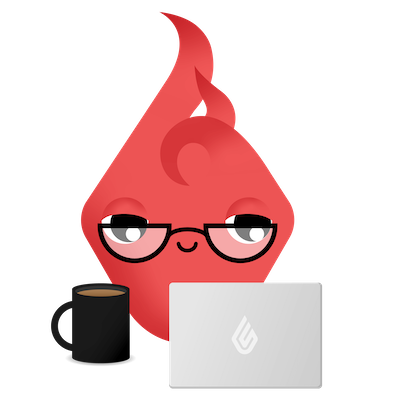 News you care about. Tips you can use.
Everything your business needs to grow, delivered straight to your inbox.