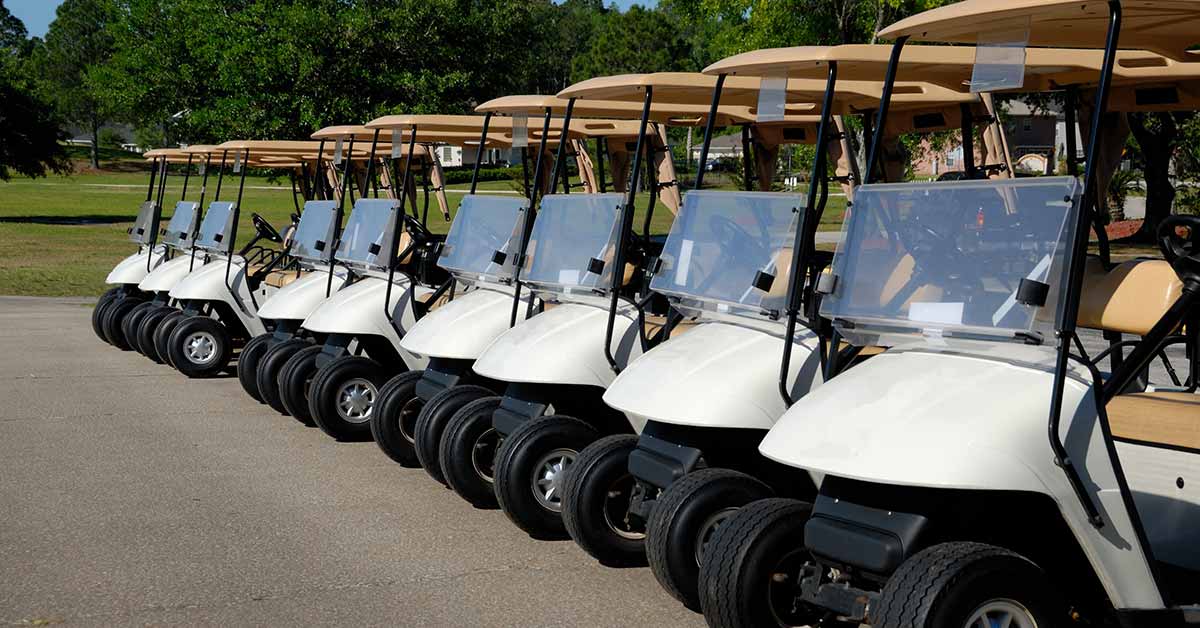 With technological advances in virtually every aspect of golf, it should come as no surprise that golf carts, once viewed as box-like buggies crawling at a snail's pace are now as modern and hip as the POS that once shared a similarly-ominous reputation.
For some golf facilities, the golf carts driven up and down their fairways can be as popular an attraction as the golf course itself. With USB ports, audio speakers, Bluetooth capabilities, comfortable and stylish seats, and cool colours, today's golf cart is as big of an investment for a golf facility as a fully-stocked golf shop, pristine golf course, or full-service food and beverage operation.
The maintenance of such a fleet of golf carts is more vital than ever. They all require regular maintenance to keep them running smoothly, but the specifics of this attention will differ depending upon the model, frequency of use, and source of power.
Engine
Ensuring that your facility's golf cart fleet is in perfect condition is one way of providing the high quality of service that most golf clubs strive for every day. After all, prevention is much more cost-effective than repair.
Joe VanEtten, Maintenance Supervisor and Co-Owner of Associates Golf Car in Poughkeepsie, New York, indicates that many courses have a maintenance agreement with their golf cart vendor, covering minor repairs and regular preventative maintenance. This ensures all carts are addressed, and any minor issues are rectified in a timely manner. Whether you have this type of agreement or not, it is imperative that this oversight takes place to avoid bigger problems.
Gas carts require oil changes, new spark plugs, belts, and filters – this should be done once annually with moderate to regular use. Recognizing problems indicated by a small leak, distinct smell, or unusual noise is important to nip any major problems in the bud. It is important to contact your golf cart technician to investigate these issues as soon as they arise, as well as to check each vehicle's clutch once a year. Bigger problems in this area will result in costly repair expenses that can be avoided by proper maintenance.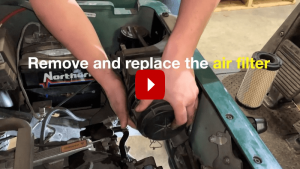 Battery
Batteries differ from electric carts to gas carts. Deep cycle batteries are used in electric carts, while an automotive battery is preferred in gas golf carts. While the batteries have a lot in common in terms of capacity, there are some notable differences when it comes to their design. The battery in a gas cart is specifically designed to power the starter, which engages the engine, in turn recharging the battery so it can power accessories and the cart itself the next time it is used. For best performance and longevity, keep batteries clean from corrosion and tightly in place while in motion.
Electric cart maintenance is just as important to continue performance – do not neglect the battery, which is truly the lifeblood of the vehicle. Charge them after each use and check the water levels on a weekly basis. Use distilled water and do not overfill. These batteries are meant to be drained and recharged again and again. This type of battery expends the most energy while accelerating.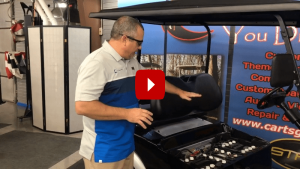 Brakes
When your players are maneuvering one of your golf carts on some of your hilliest holes, reliable brakes are an asset that cannot be overstated. It is important to run through a checklist of components that should be inspected semiannually to ensure proper function.
Your golf cart maintenance agreement should include the services of cleaning, adjusting and replacing brakes; however, there are certain things that you can do to ensure the long-term health of your brakes. For instance, simply ensuring that tire inflation is maintained at the manufacturer's recommended level can help maximize the life of a golf cart's brakes. This also prevents uneven wear.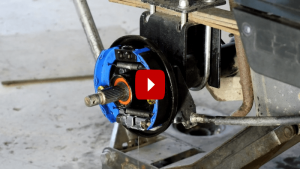 Long-Term Storage
Seasonal facilities should make arrangements with their golf cart vendor for offsite storage, allowing annual maintenance to occur when there is no impact on the club or golfers. It's the perfect time of year to have any small problems rectified before they snowball into major work, expensive repair bills, and fewer carts on hand for golfers.
For those who maintain possession of their fleet, it is vital to take care of any problems during the off-season, allowing for a fully-operational fleet when the course opens in the spring. In addition, electric cart owners should ensure battery water levels are topped off two weeks prior to storage with all vehicles being fully charged at the time of storage. Batteries should be disconnected, tires filled to proper PSI, all fluid levels adequate. The vehicles should be put away clean, both inside and out.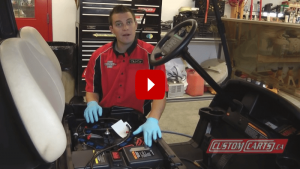 Transportation
When transporting carts, ensure they are placed in neutral (also keep in neutral while stored and secure from rolling) and the tow/run switch is in the tow position. This goes for carts being transported to a maintenance facility or to your own storage garage on your property. As VanEtten said, most facilities have a maintenance agreement covering this task, leaving it to the experts to transport and maintain during the winter months.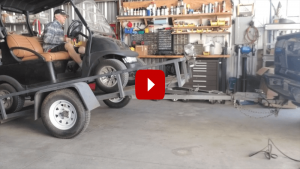 Maintenance Guides
The maintenance guides received with your vehicles are the bible by which you should ensure proper maintenance, regardless of frequency. You should designate one or two members of your staff to be the gurus of cart maintenance and upkeep, ensuring that outside operations staff is keeping accurate logs and troubleshooting any minor issues in a timely manner. When guides are unavailable, efficient communication with your sales and/or service representatives can be effective in maintaining a properly-working golf cart fleet, as well as keeping expensive repair costs to a minimum.
The following links provide information on Club Car, EZGO, and Yamaha Golf Car maintenance guides:
Conclusion
As with the vehicle that rests in your driveway as you read this, regular maintenance is vital to performance and longevity. We get our regular oil changes, tune-ups, and inspections in an effort to avoid costly malfunctions and repair bills. It is important to emphasize quality care for your golf carts and to avoid cutting corners when doing so.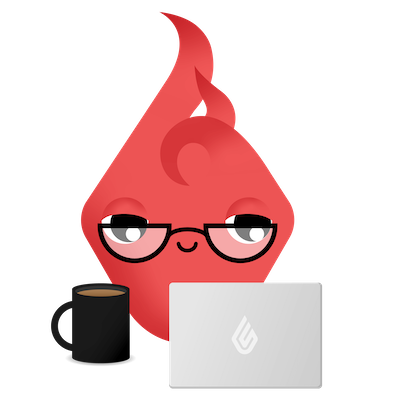 News you care about. Tips you can use.
Everything your business needs to grow, delivered straight to your inbox.