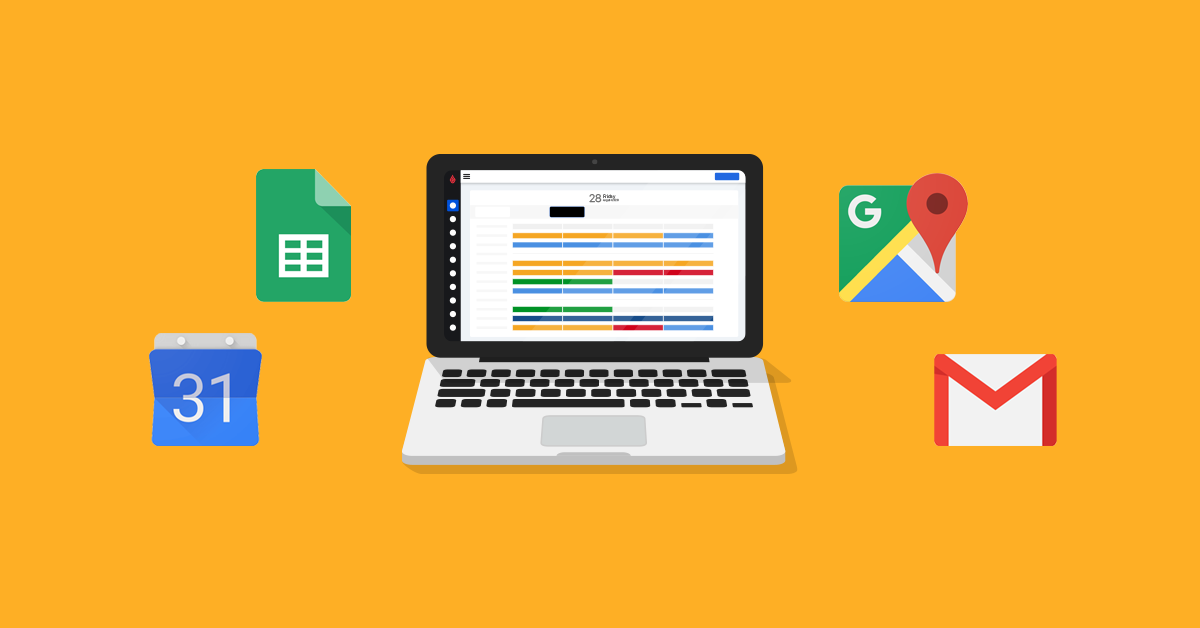 Over the years, golf course operators have asked for our recommendation on the best calendar tool for managing events, employees, and meetings? We suggest that facilities use Google Calendar. The simple, interactive tool can be accessed and shared from any device, allowing you to collaborate with your team. Plus, it's within the Google ecosystem, offering various powerful tools that help golf courses with their marketing and operations.
If you're not familiar with Google Calendar, here's an overview of its most relevant features for golf course operators, as well as a quick look at some other interesting Google tools.
Google Calendar
Adding multiple calendars
Golf course operators will likely need to juggle several calendars, such as one for tee times, events, employee scheduling, and course maintenance. Google Calendar can create multiple calendars on one platform.
The first step is to set up the main calendar by deciding which one is most important to your facility. Once you've done that, you can add other calendars for specific uses. On the left side of the Google Calendar home page, you'll find a drop-down menu called "My calendars." This is where you can select the calendars you've set up. Beneath that list is the heading "Other calendars" with a plus sign. Click on the plus sign and then click on "Add calendar." You'll be prompted to enter a name, description, and time zone for the events. Once the calendar is created, it will appear under "Other calendars."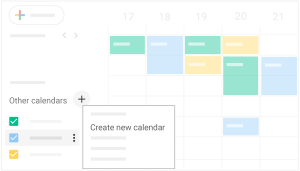 Sharing your calendar
Another helpful feature for Google Calendar is the ability to share it with others. This can come in handy for employee scheduling or event planning. To start sharing, find the appropriate calendar, hover over its name, and click on three dots to the title's right. Select "Settings," and then choose "Access permissions" or "Share with specific people."
When you choose "Access permissions," you can check the box next to "Make available to public." With this option, anyone who has your email address can subscribe to your calendar. If you prefer to limit who can see your calendar, you can click "Get shareable link." Then, copy the link and give it to anyone who needs access to your calendar.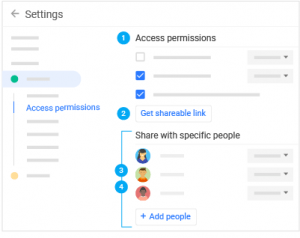 You can also send invitations to people to access your calendar by using the "Share with specific people" option. Once you click the link, you'll be prompted to enter email addresses. The recipients will get an email that provides them with a link to your calendar.
Unless you've elected to make your calendar public, you can remove people from your share settings at any time.
Creating events & meetings
Another feature of Google Calendar is the ability to create an event and invite others to attend.
For example, if you have an events planning meeting for the upcoming season, you can send an email to participants and ask them to check "yes," "no," or "maybe" to RSVP. If they use Google Calendar, the event will be automatically recorded on their calendar.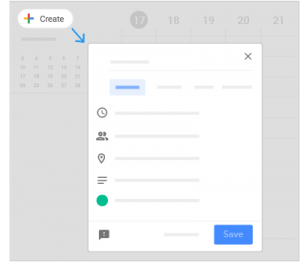 Create an event or meeting by clicking on the appropriate time slot on your calendar. A box will pop up, enter a title for the event, edit the event's length, indicate a location, add a description or attachment, and add a Google Meet video conferencing link.
To invite people to your Calendar event, click on "Add guests" and then enter the email addresses of the people you want to invite. When you hit "Save," you'll be asked if you want to send an invitation to your guests. If so, click "Send." They will receive an invitation with the meeting details as well as a prompt to RSVP. You'll receive an email notification when they reply. If you have access to calendars owned by others, you can click "Find a time" to see your guests' availability and choose a time that is open to everyone.
Customizing Calendar
You may want to view different calendars in different ways. For example, a month at a glance could help schedule events, while a weekly display may be better for checking your employee schedules. Google Calendar allows you to adjust your view to help you get the information you need. On the Calendar page, you'll see a pull-down menu that will enable you to view by Day, Week, Month, Year, Schedule, or 4 Days. Choose the view that is best for you. Another way to change your view is to highlight days or weeks by clicking and dragging your cursor. To return to a standard view, use the pull-down menu.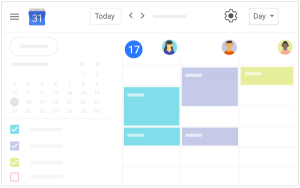 Marketing
In addition to a robust Calendar, Google offers plenty of tools that help you with your golf course marketing efforts.
Google Analytics
If you want to understand how your website is performing, Google Analytics is a useful tool. Once you sign up for a Google Analytics account, you'll paste a tracking ID onto your site, which can track the number of visitors, their sources, and demographics. Google Analytics also measures your eCommerce product sales and the results of online advertising and email campaigns, providing simple-to-understand reports. The best part? Google Analytics is free.
Google AdWords
Another useful tool from Google is AdWords. You can help drive traffic to your site by purchasing pay-by-the-click ads based on keywords you specify. Since Google changes its organic search algorithm, Google AdWords can help get your site in front of potential customers. Google AdWords also includes keyword research tools that can help boost your success.
Google My Business
Another free tool is Google My Business, which is an online directory that helps customers find you. This is helpful if you're trying to sell tee times to members of the public. You can add information about your business, including your address, phone number, hours of operation, and directions. If potential customers in your area search "golf course," your facility will be displayed in a box that also includes a map. You can add photos, a link to your website. Customers can leave a review on your listing, and you can respond.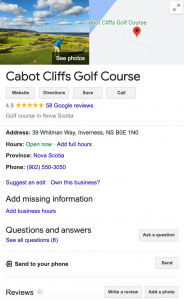 Google Alerts
If you ever wonder what people are saying about your golf course—or your competitors—you can sign up for a free Google Alert. Enter the keywords you want to track. When news or other online content is posted, you'll get an email and a link to the piece. You can specify how often you want to get alerts, such as real-time, daily, or weekly. You can select the type of sources to monitor, including news, blogs, videos, and more. You can also choose the region, the number of results, and the email to get the alert.
Operations
Google tools can also help you improve the operations of your golf course so that you can run more efficiently.
Google Drive
When you're managing a project and need to share files with others, Google Drive is a convenient way to provide access. You can save various file types, including documents, spreadsheets, photos, and videos, in the cloud where others can view or edit them. Google Drive can be a convenient way to collaborate with people who may not be at your facility every day.
Google Keep
If you've ever made a mental note to do something later—and then forgot—Google Keep can help. This free digital note-taking tool enables you to capture a list or image. You can also set up a reminder to do something later and add another person to the note if you want to collaborate on or delegate the task.
Google Forms
Ever wonder which of your events is most anticipated? Or are you brainstorming new tournaments to hold for next season and want member input? Google Forms lets you send surveys or forms to collect information from people. The tool connects the information on a spreadsheet on Google Sheets to automatically record the answers. You can also use Google forms to manage RSVPs to an event or create a quiz for onboarding new hires.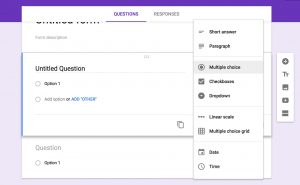 Conclusion
From time management to marketing and operations, Google offers powerful business tools to help you in virtually every aspect of your golf course management. The only thing it can't do? Help you smash the drive down the middle of the fairway every time. We invite all golf managers to take the time to look at Google's product line, you might just find a simple solution to a recurring headache.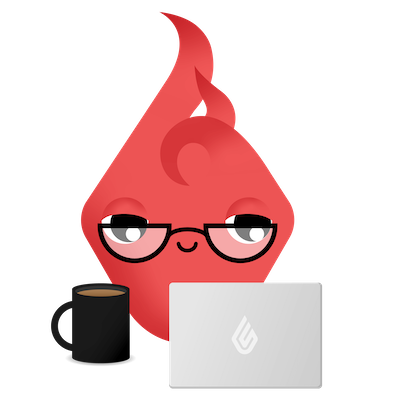 News you care about. Tips you can use.
Everything your business needs to grow, delivered straight to your inbox.