Visibility has always been an important determiner of business success. In an omnichannel world, where competition for user attention is fiercer than ever, it's a real challenge. With a local online marketing strategy, however, you can control how local customers experience your business and increase your chances of conversion.

Customer experience is no longer confined to bricks-and-mortar spaces alone. It starts before a user enters a store or visits a website, and continues after they've made a purchase. Your visibility across channels is essential for reaching new customers, and keeping existing ones. So how can you leverage a local online marketing strategy for the good of your business?
Let's find out!
What is local online marketing?
Local online marketing is the combination of methods small businesses use to ramp up their visibility online. By following best practices, your business could become the first to appear in local searches. This in turn has the potential to drive up traffic and conversion rates both online and in-store.

For example, say you run a jewellery store and you'd like to increase foot traffic to your bricks-and-mortar locations. When people in the local area are looking to buy jewellery, they'll most likely search something like 'jewellery near me'.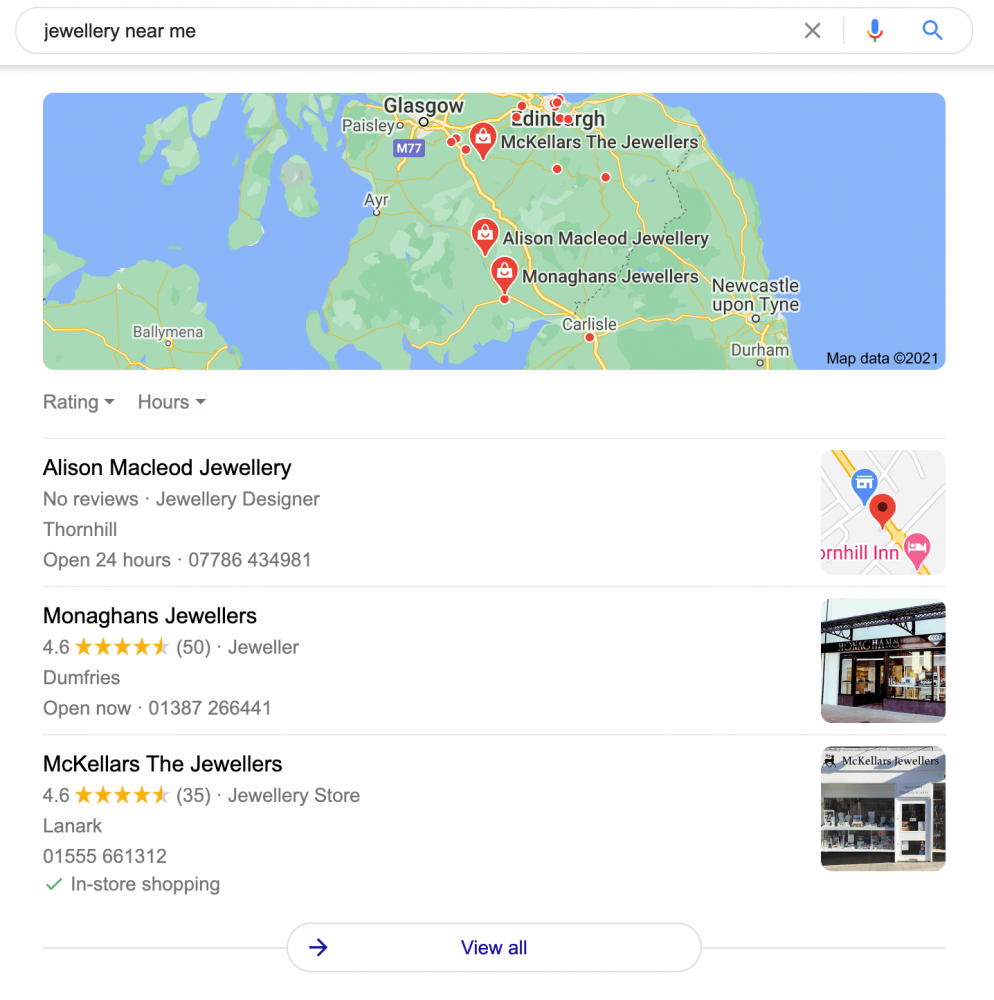 You'll know if your local online marketing strategy is paying off if your business shows up first in these local 'near me' searches.
How can local online marketing get my business found on local searches?
A large part of local online marketing is optimising your business data so that Google's algorithm can read it and display it. You can also use marketing tools like customer reviewer to ramp up your presence in local searches. Let's explore some tips for enhancing your local online marketing.
1. Update your listing on Google My Business
With over 77,500 searches per second, Google is by far the most used search engine. When users search for services in their local area, they are often met with a listing of three local businesses that match their search query. This is known as the local SEO 3 pack. If you want to make the most of your local online marketing, you're going to want to appear on it.

To appear on these top three listings, you need to fully optimise your Google My Business profile. Do this by:
Filling out your profile completely with all the details of your business e.g. hours, address, contact info and a link to your website

Adding photos of your business' interior, products and staff. he way your business is visually represented can tell customers a lot

Frequently checking and updating your Google My Business listing to make sure all the info is up to date and accurate

2. Optimise your website for local SEO
According to SEO Tribunal, 97% of users learn more about local businesses online than anywhere else. If you're not using your website to help your business appear in local searches, you're missing out.

Once you've optimised your Google My Business listing, the next step is to ensure that your name, address and phone number is consistent throughout your webpage and anywhere else you've included this info.

A common way to get your business website up on SERPs is by placing a schema markup on your business' webpage.

What is a schema markup?

A schema markup is a way for businesses to better structure data like opening times and location. This helps Google organise it and increases the chances of it showing up in related search results.

It's basically a framework of categories and subcategories that feed Google valuable information about your company, and translate readable content into language that can be interpreted by Google search algorithm. The end goal is to match your business data with local search results.
3. Place your business in web directories
It used to be the case that, if you were listed on several online business directories, and including links to these directories on your website, the Google algorithm would rank you favourably.

Traditional business directories no longer help as much when it comes to SEO. Listing your business on the main web directories, on the other hand, is an essential part of local online marketing. We've already covered the main one, Google My Business.
Bing Places –

Bing may only be the first choice of search engine for

6% of internet users,

but it's still the default search engine for all Microsoft products. Not listing your business on Bing could mean you miss out on some valuable opportunities for visibility.



Yelp

– Yelp is an important tool for local online marketing. It not only helps customers find your business, but exposes them to positive reviews to guage the quality of your products and customer service. When you list your business on Yelp, make sure you have positive reviews to show off.

Foursquare – Foursquare is a fast growing online business directory. It's a platform helping small businesses get found online by targeting prospective customers through a pay-per-click system.

4. Manage online reviews

In a survey by Uberall, 47% of consumers say they go home and write a review of their experience after purchasing. 72% of customers won't take any sort of action when it comes to making a buying decision until they've read reviews, and 15% don't trust businesses that have no reviews to show.

Reviews act as an online sounding board for your business. Once left by a customer, they're then read by others who find you in local searches. You can't control whether a customer will leave a good or a bad review, but how you respond makes all the difference.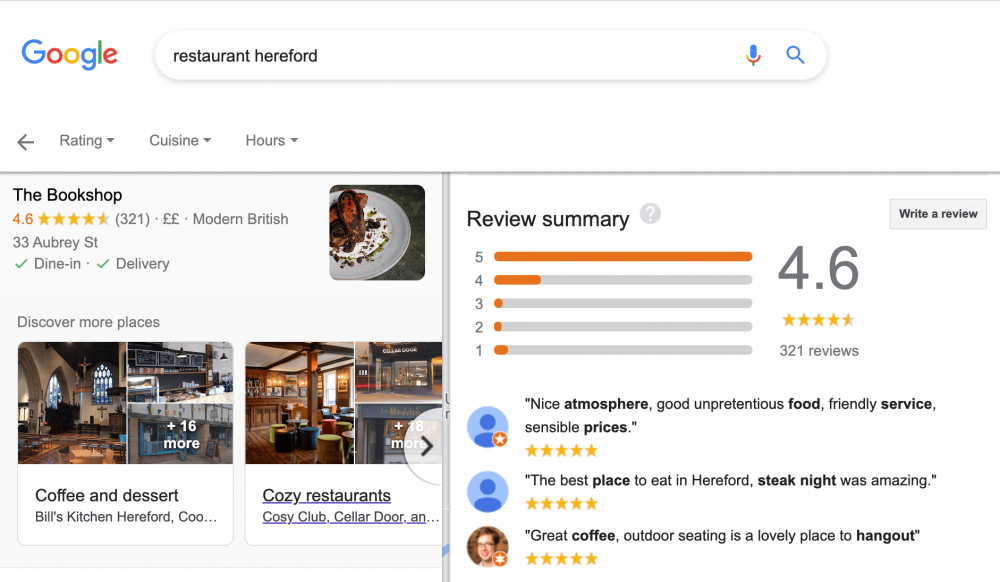 Seeing negative reviews can give customers a basic idea of the worst-case scenario for your business, and also reinforce a sense of transparency. Even the best businesses will have an unhappy customer at some point, and customers may be more likely to believe twenty great reviews when there's one negative counteracting it.

Tactfully responding to a bad review is an opportunity to showcase the quality of your customer service. A graceful response to customer complaints can save a user's perception of your business.
Respond quickly and calmly

Ask them to contact a specific email or phone number to resolve it privately

Flag fake reviews with Google
5. Integrate your Lightspeed Retail ePOS with Google local inventory ads
Lightspeed has partnered with Google to offer retail merchants access to integrated local inventory ads, a way to bring shoppers in store without needing to leave your ePOS to manage ad campaigns.
Bring nearby shoppers in store in 3 steps
In a survey, 59% of shoppers said that they use Google to research purchases before they make them. If you're not one of the first results on Google, you risk losing out on those shoppers. But competing with the big guys on your own isn't easy—and that's why local inventory ads are here to help.
Here's how it works.
Step 1: Set up your campaigns
Before you reach potential customers with your ads, you need to set them up. Traditionally, getting your inventory synced with Google Ads has been a time consuming process that involves spreadsheets and a lot of waiting. Luckily, with local inventory ads being integrated into Lightspeed, this step doesn't take much time or effort.
Head to the Marketing tab in Lightspeed Retail. In your Google Merchant Center, sync your inventory. Because you'll be managing this through Lightspeed, you can skip dealing with a lengthy inventory verification process.
With your inventory synced, you can start creating your campaigns; your product info and photos will populate your ads automatically. Just select your region and your budget to set up your local inventory ads.
Tip: If you haven't already, take a minute to manage your Google My Business listing. Having an up-to-date Google My Business listing is just as important as having targeted ads. 60% of customers have contacted a business directly using search results options; without extra friction to getting in touch with you, customers are more likely to reach out, so take advantage of how easy it is to manage your GMB profile through Lightspeed.
Enabling click and collect will make your ads even more enticing, as it will give customers the option to shop online and pick up in store or at the curb.
Step 2: Reach local shoppers with automated tools
Once your ads are running, nearby shoppers searching for products you carry will see ads for your stock. If you're low on a particular product, shoppers will be given low-stock alerts, encouraging urgency and nudging them toward buying before you run out.
If you do run out of stock on an item, the ad for that product will automatically turn off. That way, you're only paying for ads that can actually convert shoppers into paying customers, minimising your marketing costs.
That's really all you have to do here—turn on your campaigns, and let them go to work for you.
Step 3: Measure your results and adjust campaigns as needed
You can track and measure the results of your Google local inventory ads in Lightspeed as well, both at a glance and more in-depth. You can see your Google ad insights right in Lightspeed, so you'll know exactly how many customers are clicking on your ads and what your cost per click is.
By keeping an eye on your results, you can adjust your budget as needed. And doing it through Lightspeed means you can manage your campaigns right from your ePOS, making it easier to slot into your work day.
Tracking which products are getting the most views and clicks lets you keep a finger on the pulse of what customers are looking for now. Between these insights and your built-in sales reports, you'll be able to showcase superstar products you already know customers want to buy.
Looking to boost your online presence?
Find out how Lightspeed Retail ePOS can help
Discover new ways to sell with Lightspeed
Merchants around the world are looking for alternative ways to sell and connect with customers. That's making local online marketing is quickly one of the main ways businesses can reach customers who may be a little more reluctant than usual to pop to their local high street.

With all-in-one cloud-based solutions like Lightspeed ePOS, you can offer solutions like click-and-collect and eCommerce which give customers more reason to find you online. Want to know more? Let's talk.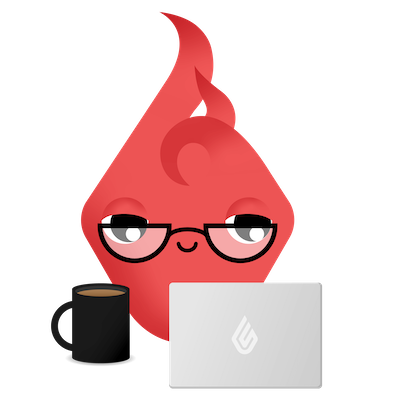 News you care about. Tips you can use.
Everything your business needs to grow, delivered straight to your inbox.