Visibility has always been an important determiner of business success.

In an omnichannel world where competition for user attention is fiercer than ever, it's a real challenge.

With a local online marketing strategy, however, you can control how local customers experience your business and increase your chances of conversion.

Customer experience is no longer confined to brick-and-mortar spaces.

It starts before a user enters a store or visits a website, and continues after they've made a purchase.

Your visibility across channels is essential for reaching new customers and keeping existing ones.
What is local online marketing?
Local online marketing is the combination of methods small businesses use to ramp up their online visibility.

By following best practices, your business will be the first to appear in local searches.

This in turn has the potential to drive up traffic and conversion rates both online and in-store.

For example, say you run a jewellery store and you'd like to increase foot traffic to your brick-and-mortar locations. When people in the local area are looking to buy jewellery, they'll most likely search something like 'jewellery near me'.

You'll know if your local search marketing strategy is paying off if your business shows up first in these local 'near me' searches.
How do I get my business found on local searches?

A large part of local search engine marketing is optimising your business data so that Google's algorithm can read it and display it.

You can also use marketing tools like customer reviewer to ramp up your presence in local searches. Let's explore some tips for enhancing your local online marketing.

1. Update your listing on Google My Business

With over 77,500 searches per second, Google is by far the most used search engine.
When users search for services in their local area, they are often met with a listing of three local businesses that match their search query.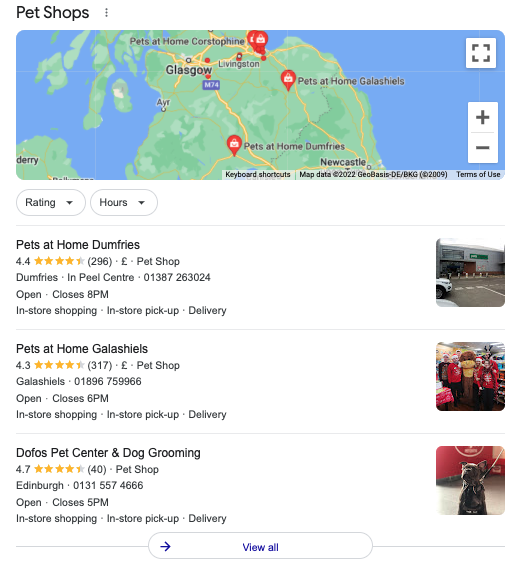 This is known as the local SEO 3 pack.

If you want to be successful in local search optimisation, you're going to want to appear on it.

To appear on these top three listings, you need to fully optimise your Google My Business profile. Do this by:
Filling out your profile completely with all the details of your business e.g. hours, address, contact info and a link to your website

Adding photos of your business' interior, products and staff. he way your business is visually represented can tell customers a lot

Frequently checking and updating your Google My Business listing to make sure all the info is up to date and accurate
2. Optimise your website for local SEO
According to SEO Tribunal, 97% of users learn more about local businesses online than anywhere else.

If you're not using your website to help your business appear in local searches, you're missing out.

Once you've optimised your Google My Business listing, the next step is to ensure that your name, address and phone number is consistent throughout your webpage and anywhere else you've included this info.

A common way to get your business website up on SERPs is by placing a schema markup on your business' webpage.
What is a schema markup?

A schema markup is a way for businesses to better structure data like opening times and location.

It helps Google organise it and increases the chances of it showing up in related search results.

It's basically a framework of categories and subcategories that feed Google valuable information about your company and translate readable content into language that can be interpreted by Google search algorithm.

The end goal is to match your business data with local search results.

When successful, schema mark-ups can positively impact click-through rate by displaying your website search result in a more informative way—leading to increased traffic.

3. Implement SEO best practices

Your local SEO marketing efforts won't be effective unless you're covering the SEO best practices.

Without them, another local business with a more optimised business will easily outrank you.
There are some simple ways to show a search engine bot that your website is worthy of a high rank.
Keyword specific URLs
Including specific keywords in your URLs shows search engines that your website is well structured.

If you have a specific page to showcase your menus, build the URL as 'brandname.co.uk/menu'.
If you're a multi-location restaurant, rank for local searches by including the branch's location in its respective webpage e.g. 'brandname.co.uk/salford'.

You get the idea.
Title tags
A title tag is a title that appears both in a browsers title bar and on SERPs.

Adding relevant keywords to your title tags can have a positive impact on your rankings.
Below you can see how Honest Burgers used a niche keyword in their title tags to ensure their 'locations' page appeared in relevant searches.

Meta descriptions
Meta descriptions are HTML tags that summarise the content of your website.

They're small bodies of text that show under a websites title tag in SERPs, and shouldn't be longer than 160 characters.
By including the right keywords in your meta descriptions, you indicate the relevancy of yor website to search engines.

Notice how Pizza Pilgrims have optimised their meta description for keywords like 'pizza delivery in london'.

Image alt text
Alt texts are HTML tags applied to images. They provide search engines with a description of an image's content.

They exist because search engine crawlers (the bots that scan your website to determine its SERP ranking) can't interpret images.
This is why properly formatted alt text has a positive effect on rankings.

If you're using images on your restaurant's website—which, of course, you definitely should be—be sure to add alt texts with relevant keywords.
4. Place your business in web directories

Once upon a time, if you were listed on several online business directories, and included links to these directories on your website, the Google algorithm would rank you favourably.

Unfortunately, traditional business directories no longer help as much when it comes to SEO.

Listing your business on the main web directories, on the other hand, is an essential part of local search marketing. We've already covered the main one, Google My Business.
Bing Places –

Bing may only be the first choice of search engine for

6% of internet users,

but it's still the default search engine for all Microsoft products.

Yelp

– Yelp is an important tool for local search engine marketing. It not only helps customers find your business, but exposes them to positive reviews to guage the quality of your products and customer service.

Foursquare –

Foursquare is a fast growing online business directory. It's a platform helping small businesses get found online by targeting prospective customers through a pay-per-click system.



5. Manage online reviews
In a survey by Uberall, 47% of consumers say they go home and write a review of their experience after purchasing.

72% of customers won't take any sort of action when it comes to making a buying decision until they've read reviews, and 15% don't trust businesses that have no reviews to show.

Reviews act as an online sounding board for your business.

Once left by a customer, they're then read by others who find you in local searches.

You can't control whether a customer will leave a good or a bad review, but how you respond makes all the difference.

Seeing negative reviews can give customers a basic idea of the worst-case scenario for your business, and also reinforce a sense of transparency.

Even the best businesses will have an unhappy customer at some point, and customers may be more likely to believe twenty great reviews when there's one negative counteracting it.

Tactfully responding to a bad review is an opportunity to showcase the quality of your customer service.

A graceful response to customer complaints can save a user's perception of your business.
Respond quickly and calmly

Ask them to contact a specific email or phone number to resolve it privately

Flag fake reviews with Google
Discover new ways to sell with Lightspeed
Merchants around the world are looking for alternative ways to sell and connect with customers.
That's making local online marketing is quickly one of the main ways businesses can reach customers who may be a little more reluctant than usual to pop to their local high street.

With all-in-one cloud-based solutions like Lightspeed ePOS, you can offer solutions like click-and-collect and eCommerce which give customers more reason to find you online. Want to know more? Let's talk.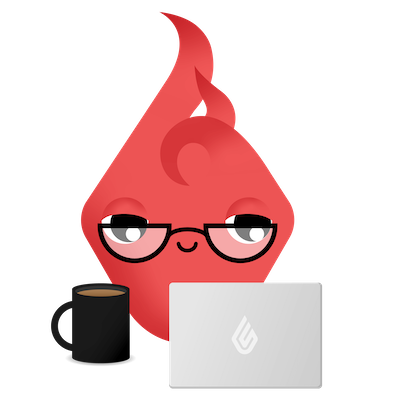 News you care about. Tips you can use.
Everything your business needs to grow, delivered straight to your inbox.