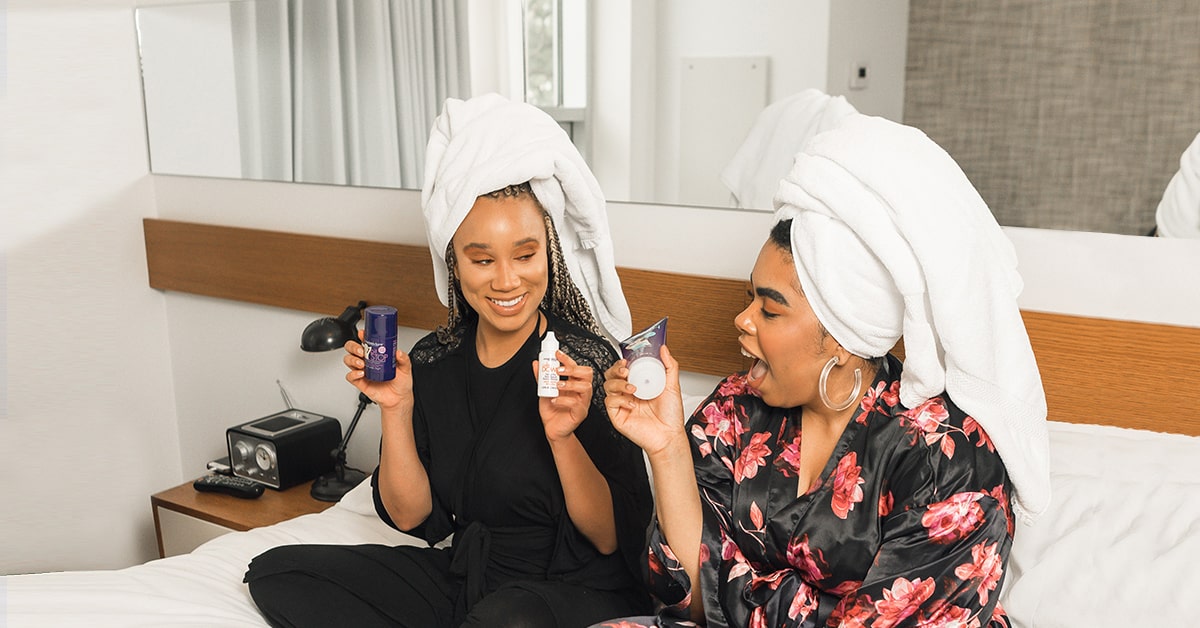 When's the last time you bought something based on recommendations from friends and family? Data suggests that it happens often and that their recommendations heavily influenced your purchasing decision.
A Nielson study found that the majority of consumers (83%) trust recommendations from friends and family members over advertising. The powerful influence of recommendations and referrals from trusted sources is why more businesses are starting to leverage referral marketing programs.
In this post, we're going to cover the following:
Let's dive in!
Launch a stellar customer rewards program
Build a branded mobile app, communicate with customers through automated push notifications and create high-converting email campaigns with our drag-and-drop email builder.
What is referral marketing?
Referral marketing is a word-of-mouth (WOM) marketing strategy that grows a business's reach by mobilizing their existing customers' networks. It's a promotional strategy where a business offers its customers an incentive for referring them to friends, family and other people in their social circle.
While referrals can and do happen organically (that is, someone simply speaking positively about and recommending a product, store or brand that they like,) referral marketing specifically refers to the marketing strategy where businesses intentionally manufacture referrals.
What is a referral program?
A referral program is a method of systematically getting people to refer your business in exchange for a referral incentive like cash, discounts, free products and more. The incentive that a business offers varies depending on the business type and the products or services it offers.
While there is a cost associated with launching a referral program, the net new business that a business receives in exchange for that incentive far outweighs that up-front cost.
How does a referral program work?
Modern-day referral programs are software-based and track each referral a customer makes by using either a referral code, rewards program or referral link. The incentive a brand offers for referrals varies depending on business type, and what products or services your business offers.
Everlane, a clothing and apparel brand, offers its customers a $25 credit once a person they refer makes their first purchase. That last part is important: Everlane's referral program is only offering a kickback for referrals that actually make a purchase. This assures that their referral program yields a positive return on that $25 up-front cost.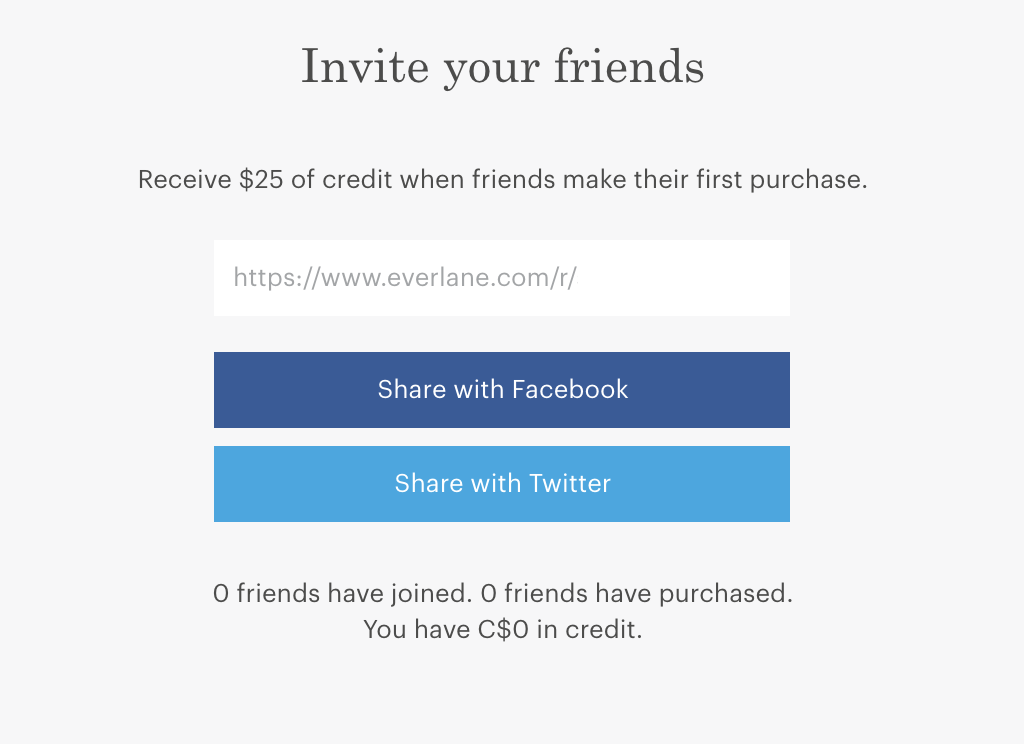 How do retailers benefit from a referral program?
Referral marketing is a cost-effective way for retailers to grow their reach, customer base and profits. The reason they work so well is that referrals from friends and family send a powerful trust signal to the person being referred, which increases the likelihood that they make a purchase.
According to research from referral marketing platform Extole, referred customers are also more profitable than non-referred ones. Here are some notable statistics they uncovered on referral customers:
25% more profitable than non-referred customers.

18% less likely to churn than non-referred customers.

4-5x more likely to refer your business to others.

20% higher annual average order value (AOV) than non-referred customers.

25% higher lifetime value (LTV) than non-referred customers.

Net Promoter Scores are 15 points higher than non-referred customers on average.
Based on their findings, referred customers are happier, more profitable, more loyal and more likely to refer your business to others.
A well-orchestrated referral program can significantly bolster the customer lifetime value (CLV) of referred customers. With the initial trust from the referrer acting as a foundation, these customers tend to exhibit enhanced brand loyalty, culminating in heightened value over their engagement span.
Referral program + Loyalty schemes
Combining a referral program with a loyalty scheme offers retailers a chance to maximize both customer acquisition and retention. By synchronizing these two initiatives, retailers can amplify customer engagement, ensuring a more sustained relationship with their patrons.
Referral marketing ideas and strategies
We know the benefits of a referral marketing program, but what type of program should you launch? Let's look at five common types of referral marketing programs.
Refer and earn

Personal referral codes

Affiliate programs

Tiered rewards program

Incentivize in-store shopping
1. Refer and earn
One of the most common types of referral programs is the refer and earn system, where for each person a customer successfully refers, they get a discount, loyalty points or a mix of both.
For example, OatBox (a Canadian brand that offers a healthy breakfast subscription service) has a referral program that incentivizes its customers by offering 100 loyalty points for each person refer and a $10 discount for each referred customer that actually subscribes to their service.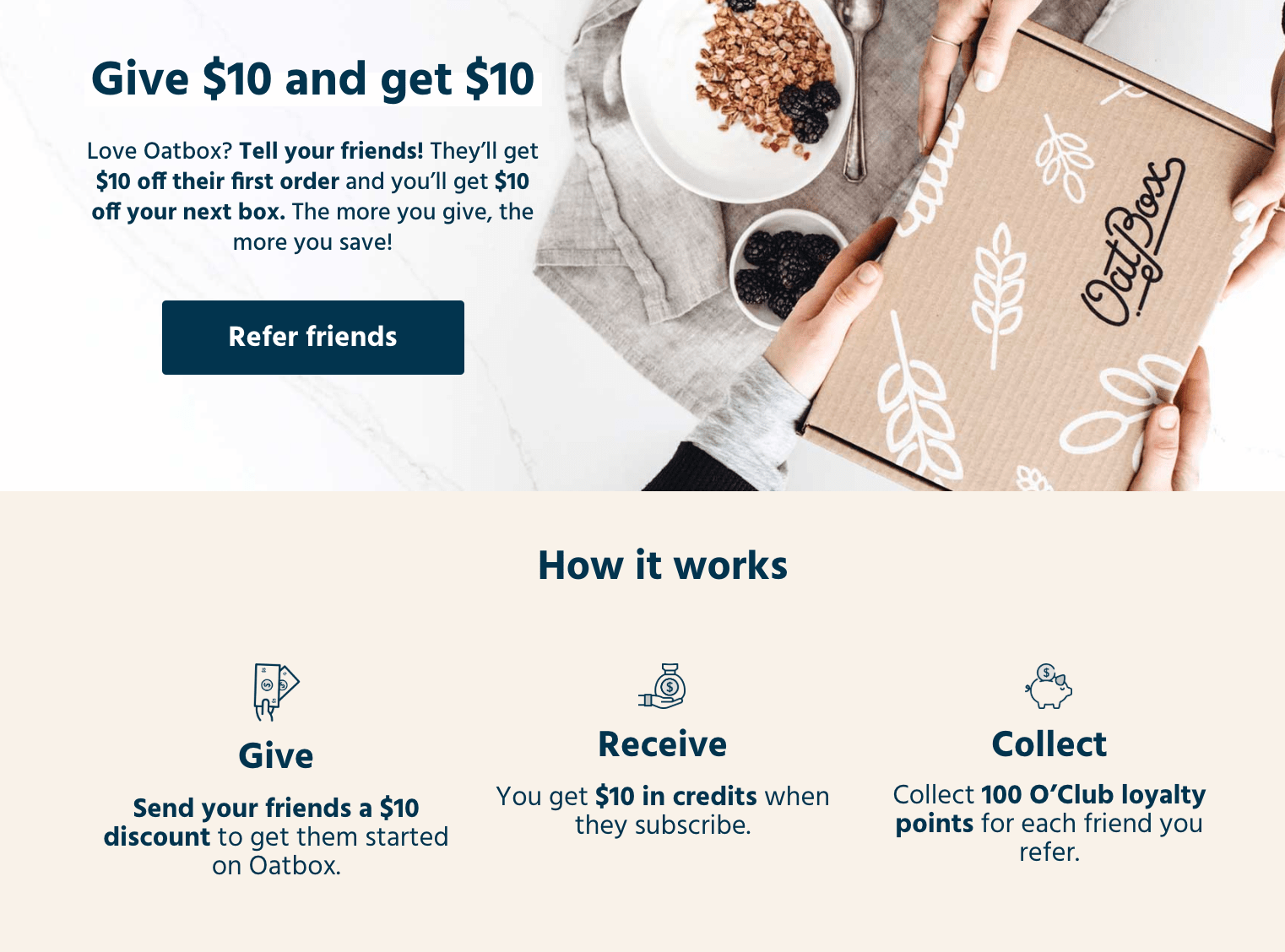 2. Personal referral codes
A personal referral code is one of the most popular types of referral programs, particularly for eCommerce businesses with online checkout.
A personal referral code program is often used when businesses partner with influencers. The business associates a unique referral code to the influencer, which the influencer then encourages their networks to use when purchasing that product or service.
For example, Goodfood (a Canadian meal kit delivery service) partnered with Montreal Canadiens forward Brendan Gallagher and gave him the personal referral code "GALLAGHER50" for him to share on social media.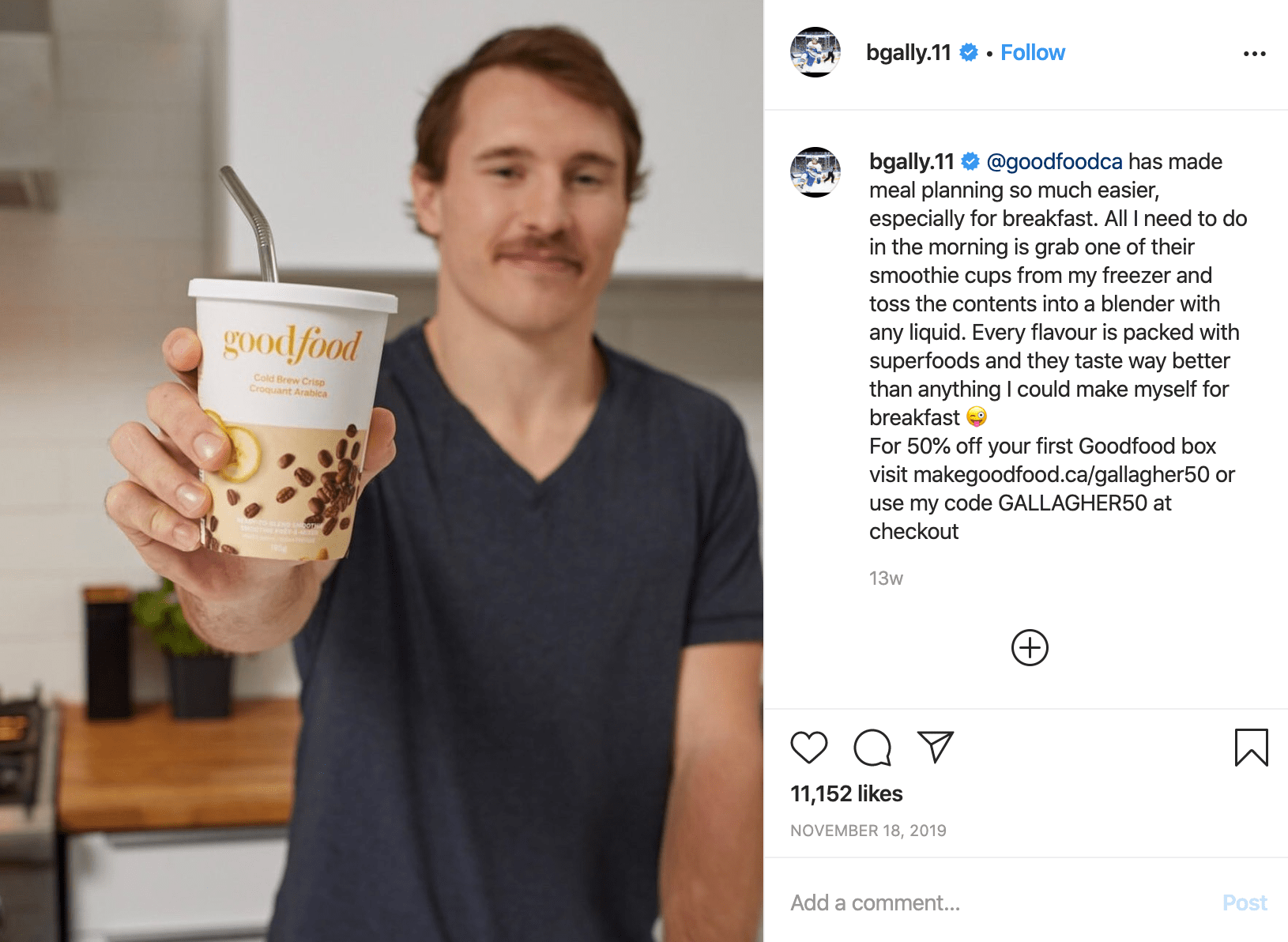 When a person uses that code, they receive a discount on their first purchase. The influencer is also paid (either a percentage or fixed amount) for each person that subscribes using their promo code.
A benefit to personal referral codes is that, thanks to each code being unique to the person, it's relatively simple for brands to see which influencers are generating the most sales.
3. Affiliate program
The most known example of an affiliate program comes from Amazon, where participants get a commission on any orders placed using their personal product link within 24 hours.
4. Tiered rewards program
If you want to encourage consistent referrals, you should consider including a "refer and earn" as part of your tiered rewards program. The more people a customer successfully refers, the more points and progressively better rewards they can exchange their points for.
Tesla's referral program offers exclusive products (like special car add-ons) and VIP experiences (like tickets to attend an official unveiling event) depending on how many customers someone successfully refers.
5. Incentivize in-store shopping
One of the biggest challenges omnichannel retailers face is getting their online customers to shop in-store (or vice versa). Inventivizing an online customer to visit your store can be as simple as offering free in-store pickup, offering free in-store services or just having a flat out cool, destination-worthy store design.
Getting online shoppers to visit your physical store comes with a host of benefits. For one, your retail space puts your brand on full display. Brands are increasingly creating immersive retail experiences to connect with and be more memorable to more customers.
Secondly, when an online customer visits your physical store, interacting with a sales associate increases the likelihood that they spend more. A WGSN report which featured New York's NBA Store found that conversions increased by 182% when customers interacted with a sales associate. Additionally, when a customer browsed for more than 10 minutes, they spent 370% more than those who browsed for four minutes or less.
When sales associates master the art of suggestive selling, in-store sales can increase significantly.
Tips for launching a successful referral program
Before you start searching for the perfect referral program software (we cover some of the best options further down), we suggest having a clear understanding of your customers, the buying cycle and how you're going to promote your referral program.
Know your customer
Understand the buying cycle
Promote wisely
Know your customer
Prior to offering rewards, you need to know what types of offers are likely to motivate your customers. Are they motivated by percentage discounts? Exclusive VIP offers? Free products? Gift cards?
Think about the main benefits a customer can expect by joining your referral program. How is it related to your business? Take Dropbox's legendarily successful referral program as an example. Their referral program's main selling point emphasizes what joining means for the customer: Getting more free cloud storage.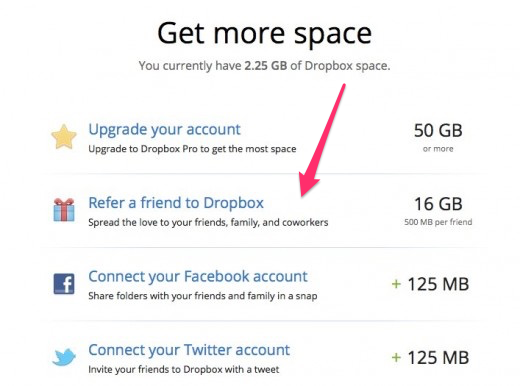 Consider doing some digging and asking for their feedback via email survey (we like using Typeform) to get a clear understanding of your customers' motivations. Bonus, asking for their feedback can double as a way to generate pre-launch buzz for your loyalty program and increase customer sign-ups.
Understand the buying cycle
The rewards you offer need to align with the buying cycle of the products you sell.
For instance, if you sell products that are purchased often (like beauty products, for instance) perhaps your customers would appreciate BOGO promotions, complimentary gifts and samples.
If, however, you sell high price point items that aren't replaced often (like home furnishings, for example), perhaps your customers would appreciate a large sum of points that can be used to discount their next big purchase, along with personalized VIP offers.
Promote wisely
Have a clear idea for how you're going to promote your referral program and get customers to download your mobile app, sign up and use it on a consistent basis.
Will you use in-store signage? Will you send a launch email to your mailing list? Will you have sales associates promote it to the customers they serve? Will you feature a promotional banner on your website?
Perhaps your answer is all of the above, but the importance is clearly defining your referral program's promotional strategy, your quantified goals, as well as timelines.
How to create a referral program
Creating a referral program starts with defining your needs and finding a platform that fulfills them. Do you need a brick-and-mortar program? Do you need an eCommerce program? Do you want your program to work both in-store and online?
After defining your business needs, two primary factors come into play.

Effective communication

is the backbone of a prosperous referral program. Clear, concise messaging, coupled with a compelling call to action, ensures patrons understand the benefits of referring and are motivated to act.



Referral program's longevity

is directly linked to its ability to evolve. By routinely refreshing rewards, incorporating customer feedback, and pivoting based on market trends, retailers can ensure their referral schemes remain enticing for patrons.
Different loyalty and referral programs
There are a ton of loyalty and referral program options to choose from. Here's a list of some notable solutions you can explore:
Gauging the efficacy of your referral scheme hinges on a keen understanding of metrics. Key indicators to monitor include the number of referrals, conversion rates, and the lifetime value of referred customers.
About Lightspeed loyalty
While most of these options are third-party integrations for your online or brick-and-mortar store, Lightspeed Loyalty is different because it integrates directly with Lightspeed's best-in-class retail point of sale system.
Lightspeed users can manage everything from the same backend, leverage their sales analytics, segment their customers into customizable categories and build personalized email marketing campaigns with our drag-and-drop email builder and even get their own branded mobile app without having to hire a developer.
Grow store sales with a referral program
By focusing on customer retention and scaling customer lifetime value (CLV), retailers can effectively increase their sales without costly paid marketing campaigns.
When well-executed, referral and loyalty programs are beneficial both for consumers and retailers. Customers get rewards for their spending and referring friends, and retailers benefit from word-of-mouth advertising, one of (if not the) most trusted form of marketing out there.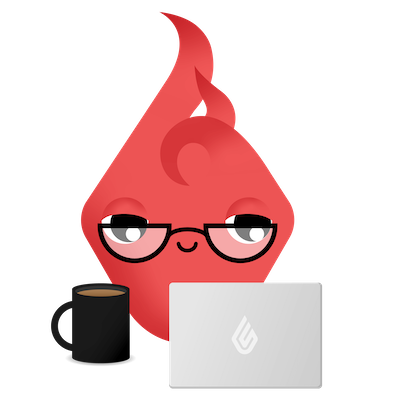 News you care about. Tips you can use.
Everything your business needs to grow, delivered straight to your inbox.