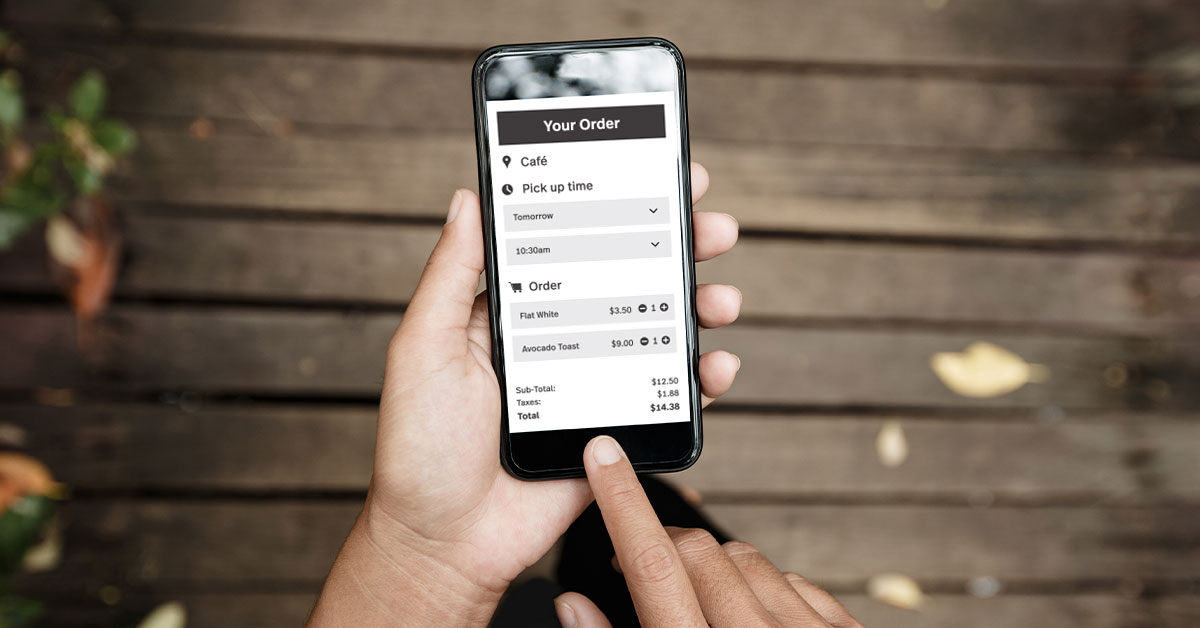 Mobile order-ahead technology is becoming the norm at nationwide fast-casual restaurants and coffee chains like Domino's, McDonald's and Starbucks as consumers demand speed and convenience. With Covid-19 and the lockdown pushing independent restaurants to adapt and pivot towards a takeout model, the move to mobile order-ahead has accelerated and more restaurateurs are seeing the benefits of this emerging technology.
It's no surprise that mobile order-ahead technology is spreading so fast. We know that mobile is king – 60% of online orders are from a mobile device. And mobile ordering is predicted to become a $38 billion industry and make up nearly 11% of all quick-service restaurant sales this year. It makes even more sense in a world of social distancing, reduced contact and the increasing reluctance to use cash.
Mobile ordering has gone from a luxury to a necessity, with consumers expecting the convenience of being able to order online and have their meal ready when they arrive to pick it up. Let's take a look at how the mobile order-ahead works and speak to some of the restaurants making the best of this time in which customers, more than ever before, demand convenience.
Embrace the new era of dining with Lightspeed Order Ahead
Reinvent your business with the online ordering platform that lets customers order ahead for delivery, takeout or curbside pickup—no contact, no third-party commission fees.
How does mobile order-ahead work?
Mobile order-ahead is a digital ordering system that empowers restaurants to create their own ordering apps or ordering portals on their website. With it, customers can browse the menu, place an order, and pay on a mobile device. They are told when the order will be ready and either they pick it up or the restaurant delivers it.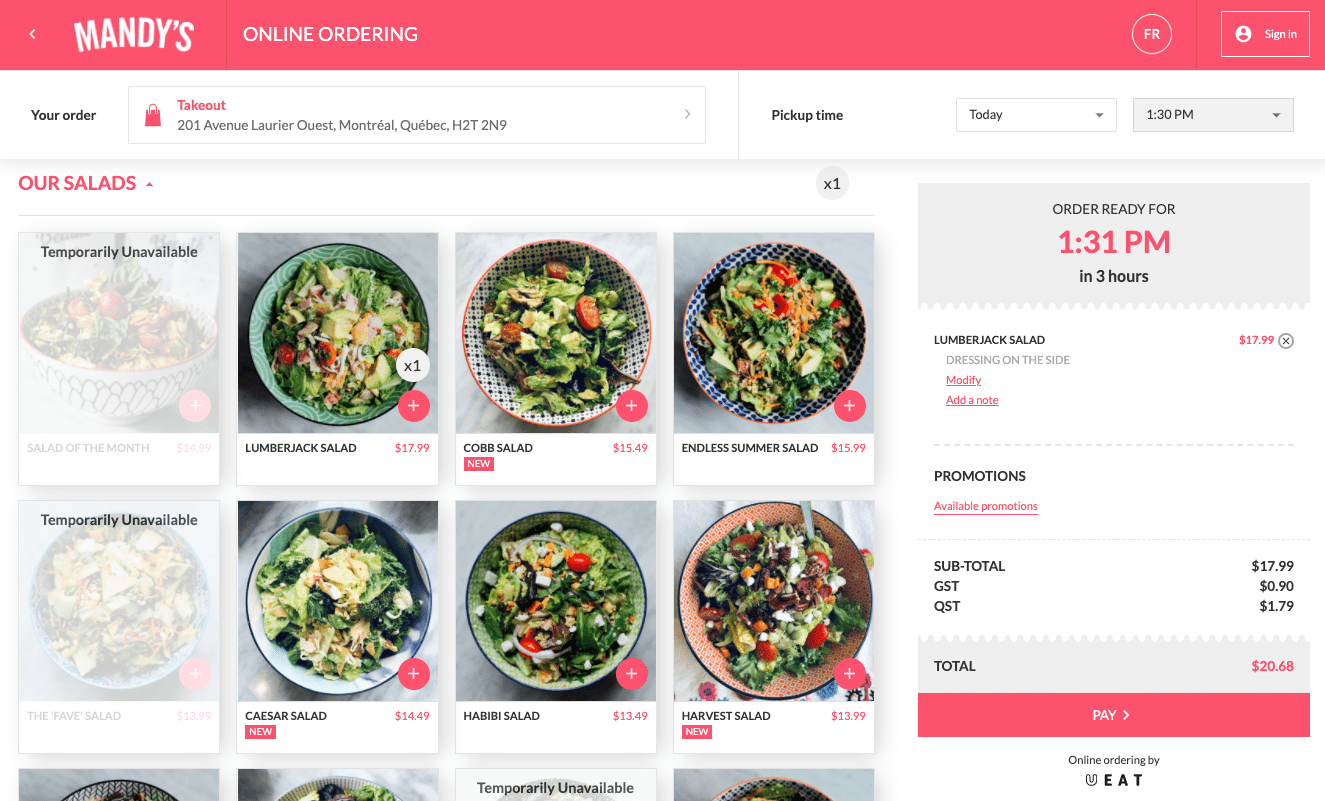 Restaurants benefit from improved efficiency, with orders moving straight to the point of sale system and payments already handled via the digital ordering system. They also have full control of the customer data which they can leverage in their rewards program to build loyalty with offers personalized for different customer segments.
The contactless nature of mobile ordering makes it particularly relevant during the lockdown and as restaurants reopen, whether it's for pick-up, delivery, or even dine-in guests. The entire process is completed on the user's device, eliminating contact at every stage.
There are a number of benefits for consumers too. The convenience of browsing a menu, ordering and paying digitally is proving popular. And customers are able to avoid lines as they are given an accurate estimate of when their order will be ready.
UEAT is one of the leading providers of online ordering tech, via branded apps, kiosks and other services. It provides restaurants with everything they need to take control of online ordering and quickly integrate it into their operations.
René-Pier Plourde, as Head of Communications for the tech start-up, explains that UEAT was always envisioned as a frictionless tool to be directly integrated with a restaurant's current systems.
"Restaurant owners are super busy people," he says, "They don't have the time to micro-manage the integration and maintenance of an online ordering tool. They don't want to be hiring developers. So we help them put the customer first, by creating a branded ordering app for them."
How are restaurants capitalizing on convenience?
With more restaurants getting on board with the technology, we spoke to reps from two restaurants who were making the most of the consumer demand for convenience. In both cases, Covid-19 accelerated the move by forcing the restaurants to adapt their offerings. And by embracing the technology, these resourceful entrepreneurs were able to make the best of a tough situation.
Philippe Veilleux, Director of Food and Beverage, La Taniere
The team at La Taniere has built a mini-empire of culinary excellence in Quebec. And having opened three new venues in the last two years, they are no strangers to working to tight deadlines and adapting on the fly.
Philippe Veilleux, co-owner and Director of Food and Beverage for the group, tells a story of fast-paced change and ingenuity. "One week after closing all the restaurants, we were throwing ideas around the table of what we can do to create a product that can be coordinated in a mass-delivery," he recalls.
Offering a weekend meal package and targeting the most loyal customers of the group's white-cloth restaurants, they allowed customers to order ahead through the week and collect their meals or have them delivered on Friday.
"It's a takeaway box that covers your whole weekend," Phillippe explains. "Everything is cooked sous-vide, restaurant-grade, and wrapped. Within 20 minutes you have a three-course meal for two that's ready to go at home."
He says that the group was already using UEAT so they were able to quickly ramp up takeout orders on the system. "We already had an account set for our pastry shop," says Phillippe. "We went from a small order volume to three restaurants and our whole customer base switching to our take-home boxes."
Basing the offering around the weekend gives the customer the ultimate convenience and flexibility. The order is placed and paid for within the app the whole transaction is complete ahead of time.
Phillippe reveals that they used the thick brick walls of the 400 hundred-year-old building to their advantage, adapting the windows of one of the restaurants into a meal pick-up service window. He says, "The window sill itself is about two meters from the inside of the restaurant to the outside. We set up tents above two windows and some guiding tape to direct the people and signal the two-meter distancing."
The mobile ordering system allowed them to make the delivery process far more efficient. "You're not fumbling around taking payments from every customer that shows up at the window," he explains. "They just present their order number with their name and some ID."
Philippe tells us that the system allowed them to reach even more customers than they are normally able to. "Mother's Day was our biggest week," he reveals proudly. "We did 500 three-course meals so it's essentially 3000 meals that we're sending out in one day. We had to build a walk-in fridge just to cover the refrigeration for it!"
Phillippe goes on to explain how the technology allows them to plan better and minimize food waste, "All the preparation is calculated to the orders that have come in. We have a fixed limit at the start of the week and fix an objective based on how things moved the previous weekend and previous weeks."
Hugues Philipin, President, Chic-Alors
Hugues Philipin, who runs the upmarket bistro and pizzeria Chic-Alors in Quebec City, found the technology invaluable to quickly pivot his business when the lockdown came into force.
"We were fortunate to already have delivery, carry-out and online ordering before the lockdown," he reveals. "We simply shifted most of our business through these channels instead. We still lost about 30% or our sales but we are working with 50% less staff and 60% less square feet."
Having control of online ordering enabled the business to survive during the Covid-19 crisis. And offer customers the convenience they craved during such a challenging time. Being in control of orders and having their own ordering app talking to the restaurant POS helps the restaurant better prioritize orders and deliver them on time in a more efficient way.
"It was quite an adjustment for them as well as for us," Hugues recalls referencing the UEAT team, "They saw a pretty drastic increase in traffic. They managed to be very responsive to our demands and kept the pace."
Hugues has seen these benefits manifest first-hand: "It has helped us put our people on value-added tasks such as producing products instead of taking orders and processing payments…Not only does it save labor for us, but it shifts the responsibility of correctly punching in orders on the customers."
Taking the ordering process in-house gives the added benefit of branding digital ordering experience and controlling the flow of customer data. You can use customer data to refine and improve your ordering experience, as well as push personalized offers, incentives and upsells that increase the value of each transaction. Plus, you are in control of the look and feel of the app, so you can present a seamless experience with the same level of service from ordering, to picking up food at the restaurant, or dining in.
Hugues believes customers prefer ordering directly from restaurants because it gives them a better experience. He says, "Above all, ordering online allows customers to see the products in detail with high-quality photos, read about all the ingredients, sizes and get exact pricing. They can play with extras and see instantly how the price and quantity change."
He explains that you can more effectively upsell via online ordering, as the add-ons and upgrades can be easily presented to the customer on-screen as part of the ordering process, rather than a phone clerk having to remember to ask. As a result, he says: "Orders online are 30% to 40% higher than phone orders."
"Orders online are 30% to 40% higher than phone orders"
What does the future hold?
Mobile order-ahead eliminates many of the headaches of cash transactions, such as counterfeit bills, cashing up, security concerns, as well as the obvious health concerns of Covid-19. It allows you to go further than cashless, you can even go cardless as payments are taken directly through an app. Given this, we are likely to see the technology used far more both for pick-up and delivery orders via mobile apps, but also for dine-in guests.
With the onset of Covid-19 and the lockdown, UEAT brought a new contactless ordering system forward and adapted it to help restaurants in the current circumstances.
René-Pier explains that it works in a similar way to the mobile ordering app, but at the table, allowing customers to make their order and pay for it using their phones. Customers scan a QR code which takes them directly to the ordering app. He reveals, "The difference is the table number is auto-populated into the restaurant's point of sale system. And customers can choose from different menus."
The system eliminates almost all the physical touchpoints of a traditional restaurant ordering and payment scenario. As René-Pier observes, "Customers don't want to handle paper menus and payment terminals at this time."
The new system demonstrates how mobile order-ahead is so well suited for the current climate and the 'new normal' to come. For dining in and pick-up too. Customers can use their own device to order and pay, eliminating cash and reducing both physical proximity and unnecessary touchpoints. Then they can pick up their order from a contactless station and have zero contact with anyone at the restaurant.
"Customers can use their own device to order and pay, eliminating cash and reducing both physical proximity and unnecessary touchpoints"
Are customers ready for this drastic change to the dining experience? It may take some getting used to, but René-Pier believes that once people see the benefits first-hand, they will be happy with the increased convenience the tech offers. He uses the example of the first ATMs in the 1980s. "At first people were wary of letting a machine handle their money," he says. "But while they're queuing for the teller, someone is walking off with their cash. They quickly jump on-board."
No doubt, customers will adapt as they have to every other new technology that has come along. Expect to see a lot more mobile order-ahead and contactless technology in restaurants going forward because for customers, when all is said and done, convenience trumps everything.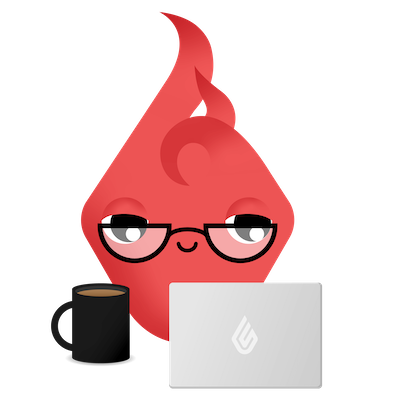 News you care about. Tips you can use.
Everything your business needs to grow, delivered straight to your inbox.