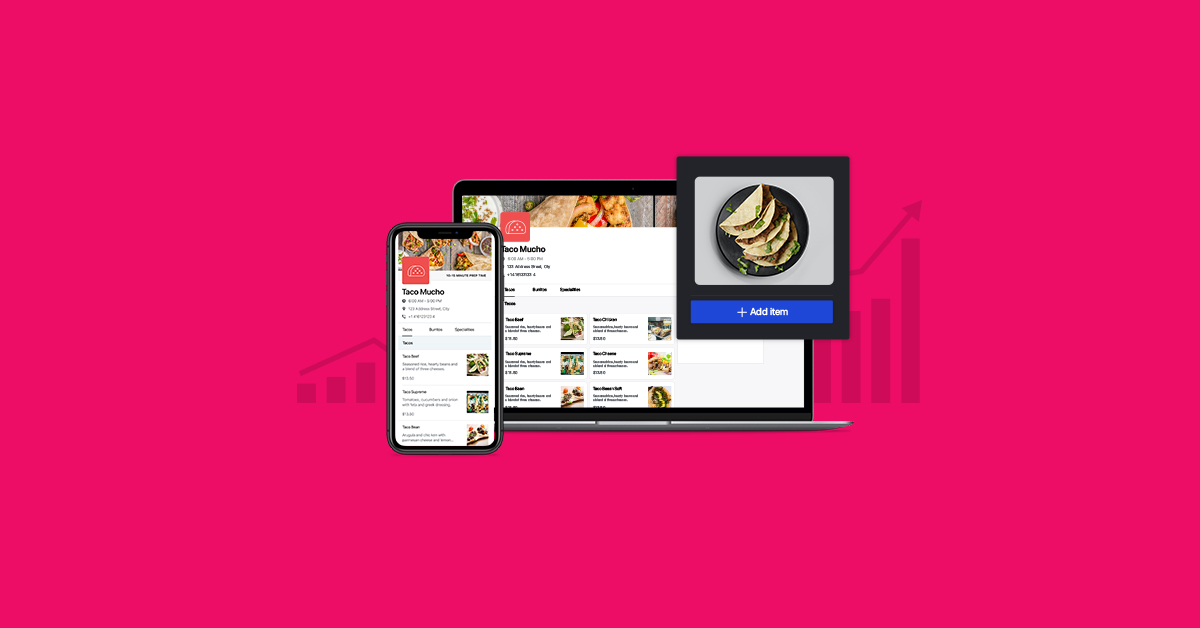 Online ordering growth has been outpacing the growth of on-premise dining by 300% for several years now. However, with restaurants shutting down their dining rooms because of the COVID-19 pandemic, more diners than ever are ordering takeaway and delivery online from their favourite restaurants.
Restaurants have many options for choosing an online ordering partner, building their online ordering page and fulfilling deliveries. Use these nine tips to increase your revenue using online ordering.
Choose the right online ordering platforms

Optimise your prices

Take high-quality photos

Upsell

Use popular keywords

Be descriptive

Note allergens

Optimise your Google My Business listing

Promote online ordering on social media
1. Choose the right restaurant online ordering platforms
You can use two types of platforms to make online ordering available to your customers: third-party and direct.
UberEats and Deliveroo are examples of third-party platforms. These platforms facilitate ordering logistics, marketing and delivery in exchange for a commission. These commission fees can reach as high as 40%.
Direct platforms white label their services so that your restaurant's branding, not theirs, is front and centre. They offer the same features that third-party apps do, like payment processing and ePOS integrations. Direct ordering platforms typically charge a flat fee, so you'll pay the same price for the platform whether you make 100 sales or 1,000 sales. Unlike third-party platforms, which spend a lot on marketing themselves and their clients, you're in charge of marketing your restaurant's online ordering efforts when you choose a direct platform.
Opting for third-party or direct platforms
Some restaurants choose one option or the other, while others have both a direct ordering platform and several third-party platforms that they use.
New York City's Subject bar has had better luck with third-party platforms than direct platforms because of their built-in marketing, said co-owner Brian Grummert in a phone interview. He noted that the more name recognition you have, the more success you'll have with direct platforms.
Philadelphia restaurateur Shawn Darragh, who owns Bing Bing Dim Sum and Cheu Fishtown, has been using third-party online ordering platforms at his restaurants for several years. In a phone interview, he said he wants to introduce a direct ordering option to reduce costs and gain control. He feels frustrated that third-parties don't let him change his menu quickly, as they take between two and five days to approve photos.
Whatever options you choose for your restaurant's online ordering, make sure they integrate with your ePOS. Deliverect aggregates all of your delivery orders in one place so restaurant owners can add new revenue streams for their business and reach new customers by giving them the flexibility to order the way they want.
2. Optimise your prices
Los Angeles restaurant Holbox uses both a direct platform and a third-party platform for online orders. They charge customers more on the third-party platform to make up for the commission fee.
According to owner Gilberto Cetina, when customers ask about the price difference among platforms, he's transparent about why there is one. Some customers continue to order with the third-party platform out of convenience, while others choose to order directly from the restaurant.
Darragh said his restaurants don't increase prices for third-party platforms, but they manage to cut costs by making customers opt-in to get utensils. Utensil costs have gone down 50% as a result.
In New York City, where bars are now allowed to sell bottled liquor online, Amor Y Amargo is taking another approach to pricing. "We're enticing people by undercutting retail by about 20% and also encouraging people to tip on that," said Beverage Director Sother Teague in a phone interview. "That still makes it retail price, but more money can go to the staff."
Be strategic with your pricing strategy for restaurant online ordering.
3. Take high-quality photos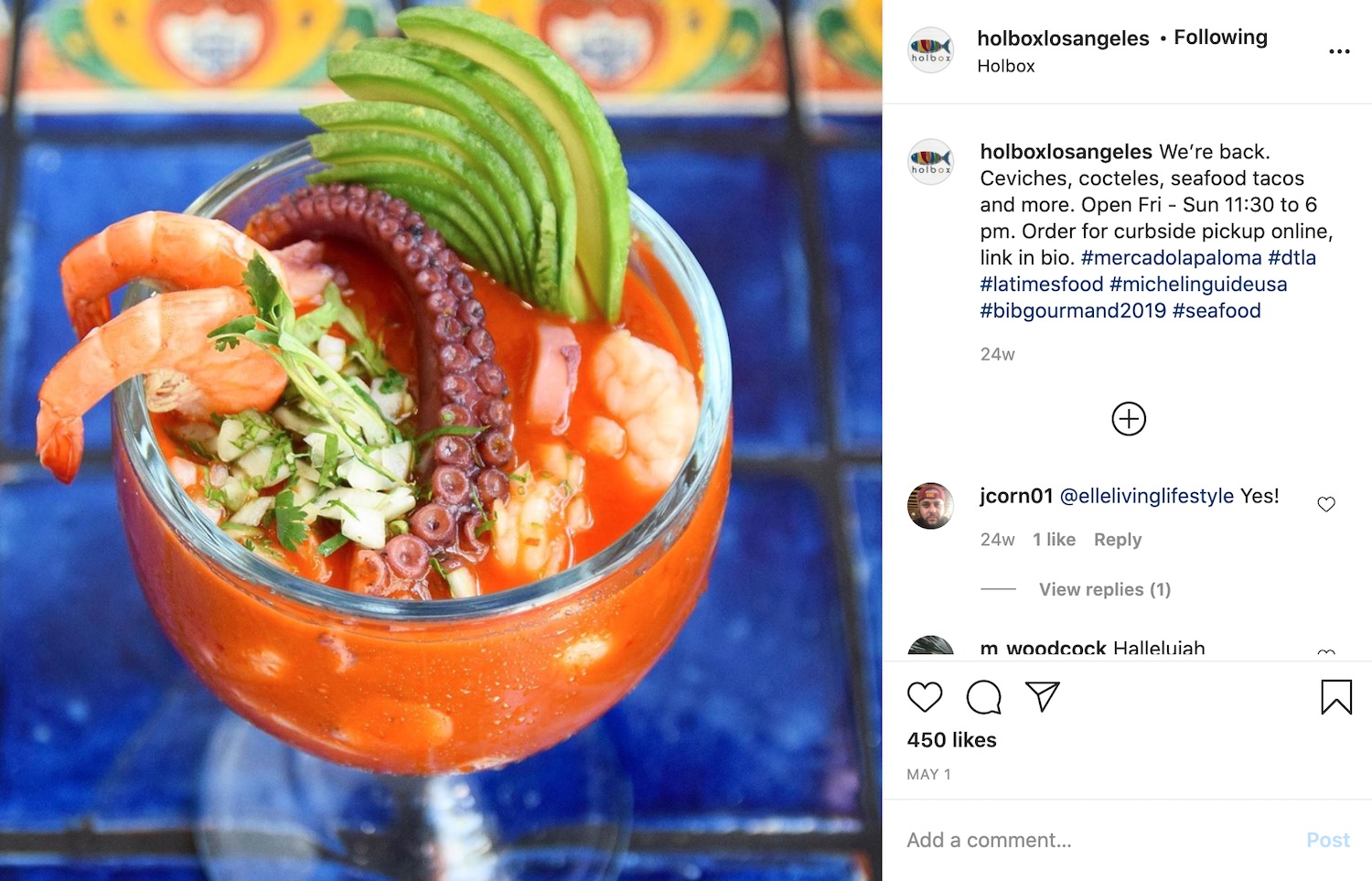 If you're setting up your online ordering page for the first time, photograph all of your dishes. Cetina says that Holbox's online ordering platform's detailed photos have led to higher ticket prices and repeat business.
Look for a freelance photographer in your area or ask fellow restaurateurs whom they use. If you can't afford to work with a photographer, you can take high-quality photos with your smartphone.
Darragh takes all of the photos for his restaurants' online ordering platforms. He recommends turning the lights off in your restaurant when conducting a photo shoot and using the natural light from your windows instead. He also suggests taking close up shots.
Should you photograph your dishes in takeout containers or plated? Cetina recommends doing the latter because it's more visually appealing.
4. Upsell
Servers aren't the only ones who can upsell. Try these upselling techniques on your online ordering page to boost order sizes:
Customisations
Allow customers to customise their dishes with premium toppings. List the customisation options from most expensive to least expensive.
Add ons
Some restaurant online ordering platforms let you suggest add-on items to customers before they check out. Upsell add ons like beverages, appetisers and sides.
Combos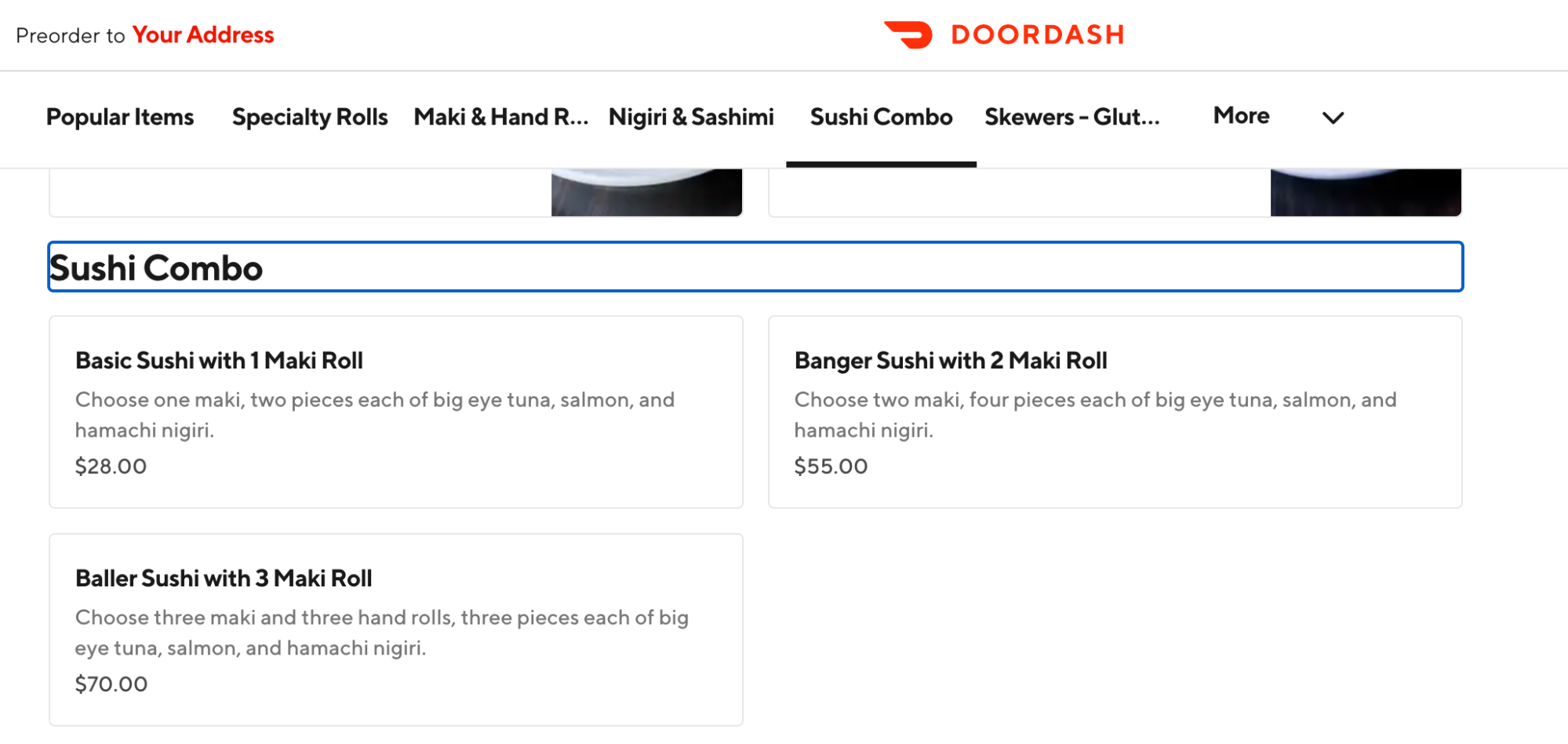 Suggest dish combinations to increase order sizes. Examples include sushi combo platters–while a single roll goes for less than $10 on average, the combos range from $28 to $70.
Darragh says, "we are probably selling more [sushi combos] now than we ever were pre-COVID. People are eating a little differently at home now. They're trying to get that restaurant experience inside their house and spending a little bit more on meals. They're either ordering more food than they normally would or maybe going for those more expensive items."
5. Use popular search terms
Search engine optimisation (SEO) isn't just for Google. Restaurant online ordering platforms have search engines that allow customers to search based on cuisine type, dish names and dietary restrictions. If you're using third-party sites, SEO can help your restaurant stand out.
"Anything you search, [your restaurant] is going to show up at the top of the list if you have [a keyword] compared to the [restaurants] that don't mention it," Darragh says.
Include relevant, popular keywords in the names of your dishes and their descriptions and avoid using words that people don't know.
Let's say that your restaurant named its chicken parmesan dish "parmigiana di pollo." This name won't help people looking for chicken parmesan online to find the dish. In this case, calling the dish "chicken parmesan" would make it easier for customers to find.
6. Make the most out of descriptions
Cetina recommends being as detailed as possible in the descriptions of menu items on your online ordering page. He's noticed that dishes with more detailed descriptions get ordered more than dishes with less detailed descriptions.
However, Leslie Feinberg, who owns Subject with Brian Grummert, says "people respond more to fun descriptions than detailed descriptions." In a phone interview, she said that "the biggest thing is keeping in mind your branding as it already exists. [Subject is] a little bit fun, a little nerdy, a little sarcastic, a little academic, but ultimately kind. So all of our [descriptions] tend to fit that."
Cover all of your bases by using this three-part formula for writing descriptions:
1) Pretend you're a food critic and use words that will inspire hunger to describe the dish. You could even throw in an anecdote about its origin.
2) List the ingredients in the dish. Doing this gives people information and helps them avoid surprises if they don't like certain foods.
3) Suggest an upsell, such as, "you'll want to order a side of breadsticks with this pasta to scoop up the sauce!"
If writing isn't your forte, hire someone to write descriptions for you. At the bare minimum, list ingredients.
7. Be mindful of allergens and dietary restrictions
This tip combines the last two pieces of advice. Include keywords in your dish names and descriptions that help people with allergies or dietary restrictions have an easier time finding food to order.
Use keywords like "gluten-free," "vegan," "vegetarian," "keto" or "dairy-free" where applicable.
"You're almost missing out on a sale of an item if you don't let [customers] know what [a dish] is, what it's not and what it can be," Darragh says.
Not only are these labels excellent marketing buzzwords, but they're also lifesavers for people who have dietary restrictions. Ensure that someone with allergen training, or an equivalent certification, oversees the labelling of allergens.
8. Optimise your Google My Business Listing
Did you know that there are more than 86,000 Google searches conducted each second? Google sends a tremendous amount of web traffic to restaurants, resulting in online food orders.
Google automatically displays third-party restaurant online ordering platforms on your Google My Business listing. As of late, they've allowed restaurants to indicate their preferred ordering platform. Login to your Google My Business account and select the platform that lets you keep the highest percentage of your revenue as your preferred link for online ordering.
9. Promote online ordering through social media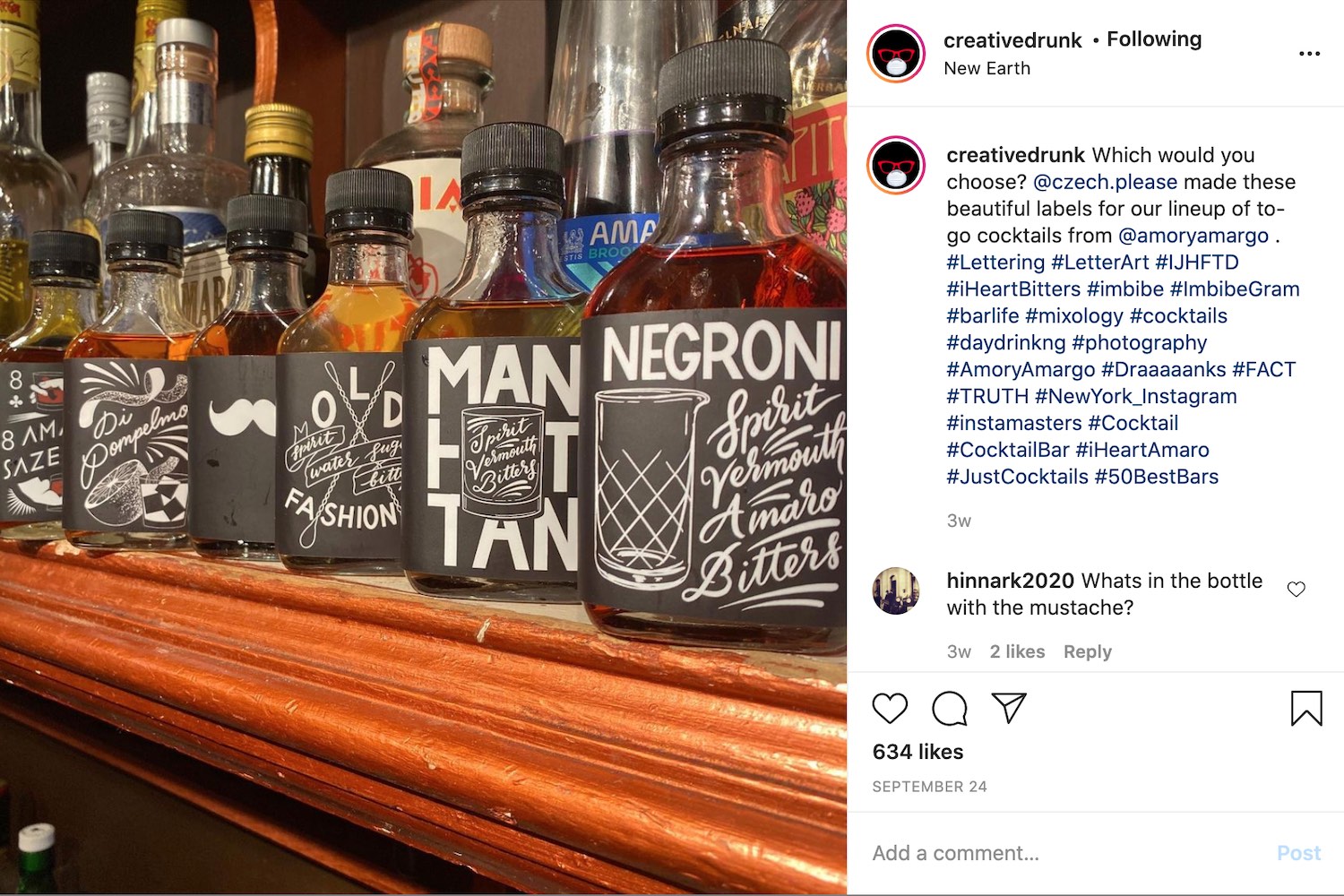 Sother Teague of Amor Y Amargo uses his social media influence to boost online ordering. His personal Instagram account, @creativedrunk, has almost 18,000 followers.
"My voice drives sales," he says. "When I put stuff up [on social media], other people repost it and that helps. That's the new word-of-mouth [marketing]."
You don't have to be an influencer to use social media to promote online ordering. Instagram and Facebook have features to help restaurants do this.
Instagram lets users with business accounts that use ChowNow put an "Order Now" button on their profiles. This integration also gives you the ability to place a "Food Orders" sticker on your Instagram Stories that links to your restaurant online ordering page.
Facebook lets you put an "Order Food" call-to-action button on your business' page. This button can increase orders by 3-4%.
The bottom line: Increase restaurant online ordering revenue and increase the longevity of your business
Restaurant online ordering has grown in demand since the COVID-19 pandemic and forecasts show that it's here to stay. When you optimise your online ordering page by using SEO keywords, high-quality photos, detailed descriptions and more, you'll boost your online ordering sales. And when you increase your online revenue, you'll secure the long term success of your restaurant.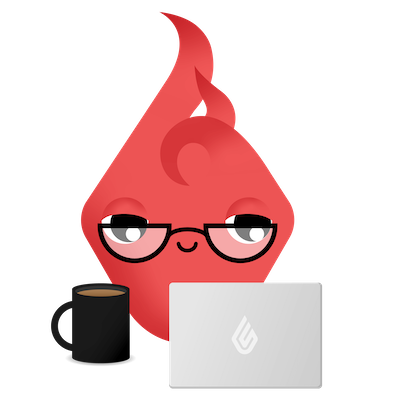 News you care about. Tips you can use.
Everything your business needs to grow, delivered straight to your inbox.