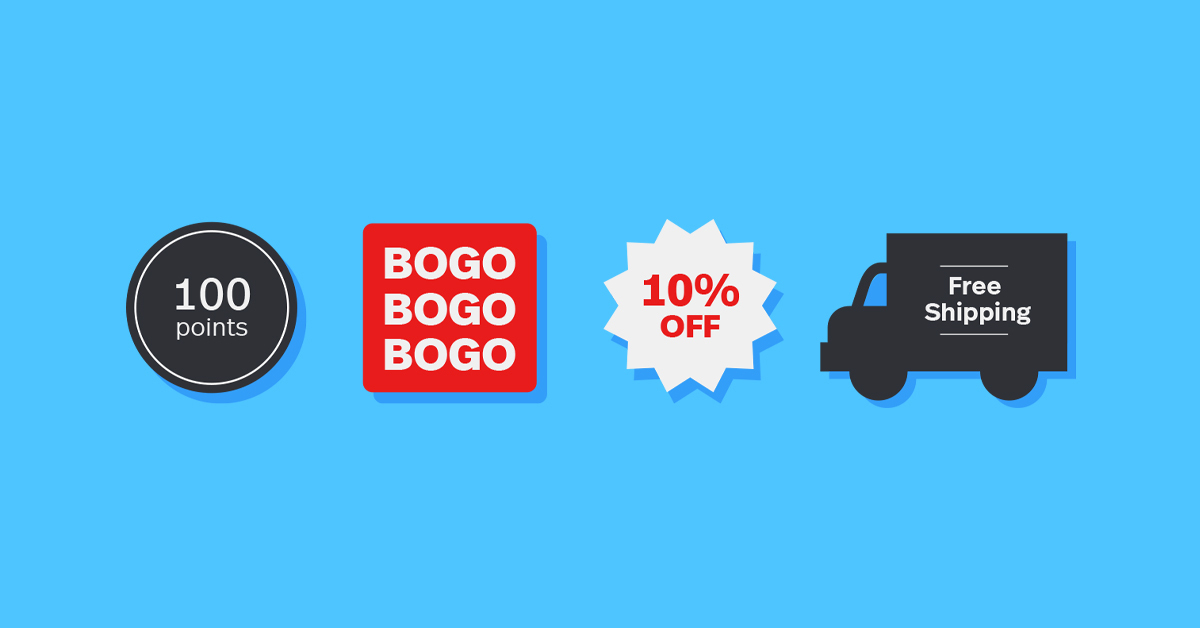 Promotions are almost always part of a retailer's sales and marketing mix, and for good reason — they can drive sales and help you move inventory.
But running promos isn't as simple as slashing prices or putting up a "SALE" sign on your window. To get the most out of them, you need to consider the type of promotions to offer as well as how to execute them.
And that's precisely what we'll talk about in this post. We're shedding light on the ins and outs of promos and listing the most common types of sales promotions in retail along with some handy tips to help you implement them correctly.
Let's dive in.
What are sales promotions?
A sales promotion is a marketing tactic used by retailers to drive sales. It involves offering shoppers a deal that would enable them to either purchase a product for a lower price (e.g., $10 off) OR get more value of the sale (e.g., Buy One Get One Free).
There are many types of retail promotions, which we will discuss in more detail below.
Types of retail sales promotions
What kind of promotion would work best for your store? To help you answer that, here's a rundown of the different types of promos in retail, and how they typically perform.
1. Percentage discounts
The percentage off deal (e.g. "20% off" or "50% off") is one of the most popular — and effective — types of promotions.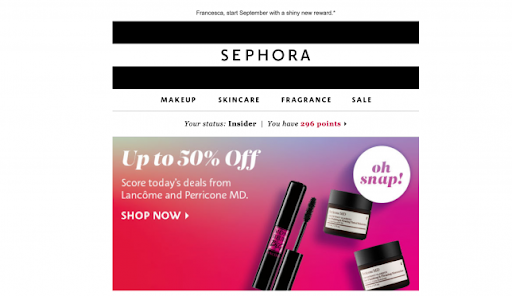 "Hands-down, the most popular style offer is n% off anything," says Mike Catania, Chief Technology Officer of PromotionCode.org. "We've tracked coupon and offer usage over tens of millions of promotions for the past nine years, so we have a solid understanding of what types of deals convert the best."
As for how to implement this offer, Mike says that storewide percentage discounts typically work best. "5% storewide, with few exceptions, will garner more attention and generate more sales than even a 60% off clearance, the next-best option."
Krista Fabregas, a retail analyst at FitSmallBusiness.com, is also a fan of percentage discounts and says that they produce one of the highest conversions for discount promotions.
"Percent-off sales are fairly simple to profit-test, too. If net profit numbers don't hold for a 20% discount, we move it to 15% off and still sell more than if we offered a flat amount, like "$5 off." Oddly, even if "$5 off" has the greater savings after doing the math, the percent-promotion tends to convert better."
2. "xx dollars off"
An alternative to "percent-off" deals, this promotion involves discounting items by a flat dollar amount (e.g., $5 off or $20 off).
It's difficult to tell whether this offer is better than percentage discounts, as studies and tests have shown mixed results.
Krista at FitSmallBusiness found that percentage discounts typically outperform dollar amount deals. However, Craig Simpson at Entrepreneur cites a study which found that a $50 off coupon beat a 15% off promo.
This tells us that the "right" answer depends on your price points, customers, and the perceived value of your offer.
As Craig writes, what matters to your customers is "their initial impression of what sounds like a good deal." He gives the following examples (emphasis added):
Let's say your product is something fairly inexpensive, like a supplement that regularly sells for $25 for a bottle that contains a one-month supply. I would predict that an offer for 40% off would do much better than an offer of $10 off, even though the actual value of the two offers is equivalent.
For a more expensive product, perhaps a piece of exercise equipment that normally sells for $350, I would predict that an offer of $50 off would do better than an offer of 15% off – even though the 15% offer is actually slightly better. The $50 offer sounds like a substantial amount of money. And for most people, figuring what 15% of $350 is may seem like too much work.
If you're on the fence between a percentage or a dollar amount discount, we recommend that you do the math AND look at your promotion from a psychological standpoint so you can figure out the best type to implement.
3. BOGO
Buy One Get One (BOGO) can be applied in two ways: There's buy one get one free or buy one get the 2nd item % off.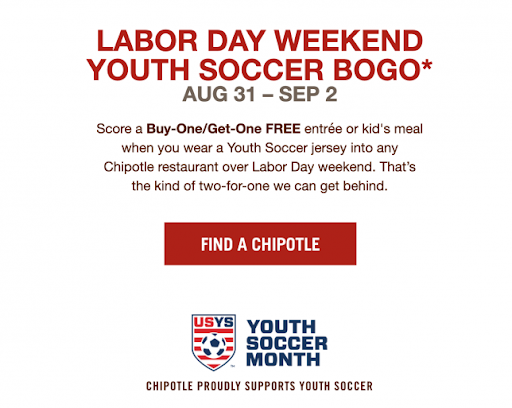 BOGO is typically used to move inventory, so if you're sitting on a lot of stock that you want to clear out, this promotion could be a good option.
As for consumer response? Krista says that "BOGOs can be iffy for conversions, especially online."
"BOGO-half-off deals can frustrate customers since the deal always discounts the lower of the two prices. So, in BOGO-half-off, we tend to see lower revenues due to customers searching out the cheaper items for the BOGO pairings. BOGO-free converts better than the BOGO-half-off."
4. Multi-buys
Multi-buy promotions (i.e., "2 for the price of 1") is another good option if you want to clear your inventory. But the success of multi-buys largely depends on the types of products you sell.
As Krista puts it, "when considering a multiples-type promotion, first consider whether the product is normally used as a set or is a near-commodity, like socks or wine. There, multiples discounts can work. Otherwise, they don't.
For example, "Buy 2 Get 1 Free Bottle of Wine" is a winner. "Buy 2 Get One Free Ottoman?" Not going to move much."
A great example of multi-buys in action comes from Beloved Shirts. In the email below, you'll see that they're running two types of offers: "Buy 2 and get 1 50% off" and "Buy 3 to get the 1 item free."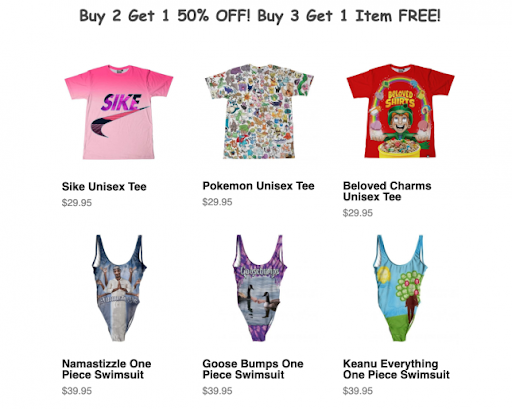 5. Multi-save and conditional promotions
Multi-save promotions include offerings like:
Buy and save off the entire sale.

Spend and save off the entire sale.

Buy and save off specific items.

Spend and save off specific items.

Buy and pay a fixed price.
Conditional promotions, on the other hand, include:
Buy and get one or more items for free or on discount.

Spend and get one or more items for free or on discount.

Buy and earn loyalty.

Spend and earn loyalty.
These types of promotions encourage sales without necessarily killing your revenues or basket values. They also encourage shoppers to check out more products, versus just looking at what's on clearance.
6. Free shipping
If you're running an ecommerce site (and you totally should), free shipping might be a good promo for you.
Just remember that like most promotions, the effectiveness of free shipping isn't set in stone. Some businesses find it really effective. "Free shipping always drives the most conversions, and that's the coupon usage we've seen the most," says Krista
Others, not so much. Mike at PromotionCode.org considers free shipping as "a bit of wildcard."
"Free shipping offers have the lowest rate of success (as reported by our community) but the highest number of use attempts," he says. "There are several reasons for this but a substantial one is when the offer is shared, the person sharing the offer had a qualified order and subsequent users did not. Merchants could avoid this confusion by either making blanket policies or by explicitly attaching the conditions of the offer itself."
For example, instead of offering free shipping on select orders, Mike says it's better to offer free shipping on, say, all $100 purchases because the latter is easier to understand.
7. Try before you buy
This promotion is becoming increasingly popular among ecommerce merchants. Online sellers know that the #1 barrier to conversions is the fact that people can't touch and feel the products before purchasing. To address this, more and more ecommerce retailers are implementing "try before you buy" initiatives.
Try before you buy is exactly what it sounds like. It lets customers ship a product to their home (typically they only pay for shipping costs) so they try on or see the product in action. Shoppers are given a specific trial period (ranging from a couple of weeks to a month) and if they don't return the item back to the seller, they will be charged for the full amount.
If you're an online retailer, try before you buy could be a worthwhile effort. Yes, the offer does come with risks. There's a chance that too many people return the product and you're stuck with used merchandise that you can't sell. That's why this offer is best used on products that have an extremely high satisfaction rating. If customers are truly happy with your merchandise, they will be more likely to keep it.
The cosmetics brand IL MAKIAGE is an excellent example of a company implementing try before you buy. To increase the likelihood of customers loving the product, IL MAKIAGE invites shoppers to take a quiz to find the right type of foundation for their skin.
Once they have the perfect match, shoppers can select the "try before you buy" option, and they're given 14 days to try the product for themselves. If they don't love their purchase, they can send it back before the 14 days are up. If they're happy with it, they can keep the foundation and IL MAKIAGE will charge them for the full amount.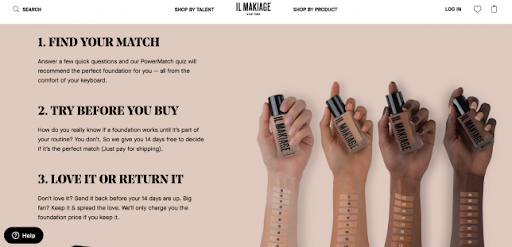 8. Gift with purchase
This promotion is exactly what it sounds like: customers get a freebie for qualifying purchases. Ideal for retailers with surplus stock or simply want to boost conversions, this offer can be extremely effective in getting people to buy.
Here's an example from Ulta, which gave away a free travel spray and crossbody bag for any $40 purchase.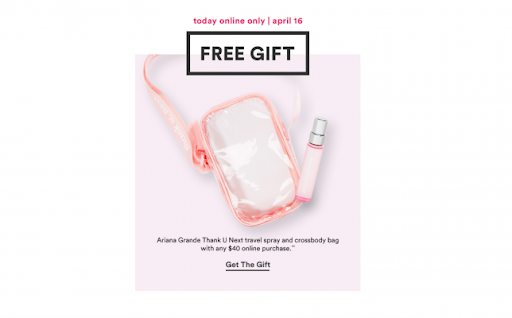 How to decide on the right promotion
We talked about the different kinds of sales promotions you could offer. Now let's discuss the steps you can take to select the right one for your business.
Be crystal clear with your objectives
The first question you should ask when considering promotions isn't "What type of promo should I offer?" Rather, it should be, "What do I want to achieve?"
Start by identifying your objectives. Do you want to increase foot traffic? Boost your bottom line? Are you trying to make room for new inventory? The answer will help you decide on the right promotion.
If you want to draw people into your store, for example, then an attractive discount might be the way to go. On the other hand, if your goal is to move inventory, then you should look into BOGO or multi-buy promotions.
In some cases, you want to promote a specific behavior from your customers. For example, when retailers like Nordstrom and Target wanted to encourage customers to choose in-store pickup, they offered discounts to shoppers who opted for those order fulfillment options.
Test, test, test
Another way to figure out which promo is the best? Test different types to see what works best for your store. That's what Gary Nealon, President of RTA Cabinet Store, did when trying to decide on what promotion to offer.
"We surveyed our audience when we were thinking about shifting to a free shipping model, and we found that a "lowest price guarantee" was more important than the free shipping for our niche because people expected there to be a cost associated with shipping big products."
Should restrictions apply?
Generally, blanket promotions that are easy to understand (e.g., "50% entire store) are a lot more enticing. However, if you're trying to protect your profits or want to avoid people taking advantage of your offers, it may behoove you to set restrictions such as:
Product-specific promotions

– The promo only applies to certain products or categories (e.g. "Half-off all dresses")

Spending thresholds

– The promotion will only apply if the customer spends above a set dollar amount (e.g., "Free shipping if you spend $100 or more")

Customer-specific promotions

– The offer is only extended to a certain shopper segment (e.g., "10% off coupon for all NEW customers")
If it makes sense for your promotion, see if you can apply any of these restrictions. Just note that the more hoops people have to jump through, the less likely that they will make a purchase.
How to improve the performance of your sales promotions
Promotions need to be… well, promoted. Here are some pointers for enticing people to buy:
Bring about a sense of urgency
Avoid setting promotions with no end date, as this will cause people to dilly-dally. It's best to implement limited-time offers to encourage customers to get a move on.
This is one of the reasons why flash sales are so effective. Shoppers know that the promo won't last long, so they act quickly. Studies have shown that 50% of flash sale purchases happen in the first hour.
For best results, add countdowns telling people how much (or little) time they have left to take advantage of your offer. Check out what Habitat did in its store below. In addition to the standard "Sale" signs, they also had "Last 2 days" signage to further drive a sense of urgency.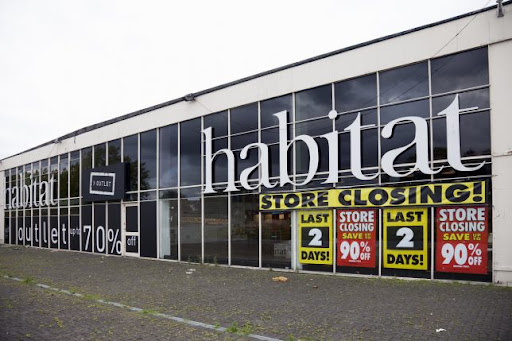 Have a theme
Create your offers around a specific theme. Doing so will make it easier for people to grasp and remember your promotion.
An easy way to do this is to piggyback on holidays. Mother or Father's Day, Valentine's as well as national holidays, can always be used as themes. You should also consider piggybacking on "unofficial" holidays.
For example, on National Pound Cake Day, (March 4) BirchboxMan ran a promotion to entice people to "gift" a Birchbox subscription.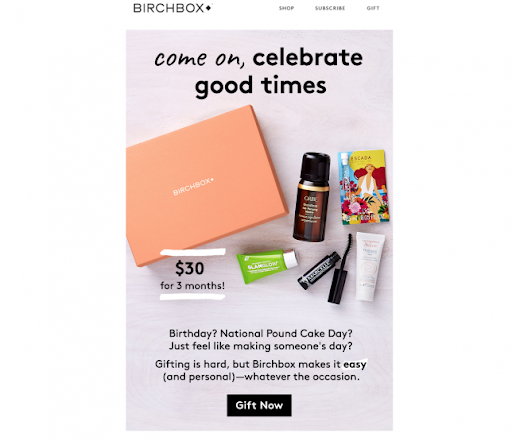 See if you can do something similar to your promotions. Find a holiday — even an unofficial one — that relates to your business and use it as a hook to draw people in.
Tie in your loyalty program
Got a loyalty program? See if you could make it work with your promotion. If you play your cards right, you could drive member signups and sales.
Why not offer a "Welcome" discount to entice new members? That's what Gymboree does for shoppers who sign up for their rewards program. Check out their coupon below.

Or, if you're looking to encourage spending among existing members, why not run an exclusive promo just for your loyal customers? Turn it into an event. Your loyal patrons will love the exclusivity, and you could gain a lot of sales out of it.
Nordstrom is a master at this. Every year, the department store runs an Anniversary Sale, and makes a major splash out of it. Several emails are sent out and Nordstrom's locations are all decked with Anniversary Sale decorations and promotional collateral.
In 2021, Nordstrom went all out by launching experiences , livestreams, and "Glam Up Days" in line with its Anniversary Sale.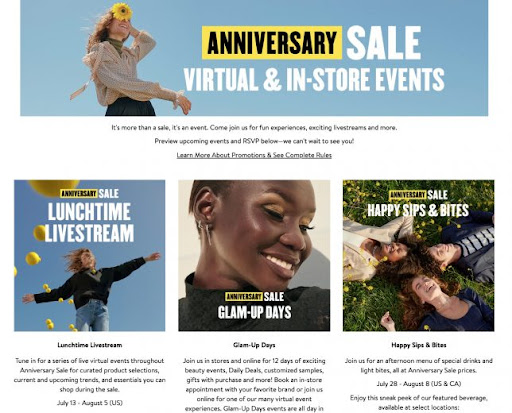 You could also implement conditional promotions that are loyalty-specific. For instance, why not award extra loyalty points to shoppers who purchase specific items or spend a certain amount? Such promotions encourage spending while rewarding loyal customers at same time (win-win!)
Combine promotions
If you're feeling particularly generous (or if you really need to liquidate your stock), consider combining different promotions. Initiatives like "Take an additional 20% off already discounted items" can really grab shopper attention.
If you're selling online, try combining discount or BOGO offers with free shipping and see how your customers respond.
Implement targeted offers
It's best to target your promotions towards specific customer groups. Consider creating customer segments according to gender, age group, or spending habits.
For example, if you want to run a sale for a specific brand or designer, you could create a group consisting of people who purchased that brand in the past, then run a promotion specifically for those customers. Or, let's say you have a group for your VIPs or top spenders. Why not send a special offer just for them?
Check out this example from Tiny Prints. The company ran a private sale for its VIP customers, and they sent a special email code to a select group of customers.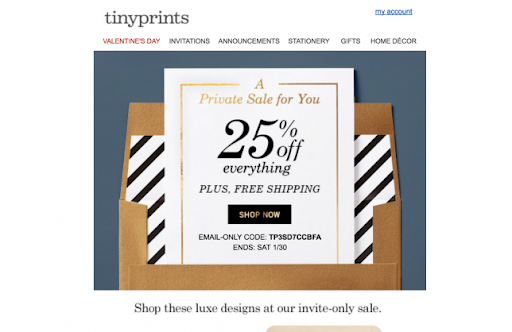 Use a solid retail platform to implement your promotions
Promotions may bring about a large wave of sales, and you need to be able to implement your offers smoothly while tracking your transactions and inventory with ease.
You can't do that well if you're using a manual or cumbersome system. So, arm your store with a retail management system that enables you to run promos with ease.
See to it that the platform makes it easy to apply discounts and that your stock levels and sales are tracked effortlessly on the backend.
Be flexible with payments
Even with amazing promotions, your customers might still face hesitation when making a purchase — particularly if you're selling high-end merchandise. For these cases, try to find ways to make shopping at your store more "budget-friendly."
You can do this through flexible payment options such as lay-away, in which you take a deposit from the customer for a product, then set it aside until the shopper pays it off at a later day.
Not a fan of lay-away? Consider using a solution like Afterpay, a "buy now pay later" solution that allows you to receive payment for purchased items upfront while letting your customers pay in four fortnightly installments. It's interest-free and when paid on time there are no extra costs for your customers.
Doing so not only increases conversions, but it also entices your customers to spend more. We've found that solutions like Afterpay can boost basket size by up to 20%.
Final words
There are no hard and fast rules when it comes to promotions. The "right" one will depend on several factors, including your products, customers, and price points.
The key is to come up with an offer that has a high perceived value while not overeating of your profits. It's a tricky balance, but when you pull it off, you'll see the results in your bottom line.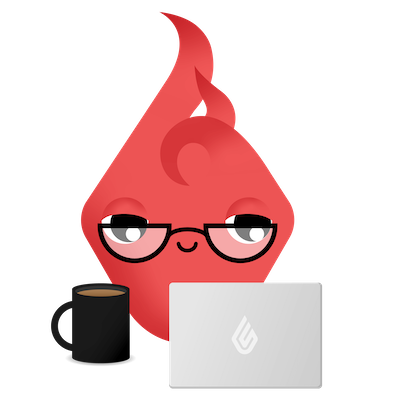 News you care about. Tips you can use.
Everything your business needs to grow, delivered straight to your inbox.