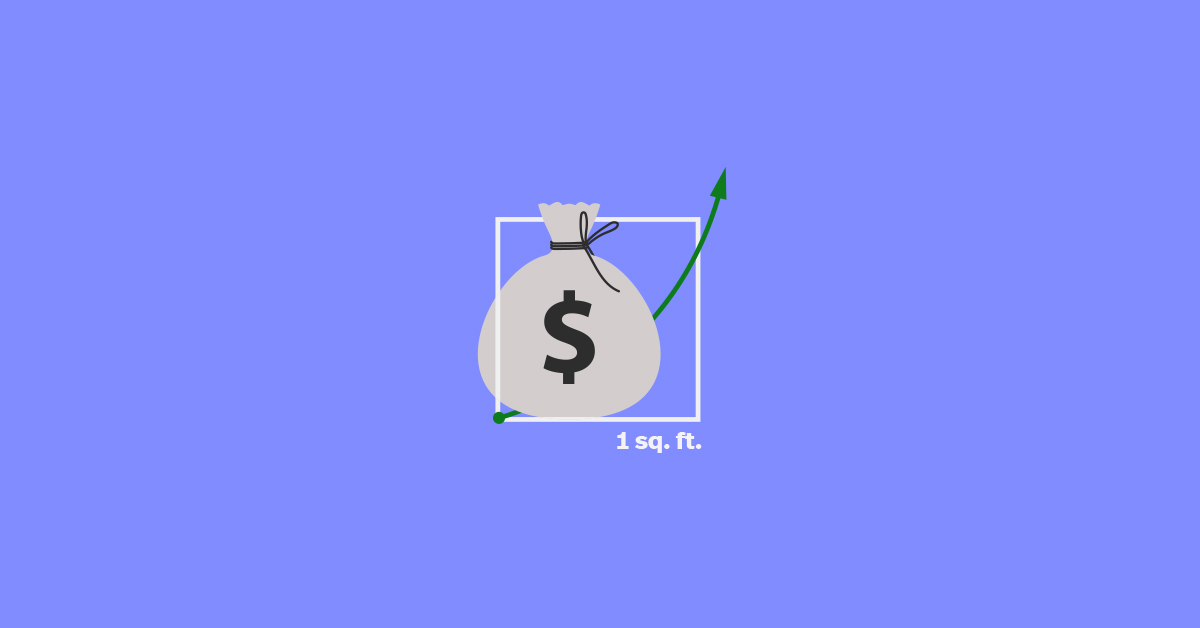 Sales per square foot is one of the best financial metrics you can use for gauging the performance of your brick-and-mortar stores. It tells you how efficient you are with your use of space and can give insights for improving store layout, merchandising, staff performance, and more.
In this post, we'll take a closer look at this important metric and offer pointers on how you can maximize retail sales per square foot in your stores.
You will learn:
It's time to break up with traditional retail
The future of commerce is here. Is your business ready? This guide to omnichannel retail shows you how to navigate the new world of retail and how to implement a strategy that resonates with modern shoppers.
What is sales per square foot and how do you measure it?
Retail sales per square footage is your store's average revenue for every foot of sales space. The formula is total in-store sales divided by selling area in square feet.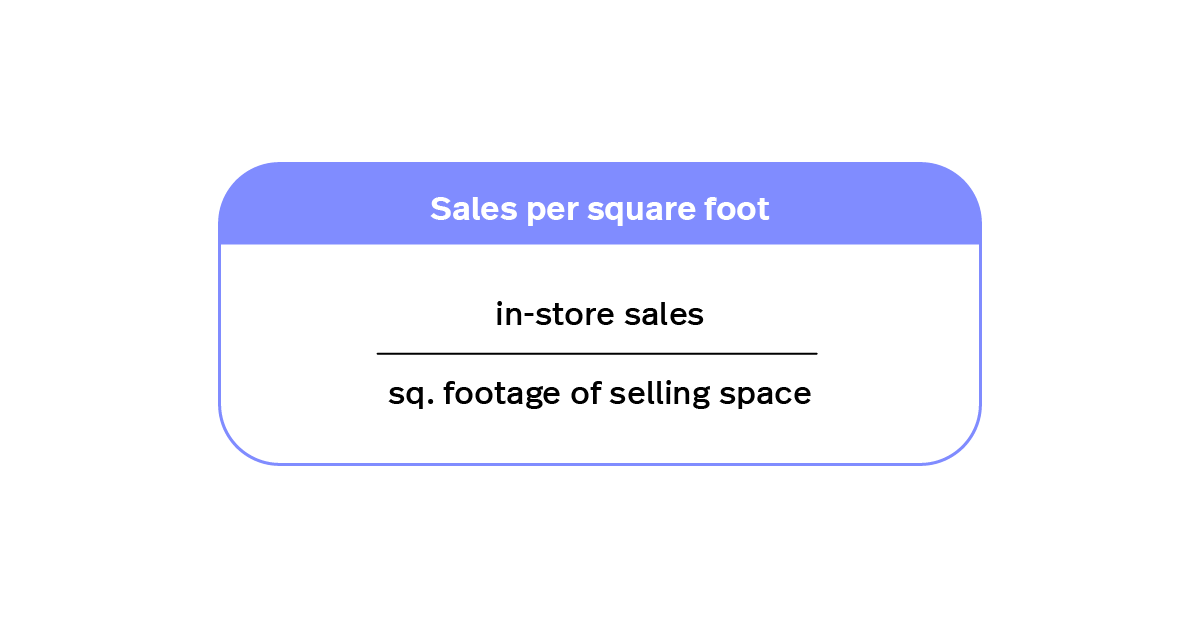 So if say, an apparel store sold $1 million worth of merchandise in its 1,800 sq. ft shop, that store's sales per square footage would be:
$1,000,000 / 1,800 sq. ft. = $555 per square ft.
When calculating a store's sales per square ft., don't forget to exclude the non-selling areas of the shop, such as stock rooms or receiving areas.
How do you increase sales per square foot?
Now that you have a basic understanding of sales per square footage and how to measure it, let's talk about how you can maximize sales per square foot in your stores.
Have a look at the tips below.
1. Improve your store layout
If your store's sales per square footage isn't as high as you'd like, consider optimizing your shop's layout. Start by decluttering the store. Spaces that appear messy or crowded can drive people away, and they make it difficult for shoppers to find what they need. That's why it's important to stay on top of tidying up. Instruct your staff to straighten out untidy areas and ensure that items are always in their proper place.
Walk around your store and identify things that aren't helping sales. Perhaps some fixtures need to be moved, or you need to make better use of signage.
Also, pay attention to how traffic flows in the location. Are some items or fixtures in the way? Are you placing your best products in areas where people will actually look at them?
One example of a retailer that effectively improved its layout is apparel store Express. In 2015, Express decided to switch up the placement of sale items in its stores. Rather than having them at the front, Express moved the items to the back and kept its full-priced merchandise in the front part of the store. The result? The retailer saw an increase in sales, comparable sales, and margins.
See if you can do something similar in your stores. Take a data-driven approach to how you re-merchandise or rearrange your store. Use retail analytics software to measure foot traffic and keep a close eye on product sales. Such data points will help you decide how to arrange your shop or where to put products.
2. Have a winning product assortment
Don't waste precious floor space on products that aren't selling. Keep an eye on your sales and product data and use those insights to make decisions on your product assortments.
Generate reports for certain time periods (i.e., monthly, weekly, hourly), so you can figure out when customers are buying from you. From there, you can drill down on what they're purchasing, and then stock up accordingly.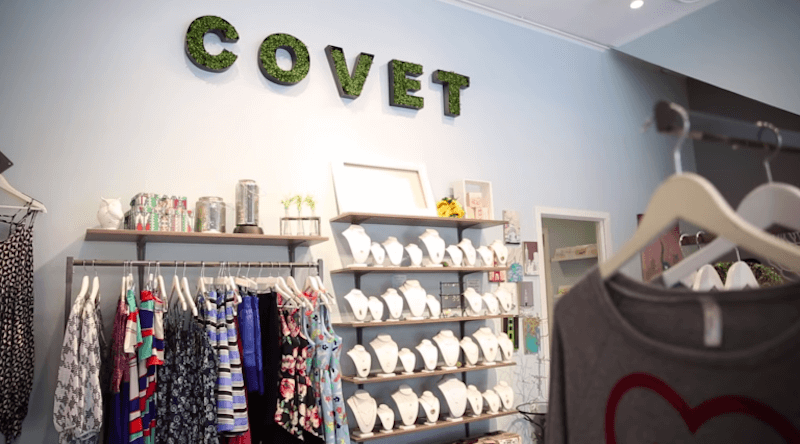 That's what Adrienne Wiley, Owner & Operator of chic fashion boutique Covet, did in her business. Adrienne looked at her store analytics then derived insights on which products to carry in her locations, as well as how and when to sell them.
"I actually determined what I should be stocking more of in my new location based on sales by category and then fine-tuned the hours by looking at the sales by hour," she said. Doing this helped her improve how she ran her stores, and she's advising other retailers to do the same.
"Start taking advantage of the data right away, because it can really help grow your business."
3. Optimize your prices or promotions
See if there's anything in your pricing strategy that can improve sales. Changes such as ending prices with the number 9 or introducing tiered pricing can make a difference in sales, so consider testing such strategies when pricing your products.
The same goes for your promotions. Test different types of offers and discounts to see what brings in sales (without cutting too much into your margins). There are, of course, various types of promotional tactics including BOGO offers, free gifts, loss leaders, and more.
The only way to figure out what's right for you is to test various actions, measure the results, and make changes if necessary.
4. Increase transaction / basket value
Electronics and jewelry stores always have high sales per square ft. thanks to their big-ticket items. People spend more with these retailers simply because their products cost more.
That said, merchants who don't carry expensive products can still achieve high sales per square ft. Depending on your store, you could try one or more of the following:
Practice upselling and cross-selling
Upselling and cross-selling are two of the most common (and useful) sales techniques for increasing transaction value, and ultimately sales per square foot.
As a refresher, upselling entails marketing a pricier version of the product that the customer is looking to buy. Think of it as selling an upgrade. If you're selling a car, for example, upselling would be convincing the customer to purchase a higher model of the same vehicle.
Cross-selling, on the other hand, means selling items that complement the product that customer is purchasing. So, if they're buying a purse, you could recommend a matching wallet.
Done right, upselling and cross-selling can help add value to the purchase. But if you do it wrong, you could come off as being pushy and miss out on the sale. That's why it's important to get a good read on the customer as well as to have sufficient product knowledge before you attempt to upsell or cross-sell.
Set up a winning loyalty program
Set up a loyalty program that not only encourages customers to shop at your stores but also entices to spend more and come back.
There are various types of loyalty programs in retail. The most common ones include:
Points (or dollars) per purchase

– This program is one of the simplest to implement. All it means is customers earn a certain number of points or dollars for each purchase, which they can then redeem in the future.

Membership programs

– With this format, customers pay a membership fee in exchange for exclusive perks and discounts. Amazon Prime is one of the best examples of this type of loyalty program.

Tiered format

– This loyalty program different levels, and the perks that members get will depend on their tier. The higher the level, the better the rewards.
Be flexible with payments
The budget of your customers directly affects the size of their transactions. That's why if you can find a way to make shopping at your store more "budget-friendly," you could potentially encourage them to spend more.
One way to do this is to offer flexible payment options such as lay-by or installments. If you're not a fan of not getting paid in full, consider using a solution like Afterpay, a "buy now pay later" solution that allows you to receive payment for purchased items upfront while letting your customers pay in four fortnightly installments. It's interest-free, and when paid on time there are no extra costs for your customers.
Billy Parry, Head of Sales – SMB at Afterpay, says that "retailers that have Afterpay in-store see higher average order values than what they see with Afterpay online. Giving your customers the option to pay for their purchase over time means they can buy more of what they want while being able to budget."
5. Invest in your staff
We've talked about the importance of retail staff training and motivation time and time again, for a good reason: store employees can directly impact sales and customer satisfaction. Without great employees, your store performance will likely suffer.
In the context of increasing sales per square foot, some of the things you could do with your staff include:
Providing them with a strong background in your company and products

Educating them on sales tactics such as upselling, suggestive selling, etc.

Training them to get over their fear of selling

Role-playing with them to demonstrate different sales scenarios

Encouraging positive reinforcement and peer-to-peer recognition
6. Drive in-store traffic from online audiences
Attracting more visitors to your retail location can also lead to an increase in sales per square foot. Remember that while people like to browse or shop around online, many shoppers prefer to complete the purchase offline—particularly when it comes to categories such as apparel and cosmetics.
That's why it's essential to have a solid digital marketing strategy that puts your store and products in front of the right online audiences.
"One thing modern retailers can do to increase sales per square foot in their physical stores is to bring people in-store from online by adopting a genuine omnichannel strategy," says Matt Warren, CEO at Veeqo.
"For example, a fashion retailer could entice browsers into their latest styles through social channels like Pinterest and Instagram. Then have them save their favorite items to a wishlist or shopping basket via mobile app or online site. Before finally offering a coupon they can redeem when coming in-store to try on the items."
"From here, making sure your store is arranged properly can be key. Knowing which items are regularly bought together and placing these close to each other can be great to increase Average Transaction Value (ATV). But also ensuring you have staff who are well-trained in your product catalog and able to upsell customers as much as possible can be a real game changer."
7. Encourage click-and-collect customers to browse
On a related note, part of having a digital retail strategy is offering click-and-collect, a service that lets customers buy online and pick up their items in-store. If you're already offering the service (and you totally should), find ways to get shoppers to look around while they're in your store.
Accomplishing isn't likely to be an uphill battle, because it turns out, many click-and-collect shoppers end up buying more products in the store while they're there.
Research has shown about 45% of those who have opted for in-store pickup bought something else during their trip to the store.
8. Encourage people to come in and stick around
Needless to say, the more people who walk into your store, the more potential sales you can have. And the longer people stay in your location, the higher the chances that they'll make a purchase.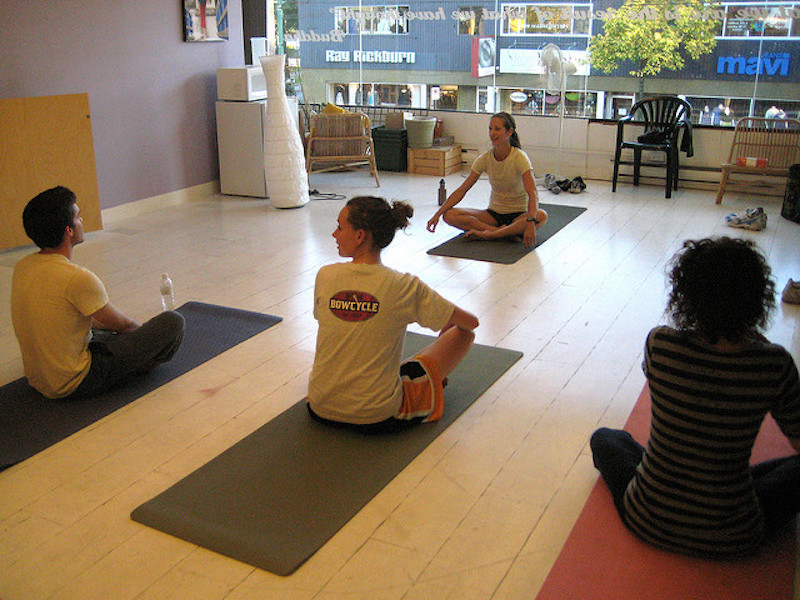 Credit: Bess Sadler on Flickr
Make an effort to improve the in-store experience. One strategy that seems to be working well for retailers is holding community-based events. Lululemon, for example, has found success in holding free yoga classes during slow business hours to drive traffic in-store.
Lululemon has a sales per square foot of $1,560 (the highest in the apparel industry) and experts credit this to its "in-store experience, which includes community-based activities like yoga classes that fit in well with the brand's message."
Then there are retailers who are being more creative with their spaces. Take Staples, which started offering office space in its locations. The office supplies retailer has partnered up with co-working services provider Workbar to convert some areas of its stores into workspaces.
Bonus: Go beyond sales per square foot…
While our article is chiefly about sales per square, it's important to note that this metric is not the ultimate measure of retail success.
"I'd argue that retailers attempting to increase sales per square foot are chasing the wrong thing," says Ray Riley, CEO at Progress Retail.
"Sales per square foot are an outcome; an outcome of revenue and the physical footprint of their retail outlet(s). Revenue is controllable, to the majority extent your physical store footprint post-post lease is not."
He continues, "Retailers should instead be focused on increasing revenue, by specifically identifying their conversion rates and the corresponding average value of those conversions or transactions. This is particularly the case in a post-ecommerce world with decreasing foot traffic."
Ray adds that retailers should pay close attention to what's happening on the shop floor and focus on training the front-line staff. To that end, he offers these 8 points:
Install a foot traffic system and analyze it weekly, and then year over year.

Are staff greeting customers?

Is the store properly staffed during high-peak times?

Is the product merchandised clearly, and is the store easy to navigate?

Is your merchandise priced? And is there a clear value proposition? (i.e., Don't make the consumer do the math. What's the real price?)

Do you have a sales management system and process that is executed on the sales floor?

Do you have a learning management or sales enablement system that can reach every member of the team with education in sales, brand, and product? This way they aren't reliant on the capacity of their manager.

Do your front-line managers have to manage conversion rate, average transaction value, and items per transaction?
Look at how brick-and-mortar affects online sales
Here's another reason why sales per square foot shouldn't be your definitive metric for success: consumers today are increasingly using multiple channels to shop, and you need a handle on how your physical presence influences your ecommerce sales (and vice versa).
Crediting sales to a single channel isn't enough when people are interacting with your brand in many different ways and places.
While it's tricky to measure the impact of offline retail on ecommerce, one thing you could do is look at your ecommerce analytics and see how much traffic or revenues are generated from locations where you have a brick-and-mortar presence.
For example, let's say you just opened a new store in Austin, TX. You can measure the impact of your store on ecommerce by looking at web traffic and sales from users in relevant zip codes (i.e., zip codes in Austin and surrounding areas.)
Bottom line
Sales per square foot is an important metric, and it will continue to be significant in the next few years. Measure it on a regular basis, but don't make it the only metric on your radar. Strive to establish a strong presence on multiple channels so you can always be where your customers are.
Want to see how Lightspeed can help you do just that? Schedule a call with an expert to learn more!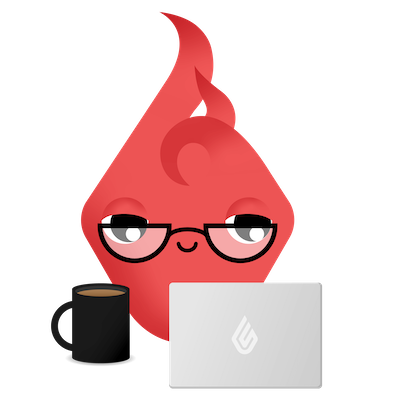 News you care about. Tips you can use.
Everything your business needs to grow, delivered straight to your inbox.