In our ever-increasingly digital age, a solid website presence is becoming a must-have even for restaurants. Search engine results pages (SERPs) are battlegrounds where the best optimised website wins.

In this case, 'winning' means getting the most web traffic and conversions from restaurant-related searches. But what is SEO, and what does it mean for your restaurant?

Let's find out!

What is SEO?
The benefits of SEO for restaurants
6 SEO tips for restaurants
Download our ultimate restaurant marketing guide
Learn how to drive your restaurant forward with powerful and effective marketing tactics.
What is SEO?
SEO stands for search engine optimisation. It refers to the measures you take to get your business to appear in the first page results of a search engine.

These measures can include implementing relevant search terms (or 'keywords') into your website text, encouraging other websites to link back to your own, collecting reviews from customers and employing strategies for appearing in local searches.

Google 'rewards' websites that have complete and reliable information, and that accurately meet the intent of whichever search term they're targeting.

This is why SEO is a crucial aspect of any restaurant's web presence—it helps users find you and increases the chance of in-person patronage. Building a website is one thing, ensuring people find it is another.
The three pillars of SEO
How do search engines decide which website to rank? It's determined by several metrics that are analysed by an algorithm.
Although not exhaustive, a good place to start is the three main pillars of SEO, each of which helps determine whether a search engine deems your website worthy of a high ranking.

Relevance

—The search terms you aim to rank for should be relevant to the nature of your business. For example, you shouldn't rank for the keyword "

places to eat on valentine's day

" if you're close on February 14th, or for "

fish restaurant near me"

if you only has one fish dish on your menu.

Authority

—Domain authority or domain rating are algorithmically generated scores given by SEO tools to gauge how trustworthy a website is. This is determined by many factors, but one way to increase your domain authority is by getting high scoring website to link back to your own.

Quality

—Your website's user experience is also a determining factor in whether you rank in SERPs. Slow and buggy websites result in high bounce rates, which is an indicator of low quality. It's therefore important to make sure your website is fast, and that its UX and navigation is straightforward and intuitive.
Of course, this doesn't cover everything. We'll develop on these pillars and the more technical side of restaurant SEO later in this post.


To summarise, employing SEO strategies ensures that when a user performs a Google search, they land on the page that best matches their intent.
Okay, but enough about users…
What are the benefits of SEO for restaurants?
Increased web traffic

—When done right, the most immediate benefit of SEO for restaurants is an uplift in web traffic. Since it's easier to find your restaurant's website, more users will end up visiting it.




Growth in orders and reservations

—More users will order and reserve tables with you if your website is optimised for their search queries. For example, if your fried chicken restaurant is well optimised for the keyword 'wings near me', and your website appears first for this query, customers more likely to pick you over others.

Build brand awareness

—the more eyeballs on your restaurant web page, the more people that know your brand exists



6 SEO marketing tips to get your restaurant appearing in searches
SEO doesn't happen overnight. It's an ongoing process that requires a multifaceted strategy. However, you'd be surprised how quickly a website could rank in searches if they employ the following strategies properly.
1. Devise a keyword strategy
2. Get on online directories
3. Encourage reviews
4. Boost authority through link building
5. Implement SEO best practices
6. Make your website mobile responsive
1. Devise a keyword strategy
Keywords can tell you a lot about what your customers want, and where they are in their journey to find it.

Think of users landing on your page as passing through a funnel. As they move down that funnel, the more likely they are to click on your web page, place an order or make a reservation.

At the top of the funnel are the users who have some idea of what they're looking for, but haven't quite gotten into the specifics yet. These users use high intent broad restaurant terms, like "places to eat in Paddington" or "restaurants in west London".



Adding high intent broad restaurant terms to your website can bring you closer to capturing users at the very beginning of their buying journey and moving them further down the funnel to your website (just make sure they're relevant to your geographic location, don't try and rank for the above keywords if you're not in West London!)

Bear in mind, however, that these high intent terms are highly competitive since it's likely that other restaurants in your area will also be targeting them for their own funnels. Therefore these keywords should form just one part of your overall strategy.

Next is the middle of the funnel, where users have a slightly better idea of what they're looking for and therefore use niche keywords: terms specific to what your restaurant offers. For example, if you're a Mexican restaurant in Salford you'd want to rank for niche keywords like 'burrito manchester' or 'tacos near me'.

Niche keywords tend to be less competitive and easier to rank for. Therefore your restaurant has more opportunities to implement these keywords and outrank the competition.

Finally, at the bottom of the funnel are the users who already know your restaurant, either through a previous visit or a recommendation. They will use branded keywords, terms that have your restaurant's name in them.

These keywords may be accompanied by terms like 'opening times', 'menu' or 'review'. This shows that users are looking for specific information about your restaurant. You'll improve your ranking of SERPs by making this information easily available to users. That brings us on to our next tip…..
2. Add your restaurant's data to online directories
The more information about your restaurant online, the better your chances of ranking in Google searches. It's therefore important to list your restaurant on relevant directories, complete with opening times, prices, menus and customer reviews.

Adding this information to a directory like Google My Business is essential if you want to show up in local 'near me' searches. Google My Business consolidates data into a short, digestible snapshot that guides a user's decision to dine with you.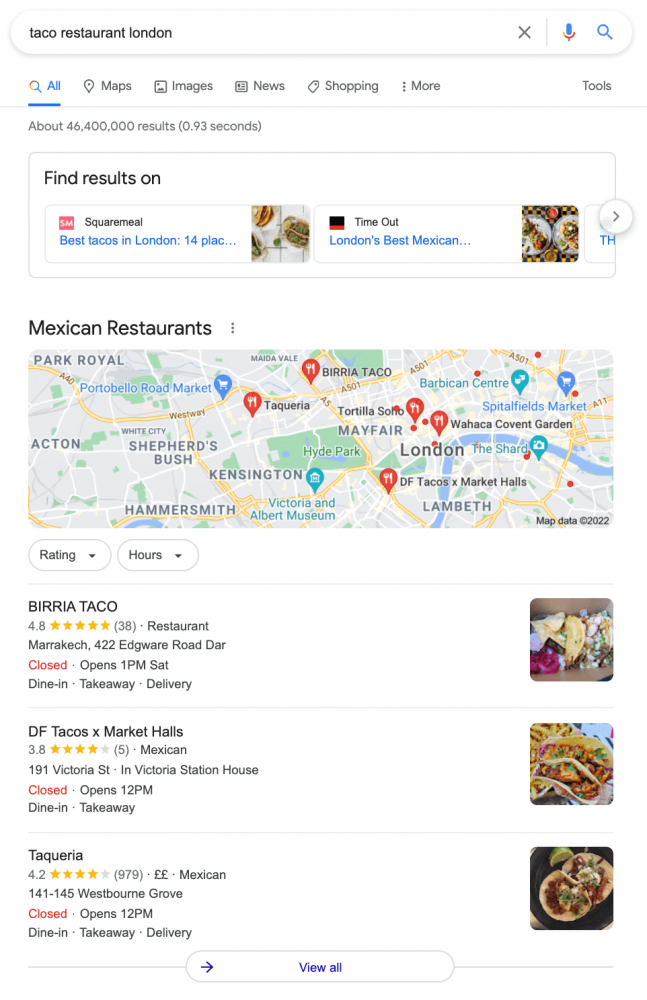 See those restaurants listed in the top three search results? They made it there partially by implementing a sound keyword strategy and ensuring that their information was consistent across directories.

Usually, users use one or more criteria when searching for a place to eat. It may be location, proximity, restaurant type, brand and cuisine or a combination of all of them. It's therefore important to ensure your online listing are optimised for these criteria. Do so by adding the correct data to online directories.

Some directories that you should definitely have your restaurant listed on include:
Google uses other online directories to grab data about your restaurant. The more reliable and complete that data is, the higher you'll rank. If you show different information across directories, Google will rank you lower.
3. Encourage reviews
It's hard for guests to know the quality of your restaurant without hearing it from someone other than yourself. This is why reviews are an important aspect of restaurant marketing in general. For your restaurant SEO, they're crucial.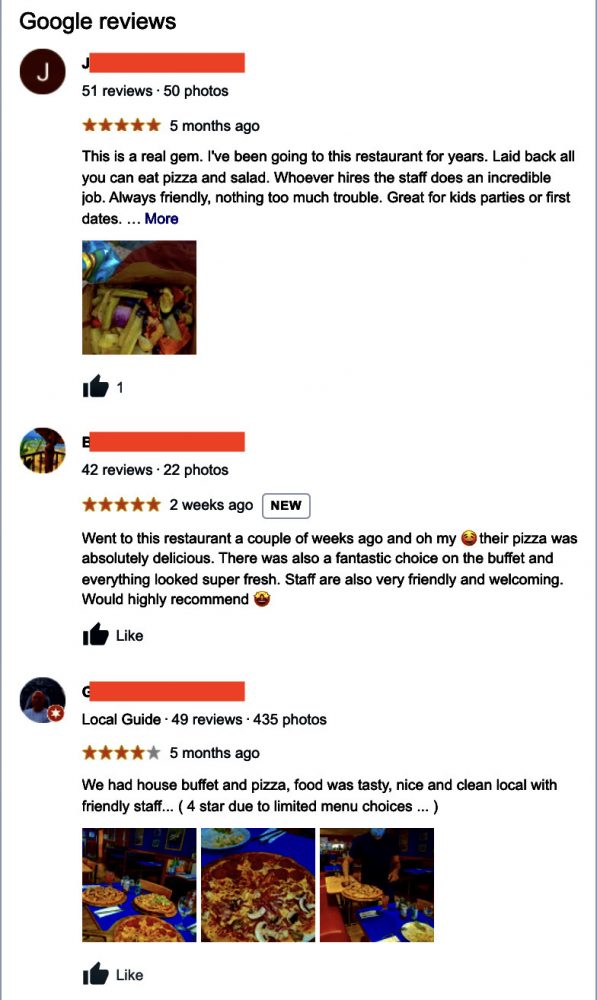 Reviews provide social proof for the quality of your restaurant and signal to search engines how customers rate your business. For example, Google uses reviews from its own platform, combined with those from other local review sites, to determine a rating for your restaurant.

Encourage positive reviews on Google and other review websites so that the search engine has a lot of content to work with when determining your rating.
4. Boost authority through link building
Link building is a method for getting high-ranking websites to link back to your own (called 'backlinks'). Backlinks are one of the most important ranking factors for all search engines.

Multiple backlinks from high authority websites signify to search engines that your website is trustworthy, and over time will push you further up SERPs.

There are various ways to earn high-quality backlinks. You could reach out to partners and suppliers, and ask them to link to your website in their blog or newsletter. Of course, think about what you can offer in return.

It would also be wise to build relationships with national and local food publications. Encourage them to review your restaurant or include you in a 'top 10' article relevant to your particular offering. Some online food publications you might reach out to include:
Remember the SEO pillar of relevance here. Be careful not to gain too many backlinks from irrelevant domains, it may hurt your ranking.
5. Apply SEO best practices
Forgetting to implement SEO practices on your website could render all the above strategies ineffective. There are some simple ways to show a search engine bot that your website is worthy of a high rank.
Keyword specific URLs
Including specific keywords in your URLs is yet another way to show search engines that your website is well structured. For example, if you have a specific page to showcase your menus, build the URL as 'brandname.co.uk/menu'. If you're a multi-location restaurant, rank for local searches by including the branch's location in its respective webpage e.g. 'brandname.co.uk/salford'
Title tags
A title tag is a title that appears both in a browsers title bar and on SERPs. Adding relevant keywords to your title tags can have a positive impact on your rankings. Below you can see how Honest Burgers used a niche keyword in their title tags to ensure their 'locations' page appeared in relevant searches.

Meta descriptions
Meta descriptions are HTML tags that summarise the content of your website. They're small bodies of text that show under a websites title tag in SERPs, and shouldn't be longer than 160 characters.

By including the right keywords in your meta descriptions, you indicate relevancy to search engines. Notice how Pizza Pilgrims have optimised their meta description for keywords like 'pizza delivery in london'.

Image alt text
These are HTML tags applied to images, that provide search engines with a description of an image's content. They exist because search engine crawlers (the bots that scan your website to determine its SERP ranking) can't interpret images.

This is why properly formatted alt text also has a positive effect on rankings. If you're using images on your restaurant's website—which, of course, you definitely should be—be sure to add alt texts with relevant keywords.
6. Make your website mobile responsive
A large proportion of web searches are now made on mobile. For that reason, it's crucial that your restaurant website is mobile responsive.

If not, the mobile user's experience will be clunky and will result in diminished page views and higher bounce rates.

Search engines like Google take a "mobile-first" approach meaning they won't rank your website on mobile or desktop searches if it's not mobile-friendly.

Search engines also rank websites based on their site speed, and a website design that's only responsive for desktop could be slower on a mobile interface.
For this reason, ensure that your website is responsive across many different devices, like desktops, iPads and smartphones.
Make search engines work for your restaurant
When used properly, search engines are your restaurant's best friend. They help users through your doors. By employing the technique outlined in this post, you'll be one step closer to online success.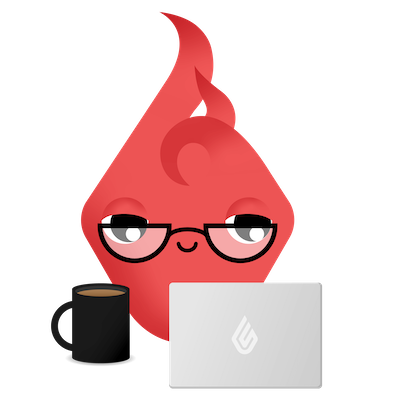 News you care about. Tips you can use.
Everything your business needs to grow, delivered straight to your inbox.