Email marketing is one of the most personal, effective and direct forms of communication you can have with your customers. Harness the right data and you can send compelling editorial and sales-led content that'll encourage customers to take a specific action, be it booking a table or leaving a review. But, before you get started, it's important to be up to scratch on email marketing best practices and consider the kind of content you want to create.
Here's a lowdown on the topics we'll be covering:
The ultimate guide to restaurant marketing
From social media trends and technology to traditional tricks that haven't lost their magic, get the lowdown on how to market your restaurant with our free guide.
Why email marketing is important for restaurateurs
Email marketing is one of the strongest ways to connect with your customers, both existing and prospective. Unlike social media posts, which may or may not be seen, an email lands directly in your customer's inbox, making it harder to ignore. In fact, 78% of UK marketers say email marketing is critical to their business strategy.
Email marketing lets you build a more personal relationship with your restaurant customers, be that through personalised greetings, providing them with special offers or sending them more editorial content.
Restaurant email marketing best practices

A great marketing email relies on you following the below best practices:
1. Write a strong subject line
An email's subject line is the deciding factor as to whether your customer will open the email or delete it right away. Keep your subject line short – between 30 and 50 characters – but make it compelling, so as to give people an incentive to open the email.
Are you offering your customers something timely, such as the chance to get a new reservation or are you giving them 10% off a new menu? One thing to bear in mind is to avoid 'spam' language, which may send your email to the spam folder. Examples of words that may be considered spam include 'free', 'bonus' and 'claim your offer'.
2. Send on certain days
The day and time you send your email will have an impact on your open rate. Monday is widely considered to be the best day for an email send, however it's worth A/B testing to see when your customers are most engaged. Try splitting your send across a Monday and a Tuesday, or a Monday and a Friday, to see which email has the highest open and click-through rate.
3. Personalise where possible
The joy of email marketing is the data you have to use. You will, at a minimum, have your customer's email address and name, and many email marketing tools let you configure your marketing email greeting to address your customers by their name. It may sound simple, but the difference between 'Hello' and 'Hi Ellie' makes all the difference, and gets the customer's attention right away.
4. Segmentation is key
Similar to personalisation, it's important to segment where possible. Examples of segmentation include creating email subscriber lists based on where your customer is based, how often they visit your restaurant and when they last visited. With clear segmentations, you are able to send specific emails to specific customers.
Examples of this could be sending an offer email to customers who haven't visited your restaurant recently, or sending information about exclusive events to your most loyal customers. By sending very targeted emails to your customers, this gives you the chance of a higher open and click-through rate.
5. Align your email design to your brand
Your restaurant brand should be implemented across all touchpoints, be it the decor of your restaurant, your menu or your marketing emails. The inclusion of branding makes your marketing emails look more trustworthy when it lands in someone's inbox. This can be as simple as including your brand logo in the footer or using consistent brand colours across the email.
6. Add email sign-up touchpoints to your website
There's no point in creating beautiful, well-written marketing emails if you don't have a list of customers who are going to read them. One of the simplest ways to encourage email sign-ups is to add touchpoints to your website. Many restaurants opt to have a sign-up box at the bottom of their website, and another option is to integrate a pop-up box to your website. The email marketing platform you use will give you the tools you need to do this. As well as having the sign-up box, it's important to have a hook. How can you entice someone to sign up?
Here's an example from Lightspeed customer Polpo: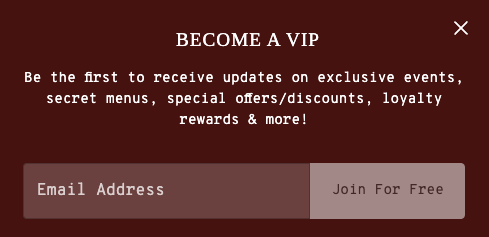 This newsletter sign up box uses emotive language, letting the customers know they'll become a VIP by subscribing. It also tells the customers what they can expect from Polpo newsletters – information about exclusive events, secret menus, special offers and loyalty rewards.
7. Make it mobile-friendly
Gone are the days of desktop, now mobile takes the lead when it comes to reading emails. Data from the email marketing platform Adestra revealed that 61.9% of email opens occurred on mobile.
The email marketing tool you use will let you preview how your email will look on both desktop and mobile. It's important to check this – and to also design with mobile in mind – to ensure that the images load correctly, the text is aligned and that content doesn't get cut off.
Essential metrics for tracking email performance

As you plan emails into your restaurant's marketing mix, it's important to not send them blindly. You can't get better at something you aren't tracking. The good news is there are plenty of platforms to help you create, automate, send and report on email campaign performance.
Como is a data-driven customer engagement solution that lets restaurants understand their customers and engage with them via emails. With Como, you can use data from your ePOS to create a highly targeted series of communications.
Other email marketing platforms include Mailchimp, Omnisend, and Klaviyo. It's important to consider the pros and cons of various customer relationship management (CRM) systems, and how complex, or simple, you need them to be.
Now, you might be asking yourself "but what's a good indicator of email campaign performance?" The truth is that there's no one-size-fits-all answer. It all depends on the objective of the email. Let's go over the essential metrics for measuring an email marketing campaign's effectiveness.
1. Open rate
This refers to the number of people who open your email. High open rates indicate a level of interest from recipients that you can use to reasonably conclude the strength of the email's subject line, for example.
2. Click-through rate
CTR is the percentage of email recipients who click on one or more of the links in an email. A link is usually attributed to an action you want the recipient to take, like booking a table. This is a solid indicator of whether or not an email was engaging. It also tells you if the email was successful at getting recipients to take the first step to perform the action you wanted them to take.
3. Conversion rate
While click-through rate will tell you the percentage of email recipients that clicked a link or button, it can't give you visibility on the percentage of people that actually took the desired action once they clicked that link and were taken to a page on your website.
What's considered a conversion, though? Well, that's entirely up to you. Is the goal of the email for the recipient to book a table? Sign up for an event? Use a promo code on their next visit? Use the defined objective of an email as its conversion.
Since your definition of a conversion is directly related to your email's call-to-action (CTA), your CTA should also directly relate to the goal of the email. Conversion rates are one of the most definitive ways to determine whether or not an email was effective.
4. Bounce rate
For an email to have a chance at being effective, it needs to actually reach someone's inbox. Your bounce rate refers to the percentage of emails sent that couldn't be successfully delivered to a recipient's inbox. When thinking about bounce rate, it's important to understand the difference between hard bounces and soft bounces.
Hard bounces are the result of an invalid, closed or non-existent email address, and your email didn't reach the recipient because of those reasons. You should remove the email addresses resulting in hard bounces from your email list. Internet service providers (ISPs) use bounce rates to determine an email sender's reputation, and you don't want hard bounces artificially inflating your bounce rate.
Too many bounces can make ISPs think your business is spamming its email list and send all subsequent emails to their junk folder, which will impact your email campaign's effectiveness.
Soft bounces are a result of a problem with a valid email address that's impacting deliverability. Things like a full inbox or a problem with the recipient's server can be the cause of a soft bounce.
Inspiration for how to engage customers with restaurant email marketing

Create a welcome email
A welcome email is a great way to engage with your customers as soon as they sign up. Your introduction email should include a brief description of your brand, what customers can expect from your emails, and a clear call to action.
Lightspeed customer Mildreds entices new subscribers with an offer for a free cocktail or mocktail, redeemable within two weeks of receiving the email. This adds a sense of urgency, encouraging customers to book a table right away using the direct link included in the body of the email.
Offer reservations 24-hours early
To really entice your customers to sign up to your emails, you need to offer them something to reward them for their loyalty. For restaurants that have a limited number of tables, or that are often fully booked, consider offering your email subscribers access to new bookings a day before they're released online to the masses.
This early reservation offer is a great way to encourage customers to book a table, and also gives you data about your most loyal customers. Do you have a customer that books a table every time they receive an email about new reservations? This data can help you further segment your email subscribers to a list of highly engaged customers. You can then target them with more exclusive offers and restaurant updates.
Inform about special events
The joy of email marketing is that you can delve into the details via written content and imagery. If your restaurant offers special events and pop-ups, such as seasonal dinners, wine tastings or a guest chef series, use your marketing emails to let your customers know about these events, and showcase what makes them special.
If a customer takes the time to subscribe to your marketing emails, they are already loyal to your brand, and therefore more likely to be interested in – and attend – exclusive events.
Events and pop-ups are often ticketed, with a limited number of tickets available. By offering these to your email subscribers, you're giving customers an incentive to sign up to your emails in the first place.
Entice with offers and discounts
Offers and discounts are a great hook to entice customers to subscribe to your emails initially. Incentives can include 10% off your first visit, free delivery on a takeaway order, and the chance to win dinner for two at your restaurant. As well as being a good hook, offer emails tend to perform very well, as everyone loves a discount.
One way to combine data and discounts is to send birthday emails. Ask your customers to share their date of birth when they sign up – just like Lightspeed customer Mildreds do – then use this data to send a timely email prior to their birthday, with a discount to use on their next visit. This type of email brings in an element of personalisation, too.
Spread the news
Marketing emails are a great opportunity to not only sell, but to share news and restaurant updates. As we've mentioned before, if a customer has signed up to receive emails, they're already loyal, and will be interested in connecting with your brand on a deeper level.
A fantastic way to do this is by sending news related emails, be that progress on new locations you're opening, information about a seasonal menu or updates about opening times. While these emails might not necessarily encourage customers to take a clear call to action, it's important to balance sales emails with more editorial content, so that you're not always pushing your customers to buy.
Engage with editorial
Offering editorial content is a wonderful way to connect with your customers on a more emotional level, and a fantastic way to showcase other brands you love. Consider a monthly email dedicated to sharing your own – and other people's – content, be it food-related podcasts, interesting features, events taking place in the local area and recipe inspiration.
While these marketing emails won't necessarily be the money makers, they will show the human element behind the brand, and give your customers added value. Editorial-style content tends to be very shareable, so encourage customers to pass these emails on to others who might be interested in them. This way, you have the opportunity to grow your subscriber base, too.
Connect with your customers on a more personal level
Integrating your ePOS with an email marketing platform like Como helps you engage with customers on a more personal level. Want to know how Lightspeed Restaurant can help you do exactly that? Let's talk.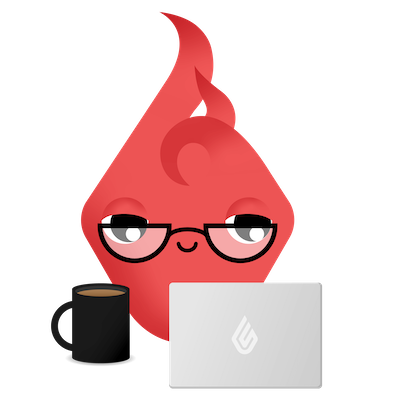 News you care about. Tips you can use.
Everything your business needs to grow, delivered straight to your inbox.