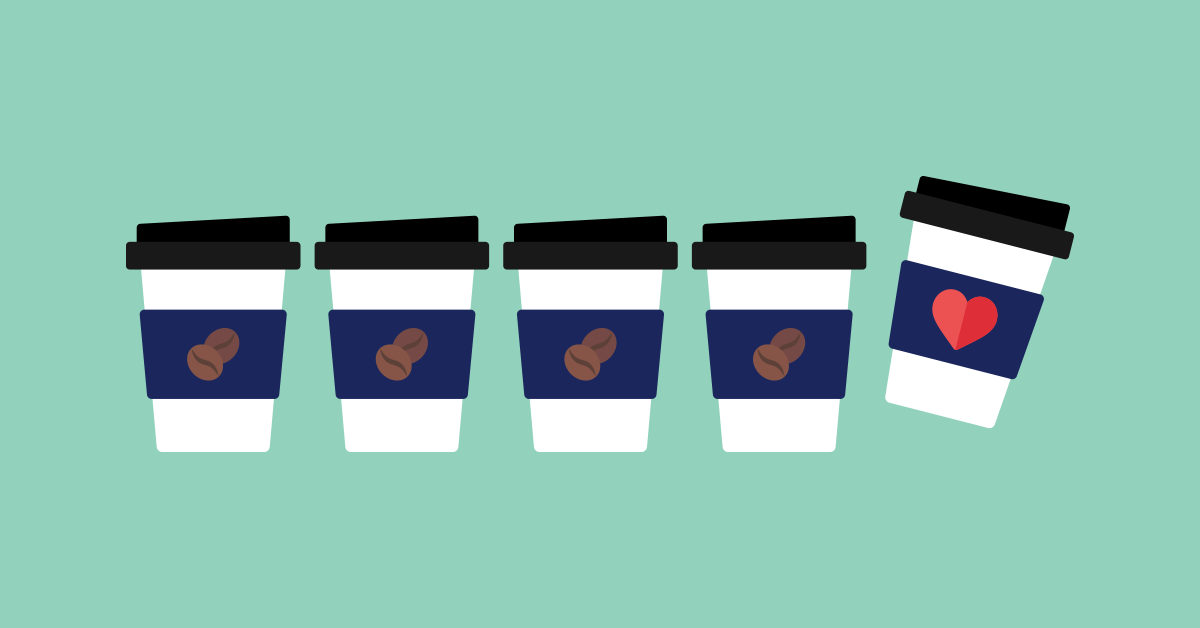 When Starbucks launched its restaurant loyalty program in 2015, they saw instant growth in sales. Global same-store sales rose 7%, driven by a 4% increase in customer visits. Net revenues increased 18% to a quarterly record of US $4.9 billion.
While you may be thinking to yourself "yeah, but they're Starbucks," any restaurant type, from cafes to quick service, can learn from their success.
A study from Technology Advice found that 83% of consumers are more likely to buy from a business that has a loyalty program. So when it comes down to you and a similar establishment down the block, a loyalty program can be a difference-maker for sales.
If you're thinking of launching a loyalty program of your own, we're outlined everything you need to know to get started. In this article, you'll learn:
Let's get started!
Launch a stellar customer rewards program
Build a branded mobile app, communicate with customers through automated push notifications and create high-converting email campaigns with our drag-and-drop email builder.
What is a restaurant loyalty program?
A loyalty program is a rewards system that incentivizes members with free items, exclusive promotions and offers. Most of us are familiar with the old punch cards that coffee shops popularized; this was the first iteration of a loyalty program in the foodservice industry. For every "X" coffees a customer purchased, they got one free.
But now, loyalty programs are digital, are app-based and accessible from any smartphone.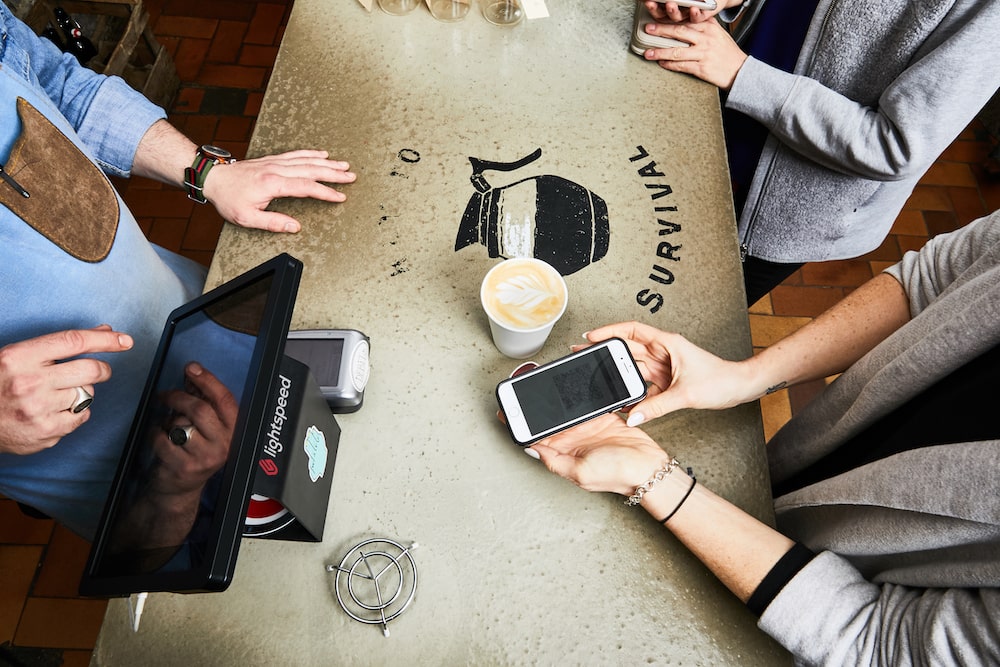 The benefits of a loyalty and rewards program
With restaurant startup costs ranging anywhere between $175,000 to $750,500 on average, finding creative ways to retain customers and maximize how much they spend is critical.
For most restaurants and cafes, loyalty programs are an inexpensive way of doing exactly that. A Bain study found that scaling loyal customers by as little as 5% can grow your sales by up to 75%.
When executed properly, they can result in the following benefits:
Higher customer lifetime value

Higher items per transaction

Higher purchase frequency

Higher average transaction value

Higher customer retention rate
In an industry with notoriously thin profit margins, improving each of those sales and retention metrics can be a difference-maker.
7 steps to build a restaurant loyalty program
Before you create your restaurant loyalty program, you need to have to clear idea of what you want to achieve and how to make it happen. We've outlined seven steps for launching a loyalty program that increases spending and creates happier, lifelong customers.
Establish goals
Make your loyalty program simple
Create a tiered rewards system
Use customer data to serve relevant rewards
Train your staff
Promote your loyalty program
Gather and use customer feedback
1. Establish goals
Before getting started, it's important to know what you want to accomplish by launching a loyalty program.
Judi Bastable, Director of Marketing for AIR MILES INCENTIVES, suggests planning out your objectives and creating a loyalty program that supports those goals.
"One common goal is to use your loyalty program as a differentiator and a means to stand out from your competition. Other goals could be to increase the frequency of visits or increase customer spending per visit. These goals are a great starting point as you define customer loyalty initiatives for your restaurant."
For instance, if your goal is to increase the average transaction value, your loyalty program should include more add-on purchase offers like offering a percentage discount on any bagels or breakfast sandwiches purchased with a coffee.
If your goal is to increase the frequency that customers visit, your loyalty program should offer rewards that encourage routine purchases, such as getting a free coffee for every 7 that a customer purchases.
Clearly establishing and documenting the business results you want your loyalty program to help you achieve, you can build a roadmap of how to gamify your rewards program to support those goals.
2. Make your loyalty program simple
If you're trying to create new habits in your customers, it's imperative to keep it simple. The easier it is to use, the higher the odds your customers will want to join your loyalty or rewards program and actually use it on a regular basis.
Is your loyalty program easy to use?
Older iterations of loyalty programs were often basic punch cards, motivating regular customers to increase their purchase and get a one-size-fits-all reward, but the same study from Technology Advice found that 59% of modern customers prefer loyalty programs tied to smartphone apps. Plus, the average person spends over two hours a day on their phone and carries it with them wherever they go.
In an attention economy, if you want to guarantee that customers consistently use your loyalty program, it's best to build your loyalty program where their attention is focused; in this case, it's on their smartphone. By creating a mobile loyalty app, your customers will have convenient access to their information and purchases, see available rewards and offers.
3. Create a tiered rewards system
56% of customers love feeling like they're part of an exclusive club. With a tiered rewards or VIP rewards program, customers can get exactly that.
A tiered rewards program is when you gamify your loyalty program. As your customers spend more, they unlock better rewards. This sense of progression inherently makes customers that value exclusivity spend more to unlock a VIP level for example. The more they spend, the more exclusive the rewards.
According to Mary King, Restaurant Business Analyst for www.fitsmallbusiness.com, one of the best perks of digital loyalty programs is their ability to offer customers more complex and personalized rewards.
"With a digital loyalty program, you can offer rewards timed to seasons, customer preferences or milestones like birthdays and anniversaries. A great way to reward your most loyal customers is with 'insider' opportunities, like a chance to sample your spring menu or summer cocktails before they are released. A reward like this has the added benefit of letting you get feedback on new dishes, and revise recipes before you print all new menus."
4. Use customer data to serve relevant rewards
Another benefit that app-based loyalty programs have is that they're a rich source of customer insights and data.
For each customer profile, restaurants have purchase history, what type of rewards they claim, how often they visit, how much they purchase per visit and more. With that valuable intel, restaurants can segment their customers into categories and serve each category offers most relevant to them.
For instance, does the customer spend their points as soon as possible on the lowest-value reward (like a cup of coffee), or do they save their points for a bigger reward (like a bag of coffee beans)?
With Lightspeed Loyalty, restaurants can get a complete view of each customer's purchases, segment customers profiles into unique categories and serve each category relevant reward either by SMS, push notification or email.
5. Train your staff on your loyalty program
Before launching your loyalty program, your service staff, particularly anyone who will take payments with your point of sale system, need to learn it inside out. Specifically, we mean teaching them:
Which tiers are available

The rewards are available for each tier

How to give a customer points for their purchase

How to accept points as a method of payment

How to get technical assistance
For your customers to feel the full benefits of a rewards program, a restaurant's staff need to be experts not only how to use it, but how to position it and incentivize them to download the app and sign up.
"Front line staff and management have to be fully aware of how the loyalty program works. Specifically, they have to understand the program's structure and how to use the mobile app or rewards platform. They need to be informed about when promotions are sent, how to answer frequently asked questions and overcome objections," says Bastable.
The most efficient way to onboard each of your staff on how to use and position your rewards program is by including it in your employee handbook, a formal training document that covers your restaurant's policies, procedures, guidelines and processes.
Once they've learned the technical side, managers need to train staff on how to position the loyalty app and encourage more customers to sign up. Ideally, they should ask each customer if they're a member of the rewards program when they're paying. If they aren't, the proposition of saving money on purchases they'd make regardless is attractive. Otherwise, there are plenty of suggestive selling techniques that they can apply when positioning your
6. Promote your loyalty program
Loyalty programs are a rich source of data that gives restaurants insight into their customer's spending habits and preferences, but data is only as valuable as the size of the sample.
You want as many people to be members of your rewards program as possible. For that, you need to market your loyalty app along with having staff position it to customers.
According to Arianne Boisvert, Senior Customer Growth Specialist at Lightspeed, one of the keys to accelerating loyalty program sign-ups is which mediums you use to communicate its value to customers.
"Your first order of business should be to tell your existing customers and followers that you've launched a loyalty program," she says. "Start by communicating that using your owned channels: Facebook and Instagram posts and stories, along with inside your establishment through your service staff, promotional flyers or digital signage if you have it."
Rather than sink money into a paid marketing campaign, you should focus your efforts on getting people that already know you exist to sign up since there's a much higher probability that they'll see the benefit in signing up and actually doing it.
Stay top-of-mind
For Stacy Caprio, Founder of Accelerated Growth Marketing, another key to successfully promoting your loyalty program is to stay top-of-mind with members through emails, push notifications and text messages.
"If a customer opts-in to being sent marketing communications, you should let them know about new menu items, promos and offers, or even just remind them how many points they have and what that can get them, using emails, push notifications or even SMS messages," she says.
"Sending timed communications using either of these communications channels ensures that customers remember you, take advantage of their points and new offers. Just make sure you aren't spamming them. Sending too many emails or texts can feel less informative and more intrusive and annoying than anything. You don't want to risk having customers unsubscribe from your communications list."
Here are a few scenarios where communicating with the customer feels less sales-y and more informative and helpful:
Fun:

Congratulatory email when a customer moves up to a new rewards tier

Enticing:

Offers and promotions exclusive to loyalty program members

Opportunistic:

Get "X" points for each purchase of a specific menu item for a limited time

Informative:

End-of-year roundup of how many times they visited, how many points they earned and how much money they saved

Thoughtful:

Get a free "X" for their birthday
Take advantage of user-generated content
Engaging with your customers through social media is key to fostering more new and repeat visitors.
Your establishment may have an Instagrammable bathroom or interior design that makes for the perfect photo op for customers. Why not take advantage and repurpose some of that user-generated content?
The Standard is a shining example of how to feature customers on social. Their feed periodically showcases customers and tags their personal accounts to share the love.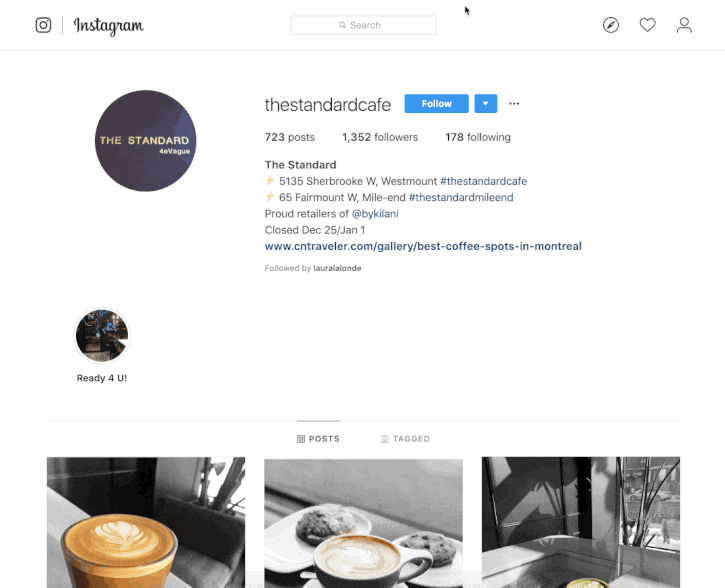 Repurposing a customer's content (with permission) makes them feel special and increases the likelihood of them coming back. Plus, those shared posts are seen by followers who trust their taste and may visit your establishment as a result.
7. Gather and use customer feedback
Loyalty program members are your best customers: they visit the most often and can be great sources of feedback, whether it's about your menu, service, what they'd like to see you offer in the future, and so on.
Consider sending them a survey (Typeform is a great, free tool for building surveys) to gauge whether or not your establishment is leaving them satisfied or wanting more. Here are a few open and closed-ended questions you can ask them:
Service quality:

How would you rate the quality of our service (from 1 to 10)?

Food quality:

How would you rate the quality of our food (from 1 to 10)?

Trustworthiness:

Would you recommend us to friends and family? If so, why? If not, why not?

Opportunities for improvement:

Is there something you'd like us to offer but aren't right now?
If you don't ask, you'll never know. Actively asking for and using customer feedback can help you give them the restaurant experience they crave, make them feel listened to and increase the probability that they keep coming back.
Customer feedback helped Domino's Pizza reinvent themself; it can help you too!
Strengthen your customer relationships
When used correctly, asking for customer feedback helps endear your establishment with customers and build your brand from the inside out.
In all probability, you've heard about a business through a friend and purchased from them as a result, and you're not alone. A Nielsen study found that 77% of customers are likely to buy from a business they're introduced to by friends or family.
If you focus on making your existing customers happy, they're more likely to act as brand ambassadors and recommend your restaurant to friends and family. Happy customers are your secret weapon for low-cost customer acquisition.
Gamify customer loyalty with a rewards program
Launching an app-based loyalty and rewards program is a surefire way to increase sales and customer retention. To maximize your loyalty program's impact, make sure you outline your business objectives and what types of offers and promotions you can use to help you achieve them.
Ultimately, loyalty programs benefit both the business and the customer. Your rewards need to be personalized and enticing for customers to feel incentivized to sign up and use it regularly. By balancing both your business objectives and what customers actually want, you're more likely to see meaningful growth in sales.
Want help launching a stellar loyalty and rewards program? Talk to one of our experts today to see how Lightspeed can help.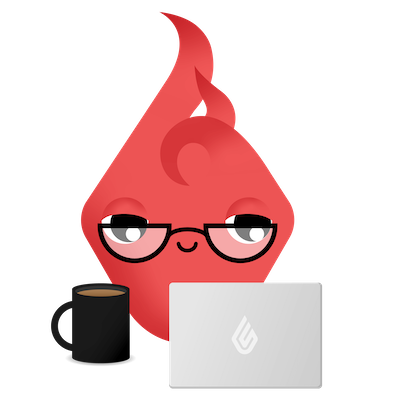 News you care about. Tips you can use.
Everything your business needs to grow, delivered straight to your inbox.