Creating highly personalised marketing emails is a fantastic way to engage with your customers on a deeper level. And, the right technology makes it simple to create this personalised content, whether you want to communicate with customers who live in a certain place, or visit your restaurant on a regular basis.
Here's a lowdown on the topics we'll be covering:
The ultimate guide to restaurant marketing
From social media trends and technology to traditional tricks that haven't lost their magic, get the lowdown on how to market your restaurant with our free guide.
How to collect personal data for marketing emails
Without data, you can't send an email, let alone personalise your emails. Gathering data for marketing emails involves you deciding which information is the most relevant.
When you ask people to sign up for your restaurant's mailing list, you can customise this to let your customers provide as much personal information as possible. The minimum personal data you will collect is the customer's email address, however many restaurants also include options for a full name, a date of birth and location.
Four ways to encourage email sign ups
Once you've decided to make emails a key part of your marketing strategy, you need to start encouraging customers and prospects to sign up. There are a number of ways to encourage email sign ups. Below are just a few examples of ways you can build a strong subscriber base.
Form embedded on website
The simplest way to encourage people to sign up to your marketing emails is to embed a form on your website. Lightspeed customer Cin Cin has a banner at the top of their homepage. When you click on it, a form opens that asks for a full name, email address, mobile number and date of birth. The mobile number and date of birth are optional, but they caveat this by saying: We just ask for your email and mobile number so we can send you emails or texts with great offers, a treat on your birthday and information about what's going on at our venues.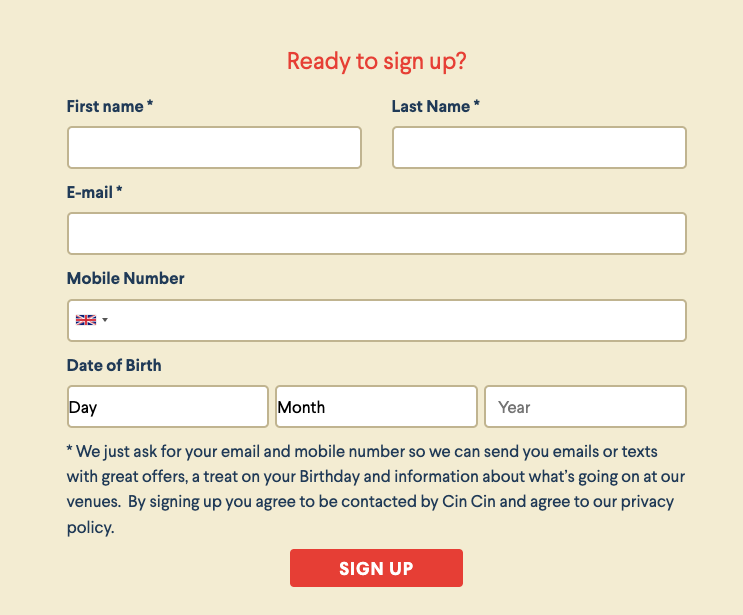 Pop-up box on website
Another way to encourage people to subscribe to your marketing emails is via a pop-up box on your website. These boxes automatically pop up after a user has been on your website for a certain amount of time – often 10 seconds.
Lightspeed customer Coqfighter uses the pop-up box to encourage newsletter sign ups. There's a line that introduces what you can expect from Coqfighter's newsletter: 'Join our mailing list for news, offers and more'. Coqfighter also gives the option for customers to provide their date of birth and postcode which will then allow the restaurant to personalise the emails a customer receives.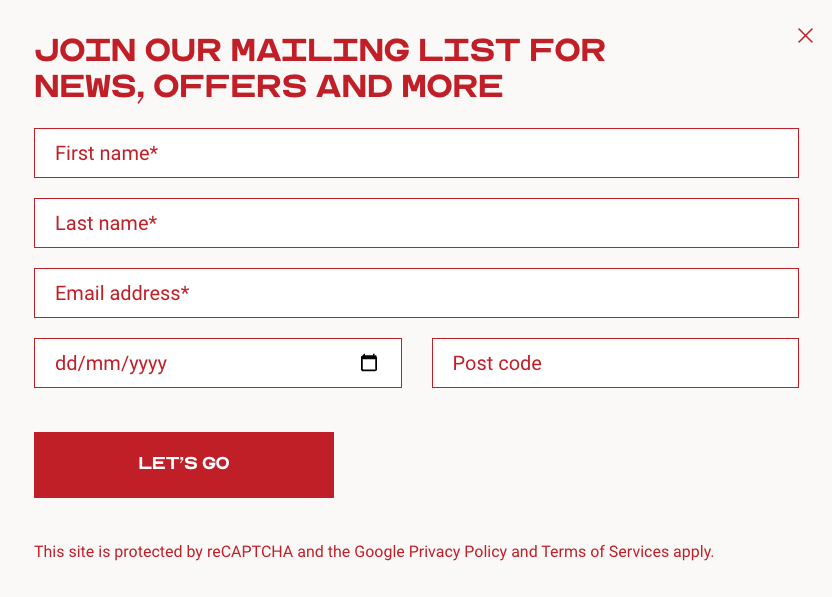 While a pop up box is harder for customers to miss, it can also be more invasive, which might cause users to leave your website sooner than they planned.
One way to mitigate this risk is by offering your website users an incentive to sign up to your emails, and stay on your website. This could be a 10% discount on their next visit to your restaurant, or a free drink.
Through your Lightspeed register
With Lightspeed Restaurant, there are many opportunities for customers to provide you with their email address, for example if they want a digital receipt sent to their email. There is a GDPR-compliant box that allows customers to opt-in to receiving communications from the restaurant. Within the K-Series back office, you're then able to see a full list of customers and email addresses. You can then export this information and import it into your email marketing platform such as Mailchimp.
Social media
Let's step away from your website and consider how to use social media to encourage email sign ups. Make the most of the channels you're present on, and include direct links that let people subscribe with ease. When using social media to encourage sign ups, it's worth considering what the hook is. Tell your customers and prospects what they can expect from your restaurant's marketing emails, be it special offers, exclusive events or editorial content such as recipes and blogs.
Ways to personalise your restaurant's email marketing
Personalise your emails with pre-built segments
Segmentation lets you send marketing emails to a particular set of subscribers based on specific factors, from age to location to behaviour. Many email marketing platforms have pre-built segmentations that you can automatically send emails to. Let's take Mailchimp for example. If you use this platform, you can send emails to:
New subscribers

Active subscribers

Inactive subscribers
And, if your restaurant website also incorporate an online store where you sell merchandise, fresh produce or larder ingredients, you can send emails based on:
Potential customers

Recent customers

First-time customers

Repeat customers

Lapsed customers
Using segments means you're not bombarding your subscriber list with constant emails, rather you're targeting the right people with the right content. In turn, this will increase your conversion rate.
Examples of marketing emails to send to specific segments include a welcome email to new subscribers where you can introduce your restaurant, and a special offer to inactive subscribers who haven't opened your emails recently. It's a great idea to send information about exclusive events to repeat customers, as these are your loyal subscribers who interact with your content regularly.
Personalise your emails with names
One of the simplest ways to personalise your marketing emails is with your subscribers name. While this data doesn't give you a lot of insights into your customer, it is a more friendly, personal approach.
As well as personalising the copy within the body of the marketing email, you can personalise the subject line of your email. Mailchimp data shows that 64% of recipients decide to open or delete emails based on subject lines, with HubSpot stating that the most effective subject lines are personalised.
Personalise your emails based on location
With data on your customer's location – or the restaurant they are located closest to – you can send your customers specific marketing emails around events taking place in the local area, new restaurant openings and offers specific to certain restaurants.
Lightspeed customer Mildreds embed a form on their website for sign ups and request people to specify their local Mildreds site from a drop down menu. This lets Mildreds personalise their restaurant's email marketing based on where their guests are located. With this extra level of information, they're able to send emails about news, offers and events taking place at different locations.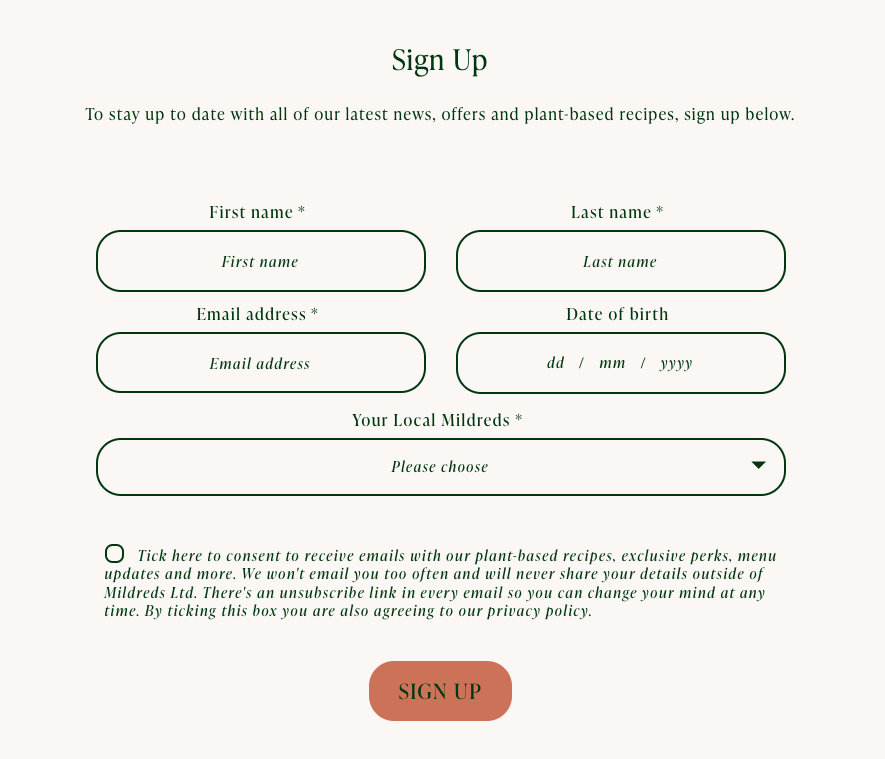 Personalise your emails based on date of birth
By gathering data on your customer's date of birth, you can send specific marketing emails around the time of your customer's birthdays. Birthday emails can include a special one-off offer for a free coffee and pastry, or 10% off your next order.
Birthday emails are a fantastic opportunity to encourage your customers to visit your restaurant again and therefore boost sales.
Connect with your customers on a more personal level
With Lightspeed Restaurant, you can collect email addresses from customers, and then use this data to engage with your guests on a more personal level. Interested in learning the different ways Lightspeed Restaurant can help you connect with your customers? Let's talk.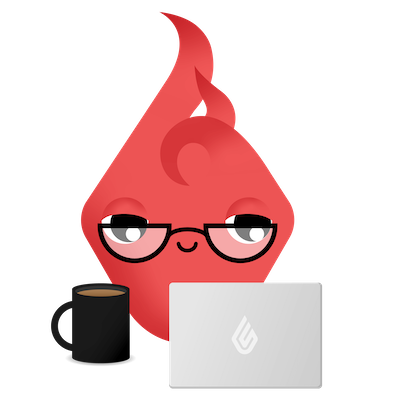 News you care about. Tips you can use.
Everything your business needs to grow, delivered straight to your inbox.