Maybe your food is good enough to speak for itself. Perhaps you don't need restaurant customer service at all.

But for the other 99.9% of hospitality businesses, good food is nothing without great customer service.

Fail to deliver the latter, and it could cost you. Here's 6 restaurant customer service tips to help you grow.
1. Gauge guest expectations.

Customers expect to be treated a certain way when they eat out. And rightly so. Without them, your business wouldn't exist.

But those expectations vary depending on your vertical. Customers wouldn't expect silver service at their local wings shack, for example.

Generally, however, customers simply expect to be treated with dignity, to get what they pay for and that any problems are addressed quickly, tactfully and helpfully.

So consider your price point. If customers are paying a premium, what is that premium? And how can you and your restaurant staff deliver it.

It's therefore important when training restaurant staff to remind them what guests' expectations are, and make them aware of behaviour that either lives up to or flouts those expectations.
2.
Train staff on proper etiquette.
To deliver quality customer service, train restaurant staff to treat guests with professionalism.

There's a certain etiquette for waiting tables and managing customers. Even if the customer isn't aware of these 'rules', abiding by them serves to make the customer feel welcome, comfortable and not intruded upon.

Proper restaurant etiquette often comes down to common decency and respect, like treating customers warmly and being attentive, not intrusive.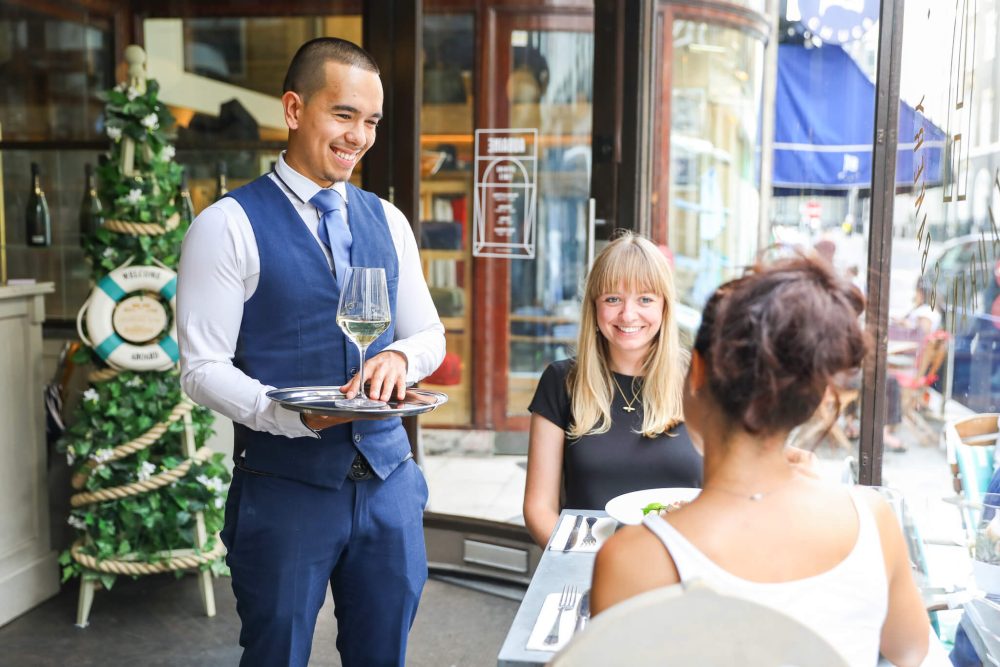 But it's important nonetheless that they're aware of the following rules of proper restaurant etiquette. Here are some examples of good restaurant customer service skills:
Don't interrupt a conversation to take orders or plates.

Don't clear plates until everyone has finished.

Use your point of sale to see if anything is out of stock before taking an order

Always bring everyone's plates at the same time

Serve the guest's from the left using your left hand, clear from their right using your right hand.

Never blame a mistake on a colleague, the chef or how busy you are—just deal with it.

Never touch the rim of a glass.

Never let a bottle touch the glass while pouring.

Never touch a guest.

Never clear a full plate without asking what was wrong.
3. Set yourself apart

Think peanuts at Five Guys, free coffee refills at Wetherspoons. It's the small details in customer service that guests remember and come back for.

They're the icing on the customer service cake, and a great way for restaurants to set themselves apart with their customer service.

So think about what you can offer that your competitors don't.

Try offering an entree or snack with a low food cost to give away for free when your customers first take their seats.

Feel like giving away free food? Maybe, but the potential revenue in customer retention will certainly make up for it.

Visit a competitor restaurant, and closely observe their customer service. Are they missing something? Are they doing something that you can do better?

Always inform part of your customer service by what your competitors are or aren't doing. But remember, be inspired, but don't copy.
4. Gather guest data

Modern restaurant tech allows us to know our customers better than ever before.

A good restaurant point of sale helps you gather data that serves to enhance and personalise customer service.
Save customers' preferences, favourite dishes, drinks or payment methods.

Make a note their allergen information so they needn't tell servers twice.

Target them with personalised email marketing and reward them for their loyalty.
On Lightspeed Restaurant, for example, you can create customer profiles listing customers' names, email addresses and whether or not they want to receive email notifications for your promotions or newsletters.


Start your business off on the right foot
Want to simplify, scale and ignite your potential? Find out what Lightspeed Restaurant ePOS can do for you.



On their next visit to your restaurant, you can look up their past orders or notes on their preferences and use that data to deliver high-quality restaurant customer service.

For example, you might notice that one customer always orders Merlot. Using this data, you can suggest them your latest variety from your wine list, or recommend a new beef dish that pairs well.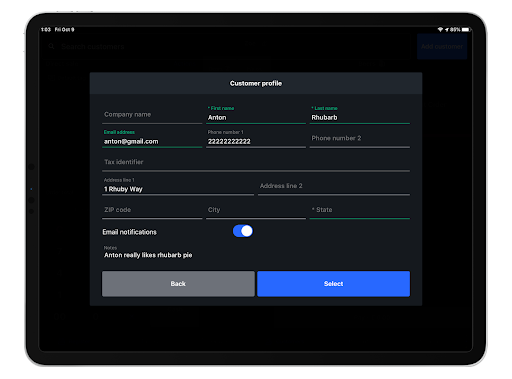 5. Streamline orders and payments

While you're at it, consider how else technology can smooth out restaurant customer service.

For example, mobile order and pay technology let guests order from your menu by simply scanning a QR code.

Guests select items from your menu, and pay right from their phone, without a waiter even having to get involved. Their orders then get sent to the kitchen.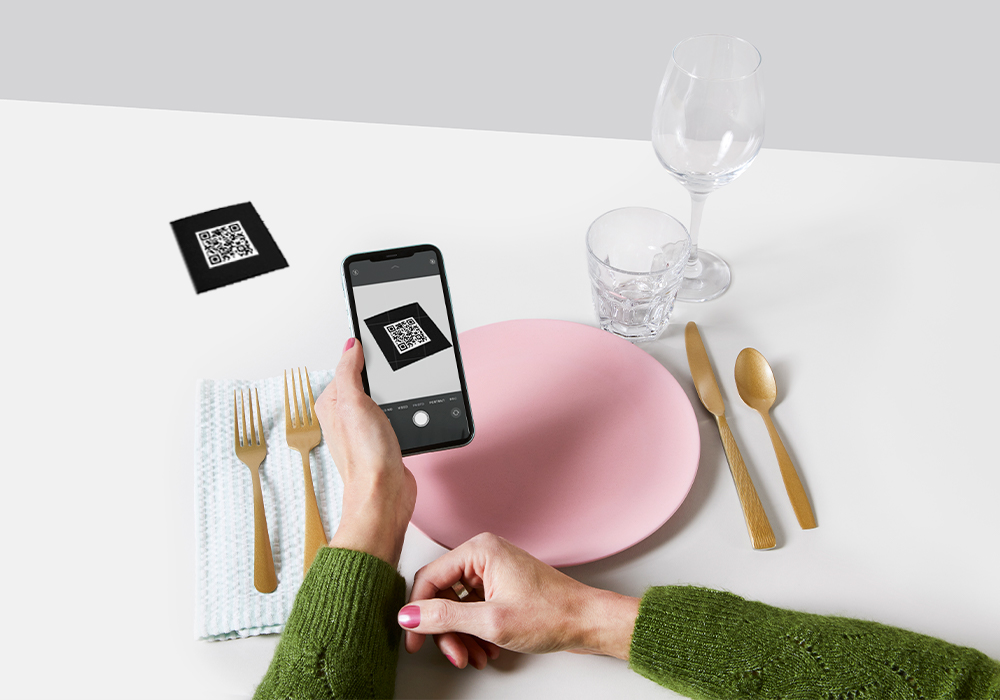 This solution may not be entirely appropriate for restaurants at the higher end, where attentive table service is crucial to the customer experience. But for fast-casual restaurants, bars, or hotels offering room service, it's a powerful tool.

With a platform like Lightspeed Order Anywhere, you can integrate payments software into the platform for faster customer checkout, and let guests create their own profiles with saved payment preferences for more personalised service.

Benefits of Lightspeed Order Anywhere for restaurants and bars
Customers can order and pay from their tables. This lightens your waitstaff's workload, freeing them up to attend to finer points of the customer experience.

There's no need for guests to attract a waiter's attention to add to or modify their orders, making service quicker and more fluid.

Restaurant and bars can offer their own click-and-collect service without having to pay third-party fees.

Forecast labour and inventory needs with reports on past, present and future orders

Eliminate crowds and queues at the bar or counter area, making service run smoother.

Easy ordering could result in a larger ticket size.

Menu changes can be quickly and easily from the Order Anywhere backend and will be reflected on the customer-facing app within minutes.

Integrate

Lightspeed Payments

to unify orders and payments, enjoy competitive transaction fees and consolidate transaction data.

Guests can create their own profile with contact information and preferred payments methods for faster checkout and more personalised service.
Time to modernise your restaurant tech?
Start your digital transformation and ignite your business's potential today. Download our guide to find out how.
6. Deal with difficult customers gracefully

Dealing with difficult customers is a bit like responding to a bad review, how you deal makes all the difference.

Matching a customer's anger will do nothing to quell their concerns or resurrect their impression of your restaurant.

It's important not to get emotional when dealing with customers, but instead, try to address their issues as much as possible and offer some kind of reconciliation.

A complaint well dealt with can actually be an asset to your business.
Start delighting guests today
Restaurant customer service is an art form. One that takes years of practice, trial and error. Get it right, and it can be the difference between a good place to eat and a great one.

Want to know about how tech can help you? Let's talk.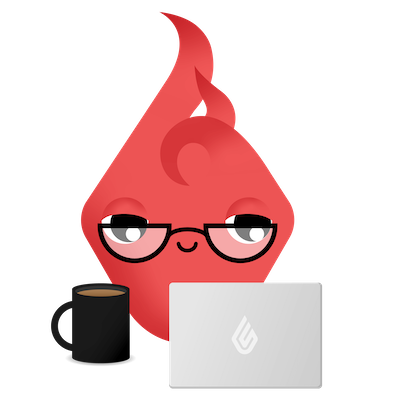 News you care about. Tips you can use.
Everything your business needs to grow, delivered straight to your inbox.