Ask any restaurateur: One of the biggest challenges they face is staffing, particularly managing restaurant employee turnover. Besides anecdotal evidence, the data speaks for itself.
In 2018, the restaurant industry's collective turnover rate in the U.S. reached a whopping 74.9%. That's over 25% higher than the total private sector's turnover rate.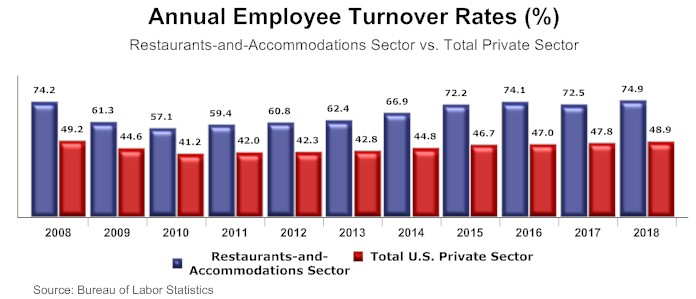 The restaurant industry sports a higher turnover rate than other sectors in part because it's the largest employer of teenagers; one-third of all working American teenagers are employed by a restaurant. Many of them are students, are getting their first job experience and will eventually start a career that aligns with their education.
In their State of the Restaurant Industry report, the National Restaurant Association doesn't anticipate this trend stopping any time soon, citing recruiting and retaining employees as one of the restaurant industry's top challenges in 2019.
But an interesting thing to note here is that even full-time employees contribute to high turnover rates since upward mobility in the restaurant industry happens mostly when someone moves from one restaurant to another.
Now, unlike student hires leaving to pursue their passions, that's a problem we can solve to help retain experienced full-timers for longer.
Here are five things you can do to retain more of your full-time employees and reduce your employee churn.
Hire the right people

Invest in effective training

Offer opportunities for advancement

Pay competitive wages

If money is tight, offer other perks

Conduct exit interviews
The system your staff will love
Easy to use, fast and mobile. Lightspeed POS ignites your restaurant's full potential. ?
1. Hire the right people
Reducing employee turnover starts with hiring the right people; you need to hire candidates whose goals align with the role they're applying for, and who are also strong fits culturally.
Start by writing a job description that's accurate and posting it on popular online open job aggregators like Monster, Simply Hired, and Seasonal Jobs. If your restaurant has a Facebook and Instagram account, consider posting the job ad on your profiles as well.
When you're screening potential candidates, look for relevant work experience or any extracurricular activities that give you insight into what type of person they are and whether or not they align with the role, whether it's as a server, cook, manager, or host.
2. Invest in effective training
Whether you're hiring people with years of hospitality experience or you've got a crew of newbies working their first summer gig, training matters.
You want to give everyone the opportunity to learn new things and expand their horizons and grow professionally without needing to jump ship for another establishment.
Even though it may seem tedious, training benefits everyone.
Less-experienced hires develop the skills they need to excel in their role and full-timers get the stimulation and growth they need to feel like they're progressing in their career.
Of course, you should customize how and what you train hires based on the role they're hired for, but there are certain processes, procedures, and policies that are universal. We suggest building a restaurant employee handbook that covers everything from your company mission and values to your code of conduct, safety procedures and how to use your restaurant's systems.
3. Offer opportunities for advancement
Many employees leave their employers because of stunted career growth and a lack of opportunities to move their way up the ranks.
Whether that's allowing servers to shadow bartenders in order to eventually become one themselves, or teaching an ambitious employee how to be a successful restaurant manager, providing constant opportunities for hires to learn new skill sets is critical to retaining them and keeping that institutional knowledge in-house.
You have to offer paths towards advancement for those who are interested, otherwise, your ambitious hires will eventually look elsewhere for the opportunities they want.
To spot which of your employees have the traits necessary to move into another role, Ray Camillo CEO and Founder of Blue Orbit Restaurant Consulting, developed five personality profiles. Managers, chefs, cooks, dishwashers, hosts, servers, and bartenders each possess different qualities. Find out which ones each of those roles have in our blog on restaurant staffing.
4. Pay competitive wages
There's no getting around the fact that if nearby restaurants with a similar service type and clientele pay their staff more than you do, it'll be hard to keep your best employees from jumping ship in favor of greener pastures.
While it might seem like an easy way to trim costs, skimping on what you pay your employees is practically a surefire way to lead to employee turnover issues.
Of course, you don't have bottomless funds. How much you pay employees needs to be realistic considering how much you're already spending on overhead expenses and cost of goods sold (COGS). We suggest reading the Ultimate Guide to Restaurant Profit Margins to learn how much you should spend on recurring expenses while turning a profit.
5. Offer other perks
That said, not everyone—especially new restaurants that are still trying to get off the ground—are able to offer top dollar to their employees. If that's the case, focus on all of the non-monetary perks that you can:
Schedule well.

Allow employees to request days off and do everything that you can to accommodate them. If your employee's job gets in the way of things like their family, education, or other important life elements, it won't be long until they start looking for employment elsewhere.

Show your appreciation regularly.

Everyone wants to know that their boss recognizes and appreciates the work that they do. Simply pointing out when someone does a good job or covering their meal when they come in on their personal time can go a long way to showing your employees you appreciate them.

Host employee appreciation events.

Even if that's just a holiday party once a year, it gives your people something to look forward to gives you an opportunity to make them happy.
6. Conduct exit interviews
No matter how open you are with your employees, some people just have a hard time being honest about the flaws of their employer when their employer is still responsible for their paycheck.
Whenever an employee decides to leave, you should always conduct an exit interview to better understand why they're leaving.
Although it may be tempting to justify your actions, it's important to focus on listening to the employee who's leaving. Ask for honesty and use their feedback to improve your employee management.
Perhaps you can't stop that person from leaving, but by listening to and acting on their feedback, maybe you can avoid others leaving in the future.
Managing restaurant employee turnover
It's not easy. Every time you hire someone it's a risk; you can never be 100% sure of someone's intentions and whether or not they'll stay with you long term.
While there are things that contribute to turnover that aren't in your control, you are in full control of the work environment you foster, how you treat, train and invest in your employees.
Focus on the things you can control and do your best as a manager to work for your employees.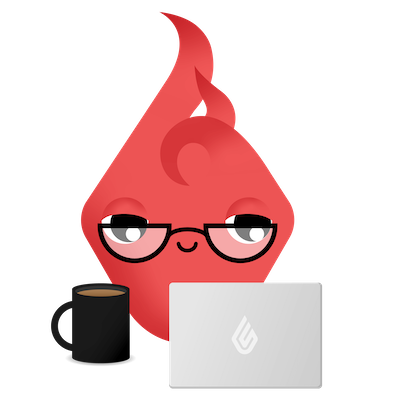 News you care about. Tips you can use.
Everything your business needs to grow, delivered straight to your inbox.