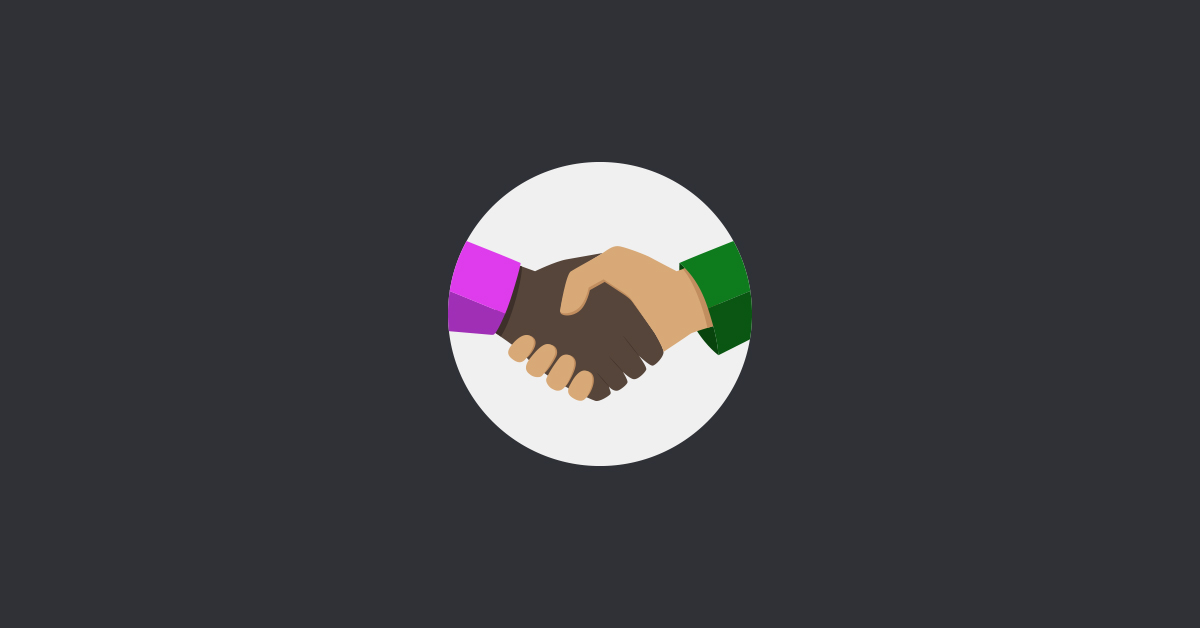 Teaming up with other businesses can result in a win-win outcome for you and the company you partnered up with. When done right, retail partnerships can result in additional exposure and revenue, and both parties end up happy with more customers and sales.
That said, striking up those winning partnership agreements may not always be a walk in a park. In addition to investing the time and effort to find, vet, and woo potential partners, you also need to carefully craft the terms of your agreement to ensure that costs and responsibilities are clear to both businesses.
In this post, we'll talk about the steps you should take before, during, and after you team up with another brand to ensure that your partnership is a success. View the pointers below and put them to action the next time you're thinking about partnering with other businesses.
Learn from other successful retailers
7 successful retailers share the best practices they've used to keep their stores running smoothly.
Identify who to partner with
Having an idea of whom to team up with and the nature of your partnership is a crucial first step because it will enable you to figure out the best way to reach out to potential partners.
Your outreach approach will depend on who you're contacting as well as and the type of agreement you're looking to get, so it's important to iron out these details so you can touch base with other businesses in the most effective way possible.
Shel Horowitz, a best selling marketing author and consultant who founded Green and Profitable, says that the following things are what businesses should consider when picking good partner brands:
Complementary offerings:

You appeal to the same demographic/psychographic, but with products and services that work well in tandem (or in groups–like a one-stop wedding shop with florist, caterer, photographer, band, etc.)

You have similar offerings but join together to make the pie higher for all of you:

Cooperative advertising with several partners in one big ad that none of you could afford on your own, a big restaurant festival with 50 participants.

Similar customer/fan base with not too much overlap:

This is the success secret of many Internet marketers. They promote each other's products and each gain new fans.

Complementary operational expertise:

Take for instance, the partnership between FedEx and the United States Postal Service. FedEx is really good at logistics, and the USPS is really good at last-mile delivery. So FedEx does the intercity air transport for Express Mail and USPS finishes the job.

Charity/for-profit partnerships with organizations whose mission is aligned with your brand identity:

A construction firm can partner with Habitat for Humanity, or a restaurant could team up with a food pantry.
"I'm using this strategy myself," adds Shel. "I partnered with Green America for the release of my 8th book, Guerrilla Marketing Goes Green, and we're doing it again for my forthcoming Guerrilla Marketing to Heal the World. I get in front of their 100,000 or so members multiple times, and they get a portion of the first royalty check."
Know the different types of retail partnerships
You should also think about the nature of your agreement. How will the partnership work and what's your ideal outcome? The answer to this depends on the type of business that you and your partners have, and the goals of your venture.
But a few common examples of business team-ups that work well include:
Contests
Many companies are teaming up so they can tap into each other's fan base and encourage sales or engagement. These types of partnerships are becoming increasingly common on social media, thanks to Facebook and Instagram, which make it easy for users to tag, comment, and engage with brands.
Have a look at what The Shelter, a New Zealand-based apparel retailer did for Mother's Day a while back. The store, along with a number of partner brands, teamed up to create an excellent prize pack consisting of items and offers from their stores. Users would simply have to comment on The Shelter's Facebook post in order for a chance to win. This allowed the retailer to increase fan activity while putting the spotlight on its store and other retailers at the same time.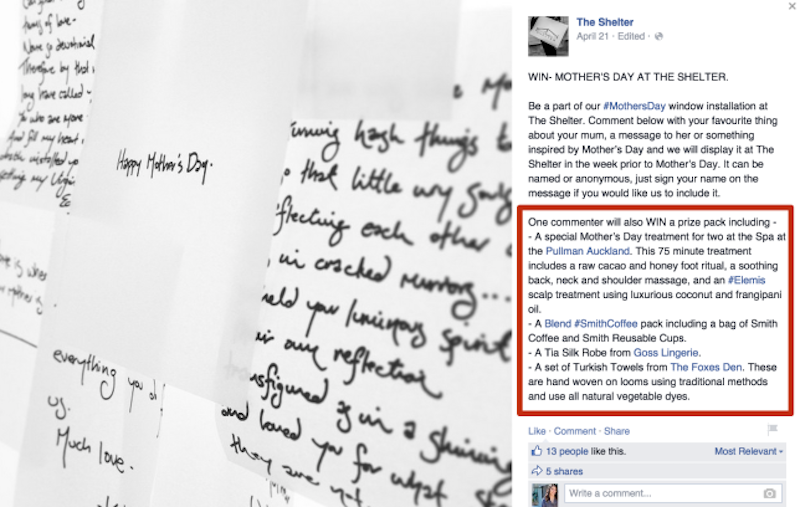 Sales and distribution agreements
Some merchants strike up sales and distribution deals with other retailers wherein one party agrees to sell the goods of the other.
For example, online retailer The Honest Company, which sells baby products, has an agreement with Target to sell their merchandise.
Events
Other retailers decide to host events with organizations and fellow merchants. Depending on the event, such partnerships can enable retailers to share costs, improve exposure, and connect with more consumers.
Social buzz and marketing
Sometimes a partnership can be as simple as being "social media friends." Popular among social-savvy SMBs, these agreements can include promoting or mentioning each other on social media, contributing articles or content to each other's sites, and running joint online competitions, among other things.
The above-mentioned partnerships are just some of the many types of agreements you could enter in with other businesses. Feel free to explore what other retailers have done in your industry to figure out the partnership that's right for you.
Reach out the proper way
As we mentioned earlier, there are a number of ways to get into the radar of potential partners. It all depends on who you're targeting and the type of deal you're looking to strike up.
Here are some ideas:
Become a customer
This works best if you're reaching out to a small business in your area. If you want to team up with a local business, become a customer yourself. Swing by their location and experience their products or services first-hand. Form relationships with their managers or owners, then bring up the idea of a partnership once you've built up enough rapport.
Eyeing larger partners? Be more targeted with your efforts
Landing partnerships with big-name companies (think Target or Nordstrom) may seem daunting, but it's not impossible. Plenty of small to medium businesses have done it, and with the right strategies, so can you.
The key is figuring out the best way to get your foot in the door. For some merchants, this could be registering as a vendor to that retailer. For others, this could mean sending samples or getting in touch with their buyers.
Some merchants have landed their partnerships by finding key contacts.
Take TerraCycle, a company that turns waste into green products, which got into Wal-Mart thanks to online networking savvy-ness and persistence. According to their story on Entrepreneur.com, founder Tom Szaky scoured LinkedIn and alumni networks to find the right contact, and then "called Wal-Mart 10 times a day, every day for three weeks until he finally got through and set up a meeting."
Similarly, Here on Biz, an app that lets users connect and keep tabs with professional contacts while traveling, landed a partnership with Virgin America and Gogo Inflight Internet by investing the time to build relationships with particular people within the company.
According to Inc.com, Nick Smoot, the company's co-founder "used LinkedIn heavily, reaching out to key people within Virgin America to genuinely compliment them on things he believed the company was nailing." He also used social media to find the right people, then engaged with them online or at conferences they attended.
Attend events
Speaking of events, there are some functions out there that are made specifically for partnerships. For example, there's Business Matchmaking, an initiative that produces "regional face-to-face selling events, plenary seminars and workshops, online training and collateral material for primarily minority, women, veteran, and disabled veteran owned firms."
Attendees are given the opportunity to meet face to face with representative buyers and procurement officers, so they can get contracts drawn up. Companies that attend these matchmaking events include Norton by Symantec, HP, Lockheed Martin, and more, so you'll be in great company.
Craft a solid agreement
Needless to say, the agreement that you'll strike up with your partner will depend on what you intend to accomplish. The terms for a product distribution partnership, for instance, will be entirely different from a social media promotion deal.
Do your homework
Be sure to do your homework on the rules and requirements of the other company.
For instance, if you're getting into a product deal, you may need to provide details such as minimum orders, lead times, payment terms, wholesale and retail prices, and more. Doing a social media deal? You'll need to know you and your partner's numbers when it comes to traffic, readership, email marketing lists, follower counts, etc.
Have your docs and info ready
The other party will likely ask for some information from you, so be sure to have all the relevant documents ready. As Entrepreneur.com puts it, you need to "prepare for scrutiny" and have all your financial and legal ducks in a row.
Seek legal help if necessary
This isn't always necessary, but if you're working on a big or complicated partnership, it may be best to seek legal help. See to it that the terms are clearly outlined. Who has to deliver what and by when? What happens if one party can't deliver? These are just some of the things that you should iron out.
Test
It's also a good idea to test the partnership first before getting into a huge commitment. For example, if you're contributing content, do a couple of articles first before agreeing to fill up their editorial calendar. Getting into a distribution deal? Test out the products in a few stores prior to rolling it out across all locations.
Measure your results and use that information to determine whether or not to continue the partnership.
Examples of great retail partnerships
Now that we've discussed how you can establish retail partnerships, let's look at some examples of retailers that are doing it right.
"Shop Small" initiatives
There's a growing number of "Shop Small" initiatives that are helping local businesses drive traffic and sales. One example of this comes from MainStreet Oceanside a city in California that runs initiatives to engage their local community. In 2018, MainStreet Oceanside teamed up with a handful of local businesses to run an initiative called "Sip and Shop."
Here's how it works: Shoppers could purchase tickets to enjoy 14 in-store tastings from a number of local breweries and wineries. Participating stores also offered activities, snacks, and pop-ups, and promotions to further engage shoppers.
Kohl's and Amazon
Amazon and Kohl's have teamed up to make product returns easier for Amazon's customers. Shoppers can head to certain Kohl's stores to return their Amazon purchases. Kohl's benefits by driving in-store traffic, while Amazon is able to serve shoppers better by streamlining the returns process.
Target and Google
In 2017, Target teamed with Google to enable shoppers to buy from Target using their Google Assistant. The companies took things a step further in 2018, when Google issued the first voice-activated coupon for Target orders.
This is a good example of a retail technology partnership. Target doesn't have its own voice technology or search platform, so this team-up allows the retailer to tap into Google's audience and tech to drive sales.
Final words
The popular saying "two heads are better than one" can certainly be applicable to retail. Whether you're looking to widen your reach, grow your sales or expand your capabilities, the right retail partnerships could help you meet your objectives. Want to see how Lightspeed can help you level up your reach and revenue? Schedule a call with one of our retail experts to see how our software can grow your business.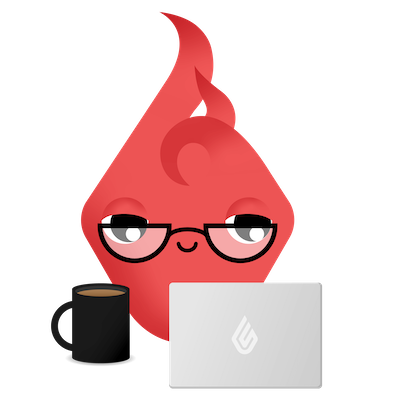 News you care about. Tips you can use.
Everything your business needs to grow, delivered straight to your inbox.