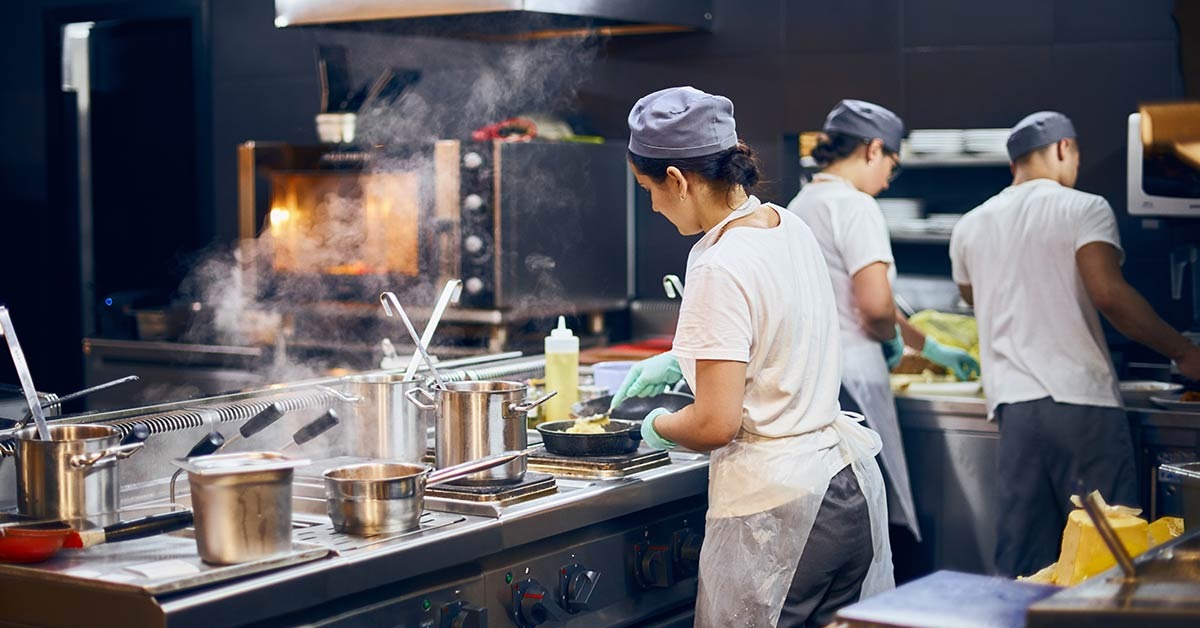 With limits on table service dining as a result of COVID-19, restaurants of all sizes face pressure to strengthen off-premise sales, which has accelerated their focus on takeaway, delivery and order-ahead options.
While the industry-wide focus on off-premise sales is under a microscope now, it's a trend that has been a long time coming. According to data from MCA Foodservice Delivery Report, it was worth £8.1 billion in 2018 and is expected to hike up to £9.8 billion by 2021. Here's a quick snapshot:
UK consumer spending on takeaway and delivery

grew by 11.4%

in early 2020, while dine-in spending fell by 3.5%

As of 2019,

60% of UK adults

were regular users of delivery apps.

UK households spent an average of

five pounds per person

on takeaways in 2019.
Off-premise sales are clearly trending upwards, but lofty service fees and the fear of increased operational complexity is still a concern for many operators looking to move into that market.
Those pain-points have birthed an entirely new method of off-premise food service: Dark kitchens.
Also referred to as cloud kitchens or ghost kitchens, dark kitchens aim to help restaurants expand their delivery service and reach more customers at a (seemingly) minimal cost. But what is a dark kitchen exactly?
Let's explore dark kitchens, their benefits, their drawbacks, and why we're likely to see table service restaurants explore them as a way to expand their brand's footprint and make more sales.
Let's dive in!

What is a dark kitchen?
"A ghost kitchen is where virtual brands are produced without a brick and mortar location. They're facilities that are made solely for producing virtual brands," explains celebrity chef Eric Greenspan.
Notable companies in the ghost kitchen space are Deliveroo Editions and Cloud Kitchens, which was founded by Uber's founder, Travis Kalanick. Essentially, a dark kitchen is a rented kitchen space where restaurateurs can launch a virtual restaurant brand without a brick and mortar location.
What is a virtual restaurant?
While the terms "dark kitchen" and "virtual restaurant" are often used interchangeably, they are not the same thing.
Unlike a dark kitchen, virtual restaurants don't rent kitchen space through a third party. They have a brick and mortar location(s), use their kitchens to support online orders and typically have a delivery-exclusive menu.
An example of a virtual restaurant Clox Kitchen, who offer a delivery-only fried chicken menu from the kitchen of premium restaurant chain Absurd Bird.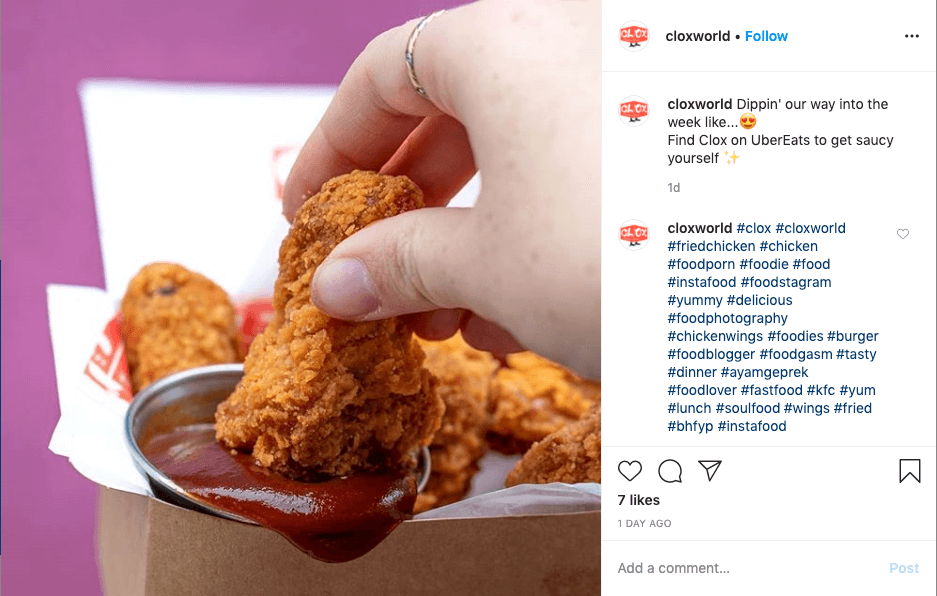 For restaurants with a brick and mortar looking to get into off-premise ordering, virtual restaurant concepts like this are absolutely worth exploring. You have the flexibility of supporting takeaway, order-ahead and/or delivery, and are essentially creating another revenue stream to cover the expenses of having a physical location.
Why are virtual restaurants becoming popular?
In short, it's because many are forecasting that the future of foodservice is off-premise, through delivery, takeaway and order ahead.
Selling through third-party delivery services can be costly, with service fees for selling through certain aggregators reaching nearly 20%. As a virtual restaurant, however, operators can choose how they sell.
Using white-labeled platforms like Flipdish, restaurants can take orders directly from their website rather than selling through a third-party. If they want to partner with third-parties to either expand their delivery service or outsource delivery couriers (or both), they still can, but at least they're not obligated to sell exclusively through a platform that eats into their already thin margins.
What's better: Dark kitchens or virtual restaurants?
The answer largely depends on the context. Dark kitchens can be useful for launching a new business with less capital, while virtual restaurants are a solid option for existing restaurants looking to get into off-premise sales.
With virtual restaurants, you can still sell through popular delivery aggregators, but you can use your own equipment and kitchen to prep orders rather than rent a dark kitchen space.
The benefits and downside of a dark kitchen
Benefits
Lower overhead costs: Without a storefront, dark kitchens avoid all the overhead costs associated with buying or leasing a commercial restaurant space. If you want to update your menu, you don't need to re-print anything. Just make updates online and you're all set.
Capitalise on increasing demand for online ordering: Dark restaurants can sell through as many third-party delivery services as they want as well as through their website.
Downside
Third-party delivery aggregator fees: It's no secret that third-party delivery aggregators collect a transaction and/or service fee on each sale made on their platform. If left unchecked, this can certainly take away from a restaurant's net profits.
Reputation management: With no customer-facing service, a ghost restaurant's reputation relies heavily on word of mouth and online reviews. Actively promoting positive reviews and responding to negative reviews is a must for dark kitchens
Increased pressure on marketing: Brand-building in a strictly online space, without a brick and mortar location to drive awareness, makes effective digital marketing key to customer acquisition.
Limited customer base: Given that most delivery services limit your delivery zone to a three to five-mile radius around your dark kitchen, the area you can effectively call potential customers is limited.
The benefits and downside of a virtual restaurant
Benefits
Capitalise on demand for online ordering: Virtual restaurants are the best way for an existing restaurant (one that has a physical location) to explore meal delivery, take-away and order ahead. No need to rent out a dark kitchen, you already have everything you need to prep orders from your restaurant's kitchen.
Potential to avoid third-party fees: With a white-labeled ordering system like UEAT, restaurants can take orders without relying on third-party delivery services and succumbing to their transaction and service fees. If they want, though, they can certainly sell through third-parties as well.
Ownership of the customer experience: Since you can select to have customers order directly through your website and even pick up their order from your establishment, operators have more control over their customer's experience: from packaging to the food quality.
Downside
Requires a commercial restaurant space: For restaurateurs that are just starting out, virtual restaurants have one big barrier to entry: needing a physical restaurant space. As a result, virtual restaurants aren't typically someone's first foray into the restaurant industry. Rather, they're a better option for restaurants that actively want to offer both table service and delivery, takeaway, or order-ahead options.
Multiple menus to manage: If your table service, takeaway and delivery menus differ from one another, that means you have multiple menus to manage. Without the right tools, managing multiple menus can be a challenge. With Lightspeed Delivery, though, operators can manage delivery, takeout and table service menus all from the same place: from the listed items to their prices and photography. Push menu changes to your ePOS system, website menu and to menus featured on each third-party delivery service.
Potentially cumbersome order fulfillment: Imagine needing to dedicate a tablet for each ordering method. Let's say you offer table service, takeout and delivery via your website, and you also sell through UberEats or Deliveroo. That's four tablets, each receiving orders independent of one another.
Prior to two-way delivery integrations like Lightspeed Delivery, restaurants would need to assign an employee to take the incoming orders from each tablet and manually input them into the restaurant ePOS system.
Not ideal. But with our delivery integration, incoming orders from all channels–your table service, website and third-party aggregators–are automatically pushed from each channel directly to your restaurant ePOS.
While order fulfillment used to be a drawback to offering delivery and takeaway, that's no longer the case as long as you have the right tools.
Examples of virtual restaurants
COVID-19 has accelerated the number of restaurants that have quickly pivoted to a virtual restaurant model. While social distancing measures are in place, they're maintaining cash flow by offering takeout and delivery options and, once measures are lifted, they've secured an alternative way to serve customers asides from walk-ins and table service.
Here are three establishments that have knocked their virtual restaurant concepts out of the park:
The Regency Club

The Regency Club quickly transitioned to a virtual restaurant model after the COVID-19 lockdown. They were already using third-party delivery apps through Lightspeed Delivery, but, moved by necessity, they decided to go further.

They integrated the white-labelled platform FlipDish into their Lightspeed Restaurant ePOS and created a branded page on their website where customers could order directly from them, cutting the costs of operating entirely via a third party aggregator.

"We managed to convert the majority of our customers from using third party apps to ordering directly from The Regency Club website, opening up a more direct revenue stream and increasing our profit margins considerably." says Rahul.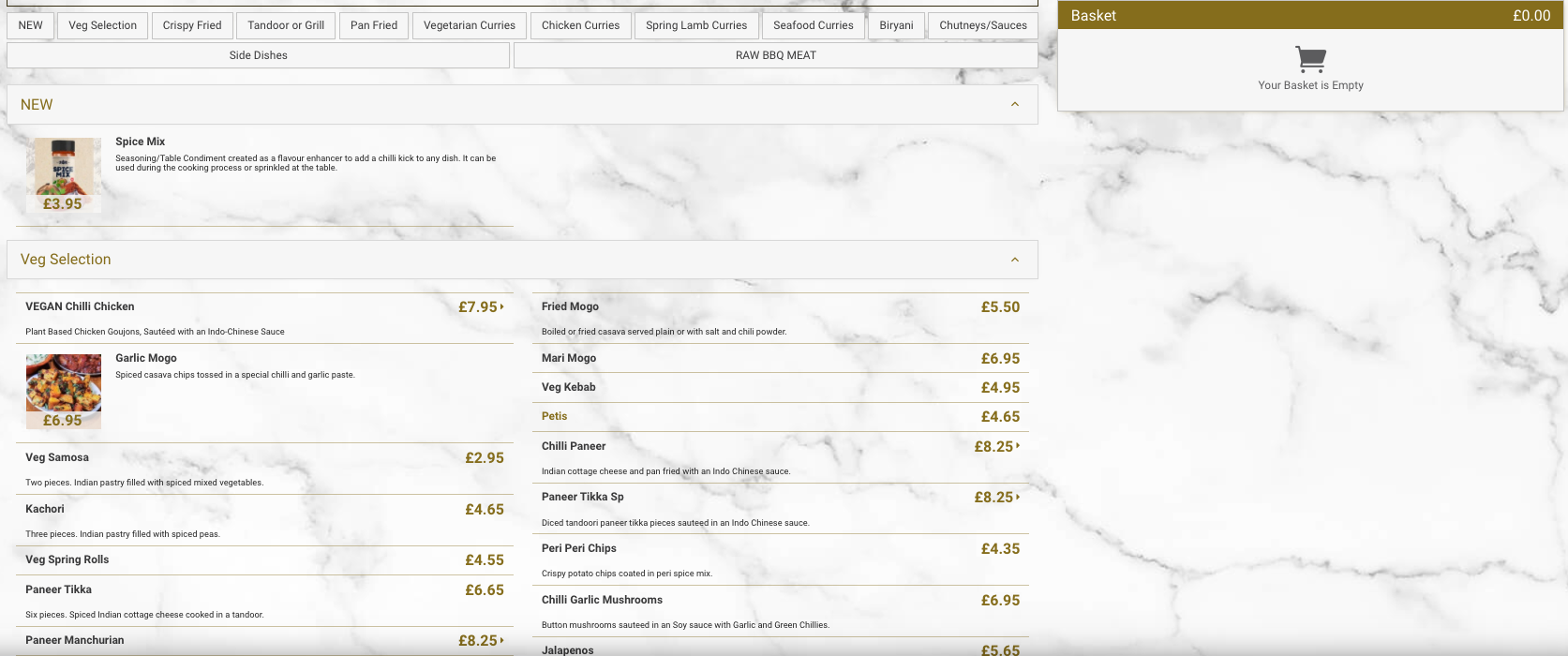 A pivot to the virtual restaurant model allowed Rahul to keep his business afloat without having to let any staff go. "We need our virtual restaurants to generate enough revenue so we can carry on paying all our 35 staff members."
With FlipDish, The Regency Club were also able to recruit their own drivers and run their own delivery service. "One of the key benefits of Lightspeed in this time isn't just increased efficiency, it's that it has given us the opportunity to access other companies, which we would never have previously looked for in the past."
Absurd Bird
When the COVID-19 pandemic hit, Absurd Bird were quick to activate a range of virtual restaurant brands. By late March, they already had sixteen virtual brands operating out of their London Spitalfields location alone, and had even broken their record for most delivery sales in a single month!

Absurd Bird were also quick to optimise their kitchen layout for delivery, and retrain front-of-house staff to prepare low skill delivery-exclusive chicken dishes. As well as keeping their partnership with UberEATS, Absurd Bird launched a click-and-collect service through their Lightspeed Delivery integration.

"Without the tech we have we wouldn't have been able to quickly launch virtual brands, change prices and make updates to our offering" says Norbert Swierad, Operations Manager at Absurd Bird.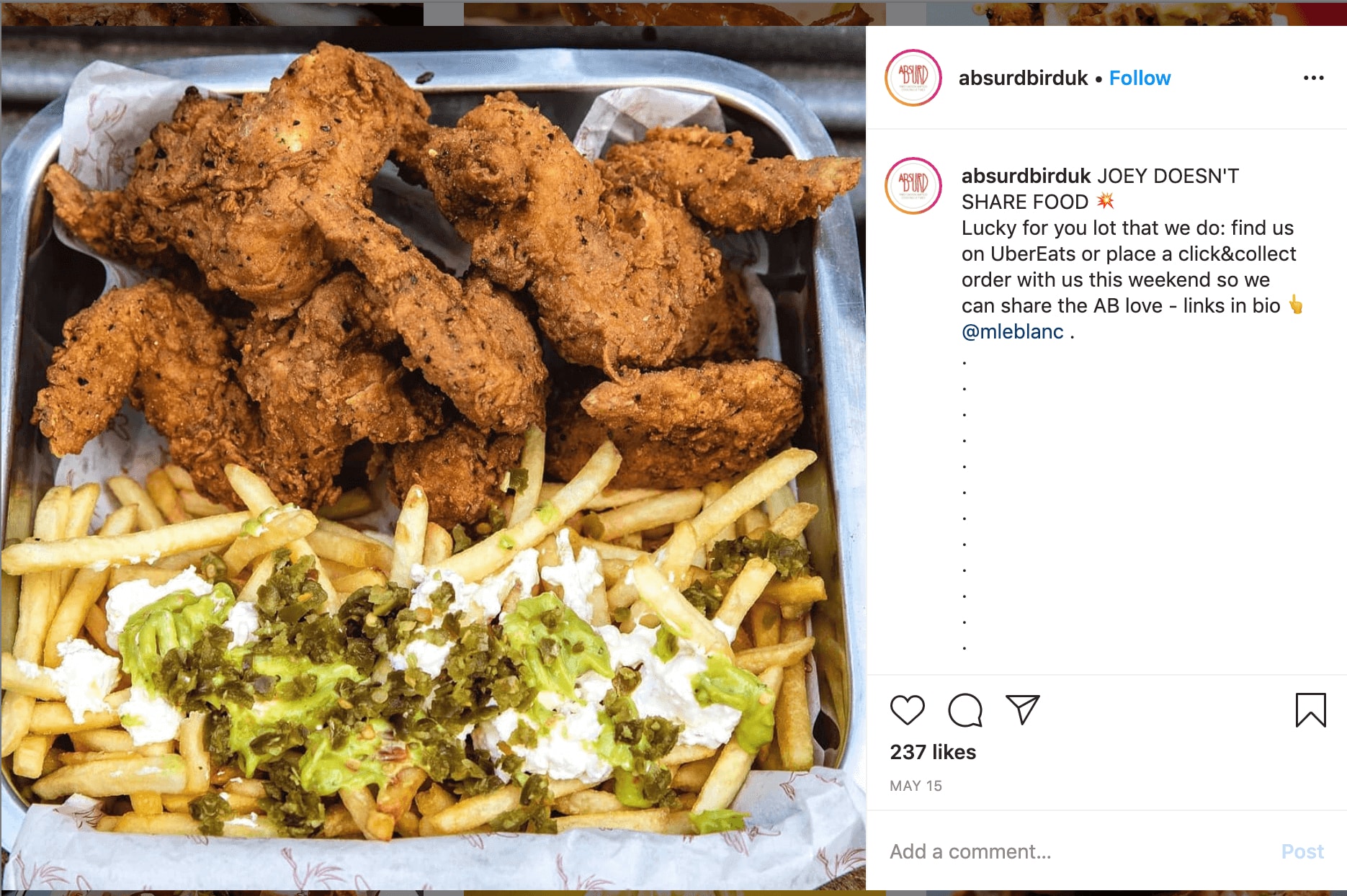 Integrated delivery software is becoming more intuitive and streamlined
Until recently, many establishments offering delivery services would amass "tablets farms" as they were forced to process food delivery app orders from different platforms using separate tablets. But as integrations and APIs become more efficient, this is becoming less of a problem.
With Lightspeed Delivery, for example, you can integrate delivery platforms like Just Eat, Deliveroo and UberEats directly to your ePOS. Incoming orders from each of these apps can all be managed from a single source of truth: Lightspeed Restaurant ePOS.
All your delivery orders are organised on one intuitive screen, so setting up a delivery service is easier than ever.

Virtual restaurants are here to stay
While we're hearing a lot about virtual restaurants now, the concept of selling through online sales channels, whether it's a third-party aggregator or through your own website, isn't new. Rather, COVID-19 has accelerated the adoption of an already emerging trend.
Out of necessity, restaurants are now exploring the concept of virtual restaurants as a way to diversify how they sell to and serve customers. With the right technology to help run the whole operation, restaurants can simultaneously manage table service and online orders without missing a beat.
Want to learn how to take your restaurant online and start selling via take-out, order-ahead and delivery? Contact our team of restaurant experts today for a free consultation!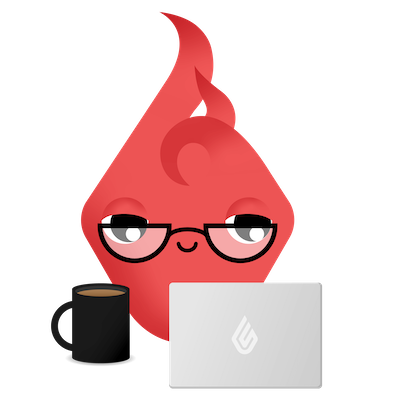 News you care about. Tips you can use.
Everything your business needs to grow, delivered straight to your inbox.