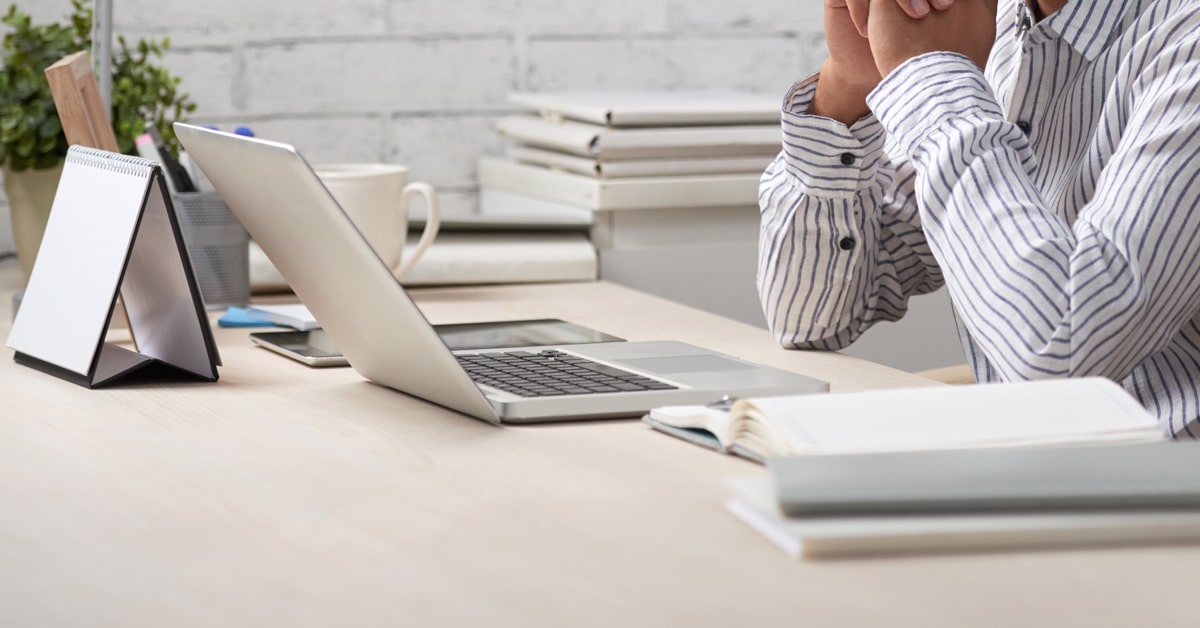 It wouldn't be surprising to hear that your golf course has a newsletter it sends to a list of customers, most golf courses do. Here at Lightspeed, we've seen many golf course newsletters of all shapes and sizes come through our inboxes. After all, we do help golf courses manage their email marketing with some pretty awesome tools.
So many newsletters we see aren't really up to par with the best practices touted by email marketing giants like MailChimp or Hubspot.
Over the years, we've seen some pretty bad looking newsletters, and there are some common themes between them:
Lack of design quality
No unifying theme or message
No conversion strategy
Too much promotion
Try our free golf newsletter email template package!
To get better performance out of your newsletter, and email marketing in general, you need to put some real thought into how your newsletter will look, what it will say, and what the ultimate goal for each newsletter is.
How to develop a successful golf newsletter:
Step 1: Define a real goal
Step 2: Balance content with promotion
Step 3: Create an eye-catching design
Step 4: List building
Step 5: Clickable subject lines
Step 6: Make it possible to opt-out
Putting together an excellent newsletter that works can be a challenge but the good news is that by applying these best practices to your newsletter, you can increase audience engagement and achieve the goals you've set with your newsletter.
Step 1: What is the actual goal of your newsletter?
When you first plan to send newsletter emails to your audience, did you ever establish a goal for that newsletter? If you haven't yet, this is something you might want to do. It will help with everything from your design layout, to the messaging and conversion elements within.
Some common goals golf courses might have for their newsletters might be:
Generate awareness about an event or tournament
Update members with course-related news
Sell more tee times
Promote a deal in the pro shop or restaurant
Celebrate player achievements and top customers
Once you decide on a goal for your newsletter, determining the messaging, target audience, and conversion strategy for the newsletter gets much more straightforward.
You may have multiple goals for your newsletter. That's okay! As long as the various messages are clear and relevant, you can still develop a clear strategy for communicating each message. However, for a newsletter with multiple sections or various communications may have to make use of a design that clearly separates each message.
Ultimately, the goal of any newsletter is to generate traffic and clicks through to your website where, ideally, your audience can purchase items like tee times, pro shop merchandise (if you have an eCom store), or event tickets.
Step 2: Balance Content With Promotion
One of the biggest mistakes golf courses make when sending their promotional emails is they include way too much promotional material, instead of any useful or interesting content.
While this may work in the short run, over time, people will stop opening your emails since they know what to expect.
If your audience feels like you are taking advantage of their inboxes to advertise to them, they'll slowly lose trust in your brand, and they won't open or engage with your emails anymore.
That's not to say that your emails should not include promotional content. According to the experts, the ideal ratio is 90% informative or educational, and 10% promotional.
Ideally, the informative part of your newsletter should be contextually relevant to whatever you are promoting. For example, you may want to give relevant details about an upcoming tournament, and then clearly but concisely promote a deal on ticket packages for the tournament itself.
Step 3: Use a simple and eye-catching design
So many golf course newsletters are too noisy. They use too many colors with no consistent design or well-planned choice of fonts.
The reality is that these newsletters communicate something about the value of your brand and will leave an impression about what visiting or being a member is like at your golf course. So, make sure your design strategy is on point.
To generate engagement, you need to employ some email design best practices. In general, you should try to follow these rules:
Keep it simple and clean
Use a simple design layout, and remember that most people read their emails on their phones. Use blocks for each section of your email if you plan on communicating multiple messages. Use one call to action maximum per block.
Use crisp and smart looking fonts
Pick two or three typefaces and stick with them. Use one for bold headlines, one for paragraphs and one for other unique situations. The fonts you choose should reflect and exist in harmony with your branding. Stay away from decorative or less serious looking fonts like comic sans (please, please no), or impact.
Concise Copy
When you write the actual words used in the email, don't forget that people won't read for more than 10 or 20 seconds. If they open the email and see a wall of text, they won't engage, and you'll lose their attention.
Instead keep your wording short, clear, and concise. Before writing your emails, ask yourself what the main pieces of information you plan on communicating in the newsletter are.
Once you have a plan, write the email to include everything plus a little bit of personality, but no fluff. Remember, your copy should be fun and exciting, but not inundate your receiver with too much information.
Step 4: List Building
There is no point in creating a newsletter if you don't have anyone to send it too. Even worse, there's no point in wasting time building a list of people who are disengaged and don't care about what you are sending them.
Building a good email list takes time and can be difficult, but it's worth it to build up a responsive and engaged audience. The key to building your email list is data capture and consent.
To begin, you'll need to make sure you are collecting emails from as many customers as you possibly can. That means taking emails when golfers check-in at the pro shop, book tee times online, or reserve over the phone.
A key part of capturing this data is asking for their consent to be contacted. It doesn't matter how great your email design is, most people do not appreciate receiving unwanted spam. So, make sure the people on your email list actually want to receive communications about your golf course.
Step 5: Subject Lines
To get people to visit your website and potentially convert, you need to employ a catchy subject line that entices the receiver to open the email. There are many strategies you can apply to your subject lines, and we've written a lot about the topic. However, the main goal for a newsletter style is to provide enough intrigue to generate a click.
Step 6: An Easy Way to Opt-out
For any promotional email you send, you are required to include an opt-out button. In many cases this a requirement put in place by the law.
Typically opt-out buttons find themselves at the bottom of your marketing emails, once clicked they take the receiver to a page where they confirm their desire to opt-out.
Don't worry. Most people won't opt-out unless you start spamming your lists with junky promotions. One way to see it is that the opt-out button shows your audience that you care about their privacy and if they don't want to or shouldn't be hearing from you then they have the option to say no.
There Are Lots of Good Golf Course Newsletters Out There
Here are a few examples of golf course newsletters we've seen in the past that we really like.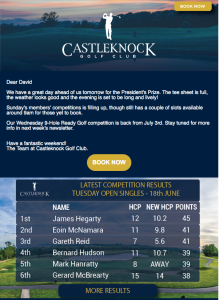 In this A+ newsletter from Castleknock Golf Club, there are a few interesting things happening. There's lots of information about the course's upcoming events, a clear call-to-action inviting the addressee to book a round, and consistent branding with easy to read fonts and copy. However, what really sticks out to me is the the ultra-cool looking tournament competition results, that are styled to look like a scoreboard you might see on television.
That "More Results" button underneath the tournament scores begs for a click, and members who play well and rank high in the standings get that extra reward for their participation in tournament. Promoting tournament leader boards is an excellent way to to encourage clicks to your website and generate incremental tournament bookings.
Key Takeaways for Creating Better Golf Course Newsletters
Email newsletters are an important marketing tools in a golf course's arsenal, they enable you to stay stop of mind within your audience and they can help with generate more green-fees, tournament booking, and customer engagement. With a good design, clear call to action, and solid list you are sure to be successful with your next email marketing campaign.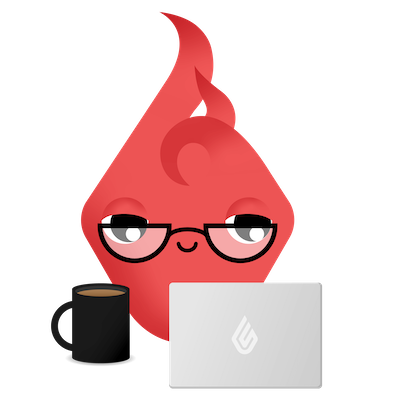 News you care about. Tips you can use.
Everything your business needs to grow, delivered straight to your inbox.