Human beings are visual creatures. Bright lights. Electric colours. Funky designs. All enough to make us turn our heads, and grab our attention. Well, why not make use of this for your business? Branded merchandise can help you provide the general public with a healthy dose of whiplash for years to come.
We're going to cover why making, designing, and promoting your own merch to grow your business is a no-brainer. And, we'll cover each step so you know what to do next. Let's get started.
Want to understand your customers? Try Lightspeed
Lightspeed Advanced Reporting can help you make smarter decisions by giving you access to sophisticated reporting and analytics that shed light on everything from inventory and sales to customers and staff.
Why your business needs branded merchandise
Branded merchandise is only as strong, or beneficial, as the thought and effort behind it. If you're not going to take branded merch seriously, there's a strong chance that it will be a waste of time and money. But, do it well, and you're opening yourself up to a whole range of benefits.
More revenue
Business 101: If you sell more things, you will make more money. Did you need to read that in an article to understand that? Absolutely not. But, we're saying it anyway.
We can't guarantee that your merch will go flying off the shelves (unless you're a YouTuber with over 10 million subscribers, then, it probably will) but having the option of branded merch, over time, can become a regular source of income for your business. Plus, having some t-shirts, hoodies, tote bags, and other bits won't take up too much room so you wouldn't be spending hand over fist in warehousing costs.
Consumer attention
This will depend on your business, your brand, your logo, your colour scheme, and more. Branded merchandise works well if you create something people want to wear, or display, in some way. There will, obviously, be some people who wear it ironically, but that's okay. Any press is good press. If you manage to get your branding right, and make it pop and sparkle, you can create your very own army of personal walking billboards for years to come. (We're kidding about the army part, but it's great for brand recognition).
Customer engagement
Social media marketing to promote and advertise your business can get expensive. So, why not try and get your customers to do it all for you? We're talking, of course, about user-generated content. Those fabled words that are enough to perk up the ears of social media marketers within a 5-mile radius.
Creating branded merch is a new medium through which you can connect, and communicate, with your customers. You can encourage users to send images of them with their new swag, and even offer incentives for doing so. We'll get into 'how' to do everything a bit later, but for now, just know that it's a really great way to engage and connect with your audience.
Identify your target audience
You can't please everyone. Try as you might, your brand and your business isn't going to be for some people. And, that's okay. It's important to know when you're thinking about launching your own merch that you're going to want to appeal to a smaller audience. Your audience.
Who are your customers? Why do they like your business? Why do they like your brand? What about your brand do they like? You get the point. Drill down into what makes your business, and your brand, unique. And, use it.
Write down a few things that you love about your brand, your personality, your tone-of-voice, what you stand for, and more. It might seem a bit silly but you need to have an angle. You'll also want to create things that you're proud of, that you want to stand behind, and that you also want to use. If you don't want to use or wear your merch, your customers won't either.
Your target audience will be fairly obvious depending on what you specialise in and who you've set out to target in your business strategy, but you get the idea. Knowing where fans are engaging with you can tell you who your fans are, and how you can make merch they want to buy.
Choose products that match your brand
When you first thought of branded merch, we imagine the first place your mind went was branded pens, and coffee mugs. Oh, ye old faithful. Unfortunately, while cheap and easy to acquire, we have some bad news for you: branded pens and coffee mugs might not be the best bet. They'll get thrown away, or hidden in a cupboard somewhere gathering dust.
Branded merch only works when people see it. So, it's important that you're selling merch that will get a lot of visibility. And, it's even more important that you're selling merch that your target audience will want to buy, wear, or use.
If you're looking for a short list of go-to promotional products, you might be interested in: water bottles, hoodies, power banks, bags, journals, and hats. You want to try and consider items that have high usability and value. The more a consumer uses the product, and the greater the value it has on their day-to-day lives, the more they'll use it, and the more they'll spread the word about your brand.
You might want to avoid promotional products that come from trends (we're looking at your fidget spinners) as they tend to lose their desirability after a period of time.
You needn't agonise over this. Most fans of your business will be happy to buy clothing with your brand's logo on it. Hence why clothing is a popular merchandising option for any kind of business. For example, London Bar and Bottle Shop, Mother Kelly's, offers a range of clothing merch on their website, along with a broad range of specialty craft beers.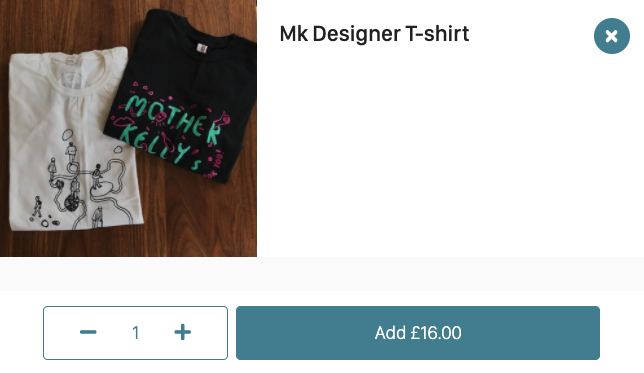 Clothing may not be the best fit for your brand. Sometimes it's better to go with something that chimes with the wishes and desires of your audience. West London's Farm Girl marketed to their clientele of on-the-go, eco-conscious coffee lovers with a heat-proof sustainable coffee mug that not only looks stylish but helps its customer cut-down on single use plastic and paper.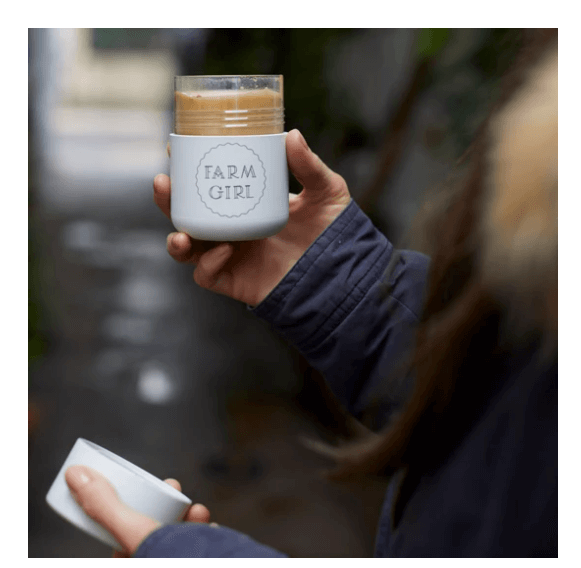 Tapping into the wants and desires of your target audience helps you produce merch that fans want to buy, and fosters a sense of connection to your brand, bringing your name and logo into their everyday lives.
Design your merch
Here's the fun bit: designing your own branded merchandise. You'll read many tips and tricks on how to do this, but, if we could boil it down to one tip to rule them all, we'd say this: make it different, make it unique, and make it you.
We know it's hard to stand out in this day and age. It's much easier said than done. Slapping your logo on a t-shirt and thinking 'job done' won't be enough. Unless you're Coca-Cola or Nintendo, then it probably will be enough.
Create the concept. Sit down with a couple of stakeholders, or with a product designer, and brainstorm some concepts for merchandise. Who your audience is, what do they like, what do they like about your brand, what makes your brand special or unique, and what types of merchandise do you want to create. And, then think of what your merch will look like.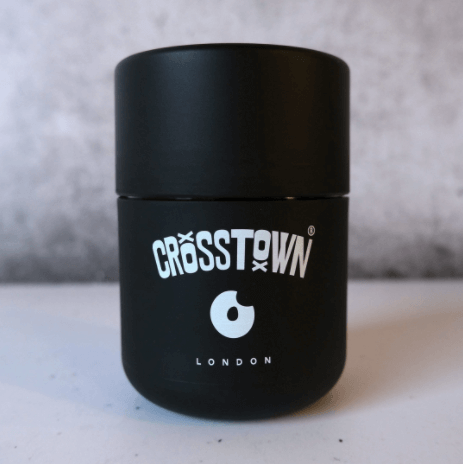 You may want to collaborate with a brand that already specialises in the kind of merch you'd like to design, drawing on your shared expertise to create something truly unique. This is exactly what London-based doughnut master Crosstown Doughnuts did with their branded, on-the-go coffee cup made in collaboration with reusable cup brand Frank Green, to compliment their award-winning doughnuts.
Once you've brainstormed some concepts and landed on a few you think will work, it's time to start creating mock-ups. This step is important as it gives you an inkling into how your merchandise will look, and helps identify any blindspots you had in the 'concepting' phase.
Promote your merch
Pictures can paint a thousand words. And, pictures on hoodies do just the same. Images, pictures, visuals, or whatever you want to call them are an effective tool to draw people's attention to your merch, and tell a story about your brand.
No matter what kind of merchandise you're selling, consider asking customers, or fans, to showcase your products using attention-grabbing advertisements.
Create organic social media marketing campaigns around your merch and spread the word about the new stock you've just started creating. And, as an incentive, throw in some limited-time offers for the merch to get the ball rolling. We'd recommend you also encourage your fans and influencers to post their own content about your new merch, providing social proof and word-of-mouth marketing.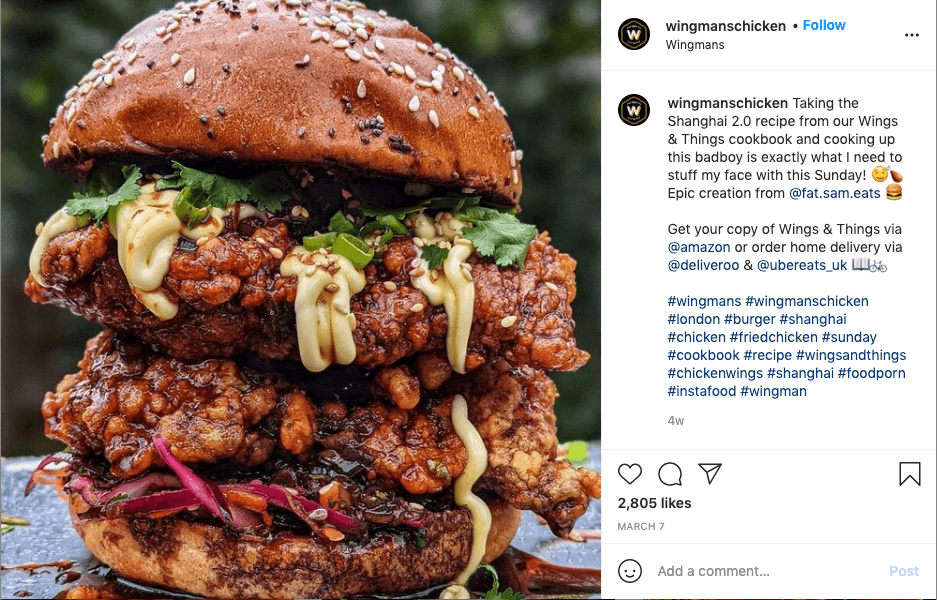 Wingman's Chicken does a great job of this. The post above shows a burger made by a fan and food blogger, from their new recipe book Wings and Things. It looks like your average attention-grabbing, foodie Instagram post. But, in the bio, there's a link to their new cookbook, letting users know that they can make it for themselves.
Leverage your social media sales channels
Word-of-mouth is great. But, it will only take you so far. Put together some A-Star social media content, however, and you're back in the race. Here's some tips on how to use social media to promote your branded merch.
Facebook
On Facebook, you can create paid ads that target lookalike audiences, cohorts of new users who are similar to those who have previously shown an interest in your brand.
Instagram Shopping
Instagram Shopping lets you sell products by bringing them to the attention of potential customers through engaging posts and stories. Previously, users had to click the link in the bio to view a single product page on your website. But, since the arrival of Instagram Shopping, the experience has greatly improved.
Your followers can now click on a product tag in a direct message, or on a sticker in a story, and get redirected to a product page without leaving Instagram where they will see the product, description, price, and a link to the website.
You can even tag merchandise in posts and stories. Here's a step-by-step guide on how to do it.
Tag products in posts
You can tag up to five products in a post with one photo. If you create a carousel with multiple images, then, you have room for a maximum of 20 products. This is how it works:
Upload your (edited) photo, provide an appropriate description with hashtags and add a location if necessary.

Click on 'Tag Products'.

In the catalogue, find the product you want to tag by name and select the product.

Share it.
Tag products in Instagram Stories
Stories are a fun way to give followers a look behind the scenes and showcase your new collection. They're also a great opportunity for tagging products. Unlike a post, only one product can be added per story. You can do this as follows:
Select the photo or video you want to share in your story.

Add a product sticker.

Select the product from the catalogue.

Drag the sticker to the product and choose the desired sticker colour.

Your story is ready to be shared.
Sell your merch
We're sure you have your own webshop already. But, if you don't, prepare to go the way of the Dodo as simply selling through a brick and mortar shop isn't quite enough these days. You need to make it easy for people to buy your merchandise and a webshop is an easy way to do this.
You can link to this webshop in your social posts. This gives users a place to land when they see your ads. You can then try and send them through the sales funnel, and convert them.
With an eCommerce platform like Lightspeed eCommerce, you can:
Select a theme from a range of mobile-responsive and customisable templates.

Let shoppers add their favourite items to a wishlist for future purchase.

View, edit and organise your shipments from your eCom back office.

Keep customers up-to-date on the status of their order with shipment tracking codes.

Make your webstore available in up to 14 languages.

Serve an international clientele by adding multiple currencies.

Connect social media platforms like Facebook, Twitter, and Instagram to your online shop.

Make use of built-in tools to boost SEO and drive traffic to your online store.
Want to learn more about how Lightspeed can help? Watch Lightspeed Retail in action here.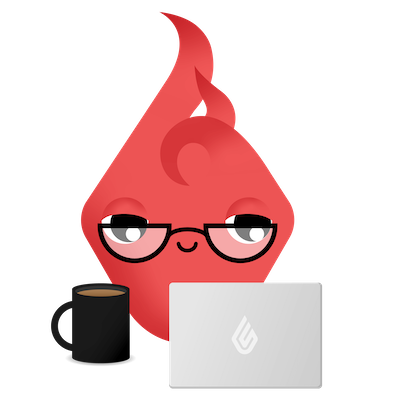 News you care about. Tips you can use.
Everything your business needs to grow, delivered straight to your inbox.