Merchandise can help connect your fans and customers to your brand. while opening up a new revenue stream.

It can also help grow your audience, identify true fans and brand ambassadors, and create ample opportunity for free promotion and word-of-mouth marketing. If you already have an enthusiastic fan base, then you're just about ready to make and sell your own merch.

When setting out a merchandising strategy, you can break the process down into three steps:

Identify—who are your customers, and how can merchandise appeal to them?
Design—what should your merchandise be and how should it look?
Promote—how will you make sure your merch gets seen and bought?

Let's explore these steps in more detail.
1. Identify your target audience
2. Pick products that match your brand
3. Design your merch
4. Promote your merch
5. Sell your merch
Bring your business online
Becoming an omnichannel business means you're ready for whatever life throws at you—from extended store closures to evolving customer expectations.
1. Identify your target audience

Who are your fans, and why do they love your business? Knowing this is essential to creating merchandise they want to buy. Start by considering how you typically interact with fans. Which social media channel are they most active on? This simple observation can tell you a lot about your fanbase.
You, the business owner, know the clientele you cater to better than anyone . No matter which social media platform you're active on, your product will still likely attract a certain target audience, no matter how represented they are on that platform.

For example, Twitter may be overwhelmingly male, but a Twitter account for a women's lingerie is still going to be followed largely by a female audience. That said, knowing the macros of what kind of audience you're likely to have on different social media channels is still useful.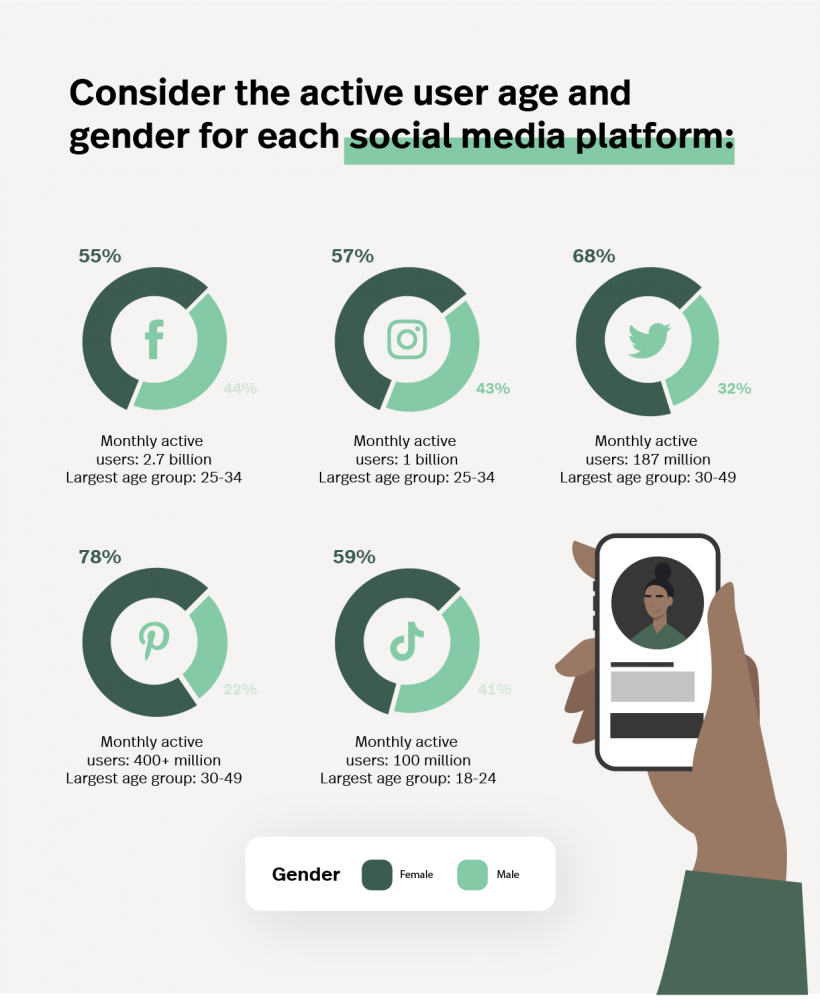 Data drawn from sproutsocial.com
If you do have more fans and engagement on Twitter, then you can assume that a large part of your fan base are males between 30 and 49. If the bulk of your online engagement comes from Pinterest, then you can safely assume that the bulk of your fans are women between the ages of 30-49—and that should help you decide what kind of merchandise you want to make and sell.

Whereas if your engagement is coming from TikTok you can safely assume that most of your fans are young and mostly female. To many businesses, target audience will be fairly obvious depending on what you specialise in and who you've set out to target in your business strategy, but you get the idea. Knowing where fans are engaging with you can tell you who your fans are, and how you can make merch they want to buy.
2. Pick products that match your brand
Once you've identified your target audience, that should bring you closer to deciding what kind of merch you should be making and selling.

You needn't agonise over this, most fans of your business will be happy to buy clothing with your brand's logo on it—hence why clothing is go-to merchandise for any kind of business types, for example, London Bar and Bottle Shop Mother Kelly's offers a range of clothing merch on their website, along with a broad range of specialty craft beers.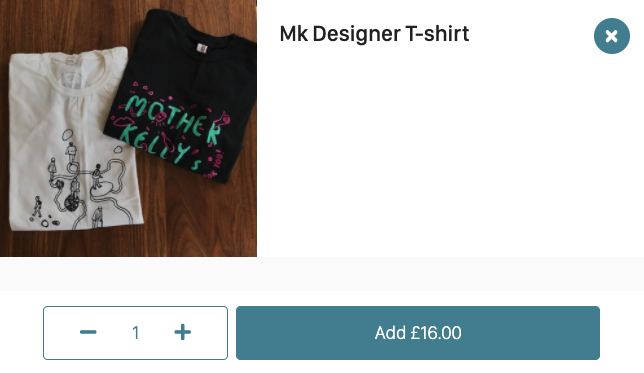 On the other hand, clothing may not be the best fit for your brand and their fans. Sometimes it's better to go with something that chimes with the wishes and desires of your audience. West London's Farm Girl marketed to their clientele of on-the-go, eco-conscious coffee lovers with a heat-proof sustainable coffee mug that not only looks stylish but helps it's customer cut-down on single use plastic and paper.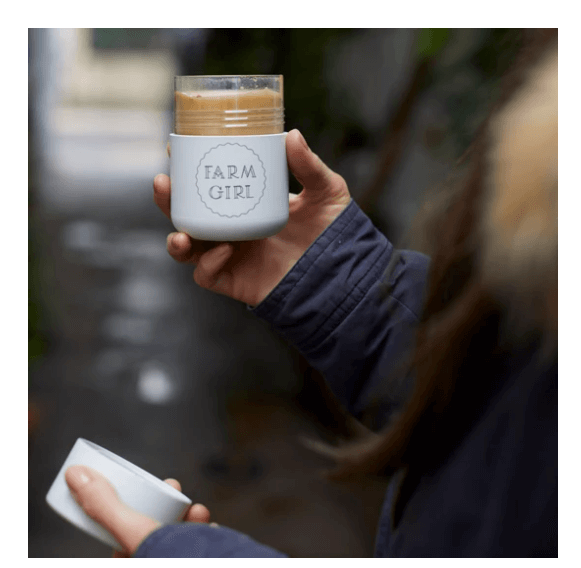 Tapping into the wants and desires of your target audience helps you produce merch that fans want to buy, and fosters a sense of connection to your brand, bringing your name and logo into their everyday lives.

3. Design your merch
Now you've identified your target audience, and decided the kind of product you're going to make and sell. Now it's time to design your merch. The first step in the design process is the concept. Sit down with a couple of stakeholders, or with a product designer, and brainstorm some concepts for merchandise.

You may want to collaborate with a brand that already in specialises in the kind of merch you'd like to design, drawing on your shared expertise to create something truly unique. This is exactly what London-based doughnut master Crosstown Doughnuts did with their branded, on-the-go coffee cup made in collaboration with reusable cup brand Frank Green, to compliment their award winning doughnuts.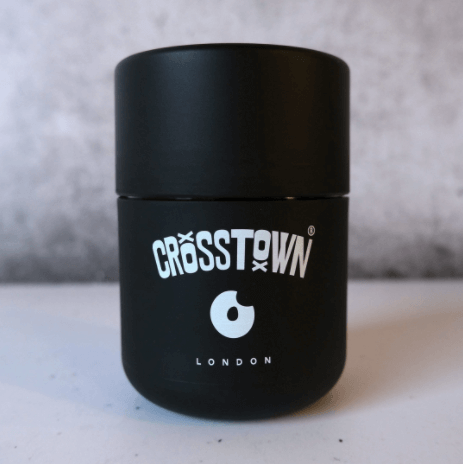 This is where target audience research should come into play. But don't forget to consider who you are as a brand, what your purpose is and how you'd like to communicate that through your merchandise.

Once you've brainstormed some concepts and landed on a few you think will work, it's time to start creating mock ups. This step is important as it gives you an inkling into how your merchandise will look, and helps identify any blindspots you had in the 'concepting' phase.

It's advisable to create a few mock-ups, get people's opinion through a social media poll, then choose your final idea from these mockups. Once you've finalised which mock-ups you'd like to turn into the final product you can go ahead and produce. There are many services that create customised merch:

4. Promote your merch

So now you've made your merch you need to get people seeing it, talking about it and ultimately buying it.
They say a picture paints a thousand words. Images are an effective tool to draw people's attention to your merch, and get them down the sales funnel. No matter what kind of merchandise you're selling, consider hiring models to showcase it in attention-grabbing visuals.

That doesn't mean, however, that you should bombard your fans with ads. Campaigns that come across too pushy or spammy won't help your merch sell. Find a way to work your merch subtly into your existing content in a way that feels organic, instead of a hard sell.

Encourage your fans and influencers to post their own content about your new merch, providing social proof and word-of-mouth marketing.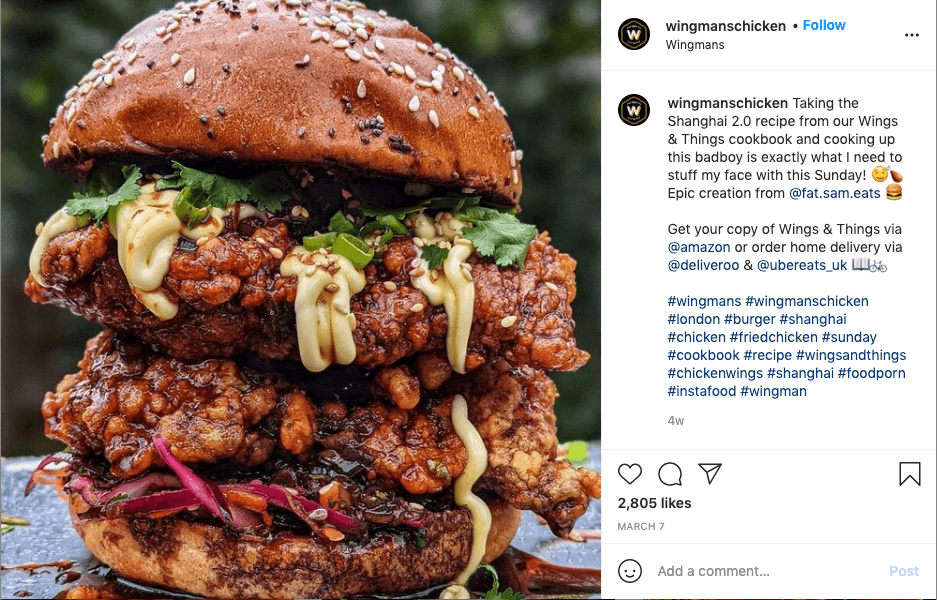 Wingman's Chicken does a great job of this. The post above shows a burger made by a fan and food blogger, from their new recipe book Wings and Things. It looks like your average attention-grabbing, foodie instagram post. Yet in the bio there's a link to their new cookbook, letting users know that they can make the dish themselves if they buy it.

Other ways to promote your merch include:

Run a social media competition where you giveaway your merch as the prize, then encourage the winner to share a picture of them in your merch on social.

Faceboo

k has certain rules

about this that can be done, make sure you're aware of them.

Encourage fans who've already bought your merch to share pictures using or wearing it with a certain hashtag



Leverage your social media sales channels
Facebook
On Facebook, you can create paid ads that target lookalike audiences, cohorts of new users who are similar to those have previously shown an interest in your brand.
Instagram shopping
Instagram Shopping lets you sell products by bringing them to the attention of potential customers through engaging posts and stories. Previously, users had to click the link in the bio to view a single product page on your website. But since the arrival of Instagram Shopping the experience has greatly improved.

Your followers can now click on a product tag in a direct message or on a sticker in a story and get redirected to a product page without leaving Instagram. There, they'll see the following.
product

description

price

link to the website
You can even tag merchandise in posts and stories stories. Here's a step-by-step guide on how to do it.
Tag products in posts
You can tag up to 5 products in a post with one photo. If you create a carousel with multiple images, then you have room for a maximum of 20 products. This is how it works:
Upload your (edited) photo, provide an appropriate description with hashtags and add a location if necessary.

Click on ' tag products '.
In the catalogue, find the product you want to tag by name and select the product.
Share it!
Tag products in stories
Stories are a fun way to give followers a look behind the scenes and showcase your new collection. They're also a great opportunity for tagging products. Unlike a post, only one product can be added per story. You can do this as follows:
Select the photo or video you want to share in your story.

Add a product sticker.

Select the product from the catalogue.

Drag the sticker to the product and choose the desired sticker colour.

Your story is ready to be shared.
5. Sell your merch

A sound strategy for promoting your merch, and making it easy for people to buy it, is by building your own webshop. You can link to this webshop in your social posts, as well as from your business' landing page. This gives users a place to land on when they see your ads, bring them through the sales funnel and converting them.

With the eCommerce platform like Lightspeed eCommerce, you can:
Select a theme from a range of mobile-responsive and customisable templates
Let shoppers add their favourite items to a wishlist for future purchase
View, edit and organise your shipments from your eCom back office
Keep customers up-to-date on the status on their order with shipment tracking codes
Make your webstore available in up to 14 languages
Serve an international clientele by adding multiple currencies
Connect social media platforms like Facebook, Twitter and Instagram to your online shop
Make use of built-in tools to boost SEO and drive traffic to your online store
Diversify your business, ignite your potential
There's no better time to take your business in a new direction, open up a new revenue stream and try something new.

Just make sure you have the right tools to help you along the way. Want to know how Lightspeed can help? Let's talk.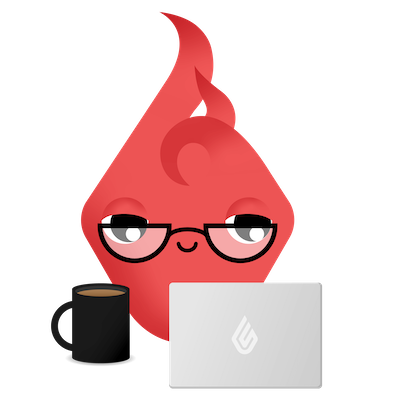 News you care about. Tips you can use.
Everything your business needs to grow, delivered straight to your inbox.